3 Reasons NHL Players Should Go to Europe If There Is a Lockout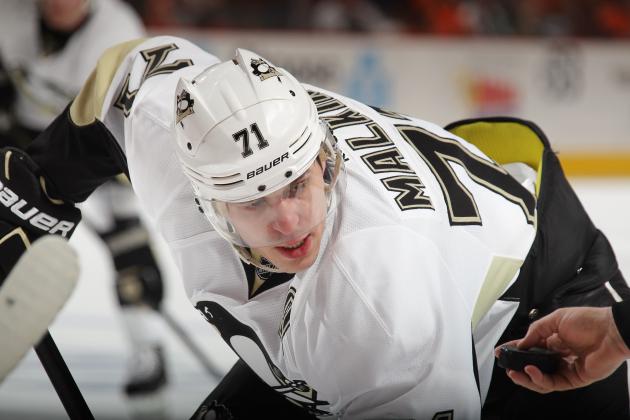 Bruce Bennett/Getty Images
Evgeni Malkin could be headed overseas if the NHL season gets locked out.
In case you haven't heard, the NHL could be headed for a lockout if a new collective bargaining agreement isn't reached by Sept. 15. But there is still hockey to be played—in Europe.
There is a number of elite European leagues that play at near-NHL level competition. NHL players should consider heading overseas for many reasons.
A number of NHL stars have already signed to European leagues, and it appears more are headed that way.
Evgeni Malkin, Martin St. Louis and Steven Stamkos are among the names that recently expressed interest in playing overseas.
St. Louis seems to have summed up how most of the players feel about the lockout.
"With my age, you want to keep playing," 37-year-old Martin St. Louis told the Tampa Bay Times. "I don't want to take a year off. If the NHL wants to shut us down, we'll go play somewhere else."
During the 2004-05 lockout, 350 NHL Players' Association players went overseas to play.
The appeal is there. With the players riding an "all we want to do is play" mentality in the CBA talks, the number of players headed overseas could increase drastically.
The only players who should avoid playing overseas if the season is lost are those with injury issues, especially concussion-related.
A year off may benefit those who are trying to recover from concussions, but, if you're healthy, the European leagues are a viable option in 2012-13.
Not every European league has opened its doors to the NHL talent.
Sweden's Eliteserien has said that players must sign at least one-year deals if they want to play in the elite league.
The looming NHL lockout has sent shockwaves throughout the hockey world, not just the NHL. European leagues like the Kontinental Hockey League, Eliteserien and Swiss Elite League are seeing the short-term effects of the CBA negotiations.
Some of the top leagues, like the KHL, offer competitive salaries for non-star players.
For European-born players, that can be enticing. To stay in their home countries, get paid well and be closer to families, the NHL may have to be wary of some of these players not coming back to the league at all.
The Euro Leagues have appeal to many and just might snag some top-NHL talent if there is a lockout,
Begin Slideshow

»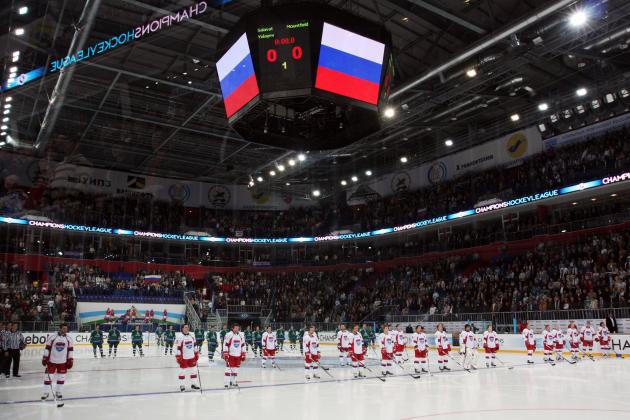 Epsilon/Getty Images
The KHL would be a solid home for NHL players looking for action in 2012.
Russia's Kontinental Hockey League is the elite league in Europe and holds a number of similarities to the NHL, including scheduling.
The KHL plays a 56-game schedule with 24 teams and a 16-team playoff system.
The NHL plays an 82-game season.
The KHL runs from September to February, and NHL players could benefit from a shortened season as they try to stay sharp.
The shortened season doesn't lack intensity and would be a great way for young players to get some experience outside of their respective clubs.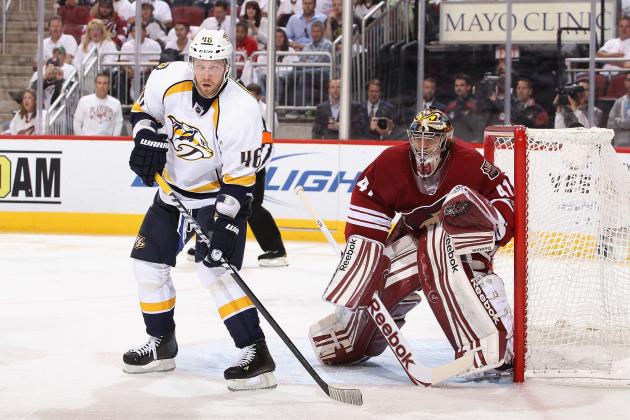 Christian Petersen/Getty Images
Andrei Kostitsyn played in both europe and the NHL last season.
The best leagues in Europe have no shortage of NHL talent.
The KHL and NHL seemingly swap players at various times in their careers, as with Andrei Kostitsyn.
Some notable NHL players that have played overseas:
Jiri Hudler, 2003-2009
Dmitri Kalinin, 1999-2009
Alexander Radulov, 2006-2008
This is a great league for young, talented NHL stars to face high-level competition. It isn't the daily grind of the NHL, but the talent level is good enough.
With European players joining the NHL through the draft and free agency, the elite leagues seemingly draw from a similar talent pool.
If the NHL locks out its players in 2012, expect some big names to go overseas and improve the talent in Europe.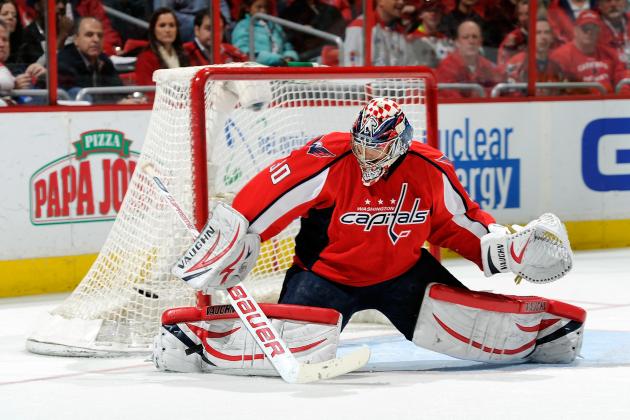 Greg Fiume/Getty Images
Michael Neuvirth is the most recent big name to consider moving his services to Europe in 2013.
Not advocating giving in to peer pressure, but some of the biggest names in the NHL have already expressed interest in European leagues.
Martin St. Louis, Steven Stamkos and Evgeni Malkin joined the discussions recently.
Malkin reportedly signed a contract with Metallurg Magnitogorsk. Alex Ovechkin could be next.
They join the likes of Rick Nash and Joe Thornton, who have already been linked with HC Davos of the Swiss Elite League.
Michal Neuvirth is reportedly looking at playing in Europe for 2013, though the whereabouts are undisclosed.
Deals are lining up for some of the NHL's biggest names.
Not every league is opening its doors to the NHL players, but those that are have taken full advantage of the NHL's misfortune.