The 13 Most Entertaining Interview Subjects in the NHL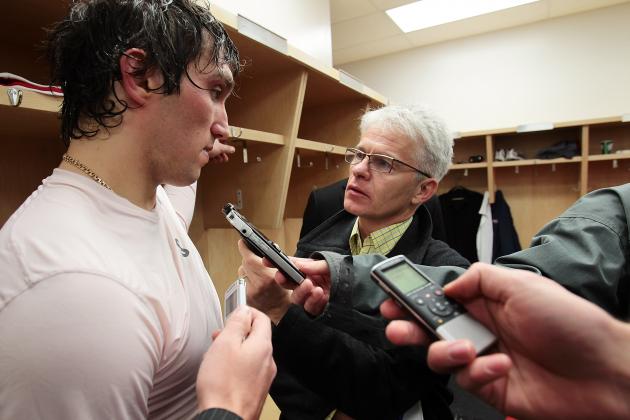 Marianne Helm/Getty Images

While Chad Johnson, Clinton Portis, Ozzie Guillen and Ron Artest are Hall of Famers as entertaining interview subjects in the world of sports, the NHL has its own cast of characters that can compete with those big names.
There have been some colorful personalities in the history of the NHL, but we may currently be in the Golden Age of hockey personalities.
Some interviews in the NHL turn out to be entertaining because of language barriers, others because of a high-pressure situations. But most become entertaining due to the interviewee being genuinely charismatic and because they are looking to giving the fans something to talk and laugh about.
It is not only the superstars who give interesting interviews either. From the fourth line to the first, there is interview gold galore.
So without further ado, here are the 13 most entertaining interview subjects in the NHL.
Begin Slideshow

»
So this slide is not necessarily the player being interviewed, but the player in the background.
During his time in Phoenix, Ray Whitney made it commonplace to be an interview bomber.
As you can see in this video (around the 22-second mark), Whitney sneaks in behind Adrian Aucoin and immediately grabs your attention.
Whitney is a 20-year veteran, so it's nice to see him still having fun during the grueling 82-game NHL season.
Whitney also had one of the best years of his career with the Coyotes last season, recording 24 goals and 53 assists. Now that's a real reason to be smiling.
In the offseason, Whitney signed as a free agent with the Dallas Stars. Will his patented interview bombing be making the trip too?
P.K. Subban is only 23 years old and has immense potential as a defenseman. However, the young restricted free agent's name has been showing up among a lot of trade rumors lately.
Subban has been inconsistent on the ice with the Montreal Canadiens, but one thing is he consistent with is giving entertaining interviews.
In this interview Subban talks about his bout with Brad Marchand and makes fun of himself for not being a great fighter. If someone can make fun of themselves, it lifts the veil of interview awkwardness and is endearing.
P.K. Subban will continue to give great interviews no matter where he plays next year. Now the question is if his brother Malcolm Subban (selected No. 24 overall by the Boston Bruins) will give similarly entertaining interviews.
Pavel Datsyuk is one of the NHL's quiet superstars, but he is more than willing to talk when a microphone is put in front of him, despite the language barrier.
Datsyuk does a good job fielding the questions he does not fully understand, but the best quote from the interview comes at 1:10 of the video.
A reporter asks Datsyuk about the difference playing the Pittsburgh Penguins in 2009 as apposed to 2008.
Datsyuk's response is, "It's 2009 now, last year 2008. One year different."
George Parros is not your typical NHL enforcer.
The Anaheim Ducks winger has a economics degree from Princeton. That is not a statement many NHL players can make.
Not only does he have an interesting background, Parros sports a savvy mustache that has become his trademark.
In the interview Parros, among others, talks about how much he charges for mustache rides and how he likes his shaft and knob done. Interesting stuff.
Enforcers seem to give the best interviews. Daniel Carcillo is no exception.
Carcillo can probably count his teeth on one hand and has taken out his share of players in scraps. Carcillo is brash, as demonstrated in this video, and says what he's thinking.
Unfortunately for Carcillo, two of the players he targets in this video were no longer with the rival team in question, and he mispronounced the other.
Vancouver Canucks forward Ryan Kesler emerged as a star after the 2010 Olympics, in which he made headlines by saying he hated the Canadian team.
Kesler and the American team beat Canada in the round robin, but then fell to them in overtime of the championship game. Kesler was a big contributor in those matchups, putting up goals in each game.
Kesler was hampered by injury last season but has been productive since the Olympics in 2010. He tallied his first 40-goal season and hit the 70-point mark plateau twice.
In the same vein as Ray Whitney, Kesler has made a name for himself as an interview bomber.
Who's the better bomber, Whitney or Kesler?
Evgeni Malkin is one of the NHL's top talents. He is also one of the leagues biggest jokesters.
Being a superstar on one of the league's most popular franchises, Malkin is often on the interview stand after games.
In this interview from 2009, Malkin talks about his teammate Max Talbot, and his scoring ability—or lack thereof.
The humor is all in good fun, but he still manages to leave his English-speaking teammates speechless and the crowd of journalists giggling.
Scott Gomez has been on the decline the past few years. While he may not be the player he use to be when capturing Cups with the New Jersey Devils, he still knows how to give a great interview.
Everything seems normal in this interview until the tail end, where Gomez calls the reporter the Grinch and discloses his hopes that Santa will bring him a better shot.
Gomez has accumulated hate for his bad contract and inconsistent play, but he is really one of the good guys in the NHL.
Chris Pronger is one of the NHL's top defensemen and also one of its savviest interviewees.
Pronger demonstrates in this interview that he does not only play with intelligence on the ice, but also off of it. When the press messes around with him in an interview, he fires back with a smile on his face.
Pronger is not offensive or derogatory towards the reporters, but he simply puts them in their place. The interview took place during the 2010 Stanley Cup Finals, so it's obvious that Pronger was being no-nonsense, focusing on the game ahead.
Hopefully Pronger will overcome his troubles with concussions and be suiting up in an NHL uniform soon.
New York Rangers head coach John Tortorella has been around the NHL a while, and during that time has had more than a few memorable interviews.
The foul-mouthed coach has lost his head multiple times in front of microphones, and he goes to extents to defend his players and what he believes.
Reporters have to have their questions ready to go with Tortorella, and they better not offend him. If they do, they will get the death stare from Tortorella that looks like it could kill if it makes direct eye contact.
Goalies are weird—ask any hockey player. I guess you have to be a little off if you get shot with rubber pucks moving at speeds over 100 mph for a living.
Ilya Bryzgalov's coach Peter Laviolette doesn't seem to have the words to describe his Russian netminder.
Just take a listen to his thoughts on the universe and you can probably get an idea of his uniqueness.
Alexander Ovechkin is one of the NHL superstars, but he also may have the best sense of humor in the sport.
There is a language barrier for the Russian star, but sometimes this makes his interviews even funnier. I can only imagine what his interviews in Russia are like.
After three seasons with 100-plus points, Ovi's production has waned. However, he is still a top-five talent in the NHL.
As an interviewee, there is only one person more entertaining than him.
Paul Bissonnette is a press box frequenter, on-ice enforcer and Twitter phenomenon. He has his own line of clothes through Sauce Hockey, and he was even ranked 100th on the Hockey News' People of Power and Influence list.
According to Capgeek.com, Alex Ovechkin (451,488) is the only NHL player who has more Twitter followers than Bissonnette (317,955).
That's quite the list of accomplishments for a player who only logged an average of 6:04 per game in ice time last season.
Bissonnette is a true personality, and when he gives an interview he is honest, open and charismatic. Those are not characteristics you don't find too often in an NHL player, or any professional athlete.
There will surely be a spot for Bissonnette in the entertainment world when he finally hangs up his skates.