Sidney Crosby and 50 Other NHL Players Under 30 That Any Team Would Want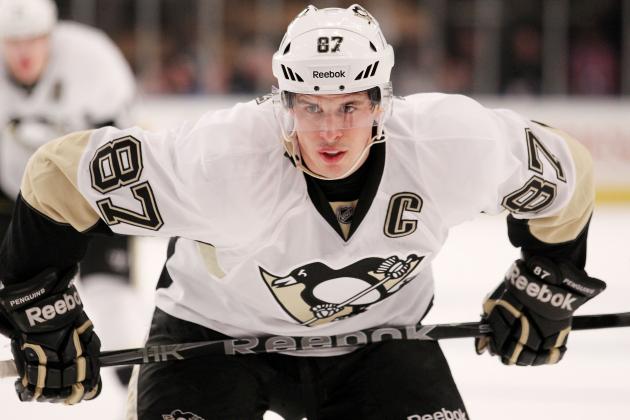 Nick Laham/Getty Images

There is no shortage of young talent in the NHL, from rising sophomores like Colorado's Gabriel Landeskog to decorated veterans like Pittsburgh's Sidney Crosby.
Players can be desirable to organizations for many reasons. It is not Crosby's scoring talent alone that makes him such a big part of the future of hockey. His two-way play makes him invaluable to coaches and his leadership makes him an asset to the locker room.
These characteristics, along with toughness, attitude, potential and versatility are all traits that any organization looks for in young players.
Crosby is not the only player under 30 that the whole league is paying attention to. Here are fifty more young players that would be valuable no matter who they played for.
Begin Slideshow

»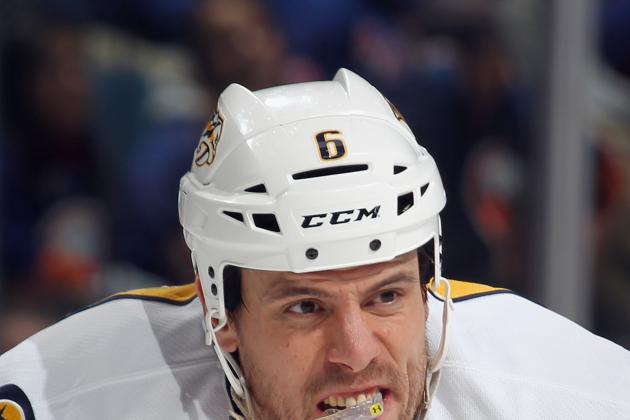 Bruce Bennett/Getty Images

Nashville's newly-signed face of the franchise is among the most intimidating defensemen in the NHL, capable of sound defensive play and possessing a slap shot that is downright dangerous.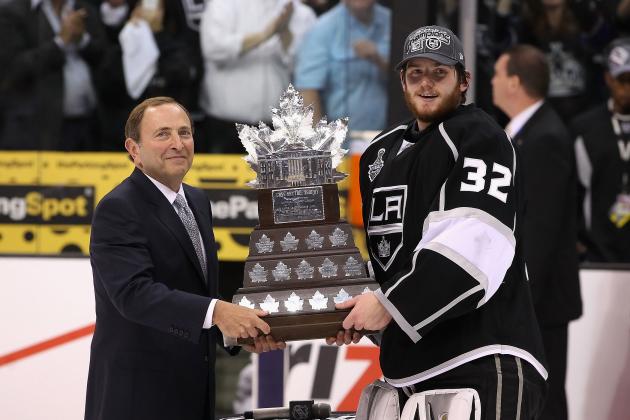 Christian Petersen/Getty Images

Quick's regular season was good enough to get him a Vezina nomination, and his postseason run earned him a Conn Smythe Trophy and the Stanley Cup. There is no doubt that Quick is in a very exclusive class of the best goaltenders in the NHL today.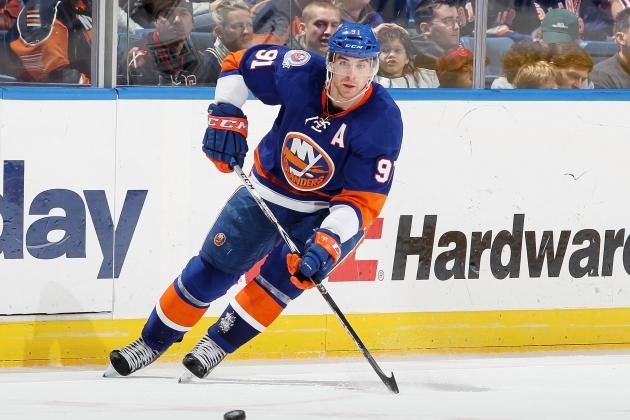 Jim McIsaac/Getty Images

Tavares doesn't get quite as much recognition as he should because he plays on the Islanders, but his offensive talents are absolutely undeniable. He'll be a top scorer in the league for years to come, no matter what his supporting cast looks like.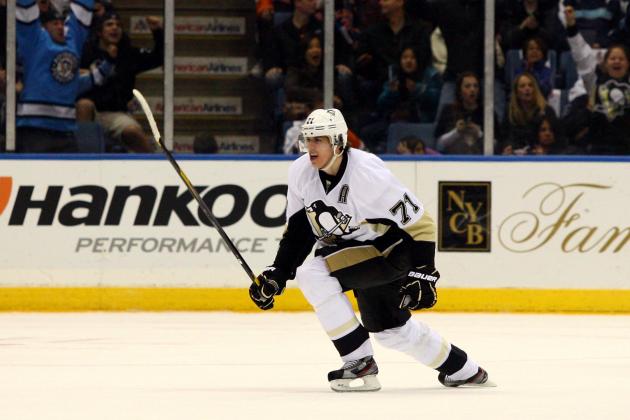 Chris Chambers/Getty Images

The reigning Hart Trophy winner has proved season after season that he is among hockey's elite. His 2011-12 campaign, where he led the Pens to the playoffs despite captain Sidney Crosby missing most of the season, truly made a statement about Malkin's leadership.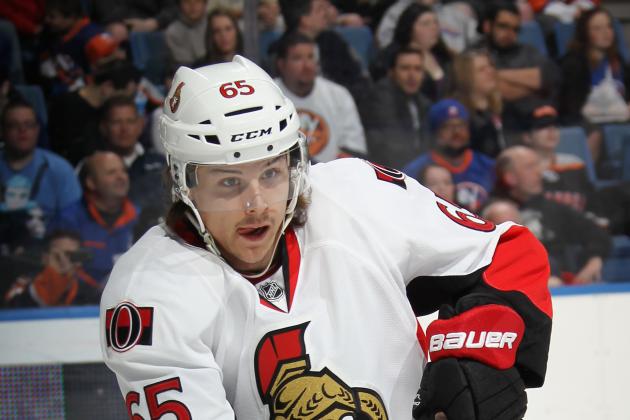 Bruce Bennett/Getty Images

Karlsson takes some heat for his shaky defensive abilities. However, whatever liability he may be in his own zone, Karlsson is more than capable of being an asset in the opponent's. His 78 points were 25 more than any other defenseman in the league in 2011-12.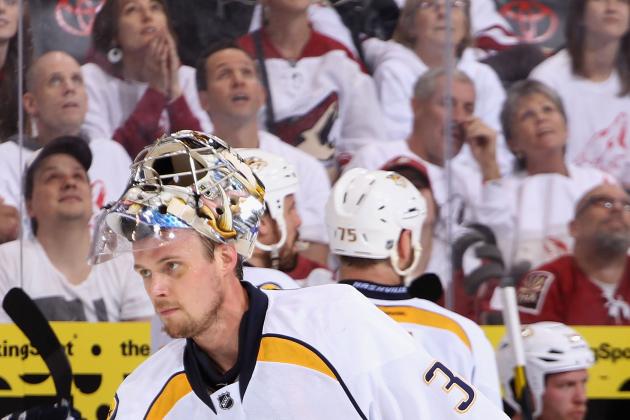 Christian Petersen/Getty Images

Rinne has been one of the most consistent goaltenders of the past four years, and along with Weber is the foundation for a Predators club that looks to remain highly competitive for the next seven-plus years.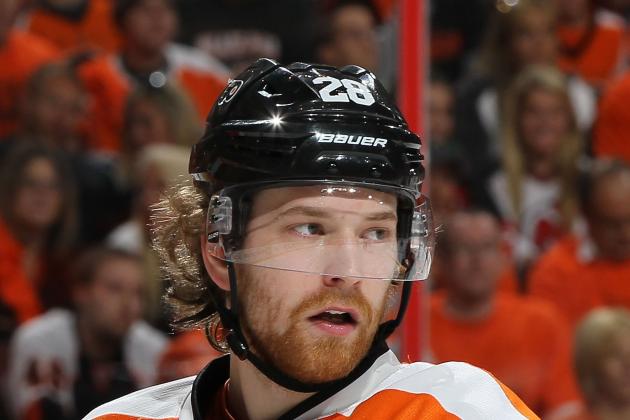 Jim McIsaac/Getty Images

Not only did Claude Giroux emerge as an NHL superstar during the 2011-12 season (thanks to a 93-point campaign), but his attitude likely put him in line to be the Flyers' captain at some point in the future. He'll serve as a hockey ambassador of sorts, as he is featured on the cover of the latest version of EA Sports' popular video game series in NHL '13.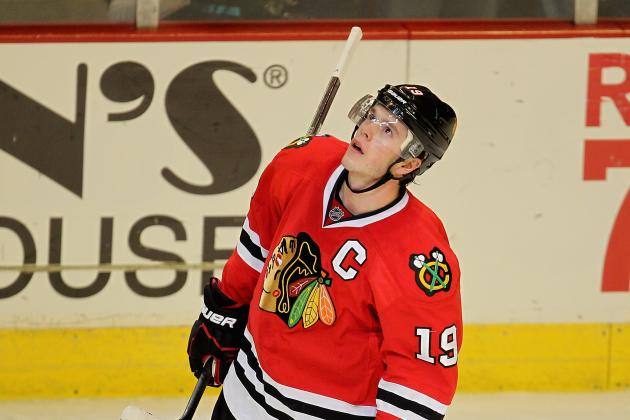 Jonathan Daniel/Getty Images

The league's youngest captain to win a Stanley Cup is well-known for his defensive responsibility and his offensive numbers. He may not be the most endearing personality in the world, but Toews knows how to keep a team competitive.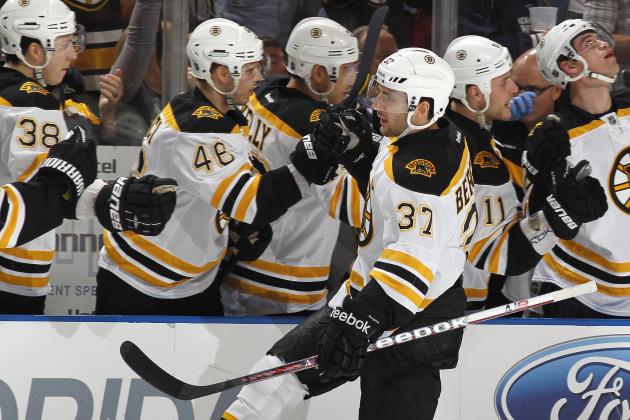 Joel Auerbach/Getty Images

Bergeron is a coach's dream. Not only can he score and play defense, but he kills penalties, wins faceoffs, and has missed only three games in the last two seasons. It doesn't hurt that he has a Selke Trophy to his name, either.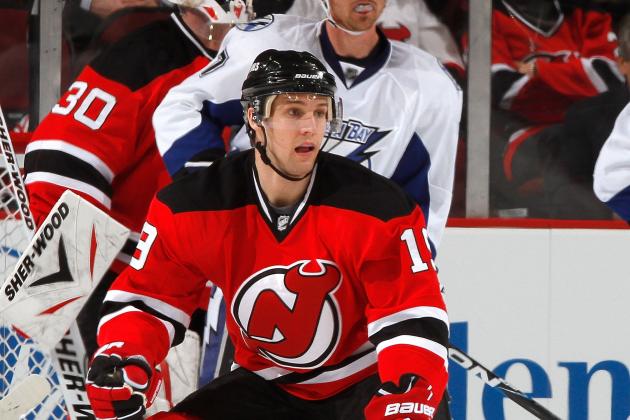 Paul Bereswill/Getty Images

Zajac has played in the shadow of guys like Zach Parise, Patrik Elias and Ilya Kovalchuk, but he is one of the most underrated forwards in the NHL. Though he missed most of 2011-12 due to a torn Achilles, Zajac played 401 consecutive games before his injury and has scored more than 60 points twice in his young career.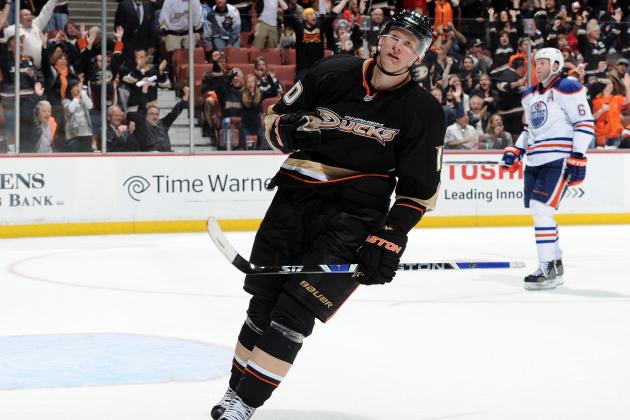 Harry How/Getty Images

Perry had an off year in 2011-12, but that doesn't take away his Hart Trophy. Perry is one of the most highly-anticipated impending free agents, and the Anaheim winger's attitude is almost as enjoyably nasty as his knack for the net.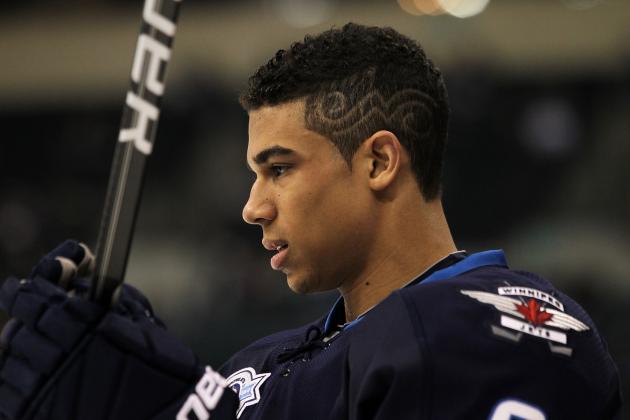 Marianne Helm/Getty Images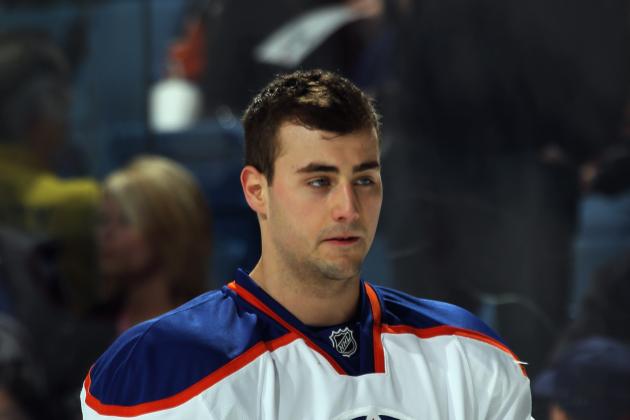 Bruce Bennett/Getty Images

Not only is Eberle is rapidly rising star in the NHL, but he is a complete class act too. As a Lady Byng nominee, he is an ideal ambassador for the game for any NHL franchise.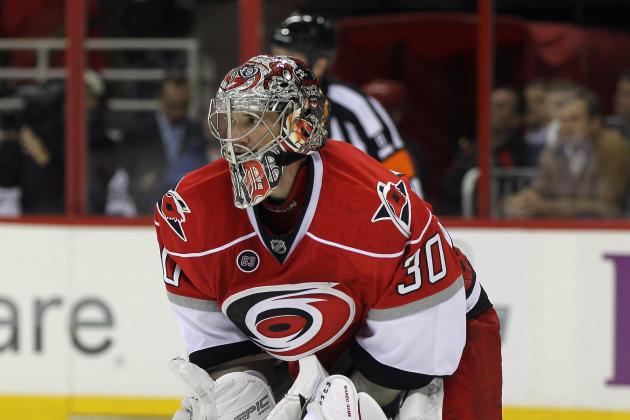 Bruce Bennett/Getty Images

Cam Ward burst onto the scene in 2005-06 when his 2.14 GAA and .920 save percentage corralled a Stanley Cup for the Carolina Hurricanes. With so much NHL experience under his belt, including more than 400 regular season games, it's hard to believe Ward is only 28 years old.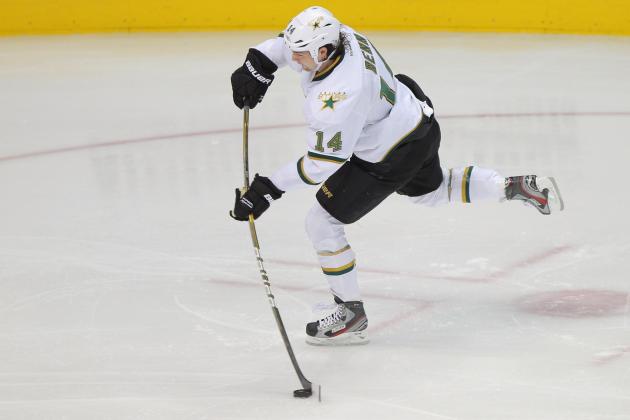 Doug Pensinger/Getty Images

Jamie Benn proved himself the most accurate shooter in the NHL by winning the event at the 2012 NHL All-Star Game skills competition. The 23-year-old was also part of Canada's 2009 gold medal effort at the World Junior Championships.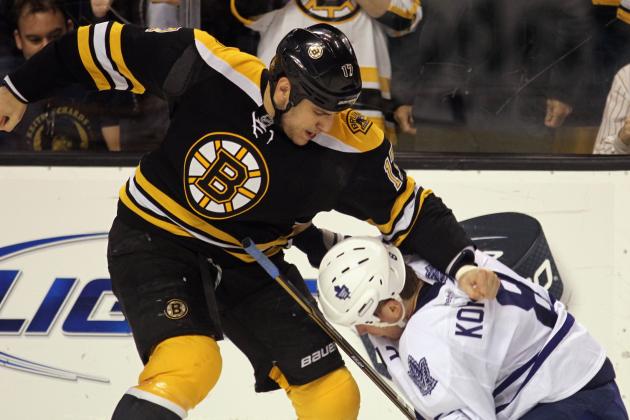 Bruce Bennett/Getty Images

A big tough guy who loves engaging in fisticuffs and can score 60 points a season? If you don't want that on your team, you're watching the wrong sport.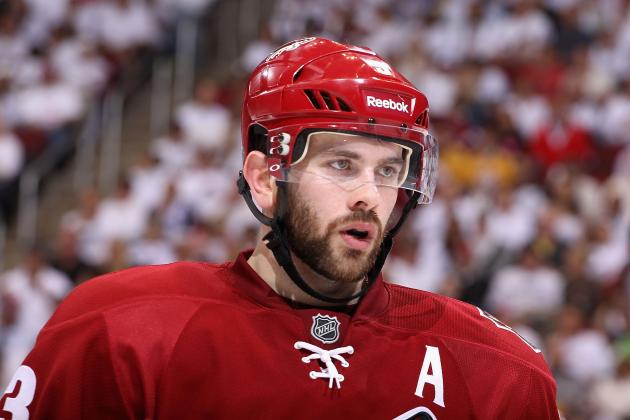 Christian Petersen/Getty Images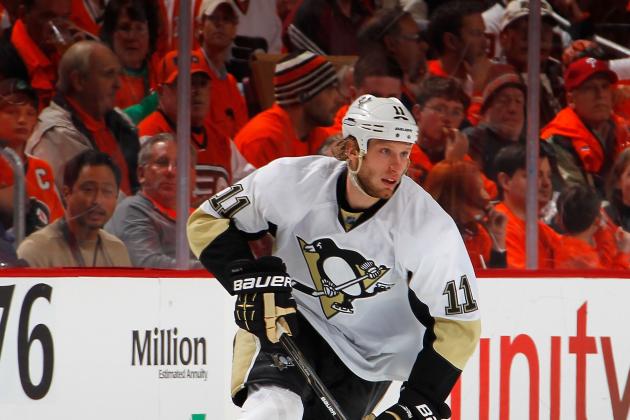 Paul Bereswill/Getty Images

The youngest of the three Staal brothers to be featured in this article still has a whopping six years of NHL experience, a tribute to his incredible talent. Staal is one of the purest examples of a center who puts his defensive play first.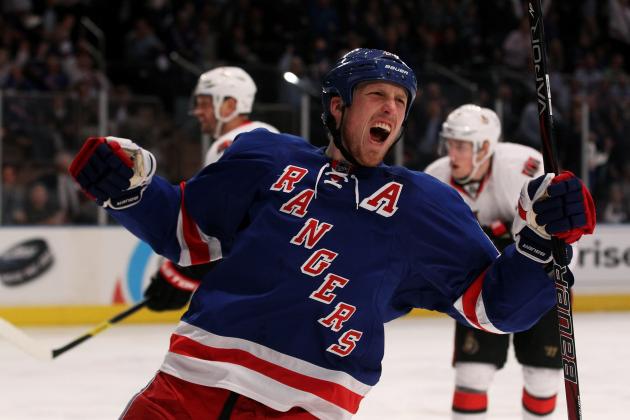 Bruce Bennett/Getty Images

Staal No. 2, Marc, is actually older than Jordan. But because he is a defenseman, he took a little longer to break into the NHL. Still, Staal might be the premier defenseman on one of hockey's premier defenses, and is the only one of the brothers who is not in the Carolina Hurricanes' organization. You'd better believe that the 'Canes would be happy to add another branch to their Staal family tree.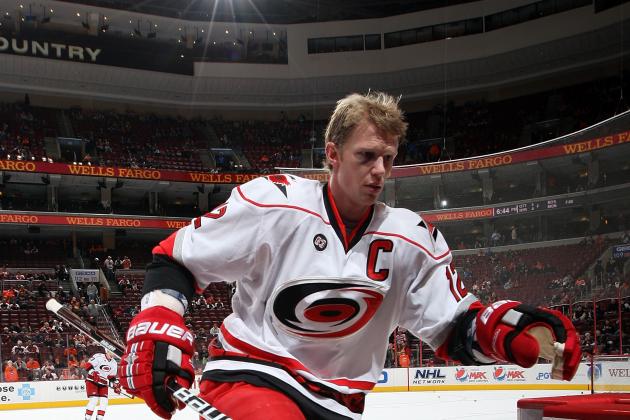 Jim McIsaac/Getty Images

While we're at it, let's give a little love to the oldest of the Staals, the only one to serve as captain and the first one to win a Stanley Cup. Eric is the centerpiece of the Hurricanes' organization, and at age 27, he and the Hurricanes have a very bright future ahead of them.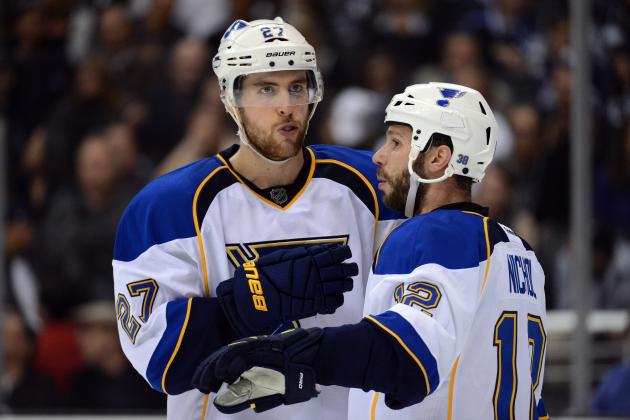 Harry How/Getty Images

Alex Pietrangelo is one of the more impressive offensive defensemen in the league, having amassed 97 points in his career despite being only 22 years old. He will be a force on both ends of the ice for years to come.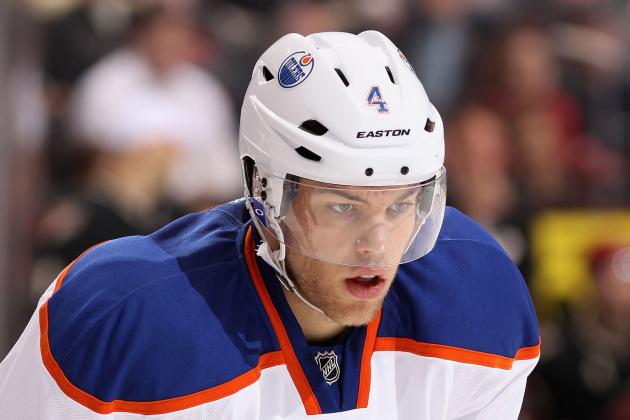 Christian Petersen/Getty Images

Hall's talents were recently rewarded with a seven-year extension, even though Hall is yet to play a full 82-game season. His scoring prowess is well documented, but his occasional temper makes him endearing, knowing that he's as likely to notch a Gordie Howe hat trick as a natural one.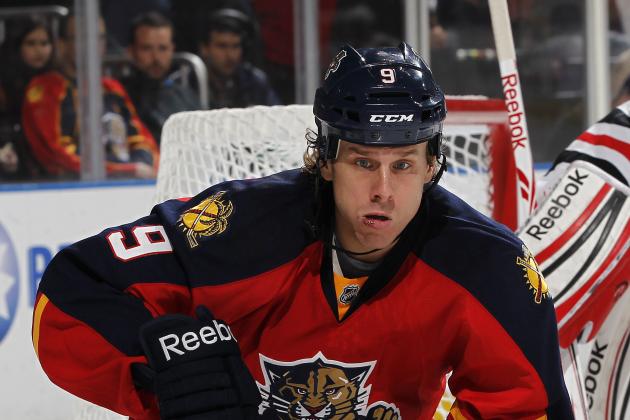 Joel Auerbach/Getty Images

Weiss's abilities don't make him elite in the NHL, but his commitment to the game and loyalty to his franchise make him a fan favorite. And if he can win over the hearts of hockey fans in Sunrise, Florida, imagine what he could do in a more enthusiastic hockey market.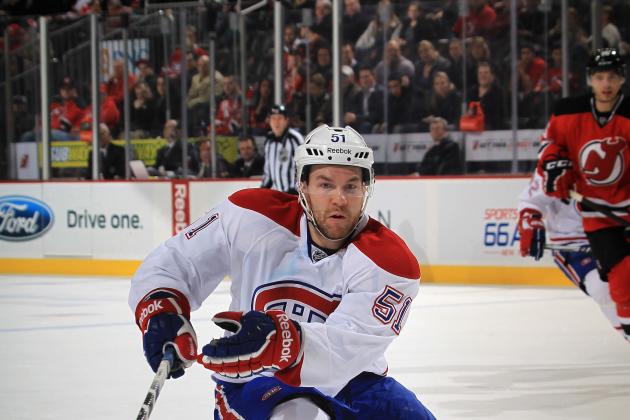 Bruce Bennett/Getty Images

What's not to like about Desharnais? Standing only 5'7", Desharnais seemed like an unlikely candidate for a 60-point season, but that's exactly what he did in 2011-12. Not yet 26 years old, Desharnais could have a bright career as a setup man ahead of him.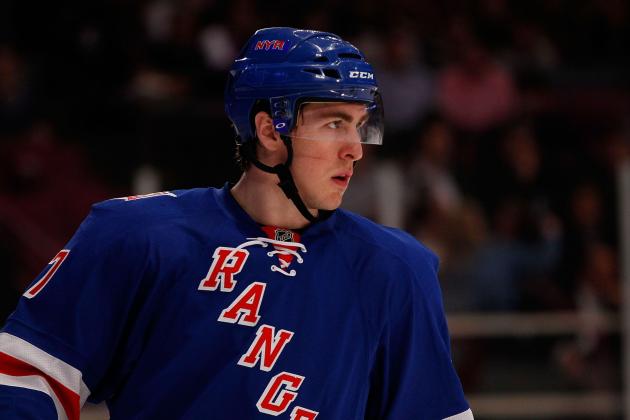 Mike Stobe/Getty Images

McDonagh is one of the best young defensemen in the league, and at 23, his best years are ahead of him. The Rangers have no shortage of capable blueliners, but even New York would miss McDonagh if he left town.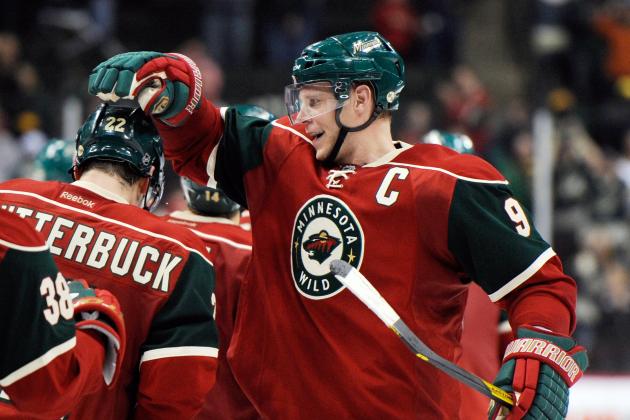 Hannah Foslien/Getty Images

Mikko's all-around game is among the best in the league, even if Minnesota's lack of success as a team has caused Koivu to fly under the radar. In the past, he's put up 71 points with little help around him. Playing alongside the feature of the next slide, Koivu's stats should skyrocket.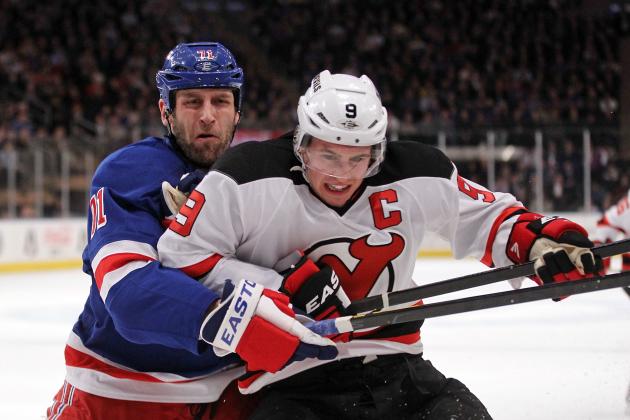 Bruce Bennett/Getty Images

Parise is only 28 years old and already he's served as captain of a team, has missed less than two games in six of seven seasons and has a silver medal to his name. Playing with a premier setup man like Mikko Koivu could push Parise toward a 50-goal campaign as a member of the Wild.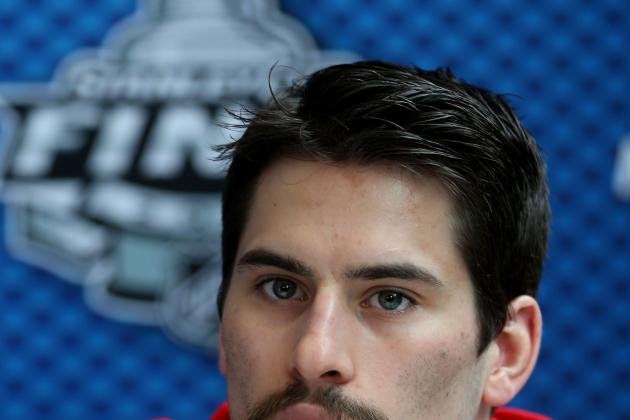 Bruce Bennett/Getty Images

In his first season in the NHL, Henrique broke the 50-point plateau and scored two overtime elimination goals in the Stanley Cup playoffs. In addition, Henrique was nominated for the Calder Trophy and is one of the few bright spots during a tumultuous time for the Devils' organization.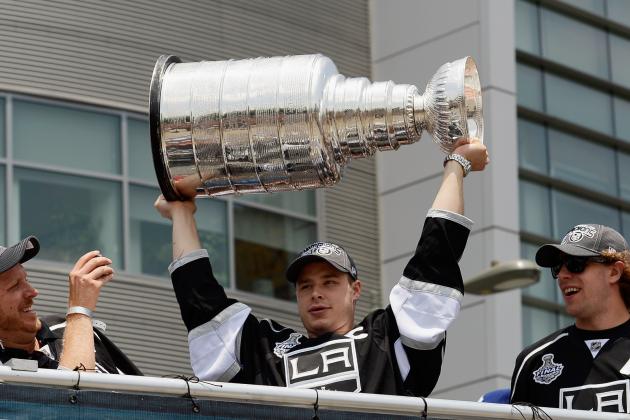 Kevork Djansezian/Getty Images

Not only does Dustin Brown have a Stanley Cup to his name, but the American-born captain made a name for himself with his 2012 playoff performance. Brown is undeniably gritty and puts his defensive responsibility first, qualities that no organization would ever understate.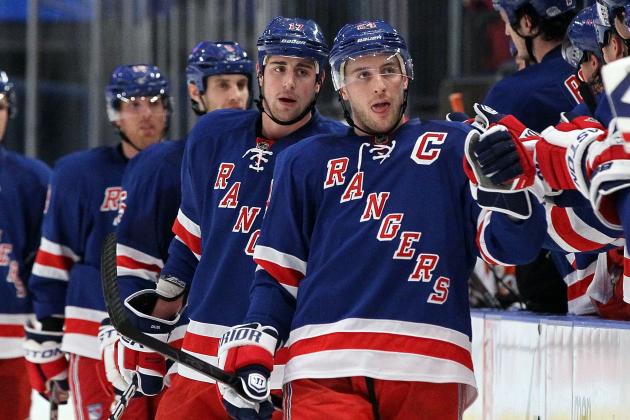 Jim McIsaac/Getty Images

There is nothing easy about being captain of one of the greatest hockey franchises in one of the greatest cities in the world, but Ryan Callahan is completely up to the challenge. Whether blocking shots, dropping gloves or scoring goals, Callahan has the Rangers on the fast track to being Cup favorites for years to come.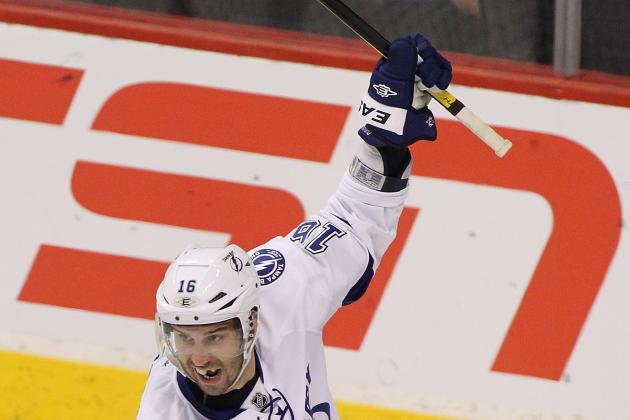 Marianne Helm/Getty Images

Purcell is blossoming as a powerful winger playing alongside Steven Stamkos and the rising Lightning offense. Few teams in the NHL wouldn't want Purcell battling in corners wearing their uniform.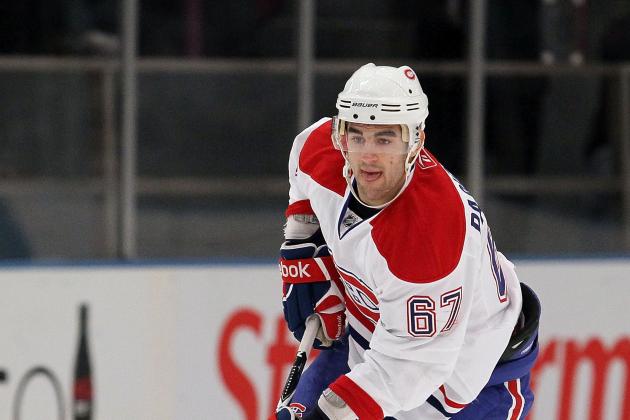 Jim McIsaac/Getty Images

Pacioretty emerged as a talented goal scorer in his first full season with the Canadiens, scoring 33 goals while playing all but three games. He signed a six-year extension with the Habs, but Pacioretty's versatile offensive style would fit with almost any top line in the league.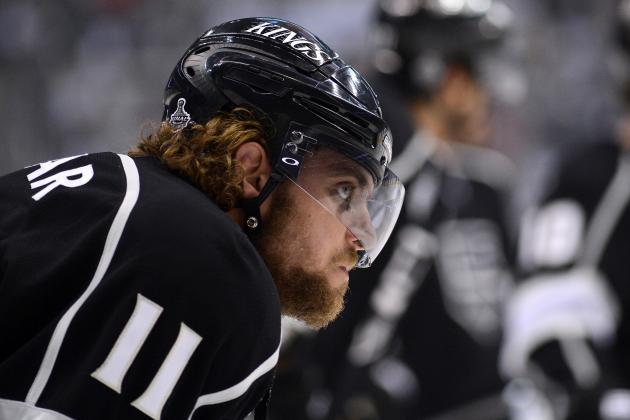 Harry How/Getty Images

Anze Kopitar is one of those players who plays like he's a wily old veteran, yet is still in the category of the young guns. Defensively responsible, offensively proficient and totally cool under pressure, Kopitar has an extremely bright, long future in the NHL.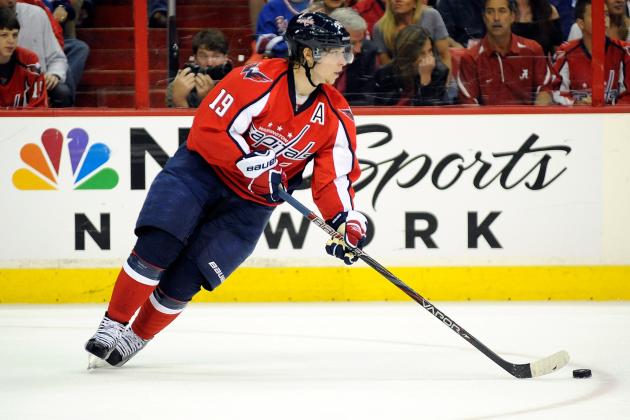 Greg Fiume/Getty Images

Nicklas Backstrom has shown flashes of brilliance in his career, and he is only 24 years old. When on top of his game, Backstrom is one of the best setup men in the league and possesses the ability to make game-changing plays.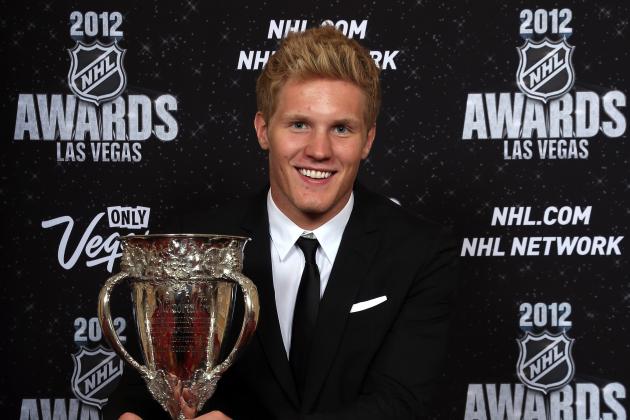 Bruce Bennett/Getty Images

Landeskog was selected second overall in the 2011 NHL Entry Draft and went on to play in all 82 regular season games for the Colorado Avalanche. Landeskog's 52 points not only showcased his undeniable talent, but also earned him the 2012 Calder Trophy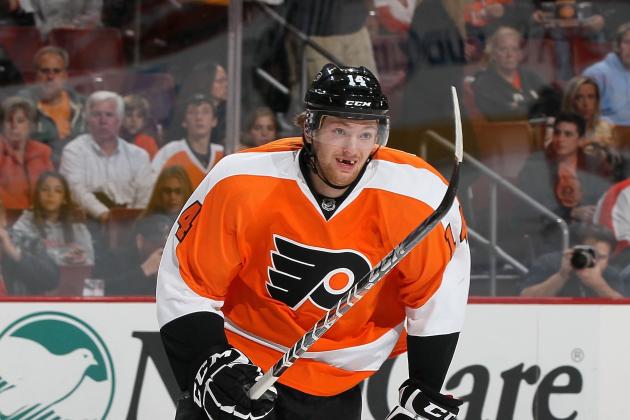 Jim McIsaac/Getty Images

How good is 19-year-old Sean Couturier? The existence of the youngster has already barred Philadelphia from making a number of trades. According to Philly.com, numerous teams have requested that Couturier be part of their trade package, and each time Flyers' GM Paul Holmgren has refused to trade him.
Marianne Helm/Getty Images

Seguin's career is only two years old, but the 20-year-old has already amassed 89 points and shows no sign of stopping. There is no doubt that he is well on his way to being one of the premier goal scorers in the NHL.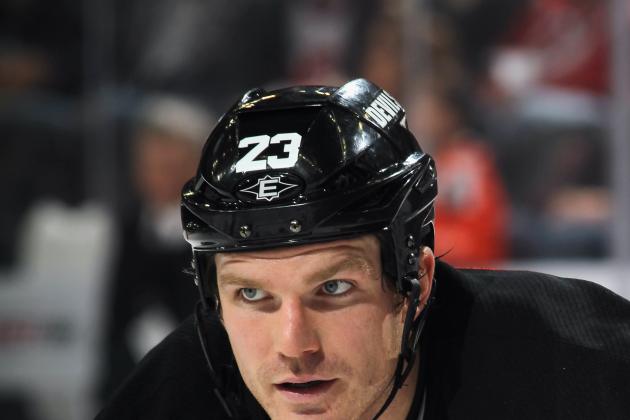 Bruce Bennett/Getty Images

It would seem that Clarkson spent most of his 28 years playing the role of enforcer and agitator, but last season, he showed his scoring touch by netting 30 goals during the regular season. Clarkson would make an ideal role player in any team's bottom six, but it turns out he can contribute on the scoreboard as well.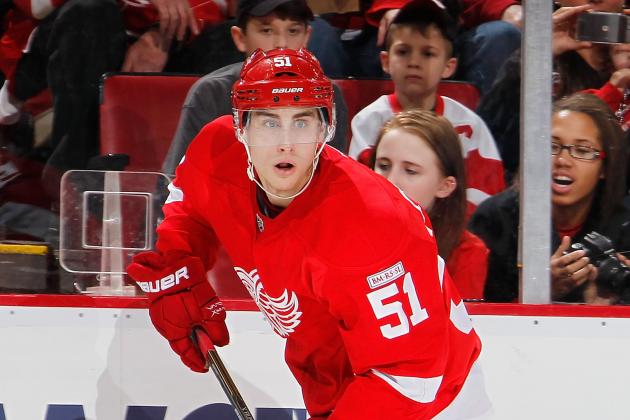 Gregory Shamus/Getty Images

As Detroit forwards like Pavel Datsyuk and Henrik Zetterberg start to age, fans at The Joe begin to look to the future. Filppula, who put up 66 points last year, could be a major part of keeping the Red Wings as competitive as they have been for the last 15 years.
Claus Andersen/Getty Images

Kessel was drafted fifth overall in the 2006 NHL Entry Draft. His career did not take off until last season, when he established himself as a point-per-game player for the lowly Toronto Maple Leafs. Leading the Leafs back to the playoffs is no easy task, but Kessel is proving that he is the man for the job.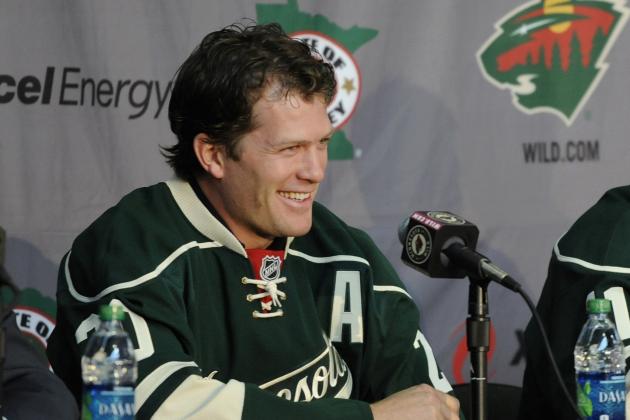 Hannah Foslien/Getty Images

Suter took advantage of the new-found free agency that his 27 years brought him this offseason by signing a 12-year, $80 million contract with the Minnesota Wild. Suter has eclipsed 30 assists in each of the last four seasons and is one of the most reliable offensive defensemen in the entire NHL.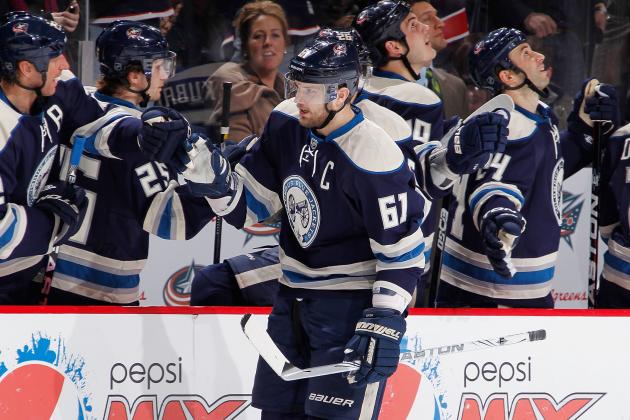 Gregory Shamus/Getty Images

Rick Nash is already a legend for one NHL franchise, as he is undeniably the greatest player to ever play for the Columbus Blue Jackets. Loyalty, leadership and scoring prowess are Nash's specialties, and assuming those qualities translate into his new home in New York, he could easily become an icon for a second hockey team by leading the Rangers to a Stanley Cup.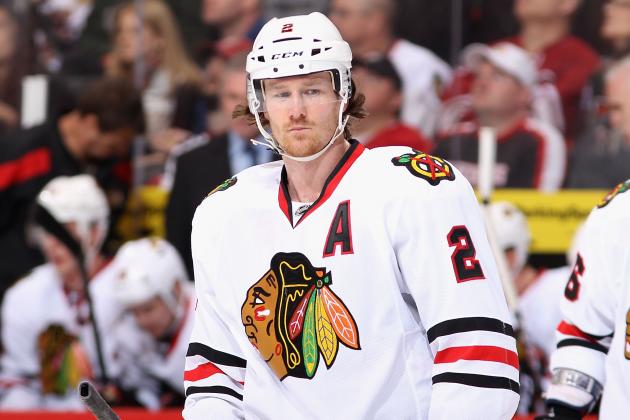 Christian Petersen/Getty Images

Duncan Keith was an unmistakable part of the leadership structure and defensive corps that won the Chicago Blackhawks the 2010 Stanley Cup. At 29, he continues to be a big, mean force in the defensive zone and an assist machine on offense.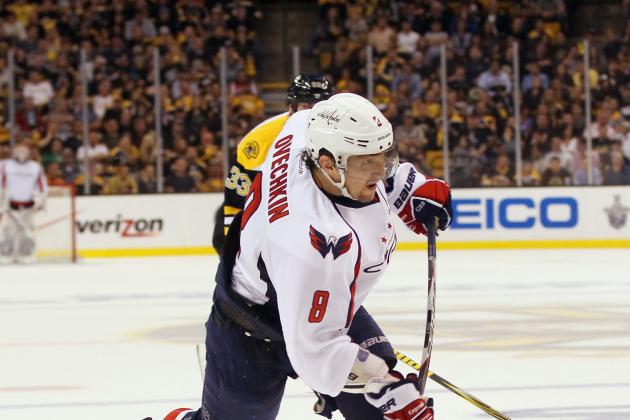 Bruce Bennett/Getty Images

Ovechkin's specialty is either his ridiculous shot, his over-the-top celebrations or his electric personality. No matter why you like him, Ovie is already one of the better players in the game and a true ambassador for it. The Great 8's numbers may have dropped off last season, but he is still one of the most recognizable and formidable players in hockey.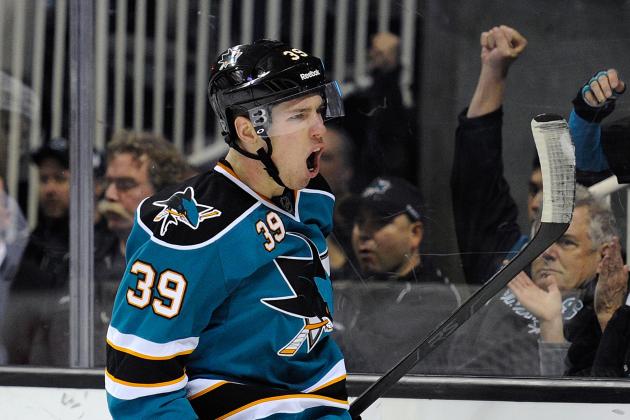 Thearon W. Henderson/Getty Images

San Jose has seen its share of bright futures in the last decade, but Logan Couture seems to be a special case. The 23-year-old already has 68 NHL goals to his name and could be the talent that finally pushes the Sharks to hockey's Promised Land.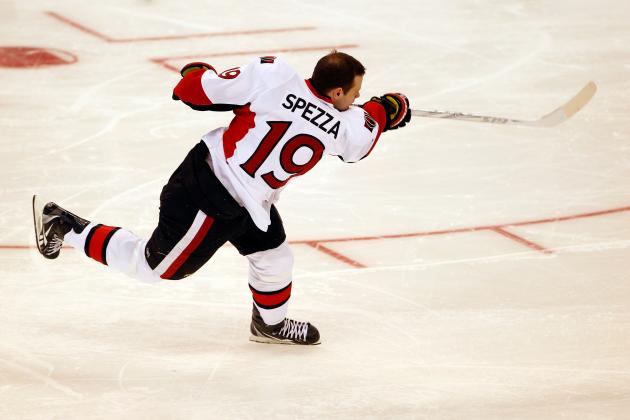 Gregory Shamus/Getty Images

Given his nine year NHL career and his 353 points, it's hard to believe that Jason Spezza is yet to break age 30. But with teammate Daniel Alfredsson approaching retirement, Spezza is will on his way to becoming the face of hockey in Canada's capital.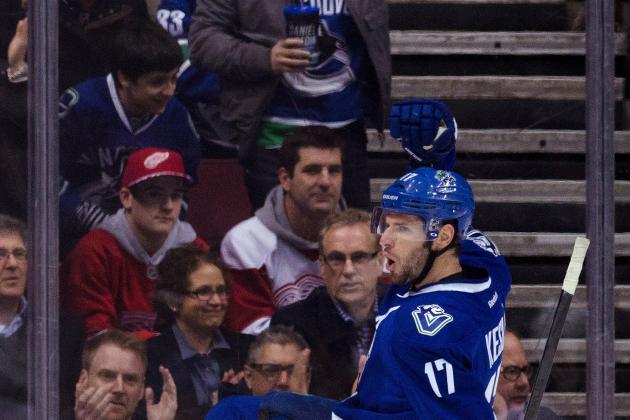 Rich Lam/Getty Images

He's gritty, he's dirty and he gets under your skin, but damn it if Ryan Kesler isn't just that good. A perfect blend of role player and go-to star, Kesler has excelled at both ends of the ice in his seven full NHL seasons.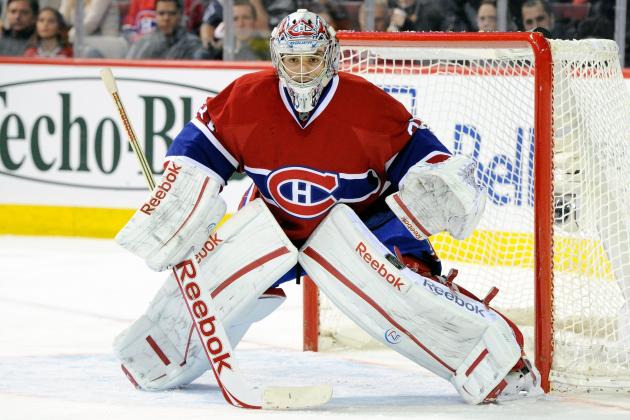 Richard Wolowicz/Getty Images

Carey Price is only 25 years old and has played just five seasons in the NHL. Already he's dealt with big playoff runs, abysmal regular seasons, goaltender controversies and tons and tons of pressure. The fact that this young netminder can handle the pressure of being the biggest name in Montreal hockey is a tribute to how tough he truly is.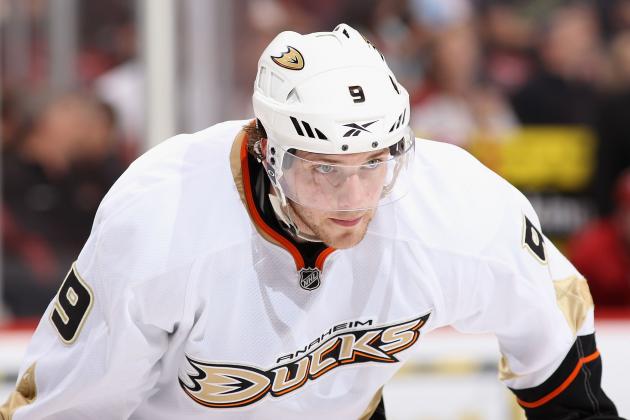 Christian Petersen/Getty Images

Currently a hot trade commodity, Bobby Ryan is establishing himself as one of the top scorers in the NHL. He has put up more than 30 goals in four consecutive seasons, is only 25 years old and is available on the trade market.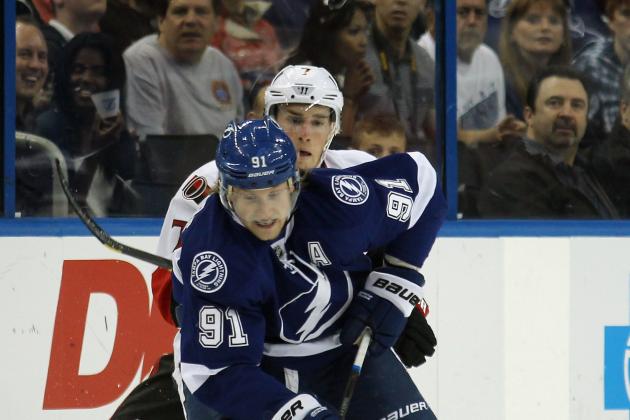 Bruce Bennett/Getty Images

The undisputed most prolific scorer in the NHL has a bright future ahead of him. Stamkos amassed 60 goals last season for a bad Tampa Bay team and looks to keep racking up Rocket Richard Trophies as his promising career moves forward.