25 NHL Players We'd Love to See Launch Acting Careers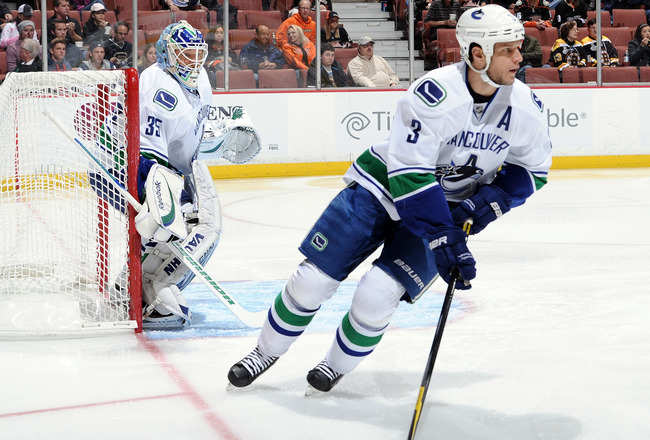 Harry How/Getty Images
Hall of Fame Boston Bruin Cam Neely's groundbreaking supporting role in Dumb and Dumber, one that preceded four other TV and movie roles, reached a point where Boston buffs started purchasing "Sea Bass" apparel with the team logo.
There is no telling whether the current Bruins president will move his secondary career any further. But among current or recently active players, there is a decently deep pool of candidates to emulate Neely's twofold popularity from the mid-1990s.
First, five quick honorable mentions for those with a little hockey movie experience they can build upon: Sean Avery, Pascal Dupuis, Vincent Lecavalier and Mike Ricci, all of The Rocket: The Maurice Richard Story and Georges Laraque of Goon.
The remaining 20 players who have laid out a reasonable foundation for acting, whether they have done it through guest spots, commercials, unprompted antics or just looking a certain part, are as follows.
Kevin Bieksa
When an interviewer mistook him for teammate Ryan Kesler, Bieksa played along and opportunistically satirized some key cultural and collegiate differences between himself and the intended interviewee. That kind of quick thinking ought to impress any improvisational comedy scouts.
Ilya Bryzgalov
Having all but stolen the show on 24/7 with his "universe" speech, Bryzgalov should let his name be borrowed as an adjective for any supporting character whose trademark philosophical soliloquies draw humorously perplexed reactions from the protagonists.
Dave Clarkson
If there is ever a sitcom set in a sporting goods store, Clarkson is certainly ahead of his peers as a candidate to audition for a role.
Vernon Fiddler
When his Dallas Stars met the Canucks this past March, Fiddler proved he could nail a nonspeaking part with his impression of the aforementioned Bieksa. He then demonstrated some improvisational promise when he addressed the topic with the media.
The reactions of both Bieksa and Vancouver skipper Alain Vigneault are enough evidence that this was all taken to be within the boundaries of good nature.
Matt Greene
During the Olympic respite of February 2010, Greene returned to his alma mater at the University of North Dakota and gave this amusing performance as a student-athlete's personal trainer.
Taylor Hall and Jordan Eberle
While this is not exactly a contender for the best acting job on this list, remember that Eberle and Hall are 22 and 20 years of age, respectively. Professional hockey ought to be their focus for almost the next two decades, leaving an abundant accumulation of spare time to keep honing their entertainment craft.
Christian Hanson
If a Slap Shot remake were to be done, the one nearly insurmountable drawback would surely be the attempt to replicate the Hanson Brothers.
If there are any glimmers of hope in that department, though, one of them would have to be Dave Hanson's son, who has seen action with the Toronto Maple Leafs and is now in Boston's system.
Scott Hartnell
Hartnell not only has a hard time eschewing humorous antics, but he also looks like he could be credibly cast as the brother of a Zach Galifianakis character.
Patrick Kane
Within the last year, Kane has not only done endorsements, but he also garnered some experience working with props.
Ian Laperriere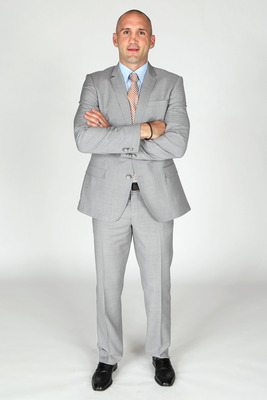 Jeff Gross/Getty Images
The recently retired Laperriere has now been in two movies.
In 2005, he performed in The Rocket: The Maurice Richard Story. More recently, he joined three of his then-Flyer teammates as extras in the yet-to-be-released Judd Apatow film, This Is Forty.
Alexander Ovechkin
Ovechkin is perhaps the NHL's most actively pursuant magnet of attention. He will leave nothing on the table when there is a camera on, and isn't that what every director wants?
Dustin Penner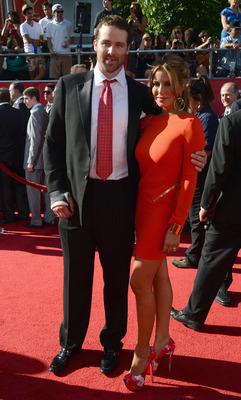 Frazer Harrison/Getty Images
Dion Phaneuf
The TSN segment above evokes four seasoned actors in the effort to draw parallels to Phaneuf's distinctive stroll.
Furthermore, his relationship with Elisha Cuthbert equals a rare opportunity to learn the fundamentals of acting. Perhaps sometime after his NHL days are over, the two of them could emulate Charlie Day and Mary Elizabeth Ellis of It's Always Sunny In Philadelphia.
Mike Ribiero
An integral part of most any action movie is taking staged blows to the face and making them look real. Ribeiro is way ahead in that game.
Cory Schneider
While he has yet to put an official stamp on his first gig as an NHL starter, Schneider is already a seasoned teammate impressionist.
Jason Spezza
The celestial Senator's laugh is enough of a trademark to have its own Facebook fan page. Watch out, Fran Drescher.
Jonathan Toews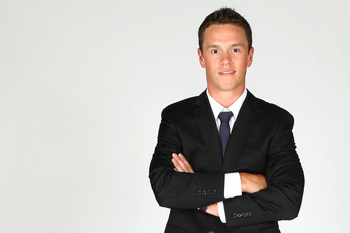 Jeff Gross/Getty Images
Any time you see the aptly named Captain Serious in business attire, as he always is upon entering or exiting an arena on game day or at any formal team or league function, you have to be thinking about a Law and Order-type project, right?
Shawn Thornton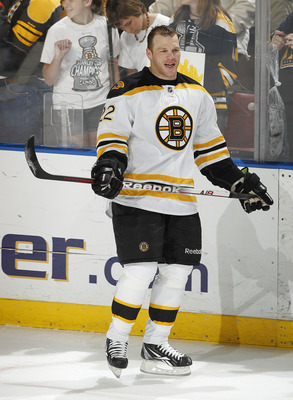 Joel Auerbach/Getty Images
Bruins fans this summer have had a chance to see one of their favorite extracurricular performers flex his acting skills with a brief cameo in Ted. Has New England's crossover world of hockey and entertainment found its next Neely?
Keep Reading