Best Looks in the League: Power Ranking the NHL's Third Jerseys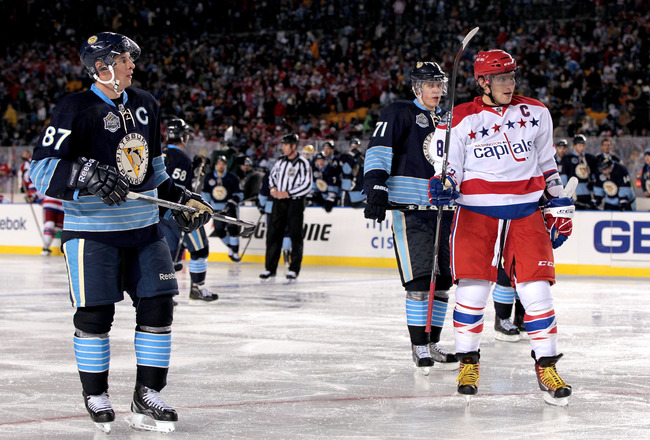 Jamie Squire/Getty Images
In the last two days, I have ranked the NHL's home and road uniforms, respectively, due to ESPN's UniWatch spending the week ranking uniforms in professional sports.
And the fact that there's not really much more to talk about if you're a hockey fan.
Third jerseys are very interesting to a lot of people, as teams have room to be creative and do pretty much anything they want to do in order to sell more of the jerseys and please the fans. This has led to some terrible designs and some great designs throughout history.
Let's take a look at how today's NHL third jerseys stack up.
Note: Buffalo, Edmonton and Florida will all take their third jerseys out of circulation this upcoming season and will not be included in this list.
20. New York Islanders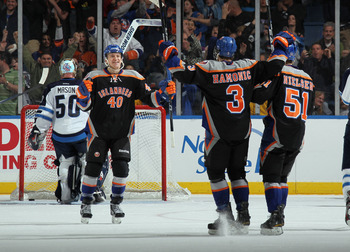 Bruce Bennett/Getty Images
There are so many things wrong with these jerseys...
First of all, the Islanders are blue, orange and white. Why add black and gray?
Next, why do the jersey and pants form a diamond on the side?
Also, shoulder yokes don't look good if they're lighter than the rest of the jersey unless you're Edmonton or Boston.
And last but definitely not least, do they think they're the Knicks? Wordmark and numbers on the front instead of a logo and they add black to a blue and orange color scheme...just weird.
19. Columbus Blue Jackets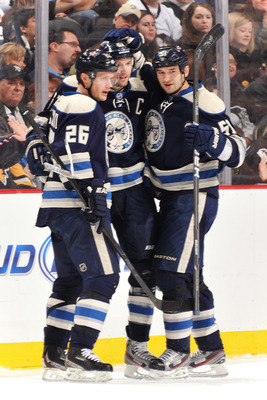 Jamie Sabau/Getty Images
Watch for this trend: Two-tone blue and a circular logo.
Other than that, does this make anybody think of the Columbus Blue Jackets? Me either. Why does a lighter blue replace red, and why does the font of the numbers look like something from the Old West?
And you know how I feel about shoulder yokes being lighter than the rest of the jersey.
18. Colorado Avalanche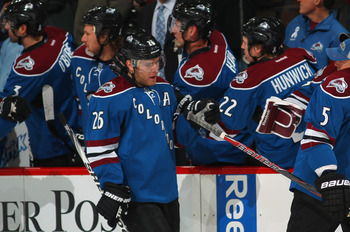 Doug Pensinger/Getty Images
This jersey looks kind of cool, but a diagonal font doesn't look right on any jersey besides the New York Rangers' and aside from the shoulder yoke and elbow stripes, there is nothing else on the jersey.
This would be a lot better if they put the main Avalanche logo on the front instead and made the format a little more like it was before the Reebok switch.
17. Carolina Hurricanes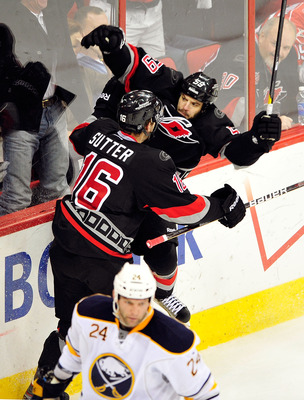 Grant Halverson/Getty Images
It's tough to come up with a third jersey for the Hurricanes unless they go back to a Hartford Whalers throwback.
This jersey is confusing is several ways. First of all, why are the hurricane warning flags around the waist all silver and black? It doesn't look right at all.
Second, what is up with the shoulder logo? Why is it even on there?
16. Tampa Bay Lightning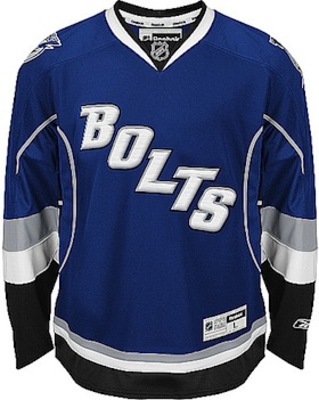 Photo courtesy of icethetics.info and NHL.com
The logo and colors are nice, but I shouldn't even have to say what's wrong with this jersey.
Seriously, who writes a nickname of their team's nickname on the jersey in replacement of a logo?
It doesn't look awful when the "Bolts" are on the ice, but up close it looks very minor league-ish.
15. Vancouver Canucks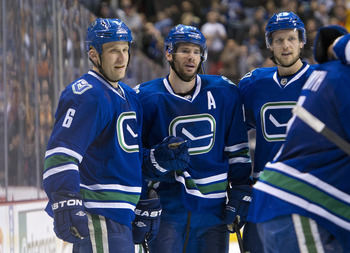 Rich Lam/Getty Images
The jersey isn't terrible and it has a throwback look to it, but it's hardly any different than the Canucks' home jersey. Way to be creative with the colors and design.
Also, the logo is a throwback to the Canucks' first years, but other than the fact that it's a vintage mark, it's really not that impressive. Then again, neither is the orca.
14. Boston Bruins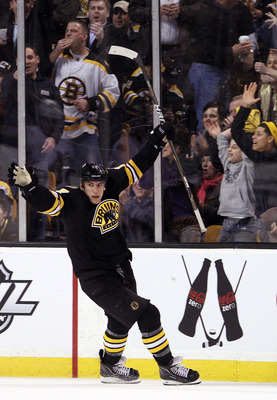 Elsa/Getty Images
The Bruins have had some great jerseys throughout history, but this one isn't very unique or exciting.
Take a look at the Bruins' home jersey. Take away the shoulder yoke, waist stripes and flip the logos. This is what you get.
While the logo isn't awful, the Spoked-B should never be anywhere other than in the front of the jersey, and the point of third jerseys is to do something creative and unique, so why did the Bruins go this route?
13. Phoenix Coyotes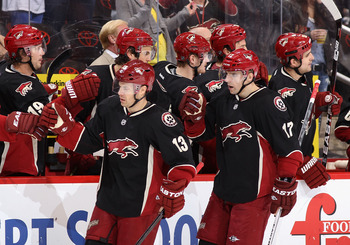 Christian Petersen/Getty Images
These jerseys really aren't that bad, but the logos are a little bit messed up.
The primary logo doesn't look intimidating at all, and the circle logo on the shoulder with the paw looks like a logo for a pet store.
This jersey would be much higher on the list if the main logo was used on the front, and if the shoulder patches were different; such as the red and parchment moon logo they used for their "Decade in the Desert" patch.
12. Los Angeles Kings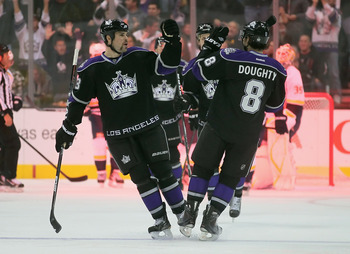 Jeff Gross/Getty Images
This is definitely a great design and color scheme, but something about this jersey looks unfinished due to the lack of a waist stripe.
Otherwise, this is a solid jersey, but it gets knocked down on the list because it's been used as the Kings' primary jersey for about the past decade, but it was just demoted to a third jersey. Not a very creative way to add an alternate.
11. San Jose Sharks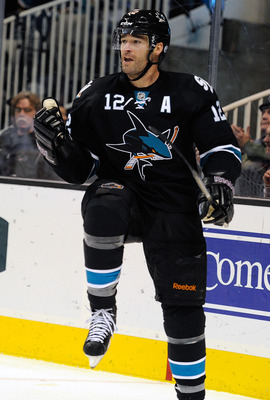 Thearon W. Henderson/Getty Images
Add a waist stripe that matches the elbow bands, and remove the number on the front, and this is pretty much as good as it could get for a team named the Sharks.
This is a solid and very clean-looking jersey which looks very intimidating, especially when it is worn in one of the league's loudest buildings during the playoffs.
10. Pittsburgh Penguins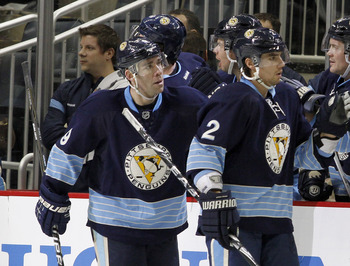 Justin K. Aller/Getty Images
Light blue? Check. Dark Blue? Check. Circle Logo? Check. Good thing the Panthers got rid of their third and the Penguins got rid of the baby blue ones.
This is still a solid look, though, and I shouldn't bash it for using elements that are overused.
The Penguins made a great choice with this alternate jersey, as it looks much better than the baby blues.
The five-stripe design goes back to the days where Penguins' jerseys looked much better than they do today.
9. New York Rangers
Bruce Bennett/Getty Images
This is definitely a nice look, as it looks somewhat like the Lady Liberty jerseys with more traditional striping and a diagonal wordmark instead of a logo.
The blue seems a little too dark for the New York Rangers, but it is an overall nice throwback look.
8. Anaheim Ducks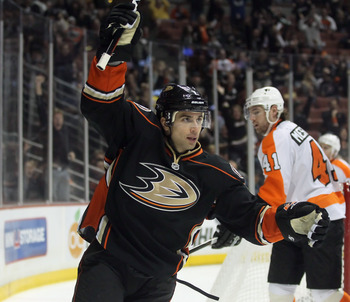 Jeff Gross/Getty Images
These are great jerseys; they use the webbed "D" instead of a wordmark, there is more orange but not too much and they use a Mighty Ducks-inspired shoulder patch.
The only reason this jersey isn't higher is because of the shoulder yoke outline.
7. St. Louis Blues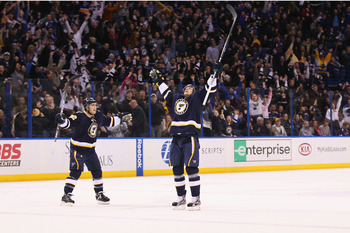 Dilip Vishwanat/Getty Images
These are great jerseys, and everyone seems to love them. The logo is creative; although you can't see it here, there is an image of the St. Louis arch behind the original blue note.
The overall design of the jersey is great too, as the Blues stick with an original design and a lessened color scheme. It would be great to see a white version of these along with this one as the home and road set.
6. Ottawa Senators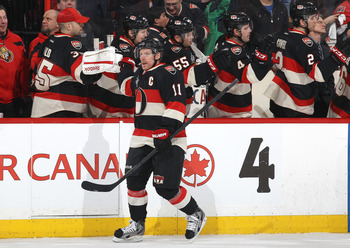 Jana Chytilova/Freestyle Photo/Getty Images
These heritage jerseys are great, as the Senators honor the city's hockey history and make it look great. It may look better with a logo instead of an O and a less tacky shoulder patch, but it's a very nice look.
The problem is that it looks just like the Blackhawks' third jerseys that came before it, but it is still one of the better uniforms in hockey.
5. Toronto Maple Leafs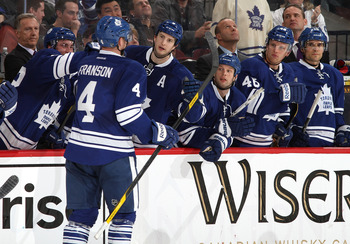 Jana Chytilova/Freestyle Photo/Getty Images
Toronto's alternates have a great, classic look to them as they resemble the sweaters worn in 1967.
It looks a lot like the normal home jersey and the former white third jersey was better, but these are still great looking sweaters.
4. New Jersey Devils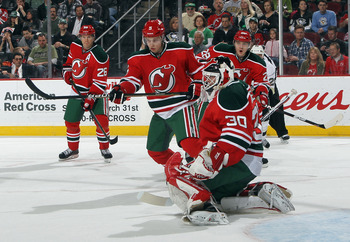 Bruce Bennett/Getty Images
Lou Lamoriello doesn't want the Devils to ever have a third jersey, and this doesn't really count as one since it is only worn once a year, but it deserves a spot in this countdown because it is so good.
The red and green look great together and the template is something out of the '80s and early '90s, creating a great throwback feel when watching.
3. Washington Capitals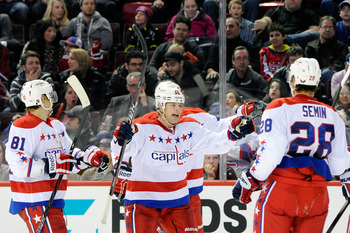 Richard Wolowicz/Getty Images
Why the Caps refuse to use this and a red version instead of their current home and road set is absolutely beyond me.
They have some of the dullest home and road uniforms in the game, yet some of the best-looking third jerseys of all time.
Sure, these look a little bit like Montreal's white jerseys, but these have an amazing throwback feel when you're watching, and they are much better on the eyes than the normal Capitals' sweaters.
2. Calgary Flames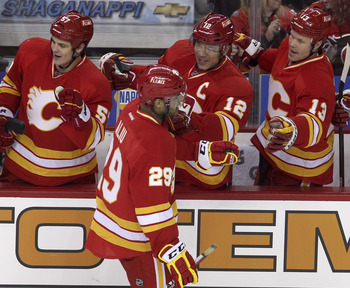 Mike Ridewood/Getty Images
The Flames should go back to these and a white version full-time. They have a unique color scheme and a classic throwback feel to them.
They look much better on the ice than the other Calgary jerseys, and these simple but exciting sweaters deserve to see more time on the ice.
1. Minnesota Wild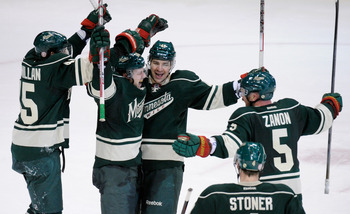 Hannah Foslien/Getty Images
These are some of the greatest jerseys in hockey; they have a throwback feel despite being new and original.
And they're green!
The only reason they're not a runaway number one is because of the shoulder yoke outline and that it would look better with a good shoulder logo.
Just take away the shoulder yoke outline, add a shoulder logo, and make an off-white version; and the Wild would easily have one of the top-five sets in the NHL.
Keep Reading