Each NHL Team's Biggest Cult Hero of All Time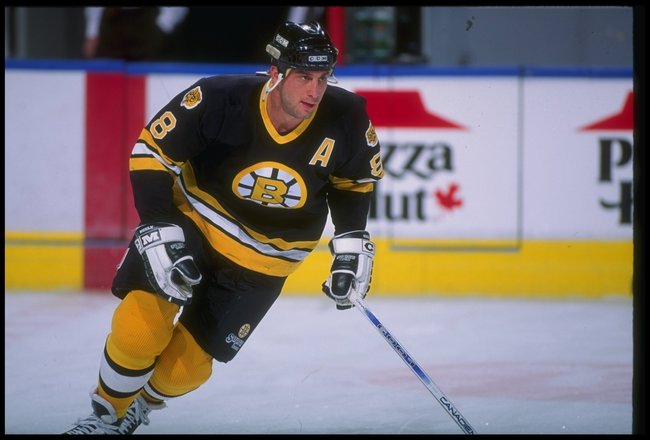 Robert Laberge/Getty Images
Cult heroes are usually not the best player on our hometown NHL team, but they are often the hardest worker and have several qualities that make them fan favorites.
These players are beloved when they are with our team, and are often hated by opposing fans. Even after they leave our club, we still have a strong affection for these players.
Let's look at the biggest cult hero in each NHL team's history.
Anaheim Ducks: George Parros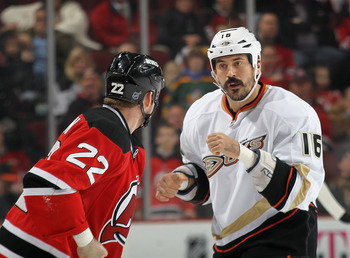 Bruce Bennett/Getty Images
George Parros is beloved by Anaheim Ducks fans for several reasons. He is one of the best fighters in the NHL, he has a fantastic mustache and he does great work in the community.
He's an exciting player to watch and a fan favorite at the Honda Center.
Boston Bruins: Cam Neely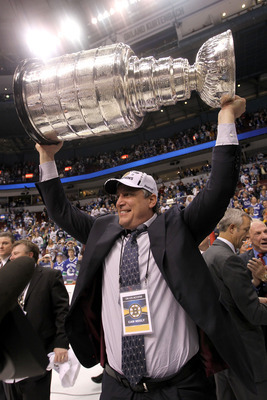 Bruce Bennett/Getty Images
Cam Neely is the perfect illustration of what a Boston Bruins player is supposed to be, and helped define the role of a power forward in the NHL.
Neely played the game with an aggressive style, hit hard and scored a lot of goals. Unfortunately, injuries prevented him from playing in 50 or more games in a season after the 1990-91 season, but he will always be considered as one of the best Bruins of all time.
He is currently the team's president.
Buffalo Sabres: Rob Ray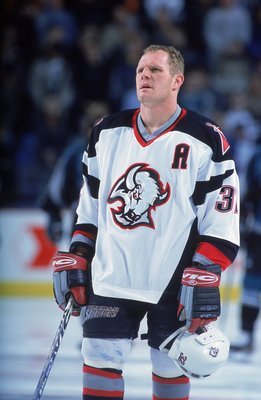 Rick Stewart/Getty Images
Rob Ray was one of the toughest players in the NHL during his career, and for most of the 1990s, he was an intimidating forward for the Buffalo Sabres.
His ability to fight and give his team some energy with his physical style of play made him a fan favorite in Buffalo.
Calgary Flames: Lanny McDonald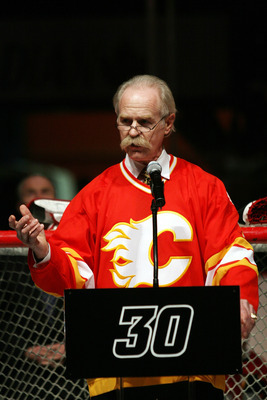 Tim Smith/Getty Images
Lanny McDonald is a Hall of Fame player and one of the best to ever play for the Calgary Flames.
He was a fantastic offensive player and enjoyed many productive seasons in Calgary, including a 66-goal year in 1982-83.
However, the best moment of his career came in 1989 when he finally won the Stanley Cup after 16 NHL seasons. It also helped that he had a great mustache and was a terrific captain.
Carolina Hurricanes: Rod Brind'Amour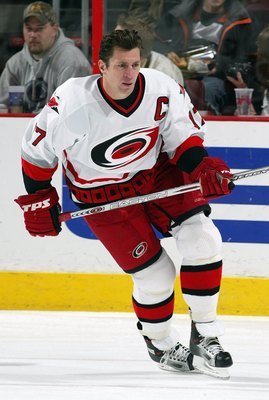 Len Redkoles/Getty Images
Rod Brind'Amour is one of the most recognizable players in the history of the Carolina Hurricanes franchise, and he was the team's captain during their only Stanley Cup championship in 2006.
From 2000 until his retirement after the 2009-10 season, Brind'Amour was a good offensive player, a great leader and someone who played the game hard every night.
His No. 17 has been retired by the Hurricanes.
Chicago Blackhawks: Keith Magnuson
Keith Magnuson loved the Chicago Blackhawks, and this dedication to the team on and off the ice made him a fan favorite among all Chicago sports fans.
He was one of the classiest players of his era and a great defenseman as well. His fighting ability was also legendary.
Colorado Avalanche: Joe Sakic
Joe Sakic was one of the greatest players in the history of hockey and one of the most respected players we will ever see.
His amazing wrist shot, many unbelievable goals and ability to come up clutch made him one of the most popular Denver sports heroes.
Sakic will be inducted into the Hockey Hall of Fame in November.
Columbus Blue Jackets: Rick Nash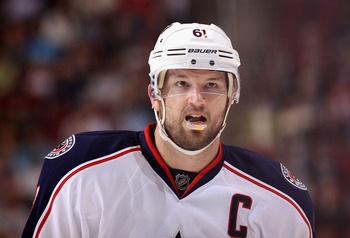 Christian Petersen/Getty Images
Even though he is no longer part of the franchise after being traded to the New York Rangers last month, former Columbus Blue Jackets captain Rick Nash is my pick for this list.
Nash was beloved in Columbus and is without question the best player in the team's brief history as an NHL team.
Dallas Stars: Mike Modano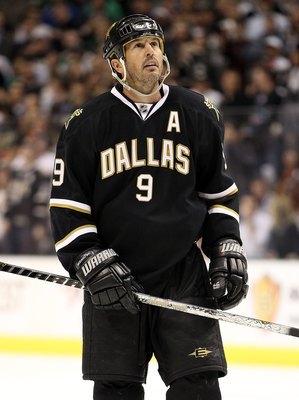 Ronald Martinez/Getty Images
Mike Modano is the greatest American forward of all time and arguably the best player in the history of the Dallas Stars.
Since the franchise's first season in Dallas in 1993-94 until he left the team in 2010, Modano scored 30 or more goals seven times, and he was a crucial part of the team's only Stanley Cup title in 1999.
Detroit Red Wings: Bob Probert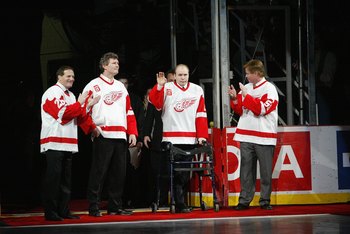 Dave Sandford/Getty Images
Bob Probert played nine NHL seasons with the Detroit Red Wings and was loved by their fans for his scoring ability and his willingness to drop the gloves.
Probert was one of the top enforcers of his day, and will always be a fan favorite in Detroit.
Edmonton Oilers: Dave Semenko
When the Edmonton Oilers were in the midst of a dynasty during the 1980s, if any opposing player wanted a piece of star forward Wayne Gretzky, they had to deal with Dave Semenko.
Semenko's role of protecting Gretzky, as well as his ability to fight very well, made him one of the most admired players in Oilers history.
Florida Panthers: Scott Mellanby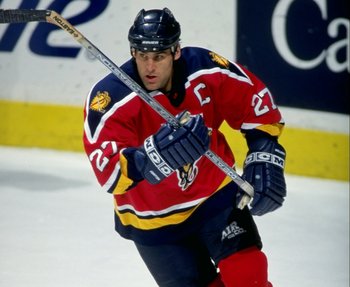 Ian Tomlinson/Getty Images
Scott Mellanby is one of the best Florida Panthers players of all time and he spent eight seasons with the team.
He was also part of the team's run to the 1996 Stanley Cup Final, where they were swept by the Colorado Avalanche. He is also second on the team's all-time scoring list.
The unusual tradition of Panthers fans throwing rubber rats onto the ice during games started after Mellanby killed a real one in the team's locker room.
Los Angeles Kings: Marty McSorley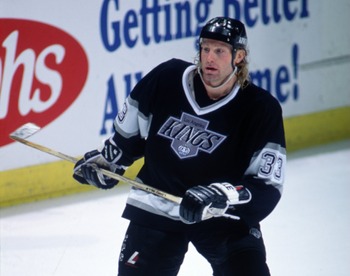 Glenn Cratty/Getty Images
Marty McSorley was brought to the Los Angeles Kings as part of the famous Wayne Gretzky trade for one reason: to protect the Great One.
McSorley was one of the toughest players of his era, and an elite enforcer who played the game hard and fought very well.
His style of play quickly made him a fan favorite in Los Angeles.
Minnesota Wild: Derek Boogaard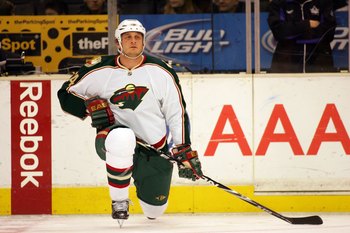 Victor Decolongon/Getty Images
Derek Boogaard, who died at the age of 28 in 2011, was one of the best NHL enforcers of the last decade.
He played the game with a level of toughness and commitment that fans admired and respected.
Montreal Canadiens: Jacques Plante
Richard Wolowicz/Getty Images
Jacques Plante spent 10 seasons with the Montreal Canadiens and is the best goaltender in the history of the franchise.
He was the first goalie to wear a protective mask, which revolutionized the position in the NHL. Plante is one of the most beloved players in Canadiens history because of his success with the team and exciting style of play.
Nashville Predators: Jordin Tootoo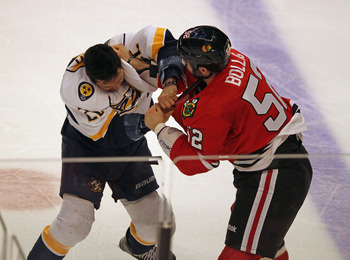 Jonathan Daniel/Getty Images
Jordin Tootoo is a very popular player among Nashville Predators fans because of his physical style of play and the big hits that he delivers on opponents each game.
It's not hard to appreciate the dedication and toughness he brings to the ice each night.
New Jersey Devils: The "Crash Line"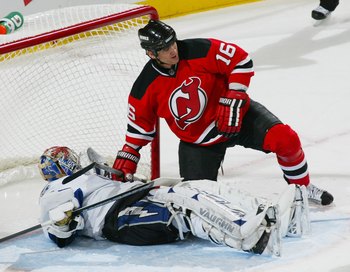 Bobby Holik
Bruce Bennett/Getty Images
Bobby Holik, Randy McKay and Mike Peluso made up the "Crash Line" for the New Jersey Devils, and they were a key part of the team's Stanley Cup title in 1995.
This fourth line played a very physical style of hockey, which Devils fans quickly fell in love with.
New York Islanders: Denis Potvin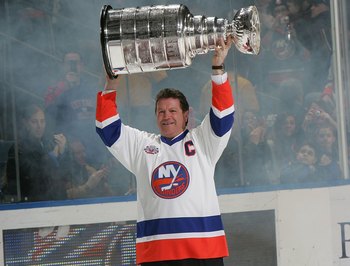 Bruce Bennett/Getty Images
Denis Potvin was a great captain for the New York Islanders and helped lead the team to four consecutive Stanley Cup titles in the early 1980s.
His great performances at both ends of the ice made him a very popular player, but he was also one of the toughest defensemen of his day.
He finished his career with 1,052 points and 1,356 penalty minutes.
New York Rangers: Adam Graves
Craig Melvin/Getty Images
Adam Graves has been a huge part of the New York Rangers organization on and off the ice. He was a key part of the team's 1994 Stanley Cup championship, and he has done wonderful work in the community.
Graves scored 20 or more goals in a season eight times during his Rangers career and is one of the most likeable players in the history of New York sports.
His No. 9 was retired in 2009.
Ottawa Senators: Chris Phillips
Richard Wolowicz/Getty Images
Chris Phillips has played in 1,025 games for the Ottawa Senators since making his debut with the franchise during the 1997-98 season. He has been a reliable defenseman for many years and is a great leader for the team.
Phillips' dedication to the game and his commitment to winning has set a fine example for the Senators' young players.
Philadelphia Flyers: Ron Hextall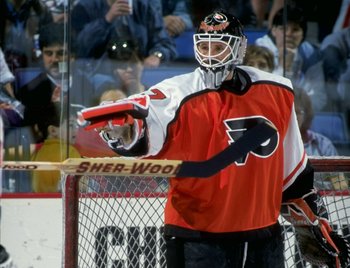 Craig Melvin/Getty Images
Philadelphia Flyers goaltender Ron Hextall was a fantastic player throughout his NHL career, but his crazy antics on the ice made him an immensely popular figure in Philadelphia.
His altercation with Chris Chelios and slash of Kent Nilsson were two of the most memorable moments from his career.
Phoenix Coyotes: Paul Bissonnette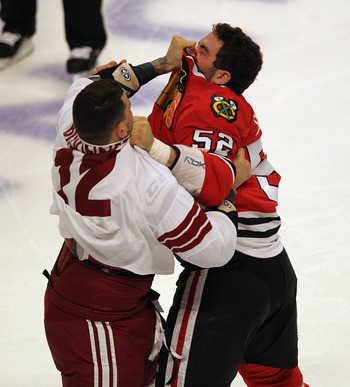 Jonathan Daniel/Getty Images
Paul Bissonnette, or "BizNasty," is one of the most outgoing players in the NHL and has a great personality. His 300,000-plus Twitter followers proves how popular of a player he is.
Bissonnette isn't a very good player, but he plays the game hard and brings some toughness to the Phoenix Coyotes' lineup.
Pittsburgh Penguins: Ulf Samuelsson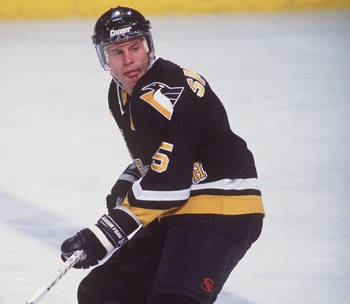 Robert Laberge/Getty Images
Ulf Samuelsson is one of the toughest players to ever play for the Pittsburgh Penguins. He played the game hard, regularly delivered huge hits and racked up 804 penalty minutes in five seasons in Pittsburgh.
He was also part of the team's back-to-back Stanley Cup titles in 1991 and 1992.
San Jose Sharks: Owen Nolan
Doug Pensinger/Getty Images
Owen Nolan was an All-Star player for the San Jose Sharks, and his goalscoring and physical style of play made him a fan favorite.
The former No. 1 overall draft pick scored 20 or more goals in a season seven times for the Sharks, and he retired as a member of the team earlier this year.
St. Louis Blues: Brian Sutter
Brian Sutter was a key part of the St. Louis Blues teams of the 1980s and was one of the toughest players of his era.
He accumulated an astounding 1,786 penalty minutes throughout his career, and his tremendous fighting ability made him a fan favorite.
Sutter also scored 303 goals in his NHL career.
Tampa Bay Lightning: Dave Andreychuk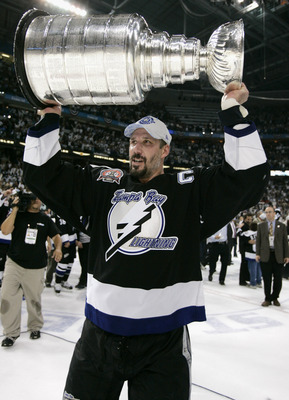 Brian Bahr/Getty Images
Dave Andreychuk was instrumental in making the Tampa Bay Lightning a winning organization during the early 2000s, and he was the team's captain during their 2004 Stanley Cup run.
He will always be a popular player among Lightning fans and is the best leader in franchise history.
Toronto Maple Leafs: Wendel Clark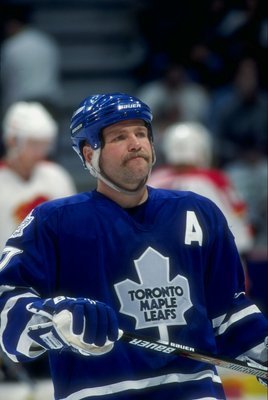 Ian Tomlinson/Getty Images
There are many worthy players for the Toronto Maple Leafs, but Wendel Clark is my pick over players such as Tie Domi.
Clark was one of the finest captains in team history, and his physical style of play made the Leafs difficult to play against. He was an intimidating forward and a good offensive player throughout his career.
Clark will forever be a legend in Toronto.
Vancouver Canucks: Trevor Linden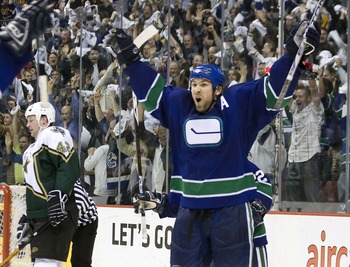 Richard Rees/Getty Images
Trevor Linden is an icon in Vancouver and one of the team's best and most popular players ever. He played the game hard, played through injury and is one of the best leaders hockey has seen in the last 25 years.
He scored both goals in the team's 3-2 loss to the New York Rangers in Game 7 of the 1994 Stanley Cup, and did everything he could to help the Canucks win every night.
In addition to his great play on the ice, Linden was one of the most respected players of his generation, and a very likeable star.
Washington Capitals: Dale Hunter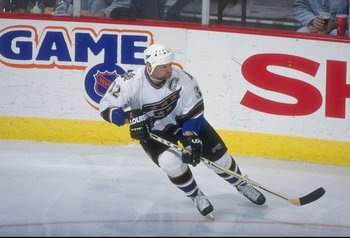 Al Bello/Getty Images
Dale Hunter, who was the head coach of the Washington Capitals for most of last season, was also their captain for many years in the 1990s.
He played a physical style of hockey that provided Capitals fans with great entertainment on a nightly basis, and he could also score 20-plus goals per season during the prime of his career.
Hunter is the second-most penalized player in the history of the NHL. With that said, it's not surprising that he's the all-time leader in penalty minutes in Capitals history.
Winnipeg Jets: Dustin Byfuglien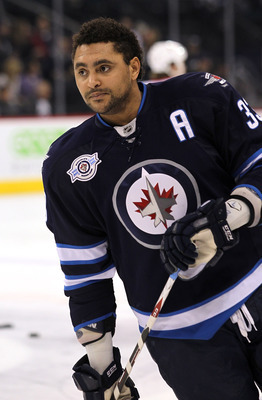 Marianne Helm/Getty Images
Since the current version of the Winnipeg Jets have only been in the league since 1999 (through expansion as the Atlanta Thrashers), Dustin Byfuglien will have to be my choice.
Byfuglien is a very good defensive player and a very likeable player that fans support in large numbers. He is an exciting player on the ice and has been a fan favorite in Winnipeg since the team acquired him via trade from the Chicago Blackhawks before the 2010-11 season.
Keep Reading