Brian Burke and the Biggest Hotheads in NHL Management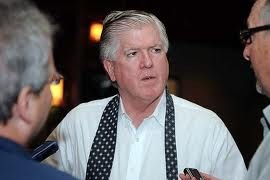 A good manager is a lot like a computer: calculating, objective, and cool.
From atop the highest perches of an NHL franchise, behind closed doors, GMs and VIPs wield the power to dictate the present, as well as the future of a given team. They must make impartial hockey decisions, as well as difficult business ones, all for the good of the collective whole. Most importantly, Managers are often required to stifle their emotions, or run the risk of letting them cloud their judgment.
There's only one problem: Managers are not computers. They are human beings.
The weight of the burden that a GM or President carries is immense. Aside from constructing a competitive roster, they must negotiate contracts, draft young players and satiate the ravenous fans and reporters who expect much and demand more. Their decisions can drastically alter the lives of players, coaches and their families. It is no surprise that some of these men can get pushed over the edge.
They are the ones who make the biggest splashes on the open market. They are the ones who make headlines for assaulting the press. They are the ones who provide top-notch entertainment each off season and deadline day. They are the ones you do not want to cross.
These are five of the NHL's biggest managerial hotheads in recent memory (in no particular order).
Begin Slideshow

»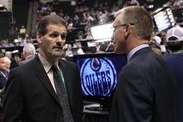 Ron Hextall, former goalie for the Quebec Nordiques, New York Islanders, but most notably the Philadelphia Flyers, is one of the fiercest competitors in the history of the NHL.
As a netminder, Hextall was known for his unprecedented mobility. He would venture out of his net to assist his defenders in playing the puck, a style that future Hall of Famer Martin Brodeur would adopt himself. As a result, Hextall put himself in harm's way, leaving the sanctity of his crease to help out his team.
Solution? Scare the living daylights out of anyone who even dreamed of coming near him by being an absolutely terrifying, borderline psychotic, loose cannon of a mad man.
In the 1988-89 season, Hextall set the record for most penalty minutes by a goaltender in a single season with 113. He was suspended for six or more games on three separate occasions. Never one to back down from a fight, Hextall became one of the most feared and vilified characters in the NHL.
Now, Hextall has traded his cage, blocker and stick for a suit and tie, working as Assistant General Manager to Dean Lombardi and Vice President of the Los Angeles Kings. On June 11, 2012, Hextall won his first Stanley Cup championship with the Kings, this time in a managerial role.
Hextall's name has popped up several times over the last few years as being a prime candidate to fill numerous vacant GM positions across the league. It appears as if his days of tackling opposing players and delivering stiff waffles to the face are gone.
Still, it must be intimidating to sit across the table from a guy that nearly beheaded Chris Chelios in retaliation for a dirty hit against his teammate.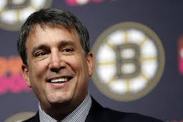 Cam Neely is a Boston Bruin through and through.
The big, hulking, power winger had incredible touch and talent but had a mean streak that could put the fear of God into just about anyone. He could hit. He could fight. He didn't take crap from anyone.
For this reason, he is beloved by Bruins fans and thought of as a shining example of what it means to wear the Black and Gold.
Now, Cam can be seen cheering on the team enthusiastically from his press box high atop the TD Garden. Before the 2010-2011 season, Cam was named President of the team, and works hand-in-hand with General Manager Peter Chiarelli in making important decisions for the team, as well as the business of Boston Bruins hockey.
That doesn't mean that Cam has mellowed in his new position. Far from it.
From day one, Neely has worked hard to establish and preserve the culture of the team that he feels is prototypical Boston Bruins hockey: tough, humble, hard-working and gritty. A team that has each other's backs. A team you wouldn't want to mess with.
Judging from several on-ice encounters with teams like the Dallas Stars, Atlanta Thrashers and their blood rivals, the Montreal Canadiens, over the past few years, I'd say he's done a fine job of that.
Following a game against the Vancouver Canucks this past January, Cam responded to comments made by Vancouver coach Alain Vigneault as well as General Manager Mike Gillis regarding Bruin winger Brad Marchand. Cam not only defended his player, but championed the Bruins' style of hockey that clashes so violently with that of Vancouver's.
"For the most part, we're a team that initiates, not retaliates and we're successful because of it," he said. "It's not our problem if other teams get frustrated with that."
Neely's career as a Bruin is idolized because of the type of guy he is, and the way he handles business. Moving from the rink to the office hasn't changed this one bit.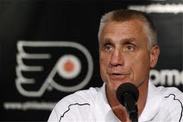 The Webster Online Dictionary defines "hothead" as a belligerent, ill-tempered grouch, but also as "a reckless, impetuous, or irresponsible person."
Paul Holmgren, General Manager of the Philadelphia Flyers since 2006, is like a one-man shot of adrenaline in the heart of a deathly-quiet offseason or boring deadline. Holmgren is a near lock to swing for the fences each year and always tosses his hat into the ring for the big fish that happens to be on the market at the time.
Whether it's Chris Pronger, Danny Briere, Rick Nash, Bobby Ryan, or Shea Weber, it seems as if the Flyers are always on "teams that are actively interested..." lists.
After being swept by the Boston Bruins in the second round of the 2011 Stanley Cup Playoffs, Holmgren totally revamped his team by signing Ilya Bryzgalov to a monster deal and shipping Jeff Carter and captain Mike Richards out of town for a bevy of picks and prospects.
He also shocked the hockey world by signing free-agent Jaromir Jagr to a deal, stealing him away from the rival Pittsburgh Penguins. As a result, the Flyers finished third in a brutal Atlantic division, with 103 points.
However, Holmgren has come under scrutiny for his tendency to sign players to long-term deals, only to trade them away later, a la Jeff Carter. He has been deemed "reactionary" and "impatient" by plenty of fans and accused of courting superstar after superstar as opposed to building a winning team from the inside.
Most recently, Holmgren has come under fire for his attempt to strong-arm Shea Weber from the Nashville Predators with a mammoth offer sheet. While unsuccessful, the attempt has many convinced that Holmgren runs the risk of black-listing himself from players and other GM's.
Even still, there is much to be happy about in Philadelphia. With Claude Giroux on the verge of going from superstar to megastar, as well as a slew of top-notch young talent, the Flyers will be contenders for years to come.
And make no mistake, if Holmgren sees a chance to make his team better, his finger will surely be on the trigger.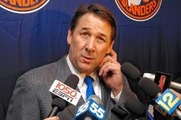 Few General Managers in the history of the NHL can say that they have climbed into the stands and beaten an unruly fan with his own shoe before.
After manning the blue line in Boston for 12 seasons, Mike Milbury served as General Manager of the New York Islanders from 1995 to 2006. During his tenure on Long Island, Milbury executed several infamous transactions that many believe have crippled the franchise to this day.
Milbury dealt young, future impact players like Zdeno Chara, Bryan McCabe, Roberto Luongo and Todd Bertuzzi, among others, as well as selecting Rick DiPietro with the first overall pick in 2000, ahead of Dany Heatley and Marian Gaborik.
This string of questionable decisions, when looked back on, has landed Milbury on several "Worst GMs of All Time" lists.
Now working as an analyst for several networks, including NBC, Milbury's cantankerous, opinionated demeanor has triggered several on-air battles with colleagues.
Never afraid to belittle someone else's opinion, or hammer a player for poor, passive play, Mike's "rough-and-gruff" exterior suits the physical nature of the sport but lacks the finesse and level-headedness of the managerial office.
Milbury is no longer in a managerial role but remains a prominent figure in hockey to this day. While not always agreeable, his quick temper and sharp, indiscriminate attitude are better suited for the studio booth than the GM armchair.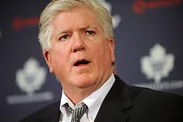 Brian Burke will always be a controversial figure in hockey.
Never afraid to engage the ruthless Toronto media in verbal fisticuffs, and staunchly defensive of his beliefs on and off the ice, Burke's refusal to back down from anyone has landed him in the media spotlight on numerous occasions.
In a very public, very ugly incident in 2007, Burke and then-Edmonton Oilers GM Kevin Lowe got into a spat regarding restricted free agent Dustin Penner. After Lowe signed the 24-year-old winger to a $21.25 million offer sheet, Burke lashed out at him, calling the move "gutless" and "an act of desperation."
Burke went so far as to claim that he challenged Lowe to a fistfight in a barn. Now that's hardcore.
Burke has been labeled a bully, a jerk and a media junkie over the course of his career, but he also wears a Stanley Cup ring from his time with the Anaheim Ducks and has done a lot to kick-start a rebuild of a lowly Toronto franchise that hasn't seen postseason play since 2003-04.
While the demand in Toronto is extremely high, with little room for failure, and even less patience, Burke has assembled a decent group of young players to build around and will look to take the next step in the coming years.
That being said, Brian Burke is an extremely polarizing figure in hockey. His straight-shooting, pull-no-punches approach to the media, as well as his abrasive personality, make him a figure that will never fall too far from the spotlight. Putting a microphone in this GM's face is like lighting a fuse: You might want to stand back.