NHL Free Agents: The 15 Best Available UFAs and Where They'll Play in 2012-13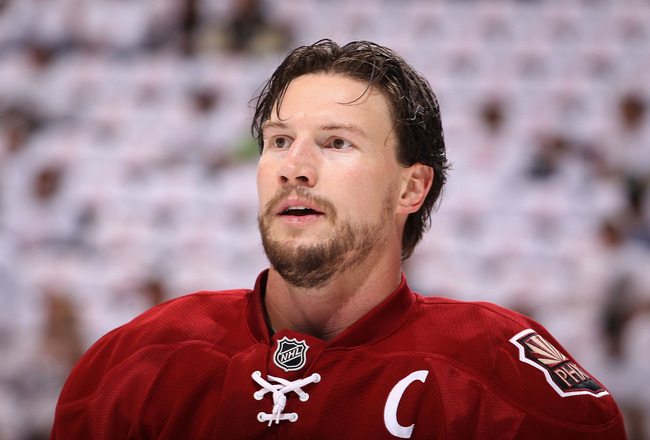 Christian Petersen/Getty Images
On publishing day, it is August 9 and free agency opened 40 days ago.

Much like last year, there are still some top unrestricted free agents searching through contracts for the new year, and teams looking to fill spots in their lineups.

With training camps just over one month away, NHL fans should be treated to a few signings in the coming weeks.
This is a ranking of the top 15 unrestricted free agents still on the market, coupled with a prediction of where those players will end up playing the 2012-13 season.
15. Dominic Moore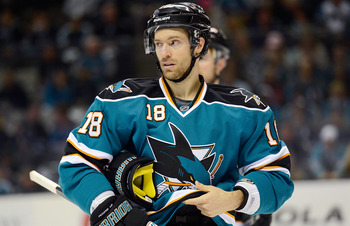 Thearon W. Henderson/Getty Images
Center, San Jose Sharks
Dominic Moore, 32, is a fine player.

A very reliable third-liner who produces well offensively, is efficient in his own zone and agitates the opposition, Dominic Moore spent the majority of 2011-12 playing for the struggling Tampa Bay Lightning before being dealt to the San Jose Sharks—his ninth NHL team in nine seasons—at the deadline.

The well-traveled center posted 25 points in 79 games, but showed signs of his 32 years holding him back toward the end of the season.

Nevertheless, Dominic Moore will be an NHL player next season, likely for a contending team looking to fill a spot on their third line for next year.

He should sign soon.
Where He'll Play in 2012-13: Ottawa Senators
Having lost Zenon Konopka, the Ottawa Senators suddenly look somewhat bare in the bottom-six center department. Moore changes that.
14. Jaroslav Spacek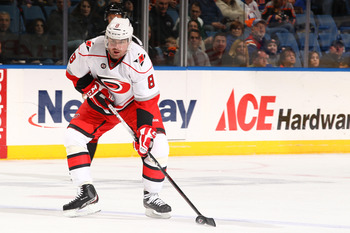 Al Bello/Getty Images
Defenseman, Carolina Hurricanes
Jaroslav Spacek, 38, has been a very consistent player in the NHL for a very long time, but after an undeniably tough season plagued by untimely injuries, the Czech blueliner finds himself an unsigned free agent.

Spacek fell victim to becoming a bargaining chip last year—the Montreal Canadiens dealt him to the Carolina Hurricanes for Tomas Kaberle—but still only appeared in 46 games all season (from which he tallied five goals and 15 points).

Spacek is by no means the offensive defenseman and power-play dynamo he once was, but he can still be reliable and serviceable as a depth defenseman with leadership qualities.

Look for Spacek to sign with someone seeking those things.
Where He'll Play in 2012-13: Minnesota Wild
Even with the addition of Ryan Suter, the Minnesota Wild have an overly young and inexperienced blue line. Jaroslav Spacek is just the kind of player the Wild could use to mentor the likes of Jonas Brodin next year.
13. Alexei Yashin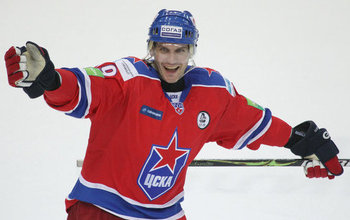 en.rian.ru
Center, CSKA Moscow
Just like last year, Alexei Yashin is looking for the opportunity to return to the NHL.

The 38-year-old Russian, drafted second overall in 1992, has spent the last five years plying his trade in Russia but is hoping someone will offer him a place in North America.

The subject of one of the most infamously lopsided trades in NHL history—when the Ottawa Senators dealt him to the New York Islanders for forward Bill Muckalt, defenseman Zdeno Chara and the second overall pick in 2001, used by the Sens to select franchise center Jason Spezza—Yashin has 781 points in 850 games, spanning 12 seasons.

He's not the offensive powerhouse he once was, but Yashin can still be a helpful two-way center with scoring tools and good leadership qualities.

There are informal reports that teams are interested in his services, but it remains to be seen whether or not he'll be an NHL player next season.
Where He'll Play in 2012-13: KHL
A year ago, it was rumored that Yashin was in line for a return to the New York Islanders. The reunion didn't materialize. It is fair to assume that this desire to return to North America will burn out like it did last year.
12. Petr Sykora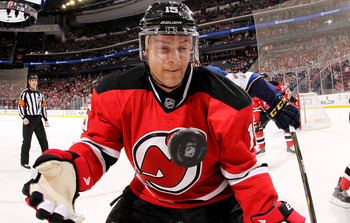 Nick Laham/Getty Images
Right Wing, New Jersey Devils
Overshadowed by Jaromir Jagr's return to the NHL was the similar return of fellow Czech Petr Sykora, age 35.

After a one-year hiatus with the Czech Extraliga's Plzen and KHL's Dinamo Minsk, Sykora came back to North America to join the New Jersey Devils, his old team. After winning a spot in training camp, he played a major role in helping his team to the Stanley Cup finals.

In 82 games, Sykora totaled 44 points, including a much-needed 21 goals.

But evidently, despite losing Zach Parise, the Devils did not feel Sykora was worth re-signing.

Petr Sykora proved last season that he still has the offensive tools that made him a dynamic player in the NHL for so long.

It would be surprising if nobody took a chance on him.
Where He'll Play in 2012-13: Pittsburgh Penguins
Help may be on the way in the form of prospects like Beau Bennett, but for now, the Pittsburgh Penguins still have a lack of top-six forwards. Jordan Staal and Steve Sullivan left in the summer in the hopes that Zach Parise would come in, but without Parise, the Penguins have a hole.
Sykora, who has had success in Pittsburgh before, could fill it.
11. Matt Gilroy
Bruce Bennett/Getty Images
Defenseman, Ottawa Senators
Once a dominant college blueliner with Boston University, Matt Gilroy, 27, has struggled to develop his tremendous offensive tools and clever own-zone play beyond the role of a patchy bottom-two pairing.

After signing with the New York Rangers at the conclusion of his college career in 2009, Gilroy played for the Tampa Bay Lightning last season before being dealt to the Ottawa Senators at the deadline.

In total, Gilroy posted three goals and 17 assists in 67 games.

Gilroy will be in the NHL next season, and it will be a defining year in his career. A successful season will see Gilroy develop into an effective top-four blueliner contributing heavily as a power-play quarterback. A bad one will see him struggle to consistently crack a lineup, and he would not likely stay an NHL-player beyond next season.

Look for Matt Gilroy to sign a training camp tryout contract with a team looking for depth and youth on their blue line.
Where He'll Play in 2012-13: Winnipeg Jets
The ex-Atlanta Thrashers are coming out of a rebuild, and it might be worth taking a risk on a young defenseman like Gilroy. They lack depth on the blue line, and the American would add competition.
10. Pavel Kubina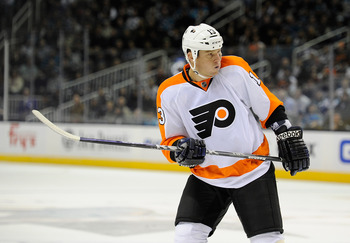 Thearon W. Henderson/Getty Images
Defenseman, Philadelphia Flyers
Washington Capitals TV announcer Joe Beninati once referred to Pavel Kubina on-air as "a mountain of a man," and he couldn't have been more right.

The 6'4", 258-pounder is quite possibly the NHL's biggest player.

Kubina was dealt to the Philadelphia Flyers from the Tampa Bay Lightning at the deadline, but was unable to help the Flyers beyond the second round of the playoffs.

He ended the season with three goals and 15 assists in 79 games.

At age 35, Kubina is well beyond his best, but the Czech blueliner is still a serviceable player on the back end.

He will be hoping his immense size can score him a contract.
Where He'll Play in 2012-13: Carolina Hurricanes
The Carolina Hurricanes did a great job adding Alexander Semin and Jordan Staal to their forward corps, but unless top prospect Ryan Murphy makes the team, their defense lacks depth.
They lost one of their big shot-blockers in Bryan Allen through free agency, but Kubina would replace him and add competition to those higher up the depth chart.
9. Tomas Holmström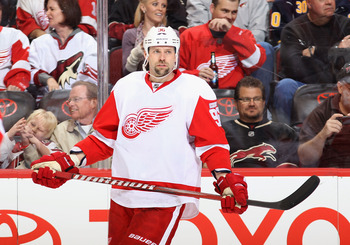 Christian Petersen/Getty Images
Left Wing, Detroit Red Wings
At age 39, Tomas Holmström is very much a specialist in the NHL.
The Swedish forward, who has spent his whole career in Detroit, excels on the power play and continues to do so very well, despite his advanced years.
This year, Holmström appeared in 74 games for the Wings, tallying 11 goals and 13 assists for 24 points.
Despite standing at only 6'0", 203 pounds, he has made his name as a player with a tremendous net presence, which is what he hopes will ticket him a return to the NHL next year.
He should sign with a team looking for power-play help.
Where He'll Play in 2012-13: Detroit Red Wings
You'd have to think, or at least hope, the Detroit Red Wings have too much respect for Tomas Holmström to allow him to have to retire. There is a good chance he returns (with a pay cut), even this late in the summer.
8. Dan Ellis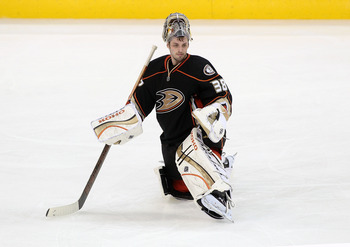 Marianne Helm/Getty Images
Goaltender, Anaheim Ducks
Dan Ellis has been somewhat of an enigma at the NHL level.

Clearly a netminder with immense quality, Ellis has often struggled to play as well as his talent level suggests.

And the 32-year-old has struggled with injuries. Ellis appeared in only 10 games in a backup role for the Ducks this season, posting a 1-5-0 record with a .911 save percentage and a 2.72 goals against average.

Dependent on his health, Ellis is still a reliable backup goalie in the NHL.

Dan Ellis will likely score a contract with a team looking for a high-end second-option netminder.
Where He'll Play in 2012-13: Los Angeles Kings
A trade to send Jonathan Bernier away from L.A. appears imminent, as he is too good to remain an NHL backup. The Kings will be seeking a new backup, and Ellis could step up and play a similar role to that of Bernier. Jonathan Quick is the starter, but Ellis can be a reliable backup.
7. Mike Knuble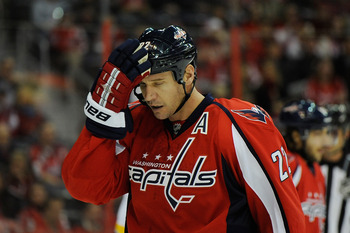 Patrick McDermott/Getty Images
Right Wing, Washington Capitals
For years, Mike Knuble was a dominating goalscoring force, easily capable of posting 20 goals in drive-to-the-net fashion.

As their right-winger, he made Nicklas Bäckström and Alex Ovechkin two of the NHL's very best players.

This season, though, Knuble struggled, and after just six goals and 18 points in 72 games, was not brought back by the Capitals.

Knuble is no longer a go-to offensive player, but he is a great leader and physical force.

The 40-year-old wants to return and will likely help fill out a top six as teams scramble for help toward the end of the summer.
Where He'll Play in 2012-13: New York Islanders
The Islanders have a lot of skill in their top six, but not a lot of grit. Knuble wouldn't get the chance to win a cup in 2012-13, but he would likely relish the opportunity to help mentor the likes of Michael Grabner, Nino Niederreiter, Kyle Okposo, Ryan Strome and John Tavares, and with a good season could set himself up for a big payday a year from now.
6. Kristian Huselius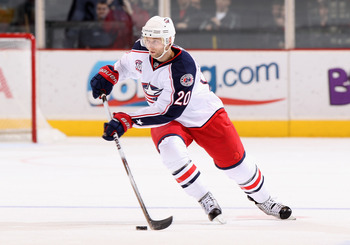 Christian Petersen/Getty Images
Left Wing, Columbus Blue Jackets
Swedish forward Kristian Huselius has not scored an NHL goal since April 9, 2011.

But that was his 190th goal in the North American league.

A highly skilled forward with a good shot and powerful skating stride, the 33-year-old Huselius is a seven-time 20-goal scorer, despite having battled through a career plagued by injuries.

This year, Huselius appeared in just two games for his Columbus Blue Jackets, tallying no points with two penalty minutes and a minus-2 plus-minus.

Still, Huselius is a potential 30-goal scorer when healthy, and someone will likely take a chance on him eventually.
It will be a make-or-break year for Kristian Huselius.
Where He'll Play in 2012-13: Phoenix Coyotes
When the Phoenix Coyotes eventually (possibly) miss out on a certain other player on this list, there will be a huge 22-goal-sized hole in their top six. When fit, Huselius fills that production hole. It's worth the risk for the Coyotes.
5. Andrei Kostitsyn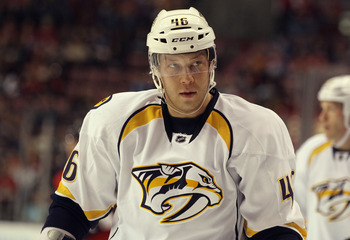 Bruce Bennett/Getty Images
Left Wing, Nashville Predators
When Andrei Kostitsyn joined Alex Radulov in breaking team curfew rules midway through the 2012 playoffs, the writing was on the wall.

Despite having cost the Preds second- and fifth-round picks at the deadline and totaling 12 points in 19 regular season games for the Preds (to add to 24 points in 53 games for the Montreal Canadiens before the trade), the 27-year-old Belarusian would not be returning to Nashville.

Now, the troubled Kostitsyn is scrambling for a gig for the 2012-13 season.

When fit, at his best and blessed with good ice time, Kostitsyn is a high-level top-six forward.

In the right situation, he can dominate.

Who takes the chance?
Where He'll Play in 2012-13: New Jersey Devils
The New Jersey Devils may have been Stanley Cup finalists in 2012, but they lost their star player in Zach Parise, and his 69 points have been largely unreplaced. Kostitsyn could thrive next to Ilya Kovalchuk and could help carry the burden of Parise's loss.
4. Chris Campoli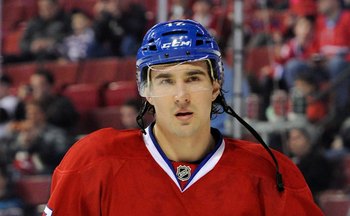 Richard Wolowicz/Getty Images
Defenseman, Montreal Canadiens
A year ago, Chris Campoli, 28, was a highly sought-after free agent after not re-signing with the Chicago Blackhawks.

But after failing to impress as a member of the Montreal Canadiens after suffering a tough hamstring injury and recording just 11 points in 43 games, Campoli is back on the free-agency carousel.

When he's playing well, Campoli is a reliable, two-way, second-pairing defenseman. At this point of the summer, he'll sign cheaply.

Teams looking to fill a bottom-four blue-line hole should take a long look at Chris Campoli.
Where He'll Play in 2012-13: Dallas Stars
Judging by their offseason activity (they brought in Cody Eakin, Jaromir Jagr, Derek Roy and Ray Whitney), the Stars consider themselves postseason contenders this year. But their defensive corps, led by Alex Goligoski and Stephane Robidas, isn't as strong as their forward corps. Campoli would be a huge improvement.
3. Carlo Colaiacovo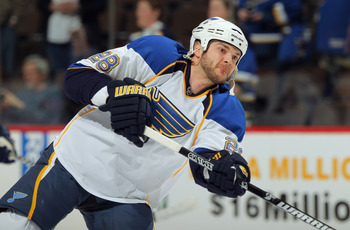 Doug Pensinger/Getty Images
Defenseman, St. Louis Blues
When fit, Toronto-native Carlo Colaiacovo is a consistent and reliable two-way second-pairing defenseman.

But he isn't always fit, and the fact that he has never in his seven-year NHL season played a full 82 games is undoubtedly the reason the 29-year-old remains unsigned.
Colaiacovo appeared in 64 games in 2011-12 for the St. Louis Blues, scoring two goals and adding 17 assists to go along with a plus-seven.
While the '01 17th overall pick has failed to reach his NHL potential somewhat, he is still an effective blueliner. There was no longer room for him in Missouri, but whichever team he ends up with will be lucky to have him.
Where He'll Play in 2012-13: Philadelphia Flyers
With Chris Pronger concussed, Matt Carle in Tampa and Andrej Meszaros out long term, the Philadelphia Flyers could look to add a second-pairing defenseman to compete with Braydon Coburn, Nicklas Grossmann, Luke Schenn and Kimmo Timonen. Colaiacovo is the best blueliner available.
2. Jason Arnott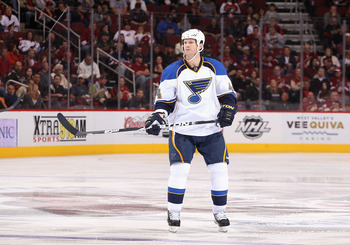 Christian Petersen/Getty Images
Center, St. Louis Blues
A center with size, strength and great offensive talent, Jason Arnott has been one of the NHL's finest players for almost two decades.

After being dealt from the New Jersey Devils to the Washington Capitals at the 2011 trade deadline, Arnott spent the 2011-12 season with the St. Louis Blues.

The 37-year-old appeared in 72 games for Ken Hitchcock's renaissance team, scoring a very respectable 17 goals and 17 assists, but he did not do enough to earn a new contract.

The years of Jason Arnott providing go-to scoring may well be gone, but he can still be a solid producer and locker-room leader.

He should sign with a contender looking for help in those areas.
Where He'll Play in 2012-13: Vancouver Canucks
Ryan Kesler is injured until December, and unless the Canucks think prospect Jordan Schroeder is ready for a top-six role, they will look to sign a free-agent pivot. They are apparently interested in Arnott.
1. Shane Doan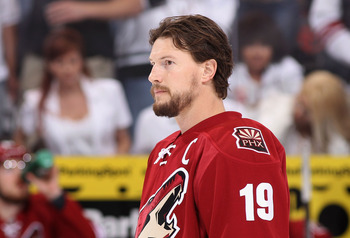 Christian Petersen/Getty Images
Right Wing, Phoenix Coyotes
Who else?

Ex-Phoenix Coyotes captain Shane Doan is the best available player.
And he is highly sought-after.

Doan wants to be back in Phoenix with the franchise where he has spent his whole career, but ownership issues are keeping him from committing. Suitors are lining up for his signature, but the Winnipeg Jets' 1995 seventh-overall pick's four-year, $30 million demands could prove to be a stumbling block.

It's a mess.

Doan appeared in 78 games for the Coyotes, scoring 22 goals and 28 assists for 50 points. He put up 48 penalty minutes and was a minus-eight.

The soon-to-be 36-year-old is a great player and a great leader, and whichever team wins the right to his services adds a top player to their roster.
Where He'll Play in 2012-13: New York Rangers
Doan will want to sign somewhere with a good hockey history and a contending lineup, and the Rangers have the cap space to take him on. At this point, the Rangers appear to be the favorites in the sweepstakes.
Keep Reading