NHL Trades 2012: 9 Teams with Plenty of Maneuvering Still to Do This Offseason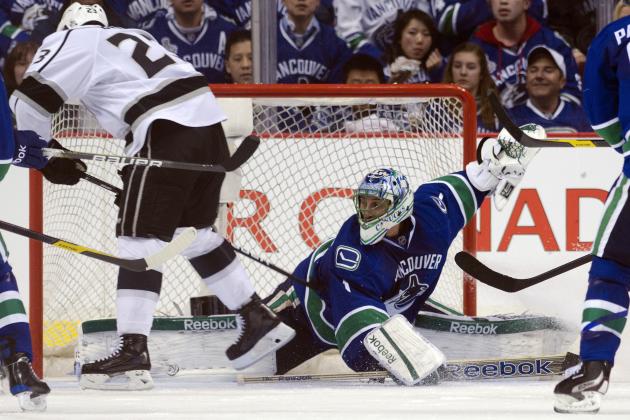 Rich Lam/Getty Images
Roberto Luongo, currently of the Vancouver Canucks.
With Shane Doan, the only true marquee player remaining in this year's free-agent pool, pricing himself out of most teams' budgets ($30 million over four years), the attention has undeniably shifted to the trade market.
Teams looking for the right partner (or gullible general manager to rip off) still have plenty of time to take care of business, so there's little reason why these last few months of the offseason can't be just as exciting as the first two.
Here are nine teams with plenty of maneuvering still to do this offseason.
Begin Slideshow

»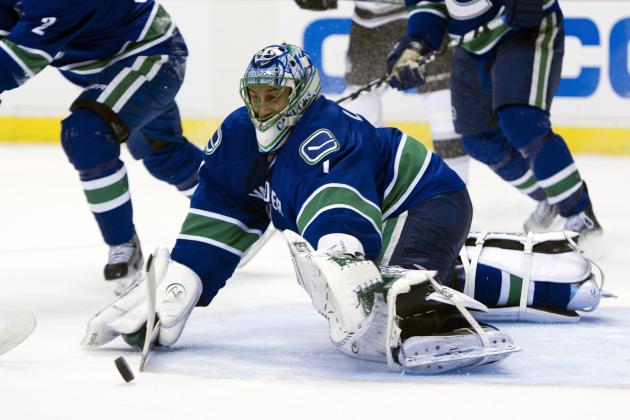 Rich Lam/Getty Images
Roberto Luongo has overstayed his with the emergence of Cory Schneider.
Goalie Roberto Luongo will get traded. It's just a matter of time. Or at least that's what desperate Canucks fans are likely telling themselves at this point...so enamored are they with the new kid in nets in Cory Schneider.
Of course, they're unfortunately kidding themselves, dreaming of the sweet return they'll get for a starting goalie just exiting his prime, one with a decade left on his deal, no less. Once everyone, including GM Mike Gillis, comes to terms with the fact that salary-cap relief will be pretty much all they get in return, then things will likely get moving along quite nicely.
Player most likely to be dealt:
- Roberto Luongo
Potential destinations:
- Toronto Maple Leafs (once Vancouver realizes they won't get anything other than a draft pick or prospect for Luongo)
- Florida Panthers (once Jose Theodore discovers he is in fact Jose Theodore and loses his game completely)
- Tampa Bay Lightning (once they discover Anders Lindback has never played more than 22 games in any one season)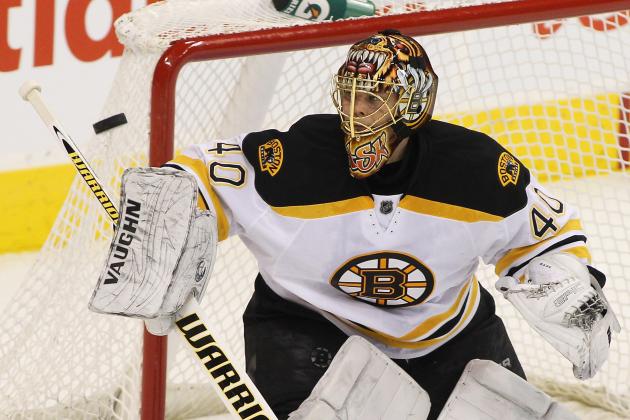 Marianne Helm/Getty Images
Tuukka Rask of the Boston Bruins was initially drafted by the Toronto Maple Leafs.
For a point in time, it felt like James Reimer really was a diamond in the rough, that he would make Torontonians forget all about the Mikael Tellqvists and Vesa Toskalas of the past.
But alas, the pressure to live up to such lofty standards must have somehow, someway, gotten to him, and Leafs fans must now continue to admire Tuukka Rask from afar and wonder what might have been if John Ferguson Jr. had not been such a crummy GM.
If only a goalie was available—a proven one, of course—one capable of withstanding the pressures of playing in a hockey-centric town and the gravitational pull of living in the center of the universe. Is it possible that Roberto Luongo is that goalie? Yes…the promised one foretold about in the prophecies, born of a rival tribe who will bring stability to the Toronto crease, something that has not been there since the days of the one they called Cujo.
And, if he ends up getting traded elsewhere, don't fret. I hear Andrew Raycroft's available.
Players most likely to be dealt:
- Draft picks, prospects (for Luongo)
- Nazem Kadri (who, try as he might, just isn't panning out, folks)
Potential destinations:
- Vancouver Canucks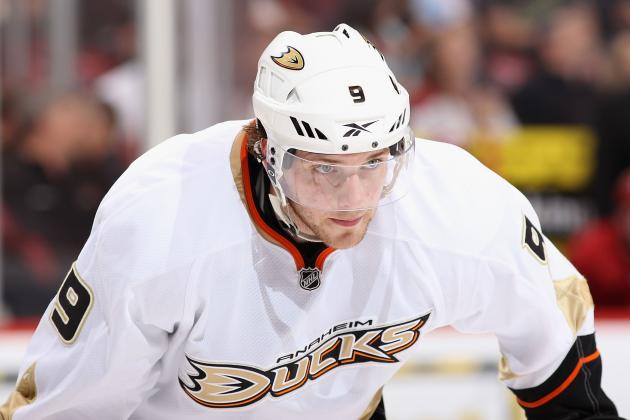 Christian Petersen/Getty Images
The Anaheim Ducks are reportedly looking to trade Bobby Ryan.
From Brian Burke's current team to his former one. It seems his first-ever draft pick from when he was with Anaheim, Bobby Ryan, is potentially on his way out of town. Makes sense, really. I mean Anaheim has got a decent defense, a goalie whose injury woes seem to be behind him and, aside from one of the most dominant lines in hockey that includes Ryan, a paltry offense that could use an upgrade.
Like I said, perfect sense. I hadn't realized Anaheim had gotten annexed into British Columbia, because the stuff GM Bob Murray is smoking could only have come from there.
Seriously, what does he think he will get for Ryan that will drastically improve his pop-gun offense? Two Ryans? The dude may have struggled last year, but trading away a 25-year-old power forward who has scored 30 goals in four straight years is not the answer and the equivalent of career suicide.
Still, the rumor mill is as active as it's ever been, and, where there's smoke, there's likely a certain kind of cigarette in Murray's hands.
Player most likely to be dealt:
- Bobby Ryan
Potential destinations:
- Pittsburgh Penguins (any team out east that could use a star forward, meaning any team out east)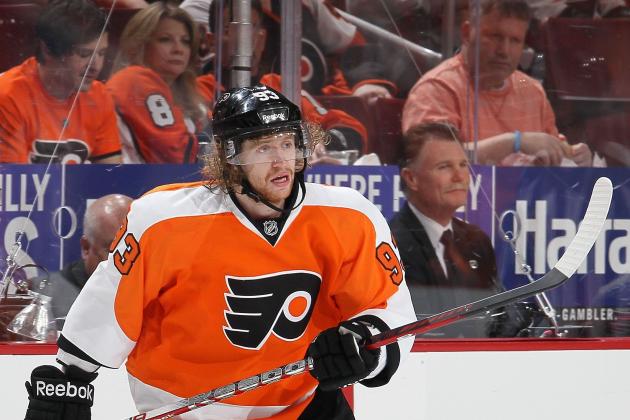 Jim McIsaac/Getty Images
Jakub Voracek is the consolation prize for fans of the Philadelphia Flyers, who lost out on Shea Weber.
The collective high in Philadelphia after the offer sheet to Shea Weber had been announced has officially died down. There's little denying that even without a No. 1 defenseman like Weber that the Flyers are a pretty complete team. That is, aside from in nets, and thanks to the contract GM Paul Holmgren gave Ilya Bryzgalov, the Flyers will be forced to live and die with his goaltending from here on out.
In any case, fans were hugely depressed, and rightly so, when the Nashville Predators opted to keep and overpay Weber in Holmgren's stead. To limit the disappointment, all Holmgren could muster was to promptly go out…and then overpay Jakub Voracek. Not exactly two players cut from the same cloth, unfortunately.
It's weird to say, but as much as Philadelphia doesn't need to make a trade, Holmgren very much does to save face and give the town a welcome distraction.
Player most likely to be dealt:
- Matt Read (when his trade value is at its highest)
Potential destinations:
- Anaheim Ducks (for Bobby Ryan) or any team with excess defensemen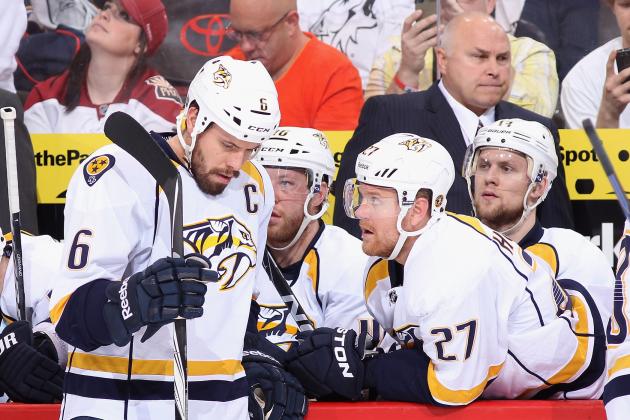 Christian Petersen/Getty Images
Keeping Shea Weber happy may force the Nashville Predators to make a trade or two.
Even with Weber staying, the Nashville Predators' defense remains a hot topic. With Ryan Suter's departure, there is either a hole on the blue line or room for the team's young defensive prospects to step up. Call the latter "Plan B." David Poile is no fool and will try to keep Weber happy and limit the damage done to his defense this summer by trading for an established D-man. There are few available, unfortunately, but where there's a will, there's a way.
Keeping Shea Weber wasn't just a financial commitment, but one to continue to try and build a winner in Nashville, and if that means trading away some promising young talent, so be it. Of course, it literally means to get past the second round once in a while, but baby steps, people. Baby steps.
Players most likely to be dealt:
-Any of their young guns, including Jonathon Blum, Ryan Ellis, Roman Josi, Colin Wilson, Matt Halischuk, etc.
Potential destinations:
-Any team boasting more power-play quarterbacks than they need (because they're in such great abundance).
Elsa/Getty Images
Jonathan Bernier is likely on his way out of a Los Angeles Kings uniform.
Jonathan Bernier has requested a trade, and why wouldn't he? The man he was once meant to usurp has proven more valuable than he will ever be. It must be a constant shot to your ego to know no matter how hard you try, you will never be good enough to even get a chance to prove yourself. He must now know how Dave Taylor and Charlie Simmer felt, playing with Marcel Dionne, only, you know, minus the playing part.
Regardless, Bernier remains a blue-chip-caliber goalie, and the Kings, despite choosing to wisely maintain their Stanley Cup-winning lineup from last season, have little to lose by dealing Bernier for some spare parts and/or prospects.
Player most likely to be dealt:
- Jonathan Bernier
Potential destinations:
- Any team looking to start a career backup goalie (unfortunately, Tampa Bay's no longer a viable option).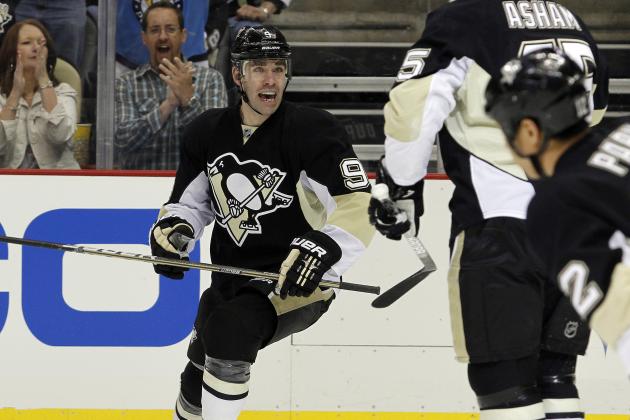 Justin K. Aller/Getty Images
Will Pittsburgh Penguin Pascal Dupuis be able to produce as he did last year?
Losing out on the Zach Parise sweepstakes was a huge blow to a team that, one has to believe, was counting on landing the now current member of the Minnesota Wild. Pittsburgh has its strengths, don't get me wrong, but GM Ray Shero would be a fool to believe there's no room for improvement.
Aside from Kris Letang, the team's defense is kind of overrated, just like its next best defenseman in Paul Martin. In addition, considering Sidney Crosby's recent health problems, Shero should seriously consider any trade that will result in better insulating his captain and padding his offense as a whole. Crosby and Evgeni Malkin are nothing to scoff at, but after James Neal and Chris Kunitz, there is a sharp drop-off in terms of offensive talent.
Perhaps Eric Tangradi is ready to finally step up. If not, there will be a lot of pressure on Pascal Dupuis to continue playing over his head, which is kind of a like a 17-year-old expecting a car for her birthday for the second year in a row. Daddy's been bled dry, sweetheart.
Player most likely to be dealt:
- Pascal Dupuis (when his trade value is at its highest)
Potential destinations:
- Any team looking for secondary offense that's convinced Dupuis has suddenly become a top-six forward at 33 years of age.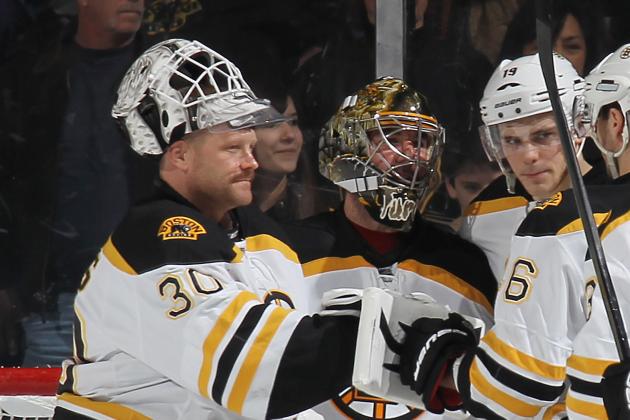 Bruce Bennett/Getty Images
Tim Thomas continues to make headlines despite the decision to take a year off from hockey.
Technically the Bruins do not need to trade Tim Thomas all that desperately, as suspending him and keeping Marc Savard on the long-term injury reserve will save $4 million of Thomas' $5 million cap hit, and they can also toll his contract over to 2013-14, according to ESPNBoston.com.
However, the more he tries to enter the political arena, the more the Bruins will likely try to keep him from entering an NHL one while wearing a Bruins sweater. Of course, Thomas decided to take a year off, so the point is almost moot. However, even if he won't be playing, the radical right-wing views he keeps on voicing likely aren't making the Bruins forget about trying to find him a new home.
Player most likely to be dealt:
- Tim Thomas
Potential destinations:
- Any team (really) desperate for salary.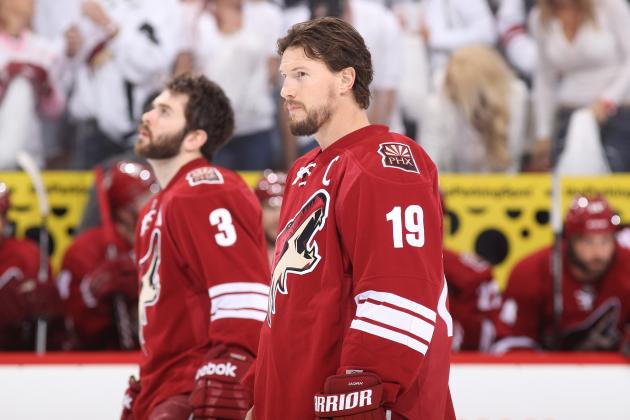 Christian Petersen/Getty Images
The Phoenix Coyotes need Shane Doan back in more ways than one.
The Doan situation has left the 'Yotes in a bit of a predicament. They are currently approximately $7.5 million shy of the cap floor. Funny, isn't it, how Doan came up with the $30-million-over-four-years figure?
It's times like these that one has to wish GM Don Maloney ponied up the $51 million that might have kept Ilya Bryzgalov in town. Of course, it's times seconds later that reality sets in along with the realization that maybe Bryzgalov's happiest in Philadelphia, where each mistake he makes in nets is amplified by 10 times. Why would anyone wish to take that away from him?
In any case, Phoenix still lacks depth up front. Assuming Doan doesn't re-sign with the only franchise for which he has ever played, the only other player that could potentially fill the void via free agency is Andrei Kostitsyn. And no one wants that… well, other than Kostitsyn, who I'm sure got pretty well acquainted with Phoenix nightlife the last time he visited.
Players most likely to be dealt:
- Any career minor-leaguer, draft picks
- Keith Yandle (if same or more salary is coming back the other way)
Potential destinations:
- Any team desperately looking to drop salary in exchange.