Fantasy Hockey Mock Draft 2012: Top 25 NHL Players You Need to Draft
Bruce Bennett/Getty Images

It's time to assume the position of acting director of the Fantasy Scouting Service and forecast the most highly recommended players for fantasy general managers in the coming NHL season.
Because there is no telling what is stressed and what is omitted in a given fantasy league, for the sake of inclusiveness, this list takes into account every key category with potential to hold sway.
For skaters, this includes everything from overall points to power-play points to faceoff success to plus/minus. For goaltenders, this chiefly means the telling troika of save percentage, goals-against average and cumulative wins.
With 16 forwards, six defensemen and three goalies, here are the projected top 25 fantasy commodities for 2012-13.
Begin Slideshow

»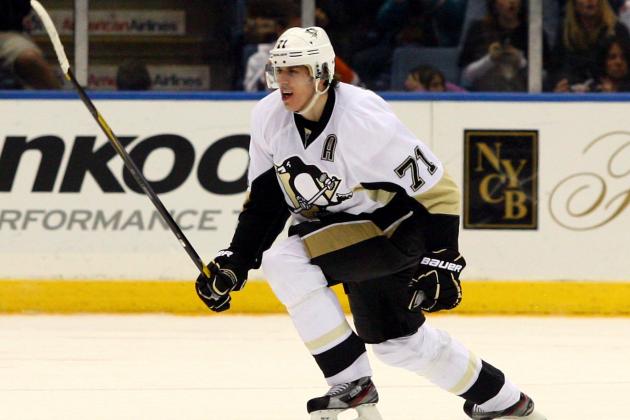 Chris Chambers/Getty Images

After a two-year absence, which was partially owed to stints on injured reserve, Malkin returned to the 100-point plateau for the third time in his career in 2011-12. If he only misses a minimal number of games in the coming campaign, he ought to reach that milestone a fourth time and continue to make valuable contributions on special teams.
The latter area of his game should be especially strong if he once again has a full year of working with Sidney Crosby on the power play.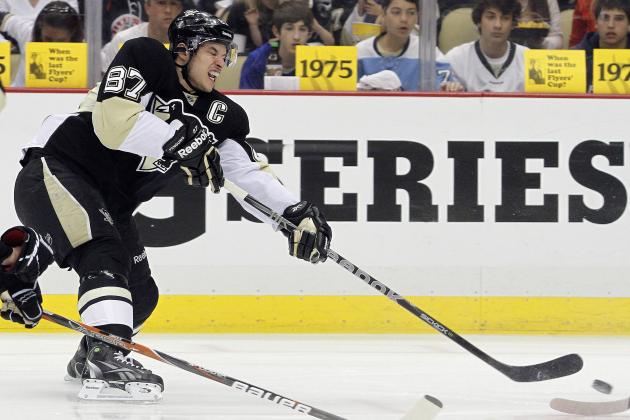 Justin K. Aller/Getty Images

If the worst is behind him after repeat stretches on the injured reserve between January 2011 and March 2012, the face of the Penguins should have the requisite energy to break triple digits in the point column again.
One could consider Crosby a risk as he seeks his first injury-free campaign in three years. But you can just as easily consider his stock and conclude that the only risk greater than taking him in a fantasy draft is letting him fall onto an adversary's roster.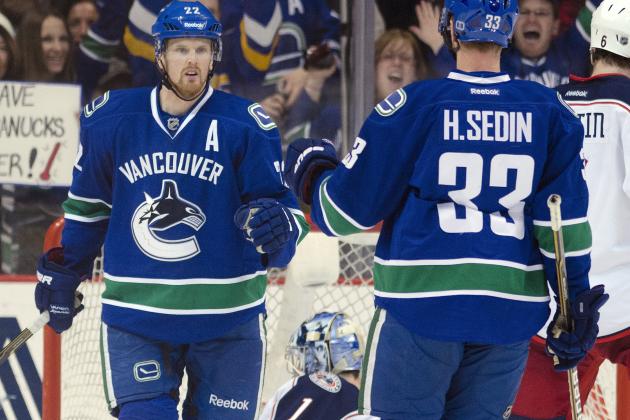 Rich Lam/Getty Images

As they have consistently done in virtually every preceding season, either one of the twins can be relied upon to produce piles of points and inflate their plus/minus in the process during the regular season. When given enough chances, they will convert a hefty share of power plays as well.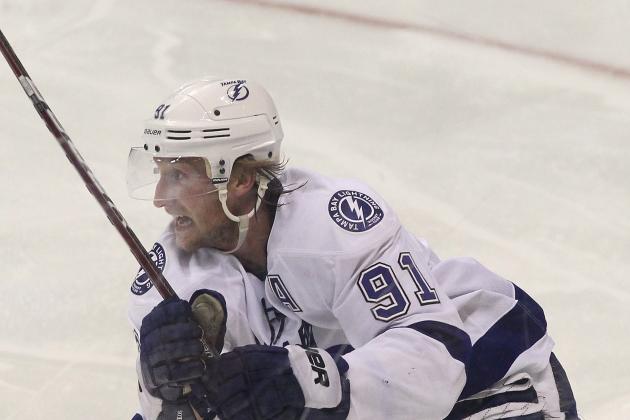 Marianne Helm/Getty Images

While one should not necessarily bank on Stamkos duplicating, let alone exceeding last season's output of 60 goals, 12 game-winners and 97 points, his stock is not about to tumble to irrelevance.
The best-case scenario has the young Bolt producing a fourth consecutive season in the 90-point range while the worst would have him "slumping" into the 70- or 80-point range. The latter is not too likely, but would still pay decent dividends for his fantasy employer.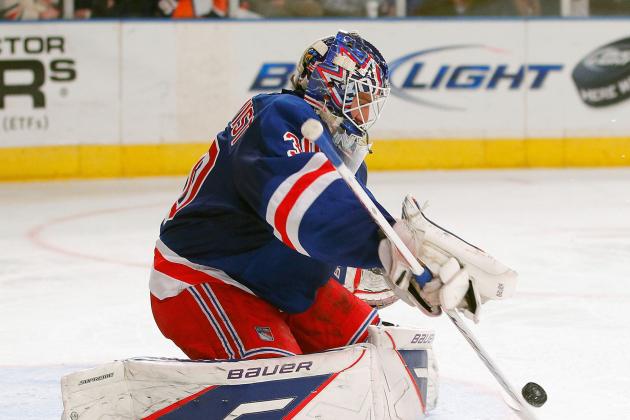 Paul Bereswill/Getty Images

Of those who were nominated for the 2012 Vezina Trophy, the eventual winner has the best chance of making a run for it again.
Nashville's Pekka Rinne will have only half of the Ryan Suter-Shea Weber tandem in front of him, which had at least a minor role in his collection of wins, solid GAA and save percentage. L.A.'s Jonathan Quick will be subject to the effects of post-Stanley Cup hangover and residual wear-and-tear after a short, celebratory summer.
Conversely, Lundqvist's Rangers are only projecting to get better after a disappointing dismissal from the Eastern Conference finals, followed by four months of regrouping and retooling.
In turn, he stands the best chance of putting up the best overall collection of fantasy-fueling numbers.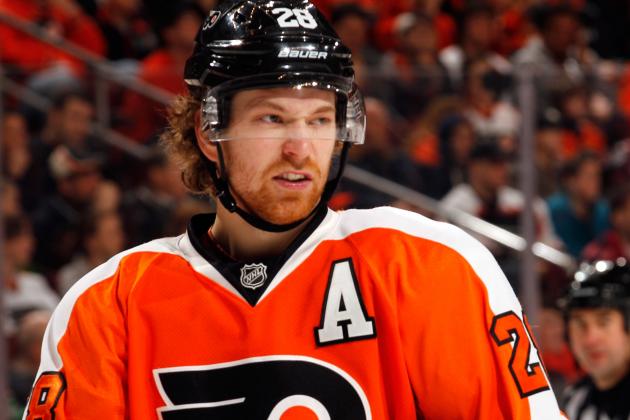 Rob Carr/Getty Images

For the fourth time in as many NHL seasons, the 24-year-old center surged to a new height in 2011-12 and is not going to retract beyond any negligible degree.
Anyone taking Giroux can at least bank on him providing a final output somewhere between his career-high 93 points this past season and his 76-point campaign the year prior.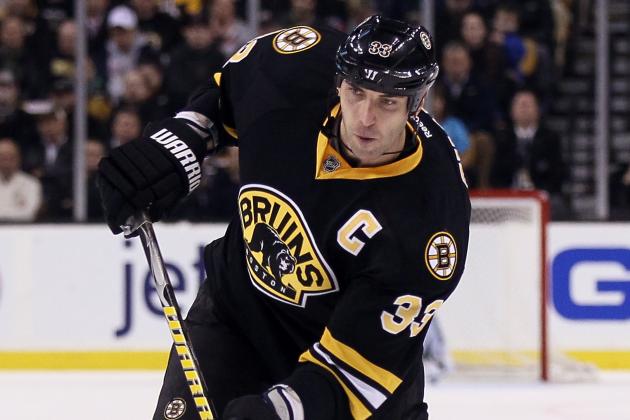 Elsa/Getty Images

If you sum up a defenseman's point total and plus/minus, Chara has been the only one to finish among the top three in each of the last two seasons. His sums of 85 in 2011-12 and 77 the year prior were good enough for second among his peers.
With hardly any overhaul on the Bruins roster this offseason, one can expect similar regular-season numbers from the towering captain. Everyone else is comparatively unpredictable.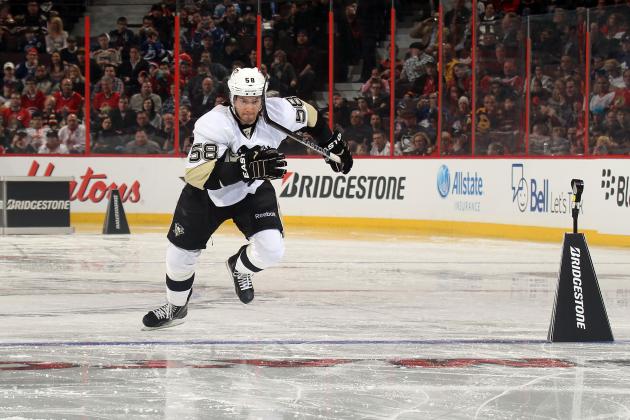 Bruce Bennett/Getty Images

If Letang and his teammates, Crosby and all, can stay healthy for the full season, there will be better points and better stats all around for one of Pittsburgh's top defensemen.
He only missed exceeding his career high 50 points from 2010-11 because he missed 31 games last year, though that didn't stop him from leading the Penguins with a plus-21 rating.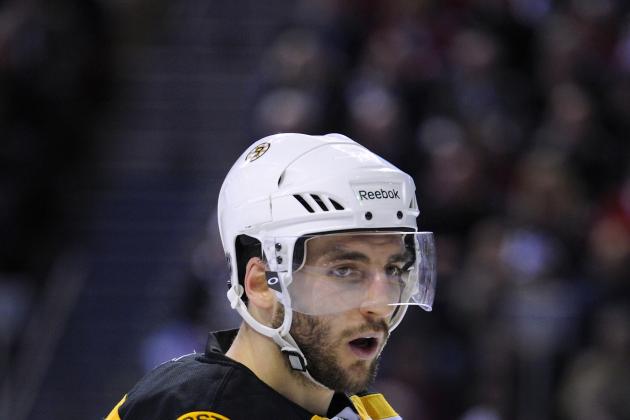 Phillip MacCallum/Getty Images

Bergeron's 2011-12 campaign was arguably his best yet in the time since his October 2007 concussion.
He continues to be an elite faceoff connoisseur, is making more plays for the likes of Brad Marchand and Tyler Seguin and put a stamp on his defensive proficiency with a team-best plus-36 rating and his first Selke Trophy.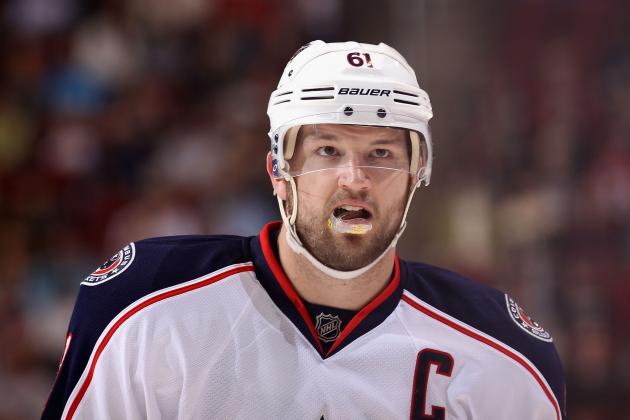 Christian Petersen/Getty Images

The Columbus Blue Jackets have steadily declined in nightly offensive output over each of the last four seasons from 2.68 to 2.61 to 2.56 to 2.42, yet Nash has consistently finished in the 30-goal range.
Now that he is bound for a deeper, more respectable New York Rangers team, no fantasy GM can be faulted for banking on a swell in production. Nash and New York ought to share a symbiotic benefit from their trade earlier this week.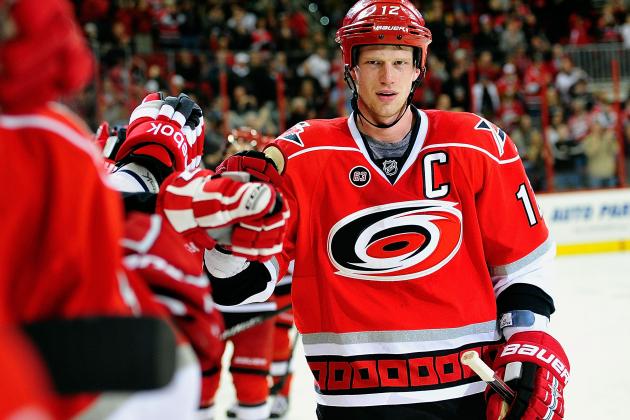 Grant Halverson/Getty Images

Since finishing with 100 points in the regular season of Carolina's eventual championship campaign in 2006, Staal has consistently finished in the 70- or 80-point range. While that is a bit of a plunge from his career high, it is impressive given the generally brittle supporting cast that has amounted to only one other playoff appearance.
With third-year scorer Jeff Skinner raring for a rebound year and brother Jordan Staal obtained from Pittsburgh, Eric Staal and the rest of the Hurricanes can expect at least a slight rise in individual output.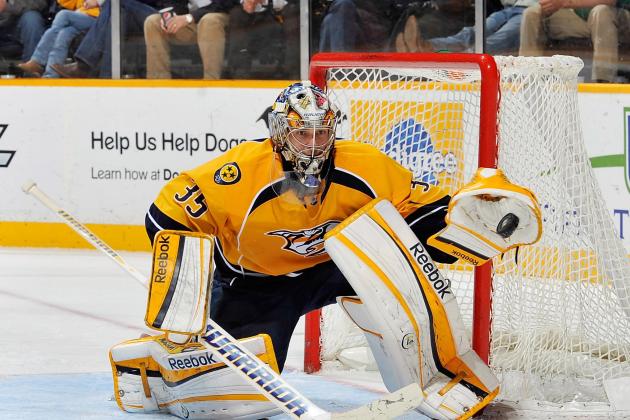 Frederick Breedon/Getty Images

Despite the previous points explaining why Lundqvist is a more ideal pick than Rinne, the Predators stopper will not be a bad backup plan if "King Henrik" is already taken.
The Predators should still be in a position to finish with wins in the mid-to-upper 40s, most of which will be credited to their starter and more than a handful of which will be single-handedly owed to his sharpness.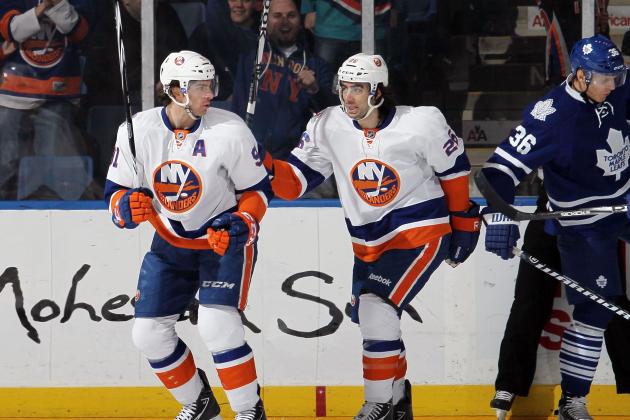 Jim McIsaac/Getty Images

In each of three NHL seasons to date, Tavares has tallied either 24 or 25 power-play points on an Islanders team that remains the misfit of the monstrous Atlantic Division.
He will enter his fourth season allied with a burgeoning Matt Moulson, coming back for more production in all situations, plus newly acquired playmaking point patroller Lubomir Visnovsky.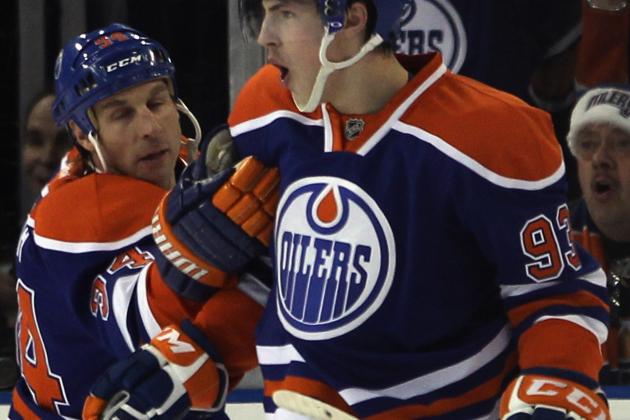 Bruce Bennett/Getty Images

Injuries may have derailed Nugent-Hopkins' bid for the Calder Trophy, but everything that preceded that, as he broke in with the plebeian Oilers, bears plenty of promise for the long-run, 2012-13 season included.
Prior to his initial ailment in January, Nugent-Hopkins had logged 13-22-35 totals in 38 games. He followed that with 5-12-17 totals in his last 24 appearances with the injuries interspersed.
If he stays healthy, he ought to start in a fashion similar to his rookie campaign and build it up to a sophomore surge with a slightly better-than point-per-game average. He could also help a fantasy owner by shoring up his results at the faceoff dot, on defense and on special teams.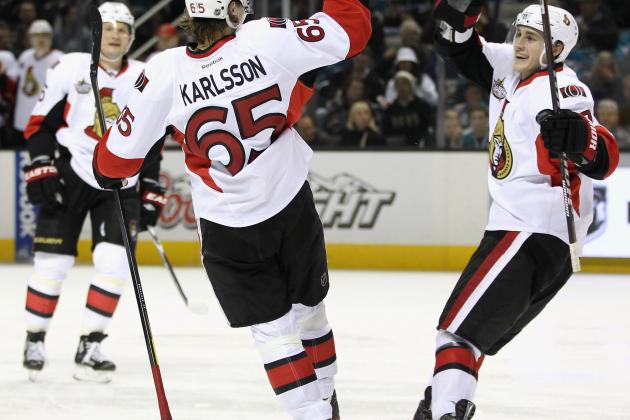 Ezra Shaw/Getty Images

The reigning Norris Trophy recipient could be a bit of a dark horse as he vies to follow up on an otherworldly campaign highlighted by 59 assists, including 25 on the power play.
That said, regardless of whether he reaches the same output, there is no reason why Karlsson cannot still be a substantive scorer.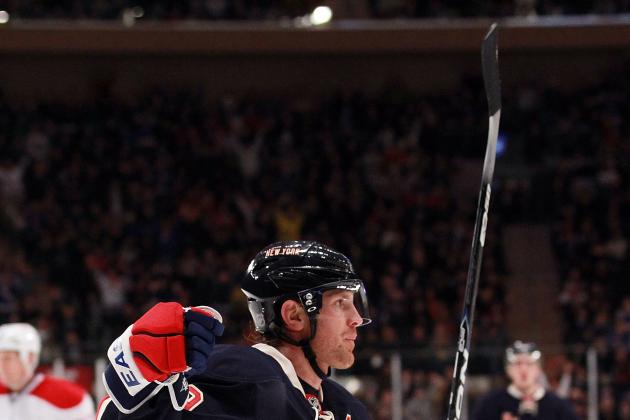 Nick Laham/Getty Images

With an improved supporting cast featuring Nash and a host of rising young scorers, all sharing the common goal of building upon and rebounding from 2011-12, the seasoned center should have a more productive second season with the Rangers.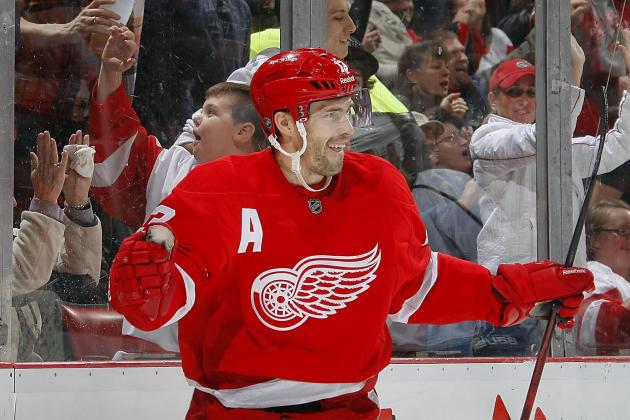 Dave Sandford/Getty Images

His Selke Trophy dynasty may have been halted, but Datsyuk can still deliver a sound two-way game from the drop of each puck, which will translate appreciably to his stat line. That, in turn, translates well to his fantasy stock.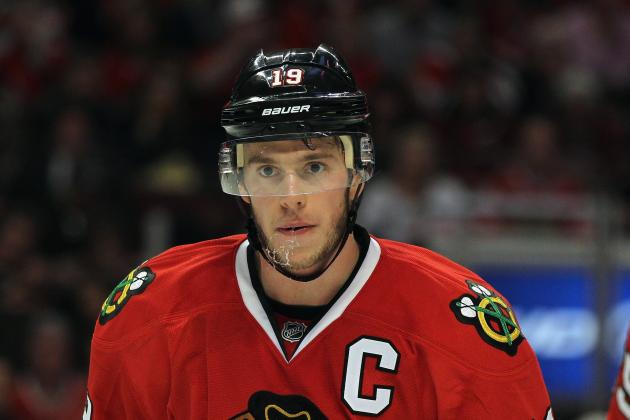 Jonathan Daniel/Getty Images

Consistently the best all-around Blackhawk and one of the league's top faceoff specialists, Toews doesn't come with much risk.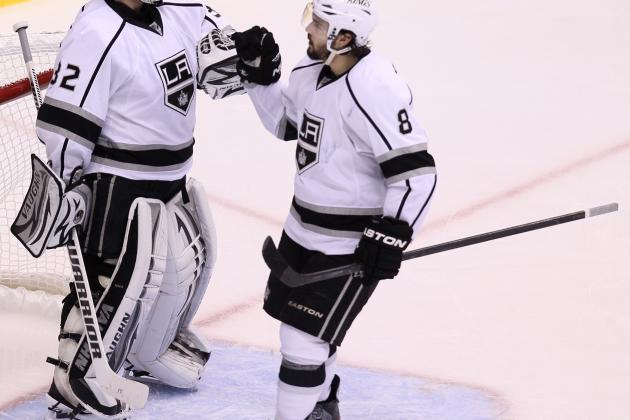 Jeff Gross/Getty Images

While his team will be generally subject to slumps caused by Stanley Cup hangover, Doughty ought to have the requisite drive to fuel him through a full bounce-back year.
Nearly all of his numbers last year plummeted from the two previous seasons after a wretched autumn, but odds are his 2012-13 campaign will yield results closer to last year's homestretch and playoffs.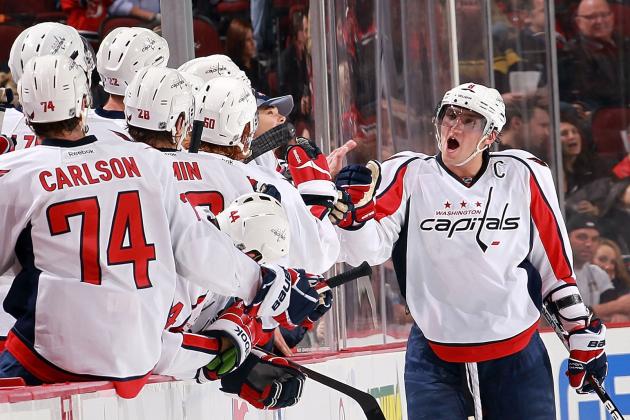 Nick Laham/Getty Images

Yes, Ovechkin is coming off a career-low in production with 65 points, 20 fewer than his previous low in the NHL. Yes, he finished in the plus/minus red for only the second time in his career and the first since 2006-07, Washington's last non-playoff season.
But that has to presage a furious turnaround on the part of the proud Capitals captain, right?
The results from his 2011-12, and even his 2010-11 season can rightly instill some hesitation to fantasy GMs. But he can still be a decent pick-up in later rounds of the draft and will be that much more rewarding if he returns to his capabilities.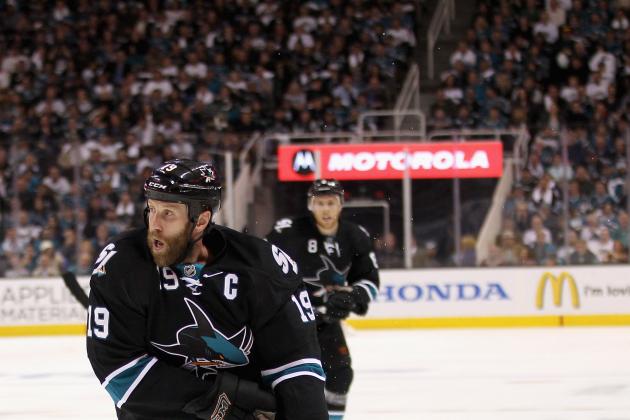 Ezra Shaw/Getty Images

Anyone picking up Thornton might consider benching him come playoff time. But for the six-plus months beforehand, it's hard to immediately eschew someone who has finished among the league's top three playmakers in five of the seven seasons since the 2004-05 lockout.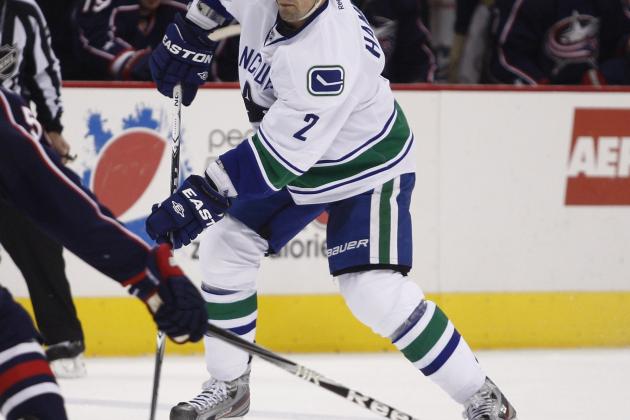 John Grieshop/Getty Images

Coming into bloom as a point-based playmaker and coming off back-to-back plus-29 campaigns, Hamhuis is a thoroughly viable option to help fill one's fantasy blue line.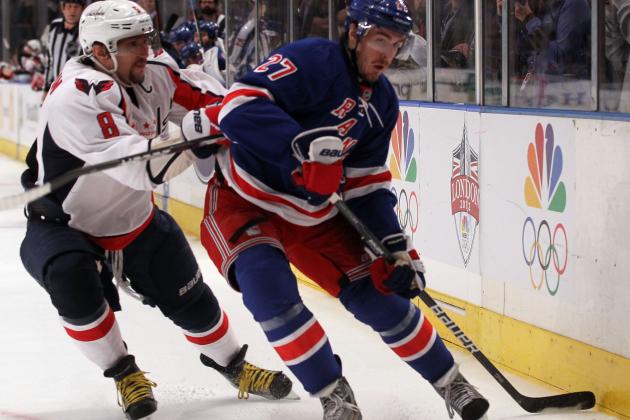 Bruce Bennett/Getty Images

Those who seek more of a defensive defenseman should go for the Blueshirt blueliner who, as a rookie, placed second on the Rangers with a plus-16 rating despite playing only 40 games and followed that up with a team-best plus-25 this past year.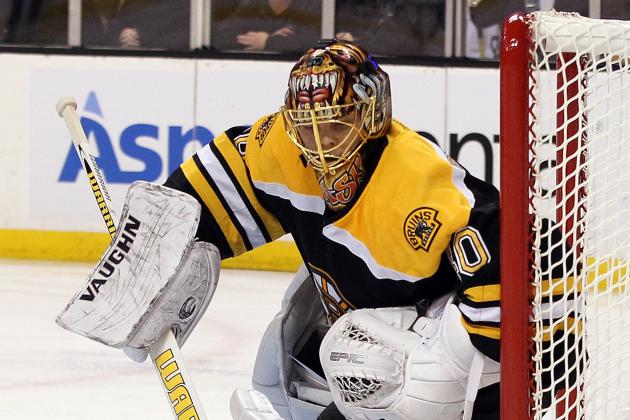 Jim Rogash/Getty Images

Rask, the presumptive replacement for Tim Thomas in Boston, is a goaltending gamble worth making.
While he has never seen the majority of an NHL workload outside of the 2009-10 season, he has had his fair share of highlights and posted sound save percentages and goals-against averages in both 2009-10 and 2011-12.
What do those two years have in common with the coming season? He will be up for a contract renewal leading up to next July 1.
With so little change in their roster, the Bruins are equipped for a regular season similar to 2011-12, meaning Rask should also be in an easy position to log 30-plus wins.