Rick Nash Trade: Power-Ranking the Eastern Conference Post-Nash Trade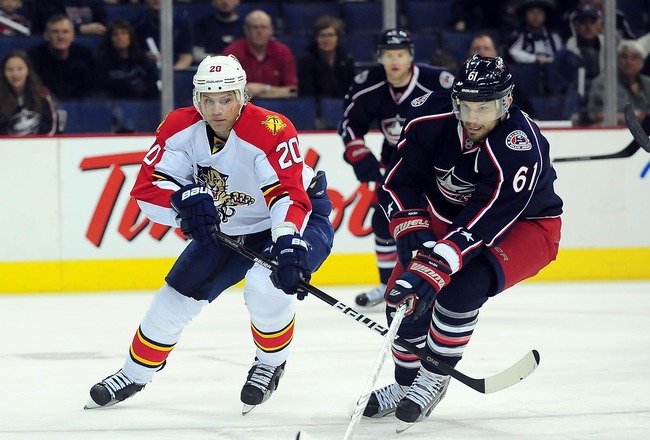 Andrew Weber-US PRESSWIRE
Rick Nash has been dealt to the New York Rangers, according to TSN's Darren Dreger, in a deal that sees the Rangers give up Artem Anisimov, Brandon Dubinsky, prospect defenseman Tim Erixon and a first-round pick in the blockbuster trade.
The deal also sees the Jackets give up prospect defenseman Steve Delisle, and a conditional third-round pick in the exchange.
Upon his arrival on Broadway, Nash will undoubtedly help the Rangers score more goals—a definite hole in the Rangers' overall game last year.
Does this trade make the Rangers the best team in the Eastern Conference yet again? Here's a ranking of the Eastern Conference and how it might look next season.
Note: This is a power ranking, and not a standings prediction, A team such as Washington may be ranked lower than they finish in the regular season if they won the Southeast Division.
15. New York Islanders
Charles LeClaire-US PRESSWIRE
The Islanders are basically the same team they were last season, minus Brad Boyes and Lubomir Vishnovsky. However there are reports that Vishnovsky still had a no-trade clause in his contract, and if the NHLPA rules in favor of Vishnovsky, he may not end up being an Islander.
If he does not end up heading to Long Island, expect another "long" season for the Islanders. Far too many youngsters still on this team for them to make a big run in the regular season in an attempt to push for the playoffs.
14. Montreal Canadiens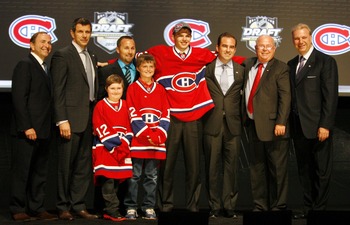 Charles LeClaire-US PRESSWIRE
Work still needs to be done in Montreal, even though they did their best in trying to address their toughness quota.
Forwards Brandon Prust and Colby Armstrong were signed to contracts this summer, as well as defenceman Francis Bouillon who returns to Montreal. The Habs also managed to resign goaltender Carey Price this offseason.
However, after that, the holes in the Habs attack are still there. They still need more size in their top two centers, Tomas Plekanec and David Desharnais. The drafting of Alexander Galchenyuk could go a long way towards making the Canadiens better long-term, but this season will again be a struggle for Les Habitants.
13. Tampa Bay LIghtning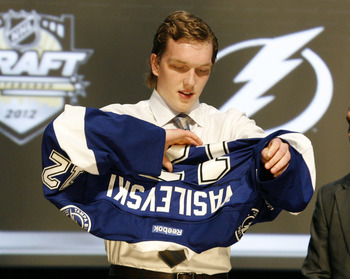 Charles LeClaire-US PRESSWIRE
The Lightning made big strides this offseason by improving their overall team game by addressing quite a few gaps in their attack. They managed to improve their defence by signing Matt Carle, Sami Salo, and Matt Taormina, and they addressed their goaltending situation by trading for goaltender Anders Lindback.
However, I still rank them this low because team defence is a whole team concept, and the Bolts didn't address their lack of defensive forwards, by trading for forwards Benoit Pouliot and BJ Crombeen.
They still have too many question marks in their attack to move higher.
Even though they addressed their defence, they added an injury risk in Salo, and they still have perennial injury-risk Mattias Ohlund there. But overall, I don't see Anders Lindback being the savior for this team. They will again struggle to keep the puck out of the net.
12. Florida Panthers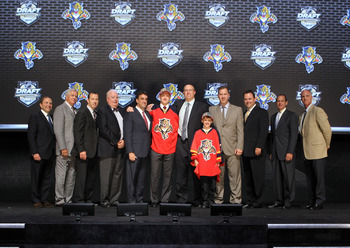 Bruce Bennett/Getty Images
The Panthers will most likely fall this season from their spot atop the Southeast Division.
Losing defenceman and powerplay-scoring-machine Jason Garrison to the Vancouver Canucks will hurt the club offensively, and their seventh-ranked powerplay will likely suffer as a result.
The Panthers last season were the only playoff team with a plus/minus rating in goals for and against that was lower than minus-10. Should they have been the third seed in the playoffs? Probably not, but they did put up a good fight against the Eastern Conference Champ New Jersey Devils.
The loss of Garrison on the blue line, coupled with the real lack of a good veteran second-line center will likely land the Panthers out of playoff contention.
11. Winnipeg Jets
Bruce Bennett/Getty Images
The Jets had a great return back to Winnipeg last year as they took the NHL by surprise by being one of the better home teams in the Eastern Conference.
The additions of Alexei Ponikarovsky and Olli Jokinen will add veteran leadership and some much-needed size to the Jets attack.
I believe the seventh to 11th teams in the Eastern Conference will again be very close this year, as many of the teams are very similar. The Jets will unfortunately be on the outside looking in here.
10. New Jersey Devils
Bruce Bennett/Getty Images
The loss of Zach Parise will more than likely mean the Devils will not be a part of playoff hockey come next April, but they will likely miss by just a few points.
The Devils' staple—their defence—will again be strong next season. But I question the long-term ability of Martin Brodeur at the age of 40 to lead the Devils to the playoffs. Will injuries hit the Devils netminder? Will he get a tad slower in the net?
The biggest hole they needed to fill was their lack of scoring after losing Zach Parise and sadly for Devils fans they have yet to do that.
Couple that with a younger bottom six, the Devils will likely need to lean heavily on their veteran top six to get them to the playoffs. It's a definite possibility, but I just don't see the Devils having enough gas come the end of the season.
9. Toronto Maple Leafs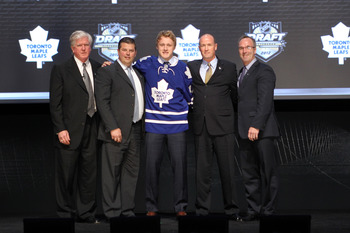 Bruce Bennett/Getty Images
The Leafs haven't really done much this offseason, aside from resigning a few free agents and signing defensive forward Jay McClement.
However, a full season under Randy Carlyle and hopefully a fully recovered James Reimer will likely see the Leafs improve upon their 28th-ranked penalty kill and their 29th-ranked goals against.
Add to that an improved-overall defensive game up front and the Leafs should be in line for a playoff spot.
However, unless they make a play for a legit number one goalie, I don't see them making the playoffs.
8. Carolina Hurricanes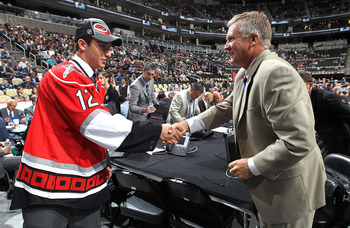 Bruce Bennett/Getty Images
The addition of Jordan Staal to the Canes attack will undoubtedly help them both defensively and offensively this season, but will the upgrade from Brandon Sutter to Jordan Staal get them into the playoffs? That is the big question.
The Canes are definitely a hard team to read because of the Staal addition. They were a minus-30 last season, and Captain Eric Staal was a minus-20. To put it simply, they weren't very good defensively.
Staal's addition will help, but I still believe they needed to do more than add Staal to make this team better defensively.
Both Joe Corvo and Marc Andre Gragnani are nice offensive additions, but both of them have their defensive issues.
Another year of development with Justin Faulk and Jamie McBain should give the Canes an added boost again in their top four. Having their top defensive pair—Tim Gleason and Joni Pitkanen—remain healthy will go a long way towards seeing if the Canes are able to make it to the playoffs.
I see them barely squeaking into the playoffs.
7. Ottawa Senators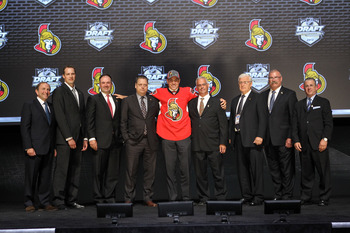 Bruce Bennett/Getty Images
The Senators will make another playoff appearance on the back of youngster Erik Karlsson and his offensive prowess from the point. The additions of Mika Zibanejad, and Marc Methot should strengthen the club going forward. A full year of health from Craig Anderson and steady back-up Ben Bishop should see the Senators make another post season appearance.
This may be Daniel Alfredsson's last season with the club, so I am sure the young Senators will be trying hard to make the playoffs for their Captain. Alfredsson will likely go down as the greatest Ottawa Senator ever to lace up the skates—at least for now.
6. Buffalo Sabres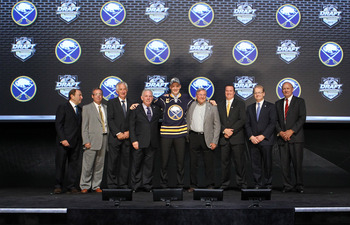 Bruce Bennett/Getty Images
The Sabres, to a man, could say they struggled last year and underachieved. This season though, a healthier, and now tougher group of forwards led by Thomas Vanek, Jason Pominville, Cody Hodgson, Steve Ott, Drew Stafford, and rookie Marcus Foligno will likely see the Sabres make it back to the playoffs.
A full year hopefully from top two defenseman Christian Ehrhoff and Tyler Myers should mean a better overall record, and a return of Ryan Miller to the goaltending elite could mean the Sabres make some noise in the post season.
They are definitely a team on the rise in my opinion.
5. Washington Capitals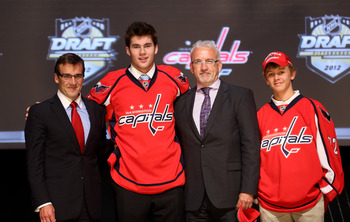 Bruce Bennett/Getty Images
The Washington Capitals went a long way towards being a staple for winning again in the Eastern Conference.
Gone is perennial-loafer Alex Semin, and in his place comes a second-line center by the name of Mike Ribeiro: a second-line center who the Capitals desperately needed behind Nicklas Backstrom.
With a new coach will hopefully come some much-needed offensive prowess, as the Capitals went from one of the top offensive clubs a few seasons ago to the fifth-worst last season in the Eastern Conference.
I can see bounce-back seasons from Alexander Ovechkin and Mike Green, and hopefully a full season from new number one goalie Braden Holtby filled with big saves, and a number of accolades.
4. Boston Bruins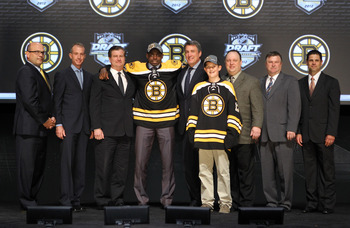 Bruce Bennett/Getty Images
The big bad Bruins still remain one of the toughest teams to play against in the NHL with their combination of size, toughness, and skill on their team.
The Bruins could potentially be losing Tim Thomas for at least this season, or possibly forever, as he's stated he's taking a year off, and may end up getting traded by the team.
The Bruins had the best plus/minus rating among any team in the NHL last year, and with a healthy Nathan Horton hopefully back in the lineup, the Bruins are on pace for yet another Northeast Division winning season.
The season hinges on the goaltending duo of Tuukka Rask and Anton Khodobin who will be taking over for Tim Thomas. How will they fare? Likely pretty well by the looks of it.
3. Philadelphia Flyers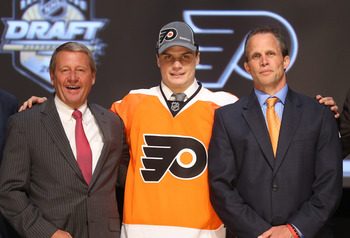 Bruce Bennett/Getty Images
The Flyers enter the 2012-13 with some newfound defensive help. A full year of Nicklas Grossman as well as the recently-traded-for Luke Schenn means the Flyers will likely see a drop in goals against this season.
Among the playoff teams, only the Ottawa Senators had more goals against than the Flyers with a much-lesser-known name in between the pipes.
This season with three full lines that can score and defend, the Flyers will likely be a top three team in the Eastern Conference next season.
2. New York Rangers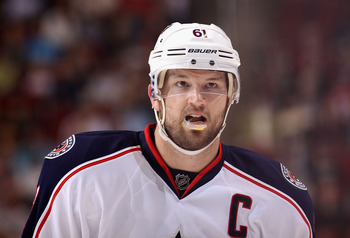 Christian Petersen/Getty Images
Rick Nash was traded to the Big Apple today, but I still don't believe that will be enough for them to win the Eastern Conference again this season.
The Rangers traded away plenty of depth with Dubinsky, Erixon, and Anisimov now in Columbus, but also I fear there may be not enough puck to go around on Broadway.
Back when there wasn't a salary cap, the Rangers were annually some of the NHL's bigger spenders, which usually resulted in star players butting heads.
The Rangers have the potential to be even better than last season, but I'm treading carefully was this team for the time being.
1. Pittsburgh Penguins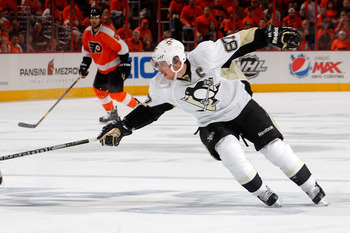 Paul Bereswill/Getty Images
A full season, or near full season with Sidney Crosby spells great things for the Pittsburgh Penguins. I'm taking a chance, but I believe that Crosby will play a good majority of the games this season.
Having a solid group of forwards, dependable defence, and quite possibly the best one-two punch in goal in the NHL means that if healthy, the Penguins are the team to beat in the Eastern Conference.
Henrik Lundqvist, Rick Nash, Brad Richards, and Marian Gaborik may have something to say about that though.
I see the battle for the Atlantic Division to be one of the most exciting and tightest races in the NHL this season.
Keep Reading