NHL Trade and Free-Agent News: 20 Most Overrated Players Still on the Market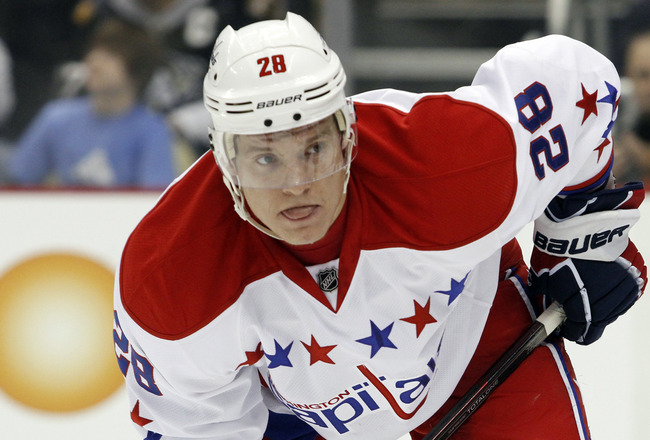 Justin K. Aller/Getty Images
There are a lot of free agents left on the market who have yet to been signed to a new deal, and there is a good reason for that.

Some players are simply overrated; they aren't worth holding onto and they aren't worth playing the megabucks for.
The term overrated is used differently by some, but for this slideshow's purposes, it will refer to players who have higher value given the current market, are no longer the player they once were or they have just been overrated in general.
Pavel Kubina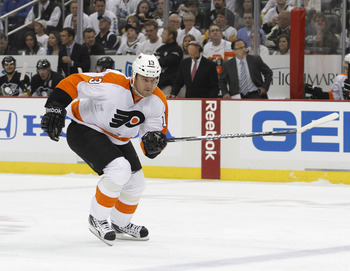 Justin K. Aller/Getty Images
Pavel Kubina used to be one of the NHL's top puck-moving defensemen. He is now 35 years old and is coming off a down year spent in Tampa Bay and Philadelphia.
The market for defensemen has thinned up considerably, and Kubina is one of the better names out there. Teams may gravitate towards Kubina because of his experience, but he is an overrated defenseman suited for bottom-pairing duty at this point.
Andrei Kostitsyn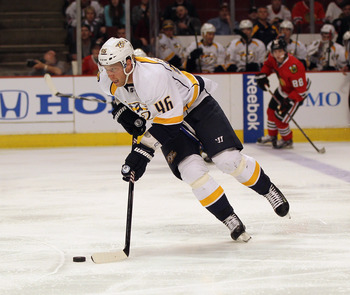 Jonathan Daniel/Getty Images
Andrei Kostitsyn is a player who made headlines when he was suspended during the playoffs for two games after breaking curfew for the Nashville Predators.
He is a skilled offensive player, but scouting reports label him as an inconsistent player who isn't great in his defensive zone.
Nonetheless, Kostitsyn is a player whose name usually comes up during the trade deadline, but this summer, things have been very quiet.
Daymond Langkow
Christian Petersen/Getty Images
Daymond Langkow was once a solid secondary scorer who could contribute between 50-60 points a season.
He was also a solid two-way center and a superb defensive forward. Langkow is now 35 years old and is a streaky player who will produce in spurts, but his health is an issue going forward.
Kristian Huselius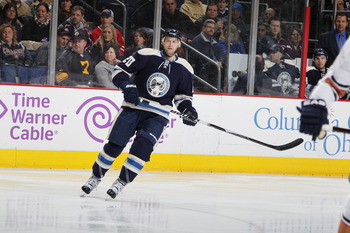 Gregory Shamus/Getty Images
Kristian Huselius is another offensive option left on the free-agent market. However, Huselius is a player who is an injury liability.
He hasn't been cleared medically yet and is still a free agent that could draw interest because of his past success. Once he is cleared, there is going to be a team desperate for offense, so they will sign him.
However, teams should stay clear of Huselius because he is an overrated player who has trouble staying healthy long enough to string success together.
Radek Dvorak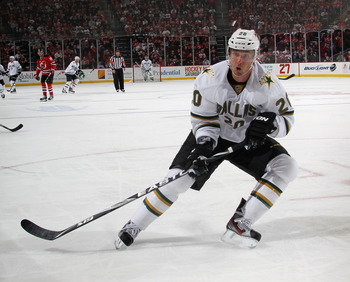 Bruce Bennett/Getty Images
Radek Dvorak was once a solid mid-level player, but has now regressed to a glorified third liner who will play limited minutes. Dvorak was made $1.5 million in 2011-12 and scored 21 points.
He is a player who used to be considered a solid option as a top-nine player, but Dvorak isn't worth it any more. Teams who need to fill out their bottom-six would be better suited by dressing a young rookie or AHL player looking to gain experience.
Jaroslav Spacek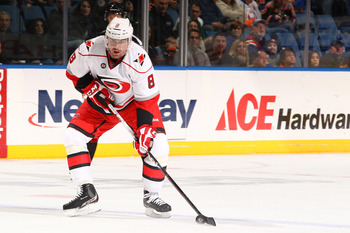 Al Bello/Getty Images
At the trade deadline, Jaroslav Spacek was a defender who subject to various trade rumors at the trade deadline.
Given the high prices and the amount of contenders still around at the deadline, Carolina held onto him when no team stepped up.
He is now a free agent and a player who is no longer the player he once was. Age is something to keep in mind for any team going after Spacek.
Chris Campoli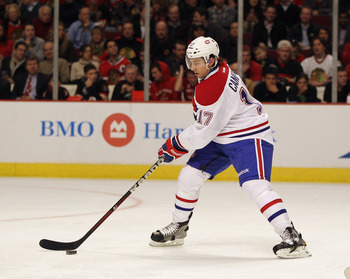 Jonathan Daniel/Getty Images
Chris Campoli made just under $2.0 million in 2011-12 and only played 43 games. He scored 11 points and is a free agent who drew interest from teams at the trade deadline.
Campoli may have speed and solid offensive instincts while holding onto the puck, but he is an overrated defenseman who has consistency issues.
Michal Rozsival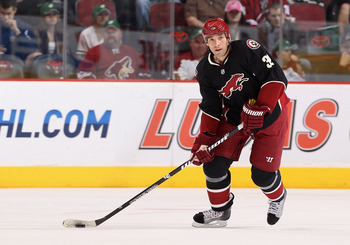 Christian Petersen/Getty Images
Michal Rozsival was acquired by the Phoenix Coyotes from the New York Rangers last season. Rozsival is an average and overpaid defenseman who made $5.0 million.
He is an overrated defenseman and a player teams should avoid giving a huge contract to. Rozsival is nothing more than a veteran bottom-pairing defenseman at this stage of his career.
Dominic Moore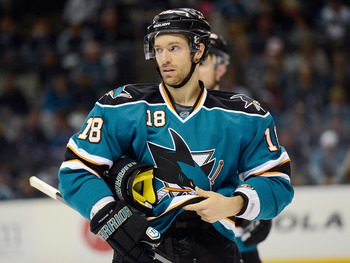 Thearon W. Henderson/Getty Images
Dominic Moore was a midseason pickup for the Sharks, but he didn't perform as well as some of the other players San Jose added. It is understandable because after the season, it was announced that Moore's wife was going through some health problems.
Nonetheless, Moore is an overrated bottom-six player who is always changing teams for one reason or another.
Alex Semin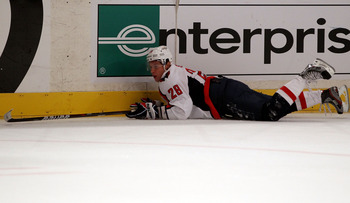 Bruce Bennett/Getty Images
Alex Semin has hit the free-agent market, and he wants to make the big bucks. However, Semin is an overrated player who is going to be forced to take a pay cut.
Semin's point production has dropped over the past few seasons, and 54 points is not enough production from a player who makes $6.7 million a season.
There are rumors that he could bolt to the KHL, but it appears he wants to stay in the NHL. If he stays in the NHL, he will take a massive pay cut in doing so.
Brian Rolston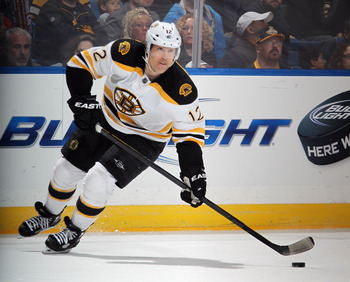 Bruce Bennett/Getty Images
Brian Rolston was a trade deadline acquisition for the Bruins, but he wasn't in their long-term plans. He has value, but isn't the player he once was.
Rolston is an aging veteran who no longer is the 70-point player he was at times with the Minnesota Wild and a player who may go until late August before he is picked up by another team.
Jochen Hecht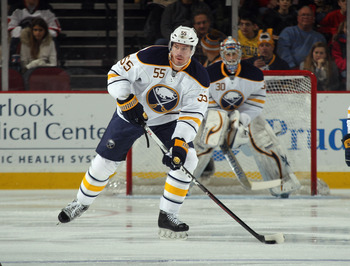 Bruce Bennett/Getty Images
Jochen Hecht is a player who missed a lot of time during the 2011-12 season. He is 35 years old and he doesn't have a place with the Buffalo Sabres anymore.
Hecht was once a quality two-way center, but he is now an old and battered forward who will fill a bottom-nine role for a new team next season.
Gilbert Brule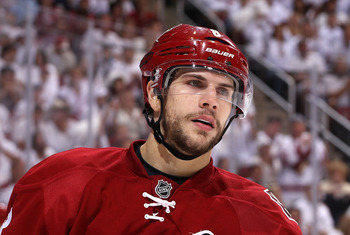 Christian Petersen/Getty Images
Gilbert Brule has been an overrated player his entire career. He was selected sixth overall during his draft year, and because of that, a lot was expected from him.
In 296 games, Brule has only scored 95 points. He did have one season when he scored 37 points, but other than that one year, Brule has failed to make his mark.
He is a player who just hasn't lived up to the expectations, but one team will be willing to risk it to see if he can finally catch lightning in a bottle.
Brandon Dubinsky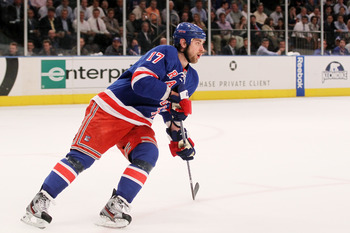 Bruce Bennett/Getty Images
Brandon Dubinsky has been linked to trade rumors for a decent amount of time. He was linked when Bobby Ryan was on the block in early November, he was linked when Rick Nash first became available and he is still considered a piece that would be included in a deal for Nash.
Dubinsky is a player who is overrated by the fans. He makes $4.2 million a season and had one solid 54-point season. That year, the Rangers had a lot of injuries and Dubinsky played on the first line.
He is now a third/fourth-line player for the Rangers and someone they would like to move so they can promote an AHL player or put a rookie in Dubinsky's place.
Kurtis Foster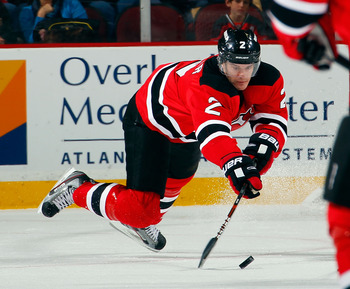 Paul Bereswill/Getty Images
Kurtis Foster is a player who has been on a few different NHL squads. He is a defenseman with offensive talent, but he is overrated to an extent. He had one solid season where he put up 42 points, and teams think that he could once again become that player.
Since that season, he had a 22-point year and he bounced around in the AHL.
Foster was involved in a trade with the Minnesota Wild early this season and is now a free agent who teams could overpay for.
Jeff Finger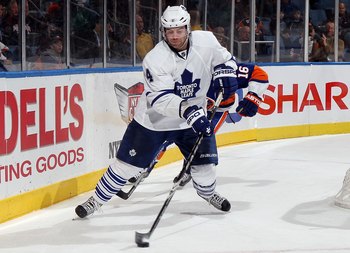 Jim McIsaac/Getty Images
Jeff Finger had been banished to the AHL by the Toronto Maple Leafs the past two seasons. He was once a serviceable defenseman, but he failed to live up to the four-year contract he signed worth $3.5 million a season.
Matt Gilroy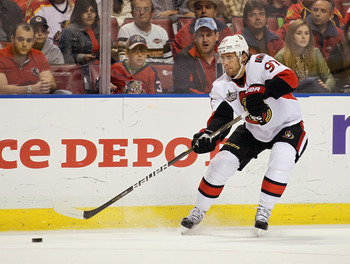 Bruce Bennett/Getty Images
Matt Gilroy was a hot NCAA free agent after leaving Boston University. He won the Hobey Baker Award; he was a three-time All American and a solid defenseman with offensive instincts.
However, he made the jump to the NHL level and he hasn't lived up to the hype.In 194 games, Gilroy has only 46 points and he has played for three different NHL teams. He was a bit overrated then and is overrated now.
Milan Jurcina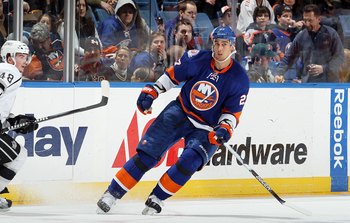 Jim McIsaac/Getty Images
Milan Jurcina should be a better player than he is. He has the size— 6'4" and 245 pounds— to be a physical player with a booming shot.
However in 430 games, Jurcina has only 81 points. Jurcina has the build to be successful, but he is nothing more than an inconsistent defender
Carlo Colaiacovo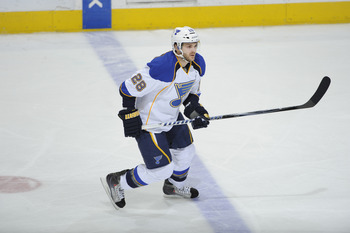 Dale MacMillan/Getty Images
Carlo Colaiacovo was drafted 17th overall in 2001 and was expected to be a top defenseman. However, he has been an average defenseman during his time in the NHL.
The free-agency market for defensemen has dried up significantly, and even though he is considered one of the top defensemen on the market, this is overrating Colaiacovo.
Shane Doan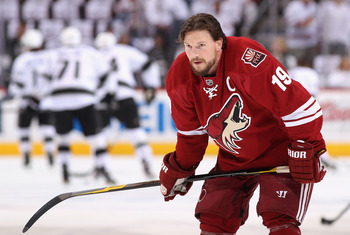 Christian Petersen/Getty Images
This may come as a surprise, but one team has seriously overrated Shane Doan. At 35 years old, Doan is an average 50 to 60-point-player and not a player worth $30 million over four years. That would give Doan a $7.5 cap hit and a contract he is not worth.
Doan has only scored 30 goals or more twice during his career and has never had more than 80 points in one season, so right now, he is being overrated in a huge way.
Keep Reading