NHL Free Agents 2012: How Shea Weber Offer Sheet Could Affect New NHL CBA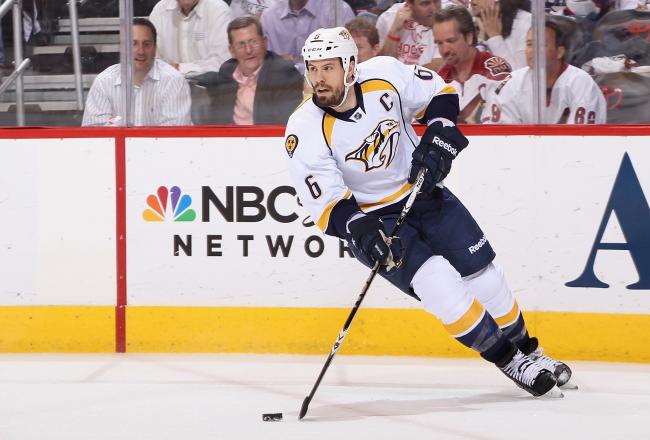 Will Shea Weber wear a Predators jersey next season?
Christian Petersen/Getty Images
Shea Weber's enormous offer sheet worth $110 million over 14 years from the Philadelphia Flyers that is full of salary bonuses could have an impact on the outcome of the new CBA.
The players association and the league have met a few times to discuss a new CBA since the current one expires on September 15. Steve Zipay of Newsday tweeted a quote from players association leader Donald Fehr regarding the Weber contract before Thursday's meetings.
Donald Fehr on Weber offer sheet:"It speaks for itself"

— Steve Zipay (@stevezipay) July 19, 2012
The Weber offer sheet has several parts that could impact how contracts are made under the next CBA. Let's examine how the Flyers' offer sheet could affect the new CBA.
Term-Limits
The length of contracts will be a hot topic in the current CBA negotiations. Teams use long contracts, up to 10 years or more in some cases, to lessen the annual salary cap hit throughout the deal and the salary paid toward the end of the contract.
According to Renaud Lavoie of RDS, the NHL's initial CBA proposal includes changes to contract limits, as well as changes to the length of entry level deals.
3-contracts limites to 5 years 4-no more salary arbitration. 5- entry-level contract 5 years instead of 3.

— Renaud P Lavoie (@RenLavoieRDS) July 14, 2012
The league should have term limits, or a maximum amount of years that a player can sign a contract for. Here is what I propose should happen. Feel free to express your own opinion in the comment section below.
Re-signing players: If you are re-signing a player then you should be able to offer him a contract up to seven years in length. If you successfully scout a player, draft him, and develop him into a star player that is crucial to the team's on-and-off ice success, you should be able to pay him over a longer period of time than other teams. Teams who develop their own stars should be rewarded.
Signing other team's free agents: If you want to sign another team's free agent, you should only be able to offer them a five-year deal. Five years is still a good length and carries less risk than a deal of eight or more years.
Should there be term-limits in the next CBA?
Weber's new contract, regardless of which team he plays for, will be the third longest contract in NHL history. He will be signed for 14 years, which is one year less than Rick DiPietro and Ilya Kovalchuk, who received 15-year contracts from the New York Islanders and New Jersey Devils, respectively.
Signing a player for a decade or longer has plenty of risk involved, both on (injuries) and off (financial) the ice. This offer sheet and it's enormous length could force both the players and the league to examine if term-limits are a good idea going forward.
Revenue Sharing
This offer sheet it one example of a rich big market franchise like the Flyers being able to bully a small market team like the Predators into not matching the offer sheet because of the salary bonuses involved. To create more parity in the NHL, there needs to be something that makes matching this kind of offer sheet easier for a small market team.
As Elliott Friedman of CBC's Hockey Night in Canada points out, revenue sharing could possibly help the Predators in this Weber situation if it's included in the new CBA.
Random thought: under new CBA, will PHI end up paying NASH revenue-sharing money that allows Predators to keep Weber?

— Elliotte Friedman (@FriedgeHNIC) July 19, 2012
Revenue sharing would allow small market teams to have extra money to fund the large contracts that players of Weber's caliber are paid.
While revenue sharing isn't guaranteed to be part of the new CBA, it's a very good idea. According to Forbes.com, the Flyers are worth $290 million (8th highest) and the Predators are worth $160 million (25th). If the NHL wants to help keep small market teams competitive by aiding them when their superstars are due for large contracts, then implementing a good sharing revenue system would be a smart move.
Will the Predators bank on there being a good revenue sharing system in the new CBA and match Weber's offer sheet over the next seven days they have to make a decision? We'll have to wait and see.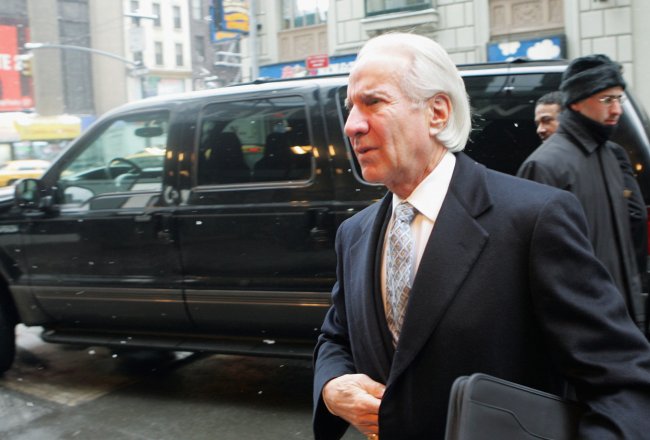 Wealthy owners like Ed Snider (Flyers) can afford contracts with massive bonuses.
Bruce Bennett/Getty Images
Free Agent Ages
Under the current CBA, a player can become an unrestricted free agent when he is 27-years-old or has seven years of NHL service. Weber was a restricted free agent last summer and again this year because he is just 26 years old and one year away from being a UFA.
The whole Weber situation could have an impact on what age players can become free agents in the new CBA. It's easier for teams, especially small market ones, to hold onto stars when they don't become unrestricted free agents until age 30 or after.
You have to imagine that the players will want to make it so they can become unrestricted free agents as soon as possible. This will make it easier for them to earn a ton of money and play for the team they want. My personal belief is that players should be able to become a UFA at age 29, which would give teams a bit more time to build a winning roster and convince their top talent to stay long-term than they do now.
Since the new CBA could change the UFA age, it's not surprising that Weber wants to receive a long-term deal under the current CBA to maximize his earnings over a long period of time.
NHL commissioner Gary Bettman
Rich Lam/Getty Images
Possible Change
Weber's offer sheet will definitely have an impact on the new CBA. The NBA lost about two months of the 2011-12 season because one of the goals of the lockout was to help smaller market teams hold on to star players and be competitive.
There could be a similar situation in the NHL as the CBA negotiations continue. Small market teams will fight for ways that help them retain their best players and not lose them to rich teams that can afford absurd signing bonuses and make long-term commitments.
It will be interesting to see how the Weber offer sheet from the Flyers, and whether the Predators decide to match it or not, affects the new CBA.
Nicholas Goss is an NHL Featured Columnist for Bleacher Report and was also the organization's on-site reporter for the 2011 Stanley Cup Final in Boston. Follow him on Twitter.
This article is
What is the duplicate article?
Why is this article offensive?
Where is this article plagiarized from?
Why is this article poorly edited?