NHL Video: 15 Awesome Clips of NHL Stars as Young Prospects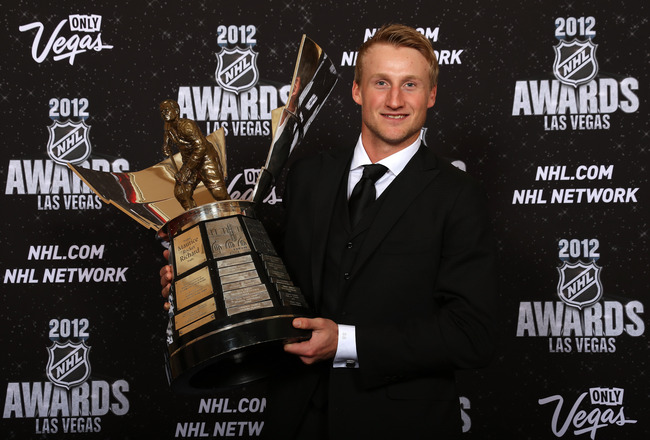 Bruce Bennett/Getty Images
Stars such as Tampa Bay Lightning center Steven Stamkos have been giving fans of hockey many exciting moments long before they ever stepped onto the ice as an NHL player.
These are the kinds of highlights that got fans excited for these players as they begun their NHL journey. Let's look at 15 awesome clips of today's best players when they were young prospects.
Steven Stamkos, Tampa Bay Lightning
Former Sarnia Sting star Steven Stamkos scores an incredible shootout goal with a slick move. Stamkos has taken his goalscoring talents to a new level with the Tampa Bay Lightning.
He led the NHL with 60 goals last season.
Jonathan Toews, Chicago Blackhawks
Current Chicago Blackhawks captain and former University of North Dakota star Jonathan Toews scores a fantastic power-play goal against the Boston College Eagles.
Sidney Crosby, Pittsburgh Penguins
Rimouski Oceanic (QMJHL) star Sidney Crosby scores by lifting the puck with his stick and slipping it past the goaltender from behind the net.
Phil Kessel, Toronto Maple Leafs
Current Toronto Maple Leafs winger Phil Kessel scores a nice goal for the University of Minnesota, then taunts the crowd with a "can you hear me now" celebration.
Tuukka Rask, Boston Bruins
Boston Bruins goaltender Tuukka Rask goes crazy after losing a shootout as a member of the Providence Bruins.
Rask slams his stick against the boards, throws it across the ice, then attacks a crate.
John Tavares, New York Islanders
This a sweet video of John Tavares that includes some footage from his OHL days with the London Knights, games with Team Canada and his time with the New York Islanders.
Jordan Eberle, Edmonton Oilers
Edmonton Oilers star winger Jordan Eberle scores a clutch shootout goal for Team Canada against Russia at the 2009 World Junior Championships.
Gabriel Landeskog, Colorado Avalanche
Colorado Avalanche star Gabriel Landeskog sticks up for a Kitchener Rangers teammate and wins a fight against Jake Muzzin of the Sault Ste. Marie Greyhounds in 2009.
Alex Pietrangelo, St. Louis Blues
St. Louis Blues star defenseman Alex Pietrangelo is one of the fastest rising stars in hockey, and was a fantastic player for the Niagara IceDogs of the OHL.
Milan Lucic, Boston Bruins
Current Boston Bruins power forward Milan Lucic ends a fantastic shift for the Vancouver Giants with a great fight in the Memorial Cup.
Corey Perry, Anaheim Ducks
Anaheim Ducks superstar winger Corey Perry has had a phenomenal NHL career which includes a 2011 Hart Trophy win, but he was also one of the finest London Knights players ever.
Matt Duchene, Colorado Avalanche
Matt Duchene's amazing offensive performances with the Brampton Battalion made him one of the most coveted players in the 2009 NHL Draft. He went third overall to the Colorado Avalanche.
Alexander Ovechkin, Washington Capitals
The rivalry between Capitals star Alexander Ovechkin and Penguins star Sidney Crosby began before their NHL days. They would also meet in the 2010 Winter Olympic Games in Vancouver.
P.K. Subban, Montreal Canadiens
Montreal Canadiens star defenseman P.K. Subban impressed NHL scouts and general managers with his skating and offensive talents with the Belleville Bulls from 2005 through 2009.
Bobby Ryan, Anaheim Ducks
Current Anaheim Ducks star and former Owen Sound Attack winger Bobby Ryan scores a nice goal with a sweet move in front of the opposing goaltender.
Keep Reading