NHL, NHLPA: What Do League's Proposals for New CBA Mean for Players?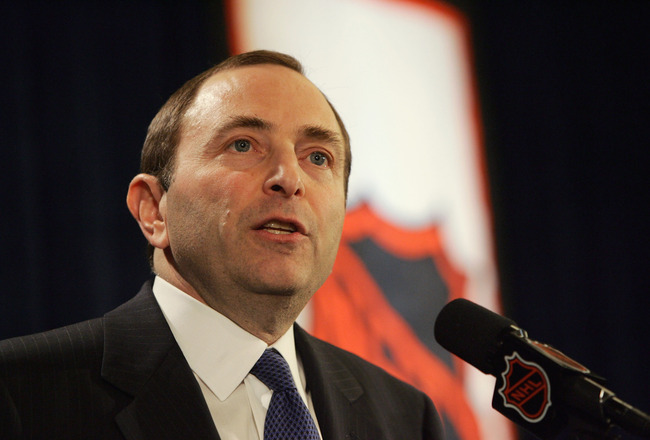 Bruce Bennett/Getty Images
Lockout. It's a word no hockey fan wants to hear, especially after the 2004-05 lockout cancelled the entire season.
But RDS reporter Renaud Lavoie has essentially spelled out what the NHL's initial position is in the negotiations with the NHLPA.
The news is not good for hockey fans.
Lavoie tweeted tonight that the NHL's demands were as follows:
NHL proposal to players: 1-reduce players hockey related revenues to 46% from 57 %. 2-10 seasons in NHL before being UFA.

— Renaud P Lavoie (@RenLavoieRDS) July 14, 2012
3-contracts limites to 5 years 4-no more salary arbitration. 5- entry-level contract 5 years instead of 3.

— Renaud P Lavoie (@RenLavoieRDS) July 14, 2012
Essentially: The players' shares of the revenues were reduced by 11 percent' it will take 10 NHL seasons before a player can be an unrestricted free agent' contracts are limited to five years' salary arbitration is eliminated and entry level contracts will be five years instead of three years.
Most of these conditions are likely to change if the NHLPA has its say in the matter. If they don't prevail, let's take a look at what each of these conditions would do to the NHL this coming season.
1. Reduce Players Hockey Related Revenues to 46 Percent from 57 Percent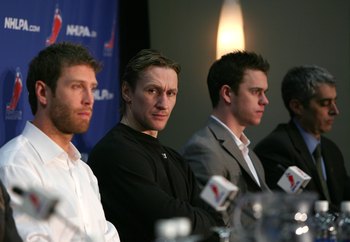 Bruce Bennett/Getty Images
Pay cuts.
No employee likes them, but due to the bottom line, they must occur occasionally.
In the current CBA, the players make a staggering 57 percent of hockey related revenues.
But according to a Mike Ozanian article in Forbes, despite hockey team values being at an all-time high, "climbing player costs are eroding the sport's profitability."
Ozanian goes on to say that in 2012, "18 of the league's 30 teams lost money even before they had to pay bank loans or write down assets, compared with 16 the prior year."
Because of the increasing salary cap, teams have become less profitable and the league's income has been steadily dropping (by as much as 21 percent from last season to the previous one, according to Ozanian).
Obviously this is going to be a big point (possibly the biggest point) for the players because more money for the league means less money in the player pockets. It could also mean a possible salary cap rollback of some sort, similar to that rollback implemented in the last Collective Bargaining Agreement.
According to NHLPA director Donald Fehr, salary rollbacks are not an option, but we will see if a compromise of sorts isn't reached before the start of next season.
2. 10 Years Played in NHL Before Player Can Be UFA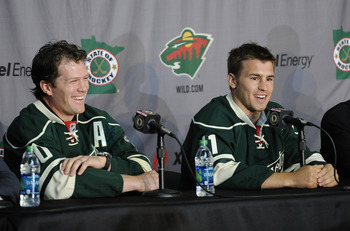 Hannah Foslien/Getty Images
The current CBA calls for what About.com calls "The 27-or-7 benchmark".
Essentially, to become an unrestricted free agent in the NHL, the player must either be 27 years old or have played (in part or in full) seven NHL seasons.
The league's proposal to the players calls for an increase to from seven to 10 NHL seasons and mentions nothing about an age limit in order to qualify for unrestricted free agent status.
This will likely cause a big stir among younger players as there are stipulations that go along with being a "restricted free agent."
For example, if a player is due to become a UFA under current CBA agreements next off-season (2013) and they raise the necessary requirements from seven to 10 years, the player could only be eligible for restricted free agency next year. This would mean they would save their current team a significant increase in salary, as restricted free agents are not entitled to any raise if they made more than $1 million under the current CBA.
The offer sheets would still be a possibility for GMs to sign away RFAs from their current teams, but offer sheets aren't extended very often currently because of the compensation (h/t thehockeywriters.com) that is required.
See slide "4" for more information on why this will cause a significant commotion among younger players.
3. 5-Year Contract Limits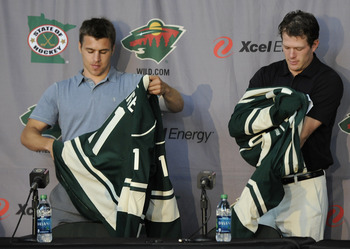 Hannah Foslien/Getty Images
13 years, $98 million apiece.
That's what Zach Parise and Ryan Suter signed for in their respective deals with the Minnesota Wild.
The third point of Renaud Lavoie's tweet announced that the NHL would be attempting to limit contracts to five years.
So the question then becomes: what will the NHL do about the Parise and Suter contracts?
Do they have to do anything about those contracts?
If a contract length limit is indeed set, it will be very hard to explain why the limit comes now after these mega deals are signed.
It will also be very hard to justify to potential UFAs coming up next off-season as to why they can't sign bigger deals as well.
The NHL and NHLPA could settle on some clause where the contract is guaranteed for a set number of a years with an option for the later years as well.
That way, if the deal is front-loaded, the team pays the price upfront and is more inclined to keep the player while they are playing well, but dump the cap hit after the player becomes worth less than their cap hit value.
This would compromise the salary cap as well as lead to circumventing of the cap, but it could get the job done on the bottom line financially.
4. No More Salary Arbitration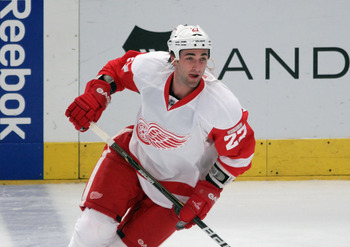 Kyle Quincey, one of 14 players currently waiting for salary arbitration
Bruce Bennett/Getty Images
On slide two, I talked about how younger players will effectively be getting ripped off by having to wait longer to become unrestricted free agents and in effect, set their own price.
By getting rid of salary arbitration, the NHL could effectively make the player have the same salary until their are UFA eligible.
I say this because teams are only required to give RFAs their previous year's salary and nothing higher. When a RFA is unhappy with that case, they file for arbitration.
Unfortunately for the players, the entry-level contracts have a maximum salary amount, meaning the only way they could get a higher salary after they become an RFA is to sign an offer sheet with another team.
So already you can likely see why the NHLPA would ask to scratch this provision from the CBA. Lower dollar value contracts for a longer amount of time. Basically, once a player hits UFA, he gets paid in earnest.
But until the player is eligible for UFA status (assuming either provision 2 or 4 is instituted in the new CBA) he will be effectively restricted on both the teams he can signed with and the amount of money he can make.
5. Entry-Level Contracts Increased from 3 Years to 5 Years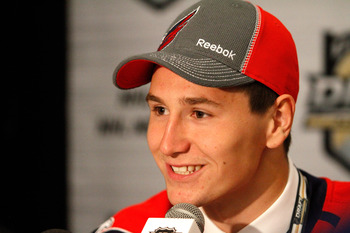 Justin K. Aller/Getty Images
Moving the entry level contracts from three years to five years would effectively just keep players with their teams for a longer term.
The effects of this would be that the player can only make a certain amount of money in bonuses and would keep costs down until the player is eligible for restricted free agency.
This five-year contract would seem like an eternity to most players as they have to sign a minimum of a three-year deal upon being drafted at age 18.
As we've already discussed in slides two and four, players entering the league will be making less money for longer, these longer entry level deals will not go over well with younger players, but in all honesty, they are getting paid better than 99.99 percent of the population their age.
For more article updates, Follow @isaacesmith91
Keep Reading