25 NHL Players with the Most Swagger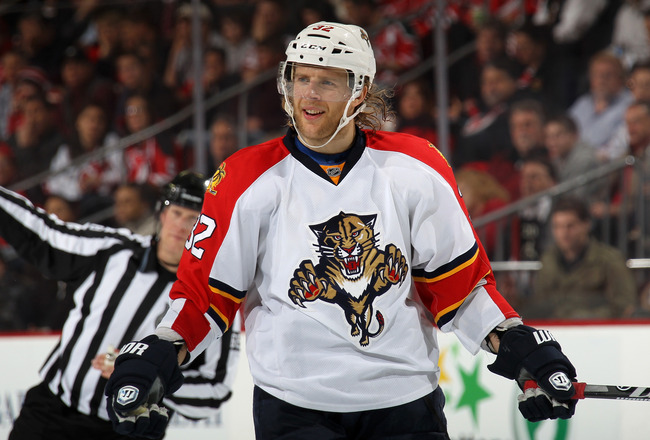 Bruce Bennett/Getty Images
Of all the professional athletes in the world, the NHL is home to the most grounded and humble superstars. Few and far between are the players who are universally reviled. More often than not, a player is hated more for the jersey he wears and his play on the ice. Off the ice, hockey players have the reputation of being the most polite and accessible of any in professional sports.
The term "swagger" can be substituted with confidence, cockiness or arrogance, depending on where someone plays. If he wears your jersey it's confidence, while a rival jersey is clearly arrogant.
Kris Versteeg takes my title picture, because after doing some research, he may be the antithesis of swagger. He continues to get put in front of a camera and/or microphone, and with the encouragement of his teammates, shows off his additional "talents."
Do his teammates hate him? They sure don't try to stop him. At the peak of a young player's career, winning the Stanley Cup, Versteeg's Blackhawks teammates encouraged him to rap at the team's Stanley Cup parade. Versteeg is a super nice guy, so I don't want to rag on him, but could someone close to him please tell him to stop rapping?
I'll attempt to list the top 25 current NHL players in possession of the "it" factor. These players are, for the most part, at the peak of their game. They have the hockey world in the palm of their hand, and they know it.
You may love some of them, and I guarantee you'll hate plenty of them. Regardless of the emotions they inspire, there is no denying the swagger in this list.
George Parros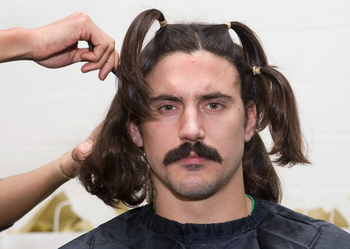 photo: canucksarmy.com
George Parros is the self-proclaimed "Minister of Moustachery". He is one of very few Ivy-League educated NHL players, and one of even fewer Ivy-League enforcers.
His former employers thought so highly of his facial duster that they sold replicas at the Honda Center with proceeds going to charity. Parros also grows his hair out before cutting it every Christmas to donate it for the Locks of Love charity.
Parros' services and swagger hit the open market this summer and was swooped up by the Florida Panthers. He'll be a fan favorite in South Beach for sure. Let's just hope the Florida humidity can handle the 'stache.
Kris Letang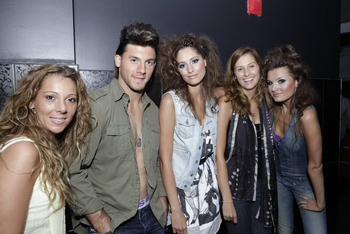 photo: hockeyfortheladies.blogspot.com
It takes a confident dude to shun the pads, let a stylist at your cabbage and walk a runway in skinny jeans and an open shirt. But as lyrical genius T.I. said, "If you got it, it ain't trickin'."
Kris Letang is just as confident on the ice as well, putting together a Norris-esque season before getting interrupted by a concussion.
Letang certainly benefits from playing with some stars in the Steel City, but he makes his own noise by jumping into the rush and quarterbacking the 'Pens power play
Paul Bissonnette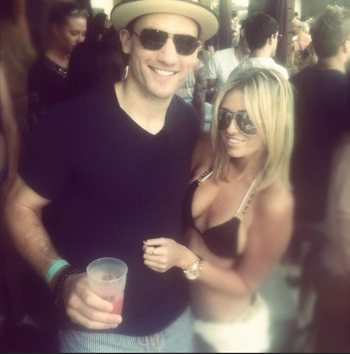 photo: cosbysweaters.com
I'm sure this Twitter pic isn't going to make it into the Gretzky family photo album. Fourth-line tough guy Bissonnette defiles this picture on Paulina Gretzky's twitter page, sending shudders through the Gretzky household for sure.
Bissonnette has carved his niche in this world as much for punching people as he has by becoming a social media icon. @BizNasty2point0 currently sits at nearly 300,000. Hart Trophy-winning NHL MVP Evgeni Malkin is at just over 211,000—not bad for a guy who makes a living as a healthy scratch 30 nights a year.
I strongly suggest you make him a staple of your "Twittersphere." Any doubts about his swagger will be quickly dispelled.
Roberto Luongo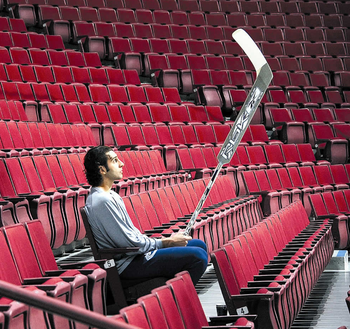 photo: whitecovermag.com
In the 2011 Stanley Cup Final, Roberto Luongo offered some unsolicited advice to his adversary in goal. While Tim Thomas would get the last laugh by lifting both the Stanley Cup and the Conn Smythe trophy, Luongo's arrogance would not be forgotten. Meltdowns in the games played in Boston made his words look foolish, but Luongo has never lacked in the confidence department.
A late-season/playoff goalie switch saw Luongo hit the pine. Swagger never wavering, Roberto requested a trade out of the Pacific northwest and will surely be taking his talents elsewhere in the fall.
Niklas Kronwall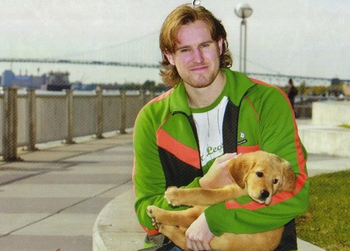 photo: hockeyplayerswithpets.tumblr.com
When he isn't cuddling wayward puppies, wearing lime-green track suits or doing both simultaneously, Nik Kronwall is making people flat on the ice. He has added a pretty wicked slap shot to his bag of tricks, and his star will only shine brighter with the retirement of teammate and countryman Nicklas Lidstrom.
Kronwall's swagger is such that he drives opponents and opposing fans crazy with his refusal to drop the gloves after he lays someone out. I'm not sure when that "unwritten rule" was passed, but crushing people in the open ice has been Kronwall's calling card for years.
Zdeno Chara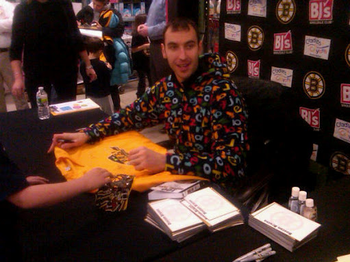 photo: daysofyorr.com
Being the largest guy in the NHL comes with a side dish of swagger that doesn't even cost anything on the menu. While there is little evidence to support the claim that you can see Chara from space, the Bruin's All-Star defenseman commands attention from everyone at both ends of the ice.
Boasting a slap shot that could only travel safely on a German autobahn in excess of 100 mph, Chara is a lethal point man for the Boston power play. His enormous 6'9", 260-pound body can deliver game-changing hits and clear the Boston crease in the defensive end.
His pajamas in the above pic might make us question his taste, but are you going to tell him?
P.K. Subban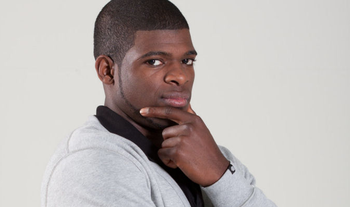 photo: thefourthperiod.com
The Montreal defenseman seems to have rubbed everyone the wrong way, including some in Montreal. There is no shortage of talent or confidence in the young defenseman, though. Subban plays with a high motor and intensity to match. He's a talented skater who can jump into the offensive rush and be quick enough to get back on defense.
Subban has received his share of criticism on and off the ice from opponents and Hockey Night in Canada loud mouth Don Cherry. Some people can point to race as an issue. After all, being a cocky, outspoken minority in a predominately white sport will always raise those questions.
Subban has claimed he will continue to play his style, which is good for him, the Canadiens and hockey. His swagger supersedes any racial boundaries, and as he gets better/older/matures, people will learn to appreciate Subban more.
Mike Ribeiro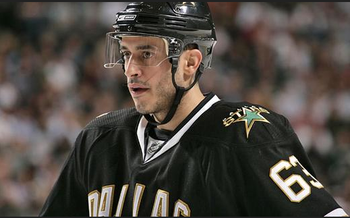 photo: pensunderground.com
Mike Ribeiro has had the reputation of being a "me first" player from his time in hometown Montreal. His notorious dive as a member of the Canadiens hardly endeared him to his opponents and probably his teammates. His talent has never been questioned, but his commitment to the team has.
Ribeiro was traded to Dallas in 2006 and would lead the Stars in scoring that year. His skills have gotten him on plenty of highlight reels, but people can't seem to let go of the diving thing.
A fresh start in Washington could do wonders for Ribeiro, but will there be room on the swagger wagon with Alex Ovechkin taking up so much room?
Erik Karlsson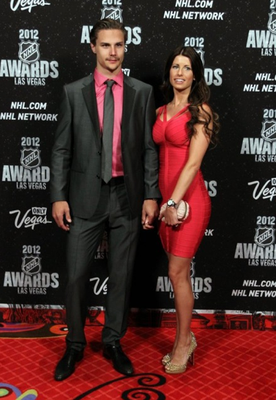 photo: weblogny.com
Swedish pretty-boy defenseman Erik Karlsson added some arm candy to his...uh, arm candy this summer, winning the Norris Trophy. Putting up some gaudy offensive stats failed to impress some of the hockey "purists" who feel like he isn't a "real NHL" defenseman like Chara or Shea Weber.
Regardless, the just-turned 22-year-old has an incredibly bright future and a fresh new contract extension to make it much richer.
Carey Price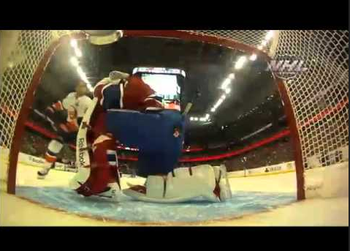 photo: article.wn.com
There's a certain type of player that can withstand the pressure of playing goalie in Montreal. Hockey's capital city (no offense to Hockeytown) can make or break a goalie in the matter of a game or two. It certainly doesn't help that one of the greatest to ever strap the pads on still casts a shadow almost 18 years after he left. You can also add the pressure of being a first-round draft pick in 2005.
Carey Price doesn't care. He's aware of the shoes he must fill and the expectations of the city. He began his playoff career with a 1-0 shutout of the hated Bruins, becoming the first Canadiens rookie to do so since Patrick Roy.
Price would have ups and downs in the following two seasons before returning to form as an All-Star the past two seasons. One of few bright spots in last season's debacle, Price will play a major role in getting the Habs back to relevance in the NHL.
Ryan Kesler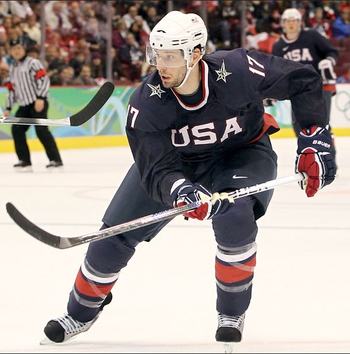 photo: sports.espn.go.com
One of the league's notorious chirpers, Kesler is always good for a quote or two. Whether he is trashing another team, another player or possibly another nation, his confidence is well known around the league. His style of play is particularly agitating, and as one of the league's premier two-way forwards, he was awarded the Selke Trophy in 2011.
Kesler released his own clothing line in November 2010, modeling the underwear himself. No doubt it takes a certain amount of...uh, swagger to put yourself out there in the hockey fraternity.
Dany Heatley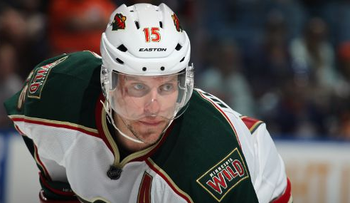 photo: bet365.com
Playing for four teams in the last eight seasons may wreck the confidence of a lesser man, but not Dany Heatley. The big left winger saw his point total take a nose dive last year to a career low of 53. Not exactly the return that Minnesota expected from the one-time 50-goal, 100-point scorer.
At 31, Heatley has plenty of tread left on his tires and will benefit greatly from playing with a couple of elite players in Zach Parise and Ryan Suter. He may not reach the peak numbers he used to put up, but Heatley's swagger will have him believing he is still among the league's elite.
Patrick Kane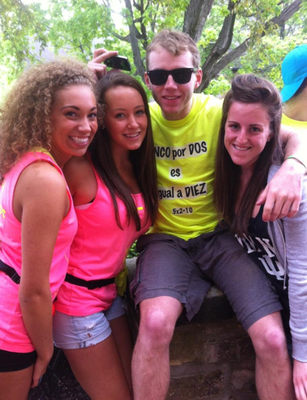 phot: itsalwayssunnyindetroit.com
With a Stanley Cup-winning goal under his belt, is there really much more Patrick Kane can do? Notorious for showing up in photos like this, Kane has been asked to reel in his social activities by the Chicago brass. Personally, I'll file this under the same category of Alexander Ovechkin and his disco-dance yacht parties.
I like Kane, and so do most people with first-hand encounters with him. Lest we forget that he is also 23. I shudder to think what kind of photos I would have appeared in if I was a famous 23-year-old millionaire hockey player in a time when everyone has a camera on their phone.
The concern for the Blackhawks is that Kane's offensive output has declined three consecutive years. While he still seems to have an ample supply of swagger, Chicago fans would prefer to have their star Frankie Muniz clone make more news on the ice than off of it.
Alex Ovechkin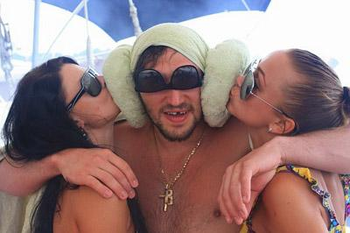 photo: dc.sbnation.com
I know this picture is from a few years ago, but it seems like the Ovechkin from a few years ago was having more fun than the recent editions. While no employer likes to see their highest paid employee partying with models in the Mediterranean, you have to let some steam off somewhere, right?
His enthusiasm when he broke into the league in 2006 was amazing and endeared him to a lot of NHL fans. It was also great for the league, which was coming out of a year-long lockout. His antics drew some criticism too, as many felt he was showing up opponents with his over-the-top celebrations.
I say, get back on the Turkish yachts and drink more Courvoisier, at least for one week in the summer. Then get back after it on the ice and in the gym. The NHL needs Alex Ovechkin and his yacht full of swagger to be more fun.
Marian Gaborik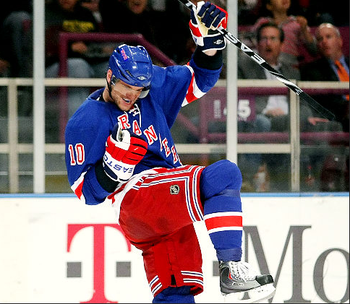 photo: gcaggiano.wordpress.com
There isn't a more confident shooter in the league than the (currently injured) Rangers sniper. Gaborik has the reputation of never seeing an angle he didn't like to shoot from. He's far from a black hole, though. Gaborik's 41 goals last year led the Rangers and were the third highest in the NHL.
Sidelined with a shoulder injury until November (at least), Gaborik's production and confident presence on the ice will be sorely missed by New York.
Henrik Lundqvist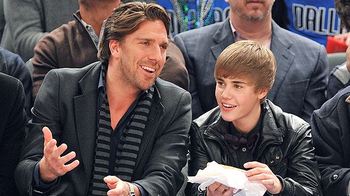 photo: windycitizensports.wordpress.com
One look at this picture will tell you that King Henrik and the Biebs are obviously discussing the benefits of Obamacare. Then they laugh to each other about the comparable Canadian and Swedish health care systems of their native land. Maybe? Or playing a fun game of whose teeth are whiter?
The resident stud of NHL goalies, Lundqvist capped an amazing season with the Vezina trophy. While the Rangers fell short of a showdown with heir apparent Jonathan Quick and the eventual champion L.A. Kings, it was no fault of the Ranger netminder.
Finally recognized as the best in the NHL, the 30-year-old Swede needs only a Stanley Cup title to elevate his status.
Anze Kopitar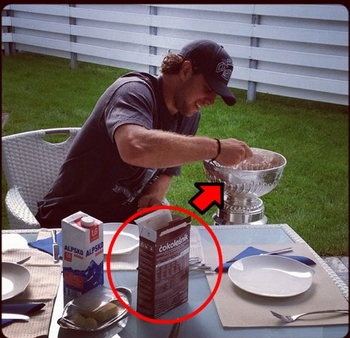 photo: jerseychaser.com
When you win the Stanley Cup, you pretty much have an amnesty clause to do whatever the hell you want in the offseason; within reason. For example, if you want to bring the championship chalice home for a generic bowl of Eastern European Coco Puffs, that's Anze Kopitar's prerogative.
Kopitar's emergence as a top-tier center will be measured by how well he responds to his first taste of real success in the NHL. Stanley Cup hangover be damned, Kopitar and his Slovenian swagger will be back for more than delicious breakfast cereal in the fall.
Steven Stamkos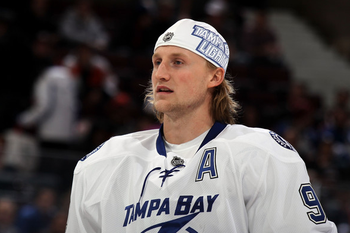 photo: zimbio
The NHL's leading goal scorer over the past three years with 156 tallies, Stamkos subscribes to the same shooting philosophy of Wayne Gretzky: "You miss 100 percent of the shots you don't take."
In a traditionally disinterested hockey market, Stamkos has brought swagger and, wait for it, electricity to the Gulf Coast. Sorry.
Missing the playoffs had more to do with some old, bad Swiss cheese in goal than Stamkos' prolific lamp lighting. With a focus on building the defense this offseason, Tampa should be back in the playoffs for 2012-'13.
Ilya Kovalchuk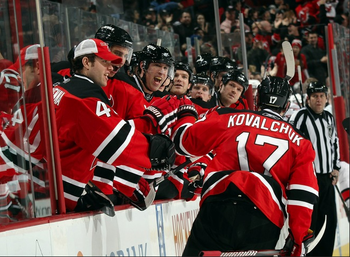 photo: thoughtsofrs.blogspot.com
Ilya Kovalchuk once had so much swagger that he rarely crossed center ice to play defense. Then someone must have pointed out that it is hard to win hockey games and get a winning attitude on your team when the best player plays defense like Gretzky used to fight.
At one point in time it was pointed out to me that Dan Carcillo had more playoff goals than the twine-tingling Russian. After this year, though, Kovalchuk has played a more complete game at the behest of his teammates and organization, and he managed to surpass Carcillo's total.
He might not ever hit 50 goals again, but finishing top five in the league in scoring at over a point-per-game rate has made the Devils a better team and Kovalchuk a much better player. Probably not a Selke Trophy in his future, but he'd probably like another shot at the Stanley Cup.
Pavel Datsyuk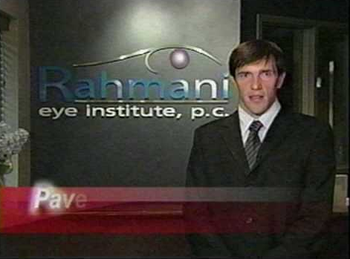 photo: hockeyindependent.com
With some of the most gifted hands in the game, Datsyuk's vision on the ice is also among the league's best. While he may publicly credit Dr. Rahmani for his eyes, Datsyuk's dangles bring fans, teammates and even opponents off their butts.
Datsyuk is a 200-foot player and covers every inch of the ice. He has the crafty guile of the best pickpockets and can also catch you off guard with a body check. His quiet and calm disposition covers another Russian chock-full of confidence.
Jordan Eberle

Yeah, I'd say Eberle set the bar pretty high early.

The young guns in Edmonton all take second place for now, right behind right wing Jordan Eberle. Don't think this kid has swagger? Click that video above. His first NHL goal was a shorthanded effort against rival Calgary on veteran goalie Miikka Kiprusoff.
Eberle broke out last year at a pace of just under a point per game. His 76 points led the Oilers, a team ravaged by injury, and were pretty much irrelevant by March. With Taylor Hall, Ryan Nugent-Hopkins and No. 1 draft pick Nail Yakupov driving the offense with Eberle, the Oilers can start making some real noise in the Western Conference again
Dion Phaneuf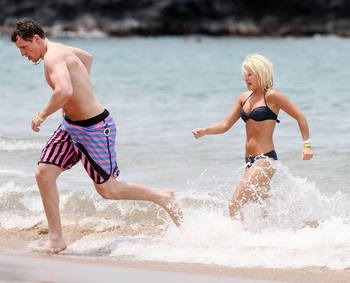 photo: hawaiimagazine.com
Love him or hate him, Dion Phaneuf has "it." Don't think so? Well, that's Elisha Cuthbert frolicking in the surf with him. Sean Avery may bitterly call her his "leftovers," but my guess is that she decided to make him the "leftovers" first.
The Leafs captain has everything that a young spark plug from Alberta could ask for: a model/actress lady friend, captain of a storied Original Six NHL franchise, millions and millions of dollars and a scowl that makes small children soil their dungarees.
You and Sean Avery may not be fans of his, but Ms. Cuthbert is. Dion is probably cool with that.
Sidney Crosby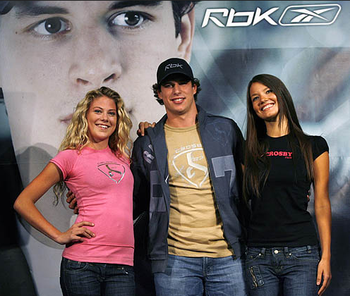 photo: jtbourne.com
What can you say about the Penguins captain that hasn't been said by his biggest fans and his greatest detractors? His talent is undeniable, and as he matures, Crosby's legend will grow. Possibly the most polarizing player in the NHL today, Crosby turns heads on and off the ice, and all of the NHL follows him.
When your haters pay as much attention to you as your fans do, you're "kind of a big deal." I wonder if Sid's crib smells like rich mahogany?
Claude Giroux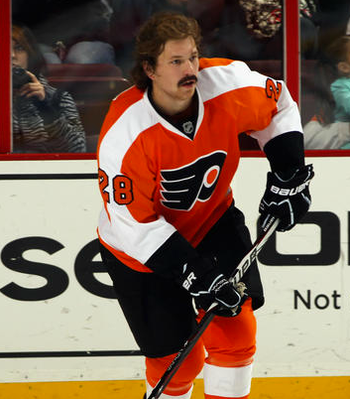 photo: crossingbroad.com
You can't grow a mustache like that and not have some game on the ice or off of it. People seem to forget that grooming a mustache of that caliber is a full-time gig—it doesn't come off with the jersey or get put in your pocket like a phone.
In all seriousness, Giroux stepped up his game this year with passion and flair, ending up in the top five in scoring and leading his Flyers past the favored Pittsburgh Penguins in the first round of the playoffs. Some offseason surgery on both wrists speak to Giroux's toughness and commitment. He was obviously playing hurt at some point, and likely for an extended period of time.
Expect even bigger things from the Philadelphia star, as the Flyers look to get beyond the second round next year.
Evgeni Malkin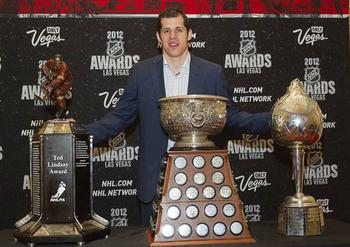 photo: lasvegassun.com
"Hi, my name is Geno. See all these trophies? Yeah, I won them. This year." The language barrier keeps the general population from seeing what an interesting dude Evgeni Malkin is. His size and skill make him almost unstoppable on the ice, and as he becomes more comfortable with his English, he can spread his large wings off of it.
Russian players are often assigned swagger because of the cultural differences, but Malkin seems to embrace his, earning every last ounce of it.
Keep Reading