NHL Power Rankings: Ranking All 30 NHL Teams Post Draft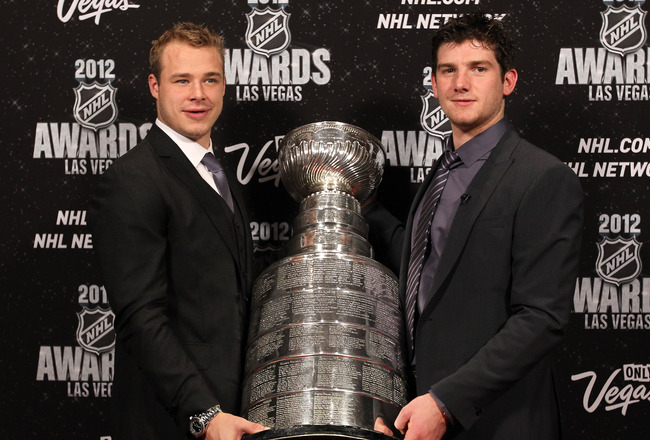 Bruce Bennett/Getty Images
The NHL draft came and went. Now, the free agent frenzy is in full swoon as teams are making improvements left and right.
Will these additions help a bottom feeding team move up the charts? Can some major subtractions bump a contender down the chart ever so slightly?
The landscape of the NHL has changed. Some examples include Minnesota and Dallas loading up, Detroit losing a significant defenseman and Philadelphia losing some key players and replacing them with lesser players.
Each team started with a ranking based on their performance from last season. Then, each team was either bumped up or down based on factors such as coaching changes, key free agent signings, losses or impact trades.
These rankings are also opinion based, so don't take them too personally.
Here are the latest NHL power rankings for all 30 NHL teams since the NHL Entry Draft.
30. Columbus Blue Jackets
Christian Petersen/Getty Images
Rick Nash is still a Columbus Blue Jacket, but he shouldn't be. He has been involved in trade rumors for months. He should have been traded by now so Columbus could make secondary moves to reshape their roster for next season.
Scott Howson has been unrealistic in trade negotiations. Instead of graciously adding players like Joe Pavelski, Ryane Clowe and Jason Demers to the Jackets' roster, he has asked for absurd returns that include comparable players and then some.
Howson is not going to get the return he wants, and as long as he holds Nash hostage, the Blue Jackets will fail to improve.
29. New York Islanders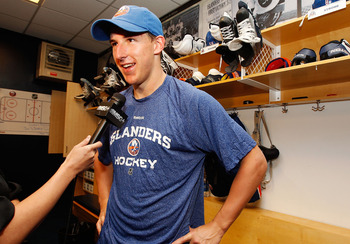 Mike Stobe/Getty Images
One year from now, the Islanders could be a completely different team, infused with talented prospects. But right now they are one of the worst teams in the league.
The New York Islanders lost one of their top scorers in P.A. Parenteau, and they will have a tough time replacing his offense. The Isles also have the misfortune of playing in one of the NHL's toughest divisions.
The Islanders have added some grit and toughness, but John Tavares and Matt Moulson can not carry the offensive load all by themselves.
The Islanders are going to go through some adjustments, but if some of their prospects on the horizon can make the team, there is a chance they could surprise a lot of people.
28. Calgary Flames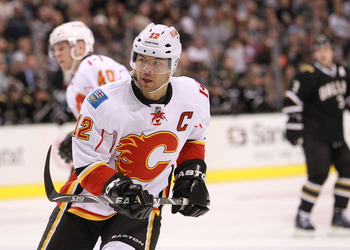 Ronald Martinez/Getty Images
As far as major moves go, the Calgary Flames lost Olli Jokinen while adding Dennis Wideman and Jiri Hudler to the mix. They also added KHL and CZE star Roman Červenka, who could prove to be a solid signing.
The Flames are a team that in flux. They have some solid players like Jarome Iginla, Alex Tanguay and Miikka Kiprusoff, but they have failed to make the playoffs for the past three seasons. With their core getting older, the Flames really should have considered rebuilding.
The Flames should have chosen to start a rebuild while some of their veterans had prime value, but instead, they will try to compete this year in a very tough division.
27. Edmonton Oilers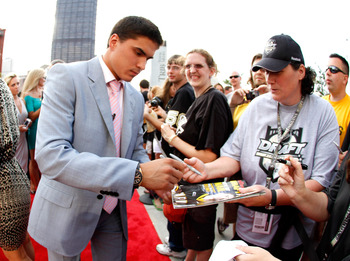 Justin K. Aller/Getty Images
The Edmonton Oilers are a team that are still a year and a few pieces away from clicking.
Yes, the Oilers have young stars in Nail Yakupov, Jordan Eberle, Taylor Hall, Ryan Nugent-Hopkins and Justin Schultz, but they play in a very tough and more experienced division and conference.
The Oilers are going to be a top Western Conference team in a few years, but they need some depth on their blueline and consistent goaltending in net.
One year from now, it wouldn't be a surprise if the Oilers were a top-flight team, but right now, they need to prove themselves.
26. Toronto Maple Leafs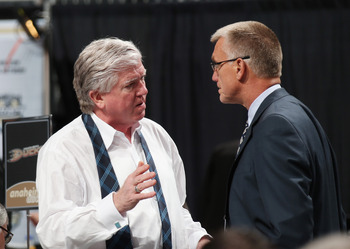 Bruce Bennett/Getty Images
The Toronto Maple Leafs added a solid young player in James van Riemsdyk through a trade with the Philadelphia Flyers. The Leafs still have some question marks and are a team that is still seeking a top centre and a starting goaltender.
Brian Burke will likely make low cost additions this offseason because he will attempt to acquire some former players like Ryan Getzlaf if he hits free agency.
As they stand currently, they will have another year with ups and downs. If they can add a legitimate starter, they could change their fortunes.
25. Montreal Canadiens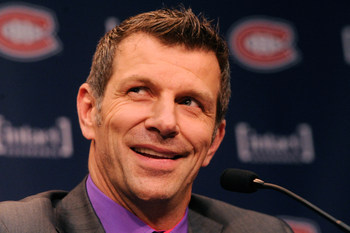 Richard Wolowicz/Getty Images
The Montreal Canadiens added some grit in Brandon Prust and some depth in Colby Armstrong so far in the free agency period. The Habs also locked up Carey Price in a long-term deal and have some solid players they added through the draft.
However, the Habs will not be able to utilize those youngsters for another year or two. Alex Galchenyuk will likely spend another year in Juniors due to the time he missed developing last season.
The Canadiens are going in the right direction with a new general manager Marc Bergevin, but they have some work to do.
24. Winnipeg Jets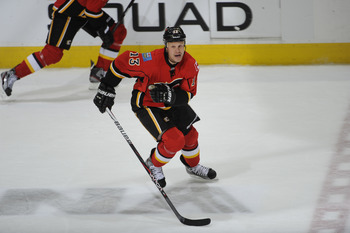 Dale MacMillan/Getty Images
The Winnipeg Jets took major strides when they returned to Winnipeg, but they ran out of gas at the end of the year. The Jets added Olli Jokinen via free agency. He should give the Jets some offensive support, but it won't be enough to make the Jets a top team in the Eastern Conference.
Evander Kane is another promising star and Andrew Ladd and Nik Antropov are quality forwards, but the Jets need to be consistent. When your power play numbers at home and on the road are so wide apart, consistency becomes a major question.
Winnipeg will likely be a bubble playoff team, and they could finish between eighth and 11th in the conference.
23. Colorado Avalanche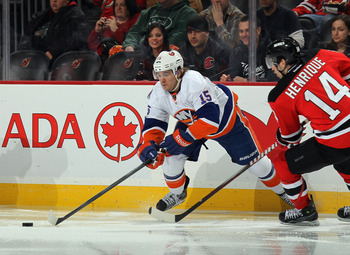 Bruce Bennett/Getty Images
Many people were quick to criticize the Avalanche for the P.A. Parenteau signing, but after some serious thought, it makes a lot of sense.
The Avalanche needed some offensive depth and Parenteau was one of the better offensive options on the market. Parenteau also only had two less points than Zach Parise last season, and he will fill a need for Colorado.
For starters, Parenteau will have the opportunity to play with Matt Duchene, who has the potential to be a solid player if he can stay healthy.
If you add Gabriel Landeskog to the mix, the Avalanche have a pretty solid first line.
This addition of Parenteau, in combination with other depth signings made, will strengthen the Avs for the 2012-13 season.
22. Phoenix Coyotes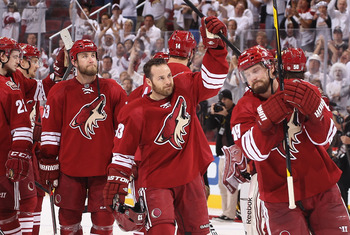 Christian Petersen/Getty Images
The Phoenix Coyotes had a magical playoff run, but it might be a distant memory in the coming years. The Yotes have already lost Ray Whitney and could lose Shane Doan as well if the Coyotes' future in Glendale is not secure.
Those two players were key producers and leaders for the team, so it will be interesting to see how the year goes for Phoenix.
Mike Smith had a solid year, and Phoenix could still make some additions as the free agency period continues.
21. Carolina Hurricanes
Paul Bereswill/Getty Images
The Carolina Hurricanes added Jordan Staal to play alongside his brother Eric, but will that be enough for the 'Canes? The team also has Jeff Skinner, Jiri Tlusty and other young players, but can the Canes put it all together for a successful season?
Carolina lost a key defenseman in Bryan Allen and reacquired Joe Corvo. The Hurricanes are trying to make more moves, but right now they are a solid young team with promise, so they are hesitant to deal assets. They could push for a playoff spot, but it all depends on how things mesh.
J.Staal has never been in a role where he was one of the top players in town, so how he adjusts to his enhanced role will have an impact on how the Canes' play in the 2012-13 season.
20. Buffalo Sabres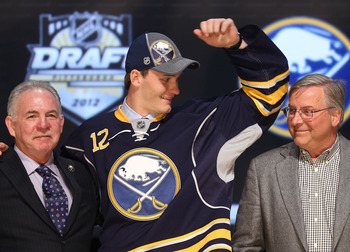 Bruce Bennett/Getty Images
The Buffalo Sabres added some grit and size this offseason, and that should help the overall makeup of the team. They lost some skill, but they could bank on prospects to fill the void.
The team traded Derek Roy to Dallas for Steve Ott and Adam Pardy, but Roy's spot on the roster could be filled by first round draft pick Mikhail Grigorenko.
Grigorenko could make the jump, and that could explain why Darcy Regier was so willing to deal Roy.
The Sabres are a team that has talented players and a top goaltender in Ryan Miller, so you can never count out Buffalo.
19. Anaheim Ducks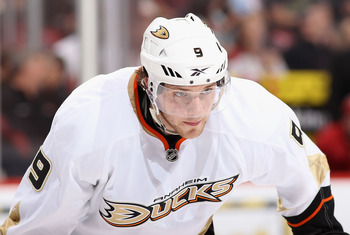 Christian Petersen/Getty Images
The Anaheim Ducks could trade Bobby Ryan, and that could alter their roster significantly. Trading Ryan would bring Anaheim a No. 2 centre and some other roster players to add depth.
This offseason team added some veteran defenders and will have a new direction going into the season. With Bruce Boudreau at the helm, the Ducks will look to prove that last year was a fluke.
They have a talented roster but there are some questions currently that impact their standing in the power rankings. If Ryan is traded, will they struggle? Can Jonas Hiller remain healthy?
The Ducks will have an interesting offseason. Will it have an impact on their 2012-13 season?
18. Florida Panthers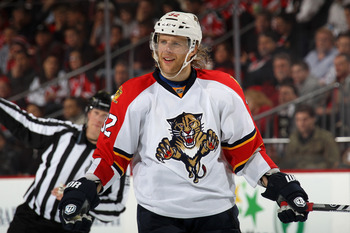 Bruce Bennett/Getty Images
The Florida Panthers made some noise during last year's regular season. They made their first playoff appearance in 12 years and went to a seventh game in the Eastern Conference quarterfinals. That is a solid improvement, but can they have repeat success?
The Panthers lost trigger man Jason Garrison and could add some top prospects to the fold this year. Can they compete with a Washington Capitals team under new bench boss Adam Oates?
Jonathan Huberdeau, Jacob Markstrom and Nick Bjustad could all make the team, and that could impact the Panthers in a significant way.
17. Dallas Stars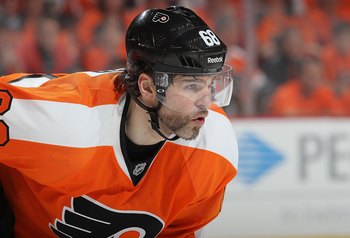 Jim McIsaac/Getty Images
The Dallas Stars traded away Mike Ribeiro, but they added Ray Whitney, Derek Roy and Jaromir Jagr. The Stars' top-six already included Jamie Benn, Michael Ryder and Loui Eriksson, so it should be interesting to see if the team will mesh.
The Stars took a gamble adding some veteran talent because any success they have this year will not be continual because some of those new players will be replaced in a matter of year.
Dallas could be a surprise team this year, but there are question marks associated with them because of their veteran additions and some of the injury issues that accompany them.
Can Roy return to the player he was before suffering injuries in Buffalo? Will Jaromir Jagr's groin injury nag again like it did last season and will Brendan Morrow emerge as a healthy player in 2012-13?
16. Tampa Bay Lightning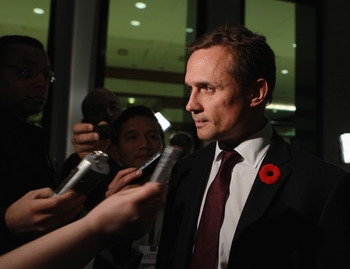 Bruce Bennett/Getty Images
The Tampa Bay Lightning could rebound this season because of some solid moves by general manager Steve Yzerman. Stevie Y has added a future No. 1 goaltender in Anders Lindback, some veteran defenseman in Sami Salo and Matt Carle and some depth forwards like Benoit Pouliot.
The Lightning are only a season removed from battling in the Eastern Conference Finals, so they will look to show that the 2011-12 season was a fluke.
Yzerman likely will make some more moves to strengthen his club, but he has done a solid job making the Lightning deeper than they were last season.
15. New Jersey Devils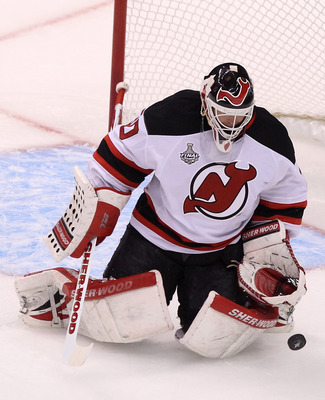 Christian Petersen/Getty Images
The New Jersey Devils lost a huge part of their team in Zach Parise, and that will have an impact on the makeup of their team.
Parise was the New Jersey Devils' most complete player and was a mainstay on the NHL's top penalty kill unit. Ilya Kovalchuk is a sniper and high caliber offensive talent, but Parise was a solid two-way player who killed penalties and was a threat shorthanded.
The Devils also lost Alexei Ponikarovsky who was a solid secondary addition with 33 points.
If the Devils struggle during the season, it will be interesting to see if they deal some of their impending UFA's like Patrik Elias or Travis Zajac to avoid another Zach Parise like departure.
The Devils will look to ride Martin Brodeur and Johan Hedberg as a goaltending tandem but they could struggle to compete in a tough Atlantic division.
14. Minnesota Wild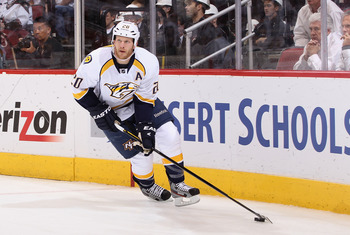 Christian Petersen/Getty Images
The Minnesota Wild made the biggest splash in free agency when they landed Zach Parise and Ryan Suter. The two American stars will add to a team that had some nice pieces but lacked the wow factor.
When you add the Wild's signings, their current roster featuring Mikko Koivu, Dany Heatley and prospects like Mikael Granlund and Charlie Coyle, there is a lot to be hopeful for in 2012-13.
The Wild were one of the NHL's top teams before Koivu suffered an injury, so it isn't illogical to think that these signings could give the Wild some consistency.
13. Ottawa Senators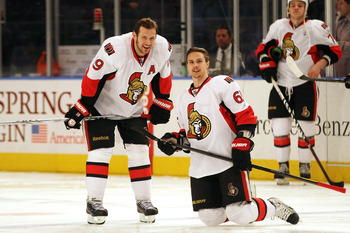 Bruce Bennett/Getty Images
The Ottawa Senators have a very promising roster. They have stars in Jason Spezza, Milan Michalek and Erik Karlsson, a veteran captain Daniel Alfredsson and promising youngsters like Kyle Turris, Mark Stone, Jakob Silfverberg and Colin Greening.
The Sens looked respectable in their first round playoff series against the New York Rangers but should be better this year as their younger players gain experience.
Ottawa will likely contend for a division title, but repeat performances from key players will play an impact in their success.
12. Nashville Predators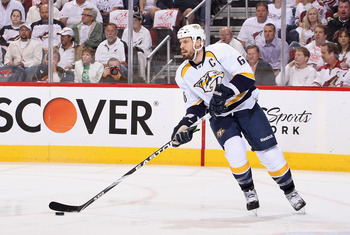 Christian Petersen/Getty Images
The Nashville Predators lost Ryan Suter and Alex Radulov, and they could lose Shea Weber. Pekka Rinne, however, is the ultimate equalizer.
He is an elite goaltender who can keep the Predators in the game at all times.
David Poile should feel confident in his young team, and he should continue to make additions to ensure that his team is competitive.
The Predators have some young talented players who could step in this season, so don't expect the Predators to fold because they lost Ryan Suter. Jonathan Blum and Ryan Ellis are two young blueliners who will only get better with experience.
11. San Jose Sharks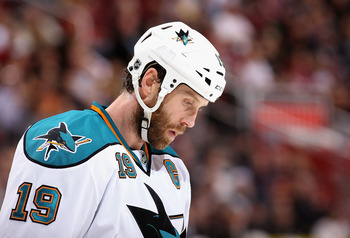 Christian Petersen/Getty Images
The San Jose Sharks are at a crossroads. Their window for success with this current roster is currently closing, but expect Doug Wilson to do his best to make this team a winner. The Sharks are a team in the Rick Nash mix, and that move could put them over the top.
With a roster boasting talent like Joe Thornton, Logan Couture, Patrick Marleau, Joe Pavelski and assorted others, there is no excuse for failure this season.
San Jose has lost enough times in a row that they should know what they need to win.
10. Philadelphia Flyers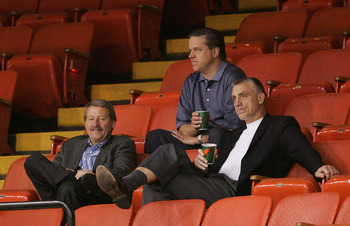 Bruce Bennett/Getty Images
The Philadelphia Flyers went all in on Zach Parise and Ryan Suter, and it ultimately cost them some of their players.
Jaromir Jagr signed with Dallas, Matt Carle went to Tampa Bay and they traded budding forward James Van Riemsdyk for Luke Schenn.
Carle was a solid defender who ate up a lot of minutes and chipped in on offense. Schenn could prove to be a solid replacement, but right now, that is an unknown.
Sean Couturier and Jakub Voracek are also capable of stepping up to fill the void left by Jagr and JVR, but right now, there is no guarantee.
The Flyers still have one of the league's best players in Claude Giroux, but the Flyers' additions so far do not adequately make up for the players they have lost.
9. Vancouver Canucks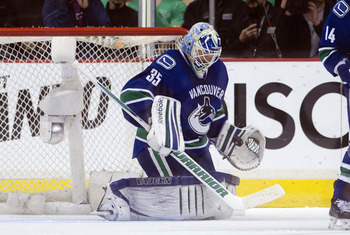 Rich Lam/Getty Images
The Vancouver Canucks have won two consecutive Presidents Trophies but have nothing else to show for their efforts. With Cory Schneider set to take the reins for the first time, the Canucks could get off to a rocky start or they could continue to thrive.
Schneider has been effective as a backup, but until he embraces the starting role full-time, there is no guarantee on how effective he will be.
The Canucks roster has added Jason Garrison, and he should help their power play, but there is still reason to remain cautious with the Canucks.
Vancouver falls to No. 9 because despite their recent success, they have nothing to show for it.
8. Washington Capitals
Bruce Bennett/Getty Images
The Washington Capitals made a great move in hiring Adam Oates. That move alone should make the Capitals a threat for the 2012-13 season.
Oates was a player who was one of the NHL's premier power play specialists during his career. He is a coach who will get a lot out of Alex Ovechkin and the rest of the Capitals offensive minded players.
The Capitals also added playmaking center Mike Ribeiro to the fold, and he will add some skill and creativity to the team.
Brayden Holtby emerged as a stud goaltender in the playoffs, and he could be an X-factor for the Capitals this season.
The Caps were one of the NHL's top teams in recent years, and they will show that they are for real in 2012-13.
7. Detroit Red Wings
Bruce Bennett/Getty Images
The Detroit Red Wings blueline was significantly weakened this offseason. Brad Stuart and Nicklas Lidstrom are no longer mainstays, and the Wings lost out on Ryan Suter.
Detroit has already lost Jiri Hudler, who was a solid secondary scorer, and they could lose veteran forward Tomas Holmstrom.
The Wings are a team that is always a powerhouse in the West, but they could be in for some trouble if they don't bolster their blueline.
Detroit would love to upgrade their offense, but their defense is going to be Ken Holland's number one priority.
6. Boston Bruins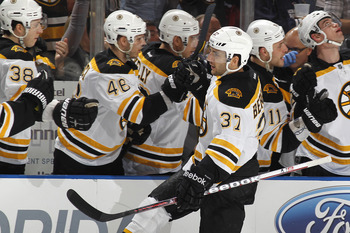 Joel Auerbach/Getty Images
The Boston Bruins were upset in the first round of the playoffs in 2011-12. Vezina and Conn Smythe winner Tim Thomas is on sabbatical and Tuukka Rask will take over the crease full time.
Rask has been a solid backup, but there is no guarantee that that success will carry over. The Bruins have a solid defense and forward group, so they are going to be one of the East's top teams.
Boston also retained their key players and have a solid core but how Rask adjusts to an enhanced role could have an impact on their season early on.
5. St Louis Blues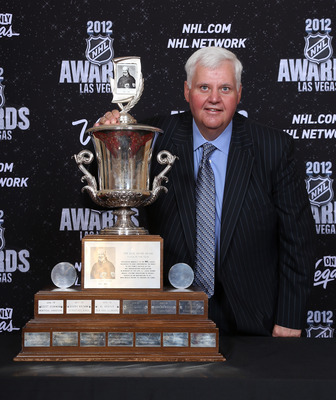 Bruce Bennett/Getty Images
The St.Louis Blues emerged as a top contender last season because of their solid defense and top notch goaltending. The tandem of Jaroslav Halak and Brian Elliot gave the Blues a solid one, two punch.
Ken Hitchcock is behind the bench again, so expect him to continue his solid defensive style. The Blues are one of the teams to beat in the West because of their two-way play and solid goaltending.
If Doug Armstrong can go out and get a scorer, the Blues would be in very good shape heading into next season.
4. Chicago Blackhawks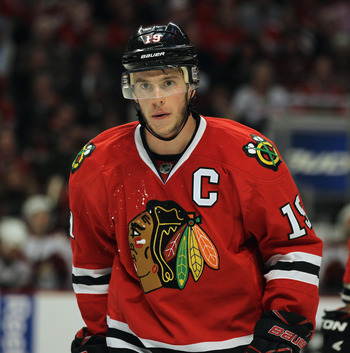 Jonathan Daniel/Getty Images
The Chicago Blackhawks battled through injuries last season and came on strong in the playoffs. They lost to the Phoenix Coyotes in the quarterfinals.
With a healthy Jonathan Toews, Marian Hossa and continual contributions from Patrick Kane, Patrick Sharp, Duncan Keith, Brent Seabrook and assorted others, the Blackhawks will look to return to championship form.
The only question mark surrounding Chicago is whether or not Corey Crawford can return to the level of play he is capable of.
If the Blackhawks can get solid goaltending, the sky is the limit as long as their key stars stay healthy and productive.
3. New York Rangers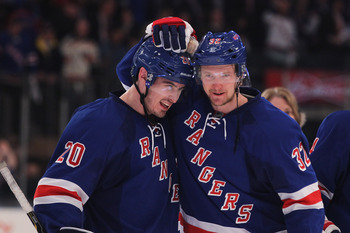 Bruce Bennett/Getty Images
The New York Rangers will head into the 2012-13 season with a more experienced team full of depth and grit. The Rangers have added Taylor Pyatt and Aaron Asham to replace Ruslan Fedotenko and Brandon Prust.
The Rangers' defense will also be stronger heading into the season. Dan Girardi, Ryan McDonagh and Michael Del Zotto are coming off solid seasons, Marc Staal will be healthy, Anton Stralman is expected to return and the Blueshirts have some defensive prospects like Tim Erixon who could make the team.
The Rangers' young core will benefit from a lengthy playoff run, and the addition of Chris Kreider for 82 games should make an impact.
Henrik Lundqvist is also coming off a solid season so that is a huge plus for New York.
If the Blueshirts can land Rick Nash, they will enter the Stanley Cup contenders conversation relatively early next season.
2. Los Angeles Kings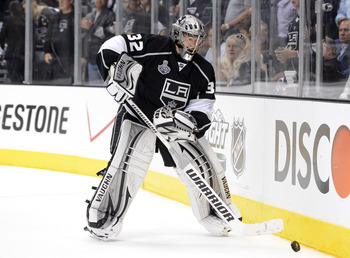 Harry How/Getty Images
The Stanley Cup champions head into the 2012-13 season as the No. 2 team.
They have a solid goaltender in Jonathan Quick, a solid blueline highlighted by Drew Doughty and a deep forward group with Dustin Brown, Mike Richards, Jeff Carter and Anze Kopitar.
This core is locked up for the next few seasons, so expect them to compete in the playoffs for many years to come.
This is all good and well, but when you look at the roster of the No. 1 team and add the difficulty of stringing together back to back Stanley Cup seasons, it is easy to see why the Kings are No. 2 heading into next season.
1. Pittsburgh Penguins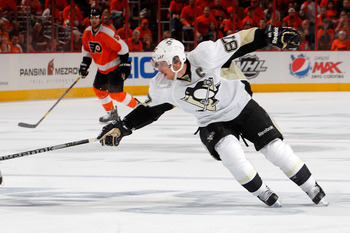 Paul Bereswill/Getty Images
The Pittsburgh Penguins may have been eliminated in embarrassing fashion by the Philadelphia Flyers in the 2012 Eastern Conference quarterfinals, but it doesn't change the fact they have one of the most star-studded rosters in the NHL.
A healthy group of Sidney Crosby, Evgeni Malkin, James Neal, Chris Kunitz, Kris Letang and Brandon Sutter centering a third line is pretty intimidating.
Crosby's health is one reason why the Penguins have not gone far in the playoffs. Malkin can only carry the team so far by himself.
The Penguins blueline is also decent, and they have prospects in the pipeline who could threaten to make the team.
The addition of Tomas Vokoun as a backup should give Marc-Andre Fleury some rest and relief that will pay dividends for the Penguins this season.
Ray Shero will continue to look for additions to this team, but they stand to be the team to beat this season because of their exorbitant amount of star power.
Keep Reading