NHL Free Agency: 10 Teams That Cannot Afford a Misstep in Free Agency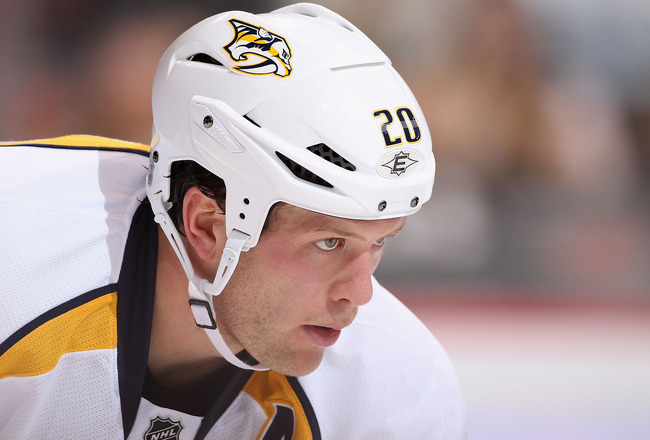 As good as hyped?
Christian Petersen/Getty Images
With the kind of money that's being thrown around, you would think that the free-agent pool is stocked with top-shelf talent. With that being said, there are still some quality players to be had.
It seems to me that free agency this summer will be measured more accurately on a good fit than a great player. As the season unfolds, we'll see where the square pegs have been crammed into round holes, and where the best fit(s) took place.
Some general managers might be on the hot seat if their blockbuster signings don't pan out. With millions........and millions of dollars potentially flushed away on a has-been or never-was, the unemployment line of former NHL executives could get a little bit longer in six months.
Suter and Parise have yet to put pen to paper and have put a temporary hold on the blockbuster trades that will surely follow. Be patient, Rick Nash and Roberto Luongo, your time will come soon enough.
I can't help but think the final sticker price for both of the prized chosen two (Parise and Suter) will be so over-inflated that it could potentially cripple a franchise stuck with a 27-year deal.
Everyone wants to get better. Even the defending champion Kings will look to improve, but the really smart general managers will get the players that fit into their team rather than the guy who fits into their payroll.
Here's ten teams that are counting on free agency to work in their favor.
All salary cap and floor figures courtesy of capgeek.com
Detroit Red Wings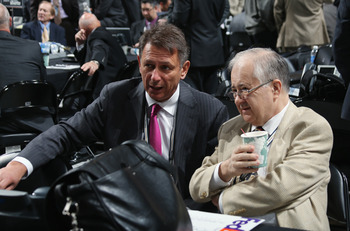 Bruce Bennett/Getty Images
It's hard to imagine that Ken Holland would be on the hot seat, but he took some risks by signing Red Wing retread Mikael Samuelsson, and marginal backup Jonas Gustavsson. Jordin Tootoo comes equipped with lots of energy and sandpaper, and is probably the best signing so far.
Damien Brunner put up some impressive numbers in Switzerland and is a right-hand shot, but I'm pretty sure I can put up numbers with my equally lethal right-handed shot in Switzerland.
Coach Mike Babcock loved him at the World Championships, but how will he adjust to the smaller rink and more physical NHL?
With a monster deal on the table for Ryan Suter, Holland has almost assured the Hockeytown faithful that Zach Parise won't be in a Detroit sweater. Suter's proposed deal is reported to be in the area of 13 years for $90 million according to Helene St. James of the Detroit Free Press, which averages out to be a cap hit of around $6.9 million per year.
The Red Wings have spoiled their fans with Stanley Cup-contending teams for 20 years. Anything short of the Cup is a disappointing season in Motown. Failure to make any progress towards that goal this season will certainly bring on some unrest.
Toronto Maple Leafs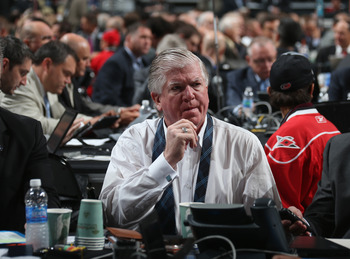 Bruce Bennett/Getty Images
There is no city in the NHL this side of Montreal that has their team under a bigger microscope than Toronto.
The Leafs' fans are smart and aren't afraid to let the front office brass know how they feel about every decision. Brian Burke's moves will be scrutinized from now until training camp opens.
So far, three days in, Burke has done nothing of note. The trade for James van Riemsdyk gives some size and scoring up the middle, but the Leafs first priority has to be addressed in goal. Toronto has five roster spots to fill and around $12 million in salary cap room with which to do so.
Jay McClement and Matt Frattin are nice additions, but if the Leafs miss the playoffs again, Burke may be a goner.
New Jersey Devils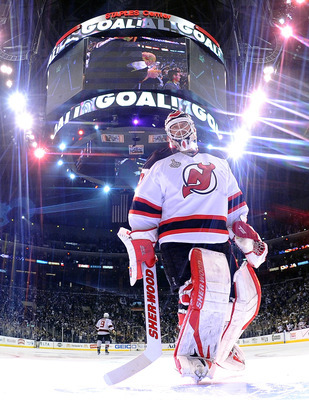 Harry How/Getty Images
One would think a trip to the Stanley Cup Final would be a step in the right direction for a franchise. The Devils, though, could be at an organizational crossroads.
They just signed their franchise goalie for another two years, but he's 40, and even Patrick Roy started to kind of suck at the end of his line. Also re-signed were backup keeper Johan Hedberg and defenseman Bryce Salvador.
Their captain Zach Parise has occupied the center ring of the free-agent circus after failing to re-sign with his team during the last year of his contract.
With the types of deals that are being discussed for both Suter and Parise, are the potentially bankrupt Devils even in a position to be playing the free-agent roulette game?
Tampa Bay Lightning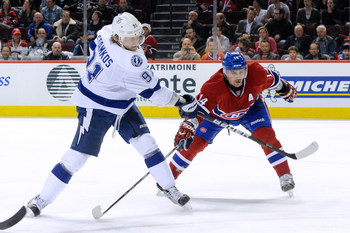 Richard Wolowicz/Getty Images
Tampa Bay general manager Steve Yzerman got a pass for his rookie mistake, choosing Dwayne Roloson over Mike Smith for the franchise goalie.
This year could be critical for Yzerman to see if he has the same good decision making in the front office as he did on the ice for so many years. Obviously the goalie situation needs to be remedied first along with the defense.
The Lightning traded for beastly 6'6" Nashville backup goalie Anders Lindback, but is he the answer or does Stevie Y have some magic up his sleeve?
Tampa also signed former Vancouver blueliner Sami Salo to a two-year deal worth $3.75 million annually, while also re-signing newly acquired F Benoit Pouliot to a one-year deal.
Rolling the dice on Lindback as the starter is a risky proposition, and I think they overpaid for Salo given his age. Yzerman certainly can't be on the hot seat yet, but with that pile of talent in Tampa Bay, the playoffs are supposed to be a sure thing.
Colorado Avalanche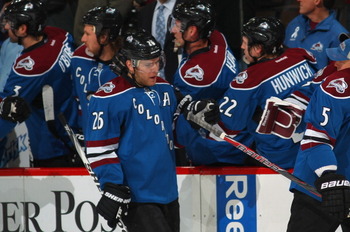 Doug Pensinger/Getty Images
The Colorado Avalanche of 2011-12 were a pleasant surprise with some names that emerged that we will surely hear from for years to come. Calder Trophy winner Gabriel Landeskog heads a young upstart roster that has only four players over the age of 30.
The Avs took a chance with breakout right wing P.A. Parenteau, awarding him a four-year $16 million contract. Colorado has a nucleus of young stars in waiting, with Matt Duchene, Paul Stastny, Ryan O'Reilly and Landeskog. The addition of Parenteau looks like a no brainer, on paper.
If Parenteau is able to mesh well with the other young talent, Colorado should make the playoffs. If the chemistry that this young group developed last year is disrupted by the free-agent acquisitions, then the Avs could be back to square one.
Signed:
RW P.A. Parenteau, 4 yrs., $16M (Islanders)
C John Mitchell, 2 yrs., $2.2M (Rangers)
D Greg Zanon, 2 yrs. (Bruins)
C Mark Olver, 2 yrs., $1.2M (re-signed)
D Erik Johnson, 4 yrs., $15M (re-signed)
Phoenix Coyotes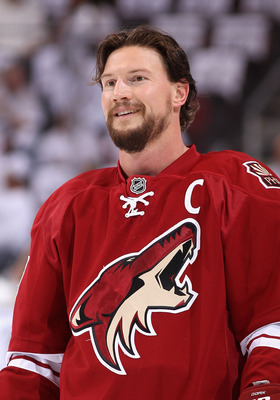 Christian Petersen/Getty Images
Phoenix may have been the darling of the playoffs this year, beating the odds, apathetic fan support and ownership instability. However, the lost a big chunk of scoring and veteran leadership when 40-year old Ray Whitney decided to go to Dallas.
The Stars may have priced Whitney out of a return to the desert, but the Coyotes need to pay whatever it takes to bring lifetime Coyote/Jet Shane Doan back into the fold.
Doan is the heart and soul of the franchise. Though his services are highly valued by other organizations, Phoenix can't be outbid if they want to be competitive and taken seriously by other players.
That being said, they now also need to replace Whitney's offensive production. With a dwindling list of quality players, Phoenix needs to step it up and get some production beyond David Moss and Rob Klinkhammer.
The Coyotes have over $14 million that they need to spend to reach the salary floor, and they're hoping Doan can take a chunk out of that.
Pittsburgh Penguins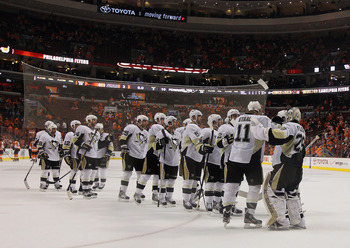 Bruce Bennett/Getty Images
The Pittsburgh Penguins mortgaged a good deal of their future by shipping Jordan Staal to Carolina. Penguin apologists will say they got equal value in return with center Brandon Sutter, defenseman Brian Dumoulin and the No. 8 overall pick (Derrick Pouliot).
Call me old-fashioned, but I think this was nothing more than a salary dump to go after Zach Parise, Ryan Suter, or both. While landing both stars would be a coup for Pittsburgh, it's a very big risk.
Jordan Staal is a star in the making, and at 23 is going to get exponentially better. Given a chance to emerge from the shadows of the big two in the steel city, Jordan Staal will elevate his status in Carolina.
The Penguins have signed D Matt Niskanen, two years at $4.6 million (re-signed), C Warren Peters, one year at $600,000, LW Tanner Glass, two years at $2.2 million and LW Steve MacIntyre, two years at $1.25 million (re-signed) so far, with the big fish set to make their announcement some time this week.
If Parise, Suter or both end up elsewhere, that's a pretty unimpressive take from the free-agent pool.
New York Islanders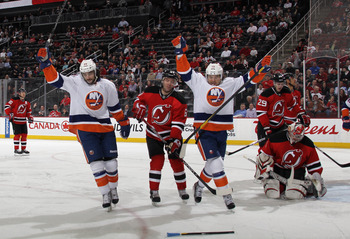 Bruce Bennett/Getty Images
With money on the table that they literally have to spend, don't be surprised to see the New York Islanders moving up the food chain in the Eastern Conference next year. However, the organization have been promising that the rebuilding will pay off one of these years.
After a season that had the Islanders sniffing the .500 level, they still ended the year as playoff spectators.
Letting P.A. Parenteau walk was probably a good decision considering that his deal pays him more than almost everyone on the roster not named Tavares or, gasp, DiPietro.
Kyle Okposo can slide into Parenteau's slot on the first line and possibly equal or pass his productivity level.
Lubomir Visnovsky was a pretty nice pick-up for New York, but he's a short-term fix at 36. The Islanders have a ways to go to hit the salary cap floor. Yes, the salary cap floor.
The Isles' free-agent moves so far have been limited to RW Brad Boyes and D Matt Carkner. Boyes, a pariah in Buffalo, is a low risk move that could pay off if he recovers his form from the St. Louis years.
Carkner is a serviceable defenseman who gives New York a heaping pile of nasty on the blueline. With about $7 million left to hand out, general manager Garth Snow will need to put on his thinking cap to spend wisely.
Nashville Predators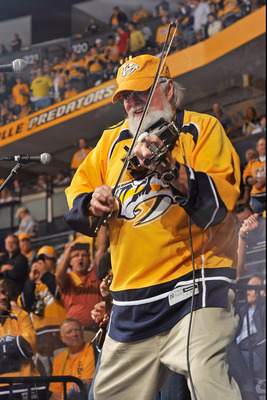 Frederick Breedon/Getty Images
While optimism abounded after Nashville's playoff series win over the hated Red Wings, they were systematically dispatched by the Coyotes in the second round. Now the Predators play the waiting game with the rest of the NHL for the decision from their incumbent defenseman Ryan Suter.
GM David Poile is one of the smartest guys in the NHL and Nashville has been a model of how to build an expansion franchise from the ground up. If Suter leaves, it has more to do with him wanting to play somewhere else than a money issue. That being said, Poile needs to make sure he locks up or extends his captain Shea Weber before he hits the open market.
Nashville's free-agent grab has been pretty unspectacular as they wait for Suter's all-important autograph. The most notable was the re-signing of faceoff specialist Paul Gaustad. While he has size and grit to go along with his skills in the circle, $13 million seems a little steep.
Poile has a little over $14 million to get to the salary floor. Hopefully for Nashville fans, Ryan Suter does his part to get him there.
Montreal Canadiens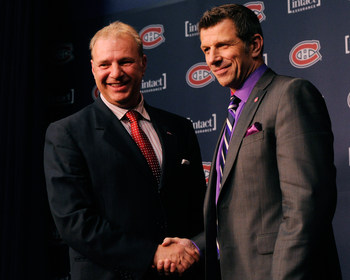 Richard Wolowicz/Getty Images
After some major house-cleaning in the NHL's most storied and successful franchise, Montreal is hoping to restore some luster to the "C" in 2012-13.
A flurry of spending by new general manager Marc Bergevin saw the Canadiens re-sign some key players, extend their franchise goalie and have Toronto pay 3/4 of Colby Armstrong's salary for 2012-13.
Head coach Michel Therrien, will have some solid pieces to work with in his second sojourn into the Canadiens' coaching cauldron.
The bulk of the free-agent money so far went to locking up Carey Price for the next 6 years. Grinders Brandon Prust and the aforementioned Armstrong will add some sandpaper along with freshly re-signed Travis Moen.
Les Habitants still lie $8 million under the cap and could add another piece to the roster. Though it can't be considered anything but a rebuilding year, the faithful in Montreal will always have high expectations for their franchise.
With a notoriously quick trigger finger, Montreal ownership will have their new coach and GM on a short leash. Bergevin developed a reputation as a top scout and assistant GM in Chicago, but his selection for coach didn't sit well with some Montreal loyalists.
Hey, at least Therrien speaks French.
Keep Reading