San Jose Sharks: Adam Burish Signing a Smart July 1 Move
July 1, 2012

Ronald Martinez/Getty Images
In early May, I wrote an article titled "How Doug Wilson Can Avoid Repeating Last Offseason's Mistakes." In the piece, I suggested general strategies that the Sharks general manager can use to make this offseason not only an active one—like last summer—but a successful one as well.
The fifth slide of the piece was titled "Focus on Depth Players Early." In this slide, I discussed how San Jose made several major moves early last off-season, and as a result missed out on some desirable depth players.
With today's signing of Adam Burish, Doug Wilson has shown that he is learning from his mistakes. The Sharks signed the gritty 29-year-old to a four-year, $7.2 million deal ($1.8 million cap hit per season) less than 12 hours into free agency, and will reap the benefits next season.
Burish is an ideal bottom-six winger for San Jose. He's only 6'0" and 191 pounds, but plays a very sound defensive game. He had 17 takeaways to 13 giveaways last season and won 55.8 percent of his draws, an excellent number for a true right wing.
He's somewhat physical—69 hits in 65 games—and racks up a high number of penalty minutes (he'll never equal his 214 PIM from 2008-09, but good for over 100 in a healthy season). His penalty killing is above average.
While his offensive game isn't a strength—his career high's are eight goals and 13 assists—Burish did have a career-high 19 points in just 65 games last year. He has decent speed and a solid shot.
The main reason San Jose signed Burish, however, is his energy. The former Wisconsin Badger plays a hard-nosed style of hockey that is both cerebral and aggressive, and he skates hard and determined every shift. The Sharks sorely lacked consistency from their depth forwards last season, and Burish is a guy that will give Todd McLellan the same thing every shift.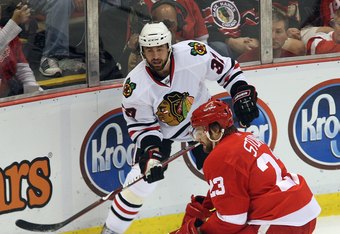 Claus Andersen/Getty Images
Of course, Burish wasn't Wilson's first veteran addition of the offseason. On June 10, San Jose traded for the rights to Detroit defenseman Brad Stuart before signing him to a three-year, $10.8 million deal on June 18.
With the Stuart and Burish signings, San Jose has saved money while improving the roster. Both players add something the team desperately lacked (Stuart adds physicality, Burish adds energy and both add consistency), and it does so at a reduced cost.
Last offseason, the Sharks also brought in one defenseman and one forward early on: Brent Burns and Martin Havlat. On the surface, those two players are much more impactful than Stuart and Burish—until you consider what San Jose gave up.
The Sharks lost Dany Heatley, Devin Setoguchi and Charlie Coyle in those trades. So while the roster looked vastly different than it had during the previous season, it was unclear if the team was actually improved.
Later on in free agency, Wilson realized he still had holes to fill, but his options were limited. San Jose needed a third-line center, so Wilson was forced to overpay for what was available in Michal Handzus. They also needed depth on the blue line after opting not to re-sign Ian White, so Wilson reluctantly brought in Jim Vandermeer and Colin White.
Suddenly, the Sharks didn't look like a better team despite the big moves early in the offseason.
Similarly, bringing in optimal role players in Stuart and Burish at optimal prices will not guarantee the Sharks a vastly better 2012-13 season. However, these improvements allow Doug Wilson patience in augmenting the core.
Adam Burish will be a better depth forward than Torrey Mitchell (who signed with Minnesota today), and Brad Stuart will properly align the defensive pairings. This means that, regardless of what happens to the core, the Sharks' depth won't get left in the dust.