NHL Free Agency 2012: 12 Players Teams Will Regret Losing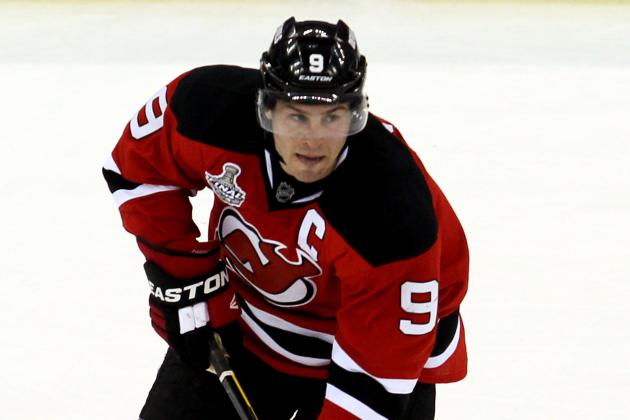 Jim McIsaac/Getty Images

The clock is ticking.
The NHL free-agency frenzy is set to begin this Sunday, and there will be declarations of jubilation for some and sighs of disappointment and despair for others.
Some of the dominoes have already fallen (Brad Stuart, Dennis Wideman), but there still remains so many questions to be answered. And as is the case with every free-agent period, one team's gain is another team's loss.
With that, here are 12 players teams will sorely regret losing should they slip through their fingers in the weeks to come.
Begin Slideshow

»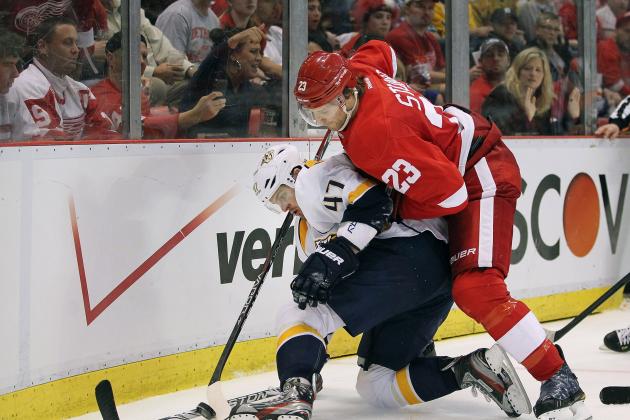 Gregory Shamus/Getty Images

Let's start with the players whose fate has already been determined.
A stalwart defensive defenseman, Stuart's rights were moved from Detroit to San Jose in mid-June, and the former Shark quickly inked a three-year, $10.8 million deal.
What the Red Wings lost wasn't a tremendous offensive threat (21 points in 81 games last season, 78 points in 306 career games in Detroit), but rather one of the steadiest defensive presences in the game today.
Stuart registered a plus-16 rating last season and has averaged better than 20 minutes of ice time in each of the last three years. In addition, he played more short-handed minutes than any other Detroit defender last season. and his hard-hitting style will be sorely missed on the Red Wings' back end.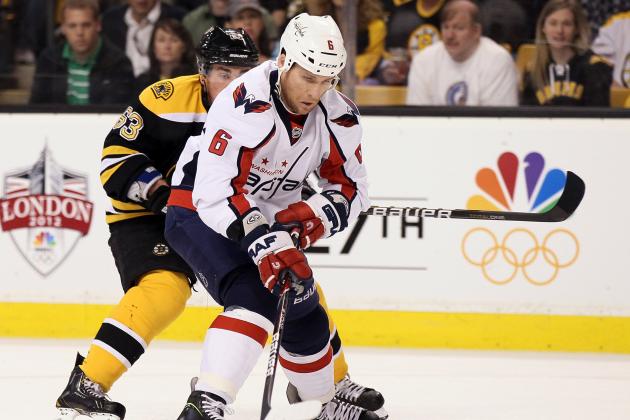 Elsa/Getty Images

The other early free-agent decision maker was former Washington Capitals defenseman Dennis Wideman.
The Caps moved Wideman to Calgary for a fifth-round pick in the 2013 NHL draft along with defenseman Jordan Henry and the offensive-minded blueliner promptly inked a five-year, $26.25 million deal. As a result, a Washington team that finished in the middle of the pack offensively a season ago lost one of its key offensive contributors on the back end.
Wideman posted 46 points last season (four shy of his career high) and sparked the Capitals' power play with four goals and 20 points. The seven-year pro has produced 30 or more points in each of his last five campaigns and has managed 20 or more power-play points in four out of his last five seasons.
Washington couldn't afford the $5.25 million annual cap hit the Flames were willing to throw at Wideman, but the Capitals will sorely miss all that he brought to the ice.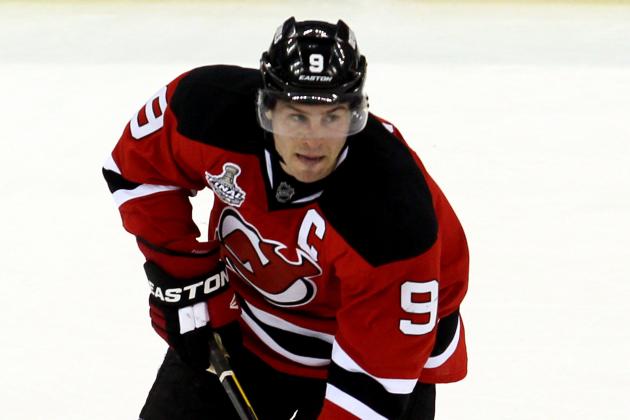 Jim McIsaac/Getty Images

Now onto the players who stand to hit the free-agent market this Sunday.
It would be an absolutely crushing blow for New Jersey to lose Parise. He's their captain, their offensive spark plug and embodies everything representative of a franchise player.
The former first-round pick finished last season with 31 goals and 69 points and has already tallied at least 30 goals and 60 points in five of his seven NHL campaigns. Parise plays in all situations and has shown an edge to his game that will endear him to fans for years to come.
He's also proven to be incredibly durable. Excluding an injury-plagued 2010-11 season when he missed 69 games, Parise has only missed three games in six additional seasons of NHL service.
The Devils showed last season they have the ingredients in place to build a championship team. That all goes away if they can't find a way to bring Parise back.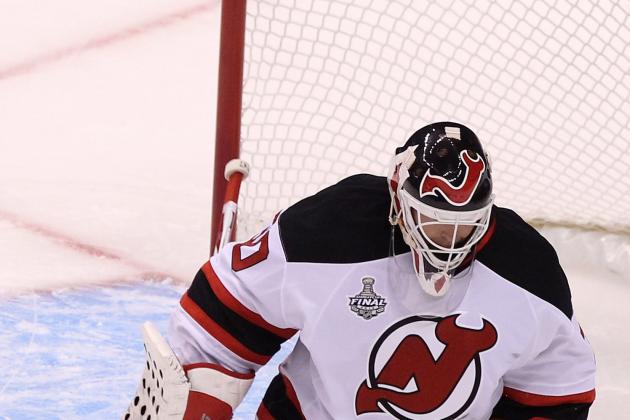 Christian Petersen/Getty Images

In Parise, the Devils would lose their franchise player for the next 10 years. In Brodeur, New Jersey would be losing the man whose been their franchise player for the past 20.
At 40 years old, Brodeur is in the twilight of his career but remains just as effective a netminder as ever. In 59 appearances last season, the future Hall of Famer registered a 31-21-4 overall record while posting a 2.41 goals-against average coupled with a .908 save percentage.
He's the winningest goaltender of all time (656 regular season victories) and has recorded more shutouts (119) than any other goalie in history. A 10-time All-Star, Brodeur has won four Vezina trophies and is the only goaltender in NHL history to post eight 40-win seasons.
He likely only has one season left in him, and that season needs to be in New Jersey. Brodeur is the greatest goaltender the game has ever known, and it would be absolutely criminal to see him close out his illustrious career in anything but a Devils jersey.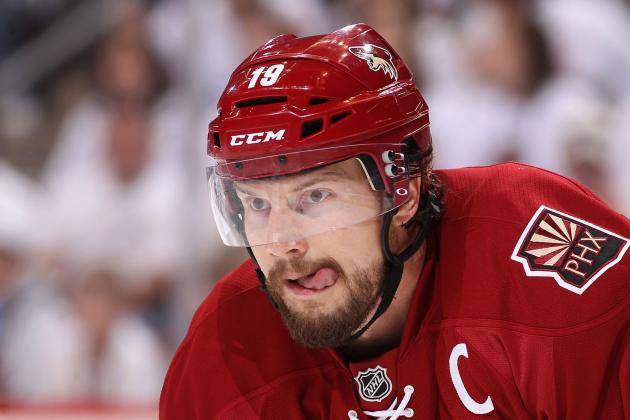 Christian Petersen/Getty Images

What Brodeur has been to New Jersey, Doan has been to Phoenix. He's the only face the Coyotes franchise has ever had, and to lose him now would be tragic.
Doan has spent all 16 of his years of NHL service with the Winnipeg/Phoenix franchise, serving as the team's captain and ambassador for the last eight.
After posting an even 50 points in 79 games last season, the two-time All-Star has now tallied 50 or more points in 11 seasons while notching 20 or more goals 11 times as well. The seventh overall pick in the 1995 NHL draft, Doan has compiled impressive career totals recording 318 goals and 788 points in 1,198 games.
More importantly, though, he represents the Phoenix Coyotes. Doan represented the organization with class and pride during terrible seasons that saw the Yotes finish at or near the bottom of the Western Conference.
Thanks to Doan's persistence, Phoenix has now qualified for the postseason in three straight years and is coming off a season in which the team won the Pacific Division en route to a trip to the Western Conference finals. It's now time for the Coyotes to reward Doan for his loyalty and ensure he remains the face of their franchise.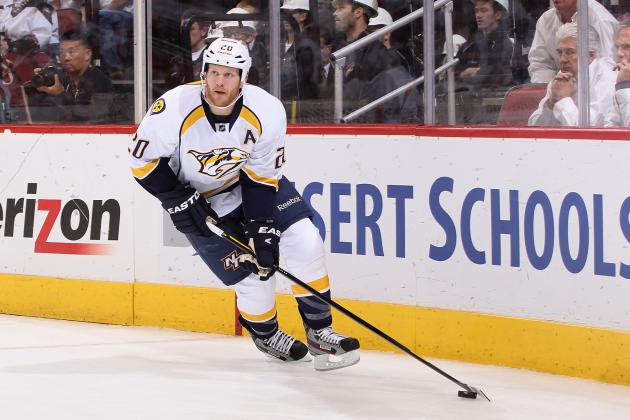 Christian Petersen/Getty Images

Parise is, without question, the class of this year's free-agent crop. But not far behind is the off-the-charts talented Suter.
The seven-year pro just completed the most productive season of his career notching seven goals and 46 points and is the defensive name to land this summer.
In 542 career games, the 27-year-old blueliner has tallied 38 goals and 238 points to go along with a plus-43 rating. Suter has registered 30 or more points in each of the last five seasons while posting 17 or more power-play points in each of the last four campaigns.
A native of Madison, Wisconsin, Suter's combination of offensive upside and defensive reliability is rarely found and will be coveted by 29 other NHL clubs when he hits the open market on Sunday.
Nashville has a history of losing top-end talent when their big payday arrives. Sadly for Preds fans, it would appear that will be the case for Suter as well.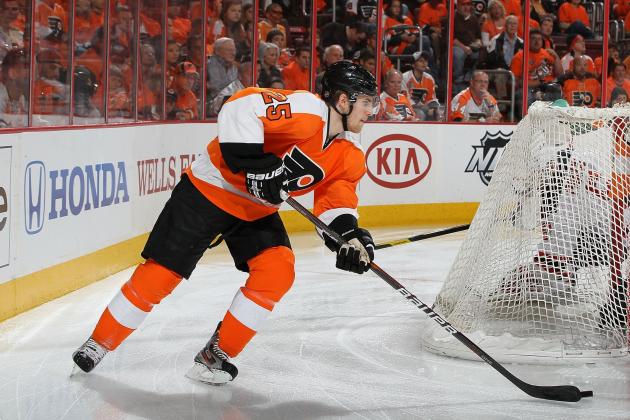 Jim McIsaac/Getty Images

For the 29 teams that fail to land Suter, the name they'll quickly turn to is Carle.
The same age as Suter (27), Carle doesn't pack quite the same offensive punch but can still contribute significantly from the back end. The former Denver Pioneer registered 38 points last season and has now tallied at least 35 points in each of the last three years and four times in his seven-year NHL career.
Carle is a model of durability, having missed just two games over the last three years. He plays in all situations and is a workhorse averaging better than 21 minutes of ice time in each of the last four years.
The Flyers improved their defense at the draft acquiring Luke Schenn from Toronto. Philly can ill-afford to take a step back now by losing Carle.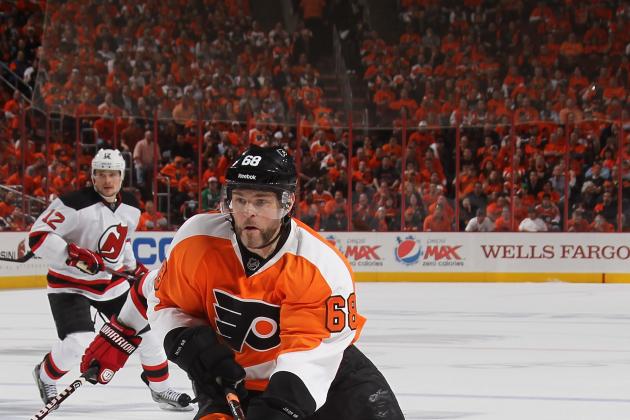 Bruce Bennett/Getty Images

After three years in the KHL, Jagr returned to the NHL last season and proved he's still got plenty left in the tank.
The fifth overall pick back in the 1990 draft, Jagr finished third among all Flyers in scoring last season with 54 points and missed out on a 20-goal campaign by just one tally.
The 18-year NHL vet is one of the most prolific offensive players the game has ever seen. Averaging better than a point per game over his career, Jagr has scored 665 career goals and has tallied at least 20 goals in a season an astounding 17 times.
Like Brodeur, Jagr is in the twilight of his career, and his days of producing eye-popping numbers are behind him. Still, he's a pure goal scorer with a nose for the net and a sniper's touch.
At the end of the day, teams still need to score goals to win games, and no one's been better at putting the puck in the net over the last 20 years than No. 68.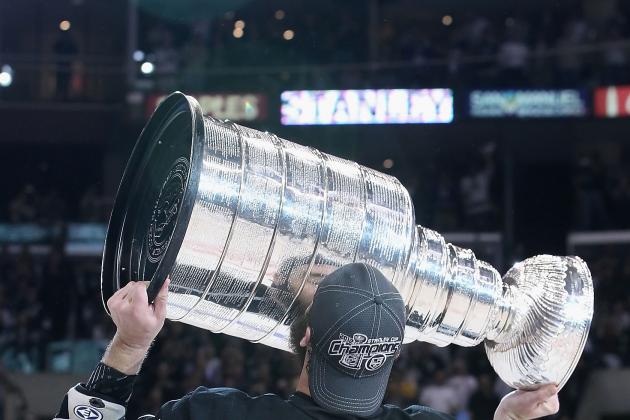 Christian Petersen/Getty Images

Penner's start to his Los Angeles Kings' career wasn't all that impressive:
Two goals and six points in 19 games after coming over from Edmonton at the trade deadline two years ago. A pedestrian seven goals and 17 points in 65 regular-season games last year.
But all's well that ends well.
Penner was a key contributor as the Kings captured their first Stanley Cup championship in franchise history, notching 11 points in 20 postseason tilts. The 6'4", 250-pound power forward is now a two-time Stanley Cup champion (Anaheim in 2007) and has registered 10 goals and 30 points in 60 career playoff games.
The Kings appear poised to take a run at Lord Stanley's hardware for the next few years and would be well-served to have a proven playoff performer like Penner on their roster. His bruising, physical style is suited for postseason success and shouldn't be overlooked by Los Angeles this summer.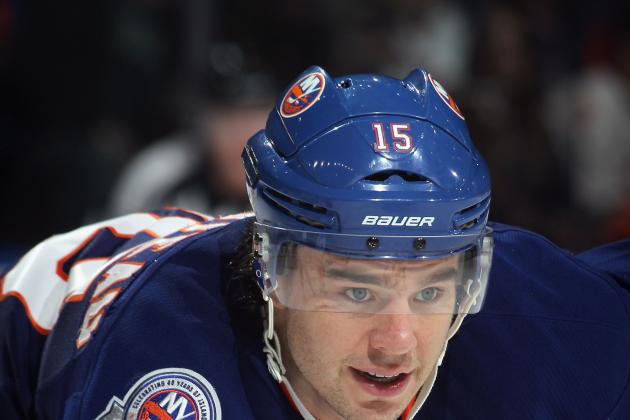 Bruce Bennett/Getty Images

Parenteau might not be a household name, but he's a rising offensive star the New York Islanders can ill-afford to lose.
It took a while for the 29-year-old Ontario native to reach the NHL ranks, but once he was given regular playing time two years ago, Parenteau didn't disappoint. While missing just three games over the last two seasons, he recorded 38 goals, 82 assists and 120 points in an Islanders sweater.
Parenteau's been a regular contributor on New York's power play, posting 19 man-advantage points last season after registering 20 the year before.
He'll certainly be in line for a raise over the $1.25 million he earned last season, but the increase should be reasonable enough to make him an awfully attractive option for numerous NHL teams.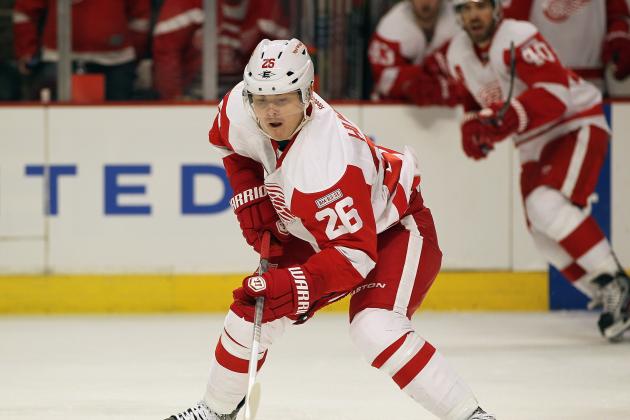 Jonathan Daniel/Getty Images

Hudler is another in a long line of unsung heroes through the years for the Red Wings.
All Hudler's done in five full seasons in Detroit is post double-digit goals each and every year and has tallied 37 or more points in each of the last four seasons. The 28-year-old winger is coming off a career-best 25 goals that helped produce the second-highest point total of his career (50).
Detroit has built its success for years around its role players, and Hudler has been one of those key secondary contributors for the last handful of seasons.
No one is better at finding untapped talent than Detroit, so it's not as if the Red Wings can't replace Hudler should he walk. But why take that gamble when a proven contributor is already sitting on your roster?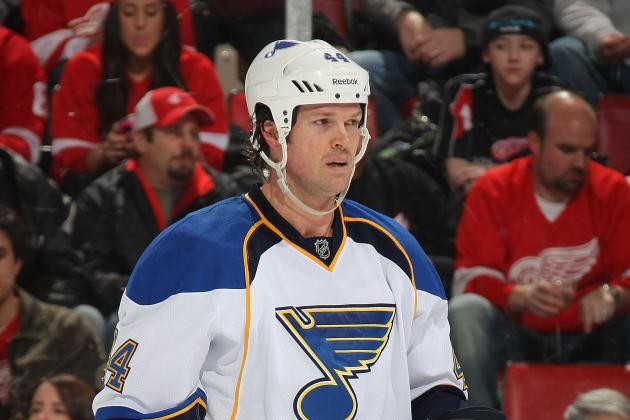 Dave Sandford/Getty Images

Arnott will turn 38 in the season's first week next year, but even in the latter stages of his career, can bring a ton to an NHL roster.
A veteran of six different NHL clubs, Arnott was brought into St. Louis last season to provide leadership and a veteran scoring touch. Mission accomplished.
The 18-year pro notched 17 goals and 34 points in 72 games while helping the Blues to a 22-point turnaround and the Western Conference's second-best overall record. His 17-goal campaign means the Ontario native has tallied double-digit goals in each of his 18 NHL seasons while producing 30 or more points during each of those 18 campaigns as well.
St. Louis turned a corner this season. The Blues asserted themselves as a rising force in the West. But the only way to take the next step is to continue to roster veterans who have been where the Blues want to go.
Arnott was a Stanley Cup champion with New Jersey in 2000 and is a veteran of 122 career playoff games. That experience is invaluable—particularly on an extremely inexperienced St. Louis team.