Roger Federer: Is He Greater on Wimbledon Grass Than Pete Sampras?
July 11, 2012

Clive Brunskill/Getty Images
Roger Federer is an artist on any surface, Rafael Nadal is the master of clay and Pete Sampras was the king of Wimbledon.
This has become a tennis truism that most experts and fans often cite, and one of which I generally accept.
But it might be wrong.
Was Pete Sampras really better than Roger Federer on grass?
It's blatant heresy to Sampras fans, like burning the original folios of William Shakespeare's plays or igniting explosives on London Bridge.
Yes, this is SAMPRAS, the titan of grass who marched through 1990s Wimbledon like Henry V at Agincourt. He roused up victories at the cathedral of Centre Court where tennis is religion and tales are written by modern Geoffrey Chaucers.
So when I re-watched that mythical 2001 quarterfinal match between King Sampras and neophyte Federer, I didn't expect to change my mind on anything.
Letting the Days Go By…Once in a Lifetime
Most tennis fans and certainly all Roger Federer fans are aware that in the 2001 Wimbledon quarterfinals Federer defeated Sampras 7-6, 5-7, 6-4, 6-7, 7-5 in their only career meeting.
Sampras was 29 years old, and though his footwork was slowing and nagging injuries were creeping in, he was the favorite to win a fifth straight Wimbledon title. He still wore an oversized shirt and shorts as comfortable signatures to his timeless stature.
Federer was 19 years old and already recognized as a rising star who, according to the BBC commentators of the match, "has the talent to win several Grand Slams." He wore his short ponytail with his Nike bandana headband, every bit the swashbuckling but regal challenger.
2001: A Tennis Odyssey
It was startling to see both Sampras and Federer taking only a few seconds between serves and points. Neither player toweled off or bounced the ball 20 times. There was a flow to watching the match and no wasted dalliance. Most games lasted less than two minutes, stark contrast to today's slow motion pace.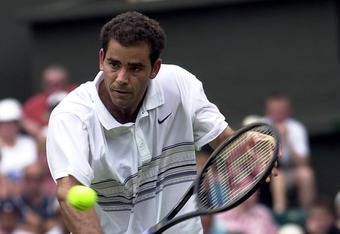 Clive Brunskill/Getty Images
Sampras was the model of serving perfection. Observers can view footage from him on any year and see the exact same textbook serve: He crouches, places the ball into the throat of the racket, lifts his front foot, and tosses the ball extra high. His motion is so fluid he connects with extra whiplash, rare power and uncanny placement.
In his Federer match, he served with extra power and risk on his second serve because he struggled to volley efficiently. He would chalk up 25 aces, but nine double faults.
At age 29, he still looked the part of the greatest server in history. His aggressiveness and skill were like a master swordsman who could call up ingenious patterns of delivery to compensate for slower but smarter footwork.
Federer was a little more casual in his service delivery. His motion was still raw compared to the polished version we see a decade later, but his power and efficacy was undeniable.
Against Sampras, he looked to volley on every point. He possessed the skill and mentality to be a wonderful serve-and-volley player on Wimbledon's fast grass. Though more unrefined than Sampras, it's clear that he meant to play this way had conditions not changed.
At age 19, and with the added skills of an already heralded forehand and defense, Federer was on his way to developing serve and volley skills to equal Sampras's peak. Perhaps this would have happened if the grass had not been changed.
Grass Intermission
Many people now assume that Wimbledon changed the grass to promote more baseline play, and bring more excitement to the monotony of too many aces or three stroke points. Watching '90s Wimbledon tennis was somewhat like bare-knuckle boxing over a century ago. It had all the strategy of asking two people to club each other to death with stand and survive defense.
Prior to 2001, the grass courts were often trampled by the second week. This produced more rough patches and inconsistent bounces for the players. So, Wimbledon ripped out the old grass that had been 70 percent rye and 30 percent creeping red fescue. After vigorous testing, it was replaced with 100 percent ryegrass.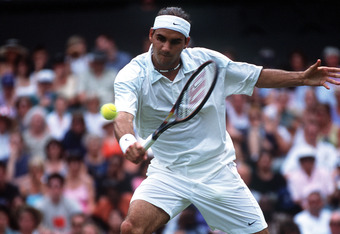 Clive Brunskill/Getty Images
According to Eben Harrel for The Magazine World.com, the reason for the change to slower courts was to enhance the durability of the courts. It also caused the ball to bounce rather than skid.
Though Sampras and Federer were playing on the new grass, it had been a rainy and damp week, so conditions seemed the same as most years.
The rest is history. In 2002 David Nalbandian and Lleyton Hewitt did not combine for a single serve-and-volley point in their Wimbledon final.
Federer would all but abandon his growing prowess as a serve-and-volley player.
Federer 1.0
A big reason why Sampras struggled at the net in this match was Federer's sometimes brilliant returns and passes. Federer faced a superior server in Sampras, but he also returned more effectively. He forced Sampras to go for more on his second serve.
Federer produced a few "Ya gotta see this to believe it" running backhand returns, mirroring Sampras's acclaimed running forehand. The BBC commentators praised Federer's backhand, which was wonderfully acclimated to pick up and return speedy, low tennis balls.
Federer and the world had no way of knowing that Nadal and court surface changes would force him to adapt his backhand from years of prior training.
Mighty Ships Passing Through the Night
Each set was a stubborn tense affair, neither combatant giving more than an occasional opening, often wiped away by serving blasts. It was an incessant pattern of serve and volley holds with rare break opportunities for Sampras. Federer had more break chances but only cashed in twice the entire match.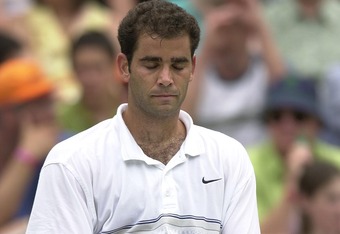 Clive Brunskill/Getty Images
Sampras was cool and composed sitting on the chair during changeovers, aware that his dynasty was under siege, but without a trace of panic. He was an old Roman Emperor aware of the threat to his power but all the more determined to hold onto his crown.
Despite only getting two breaks the entire match, he never wavered with his outward confidence and belief. He played with his usual dominating style and cool demeanor.
Federer matched this composure with a sense of assurance. He never seemed satisfied to be locked in an epic duel, but forged on one detail at a time. His changeovers were spent eating a piece of a banana or dabbing faint evidence of perspiration with his towel.
Even after getting blown out in the fourth set tiebreaker, Federer strode out to battle with the same bearing as he had earlier in winning the first set.
There are few transcendent moments in athletics when an emerging player combines rare talent with composure in such a way you know he is destined for greatness. It's hindsight now, but the feeling was there during this match. By 2003, his first Wimbledon title actually felt overdue.
Sampras to Federer was a link of legends, but also of dignity and class.
What a Tangled Web We Weave
Had Wimbledon not changed its grass, it's very likely Federer's serve and volley would have evolved with greater punch, placement and touch. Could his skill set at net become one of the greatest ever at a time with great baseline players and powerful racket technology?
Federer has proven his prowess of mastering fast courts including indoor surfaces and blue clay. It would have been interesting to see if he could have used his all-court skills to back up a lethal serve and volley game rather than attack primarily from the baseline.
Could any of the big servers of the past decade have reversed their results against him? Andy Roddick would have benefited from the faster grass to serve even more aces, similar to Goran Ivanisevic. Maybe 2004 or 2005 could have brought him titles. However, he has never had the volley, return game or versatility to match Federer.
What about the baseliners led by Nadal and Novak Djokovic? Would they stand a chance on the fast Wimbledon grass?
Is it unreasonable to suggest Federer could have collected ten Wimbledon titles on the fast grass? Certainly it's a credit to Federer that he adapted his baseline game so successfully to grass in a manner that has helped his hard courts and clay game.
One thing is certain. Nadal's rise to Wimbledon prominence was good for their rivalry and for tennis. The slower grass has added more interesting matches and more varieties of players to compete. It's like trading in a predictable short story for an intriguing novel with more plot twists.
Sir Walter Scott would have been fascinated with the tangled weaves of modern tennis, but all we know for certain is what actually happened. Besides, it's tough to second-guess 17 Grand Slam victories.
I haven't changed my mind on Sampras as the greatest grass court player I've ever seen, but it would have been interesting to see if Federer could have surpassed him. The difference between the two is closer than it may seem.
CLICK HERE to read how Fed vs. Murray is one of Wimbledon's era-defining matches