NHL Free Agency: Lesser Known Players Who Could Help Your Team
June 27, 2012

Christian Petersen/Getty Images
You can't win in the NHL without role players. 
Whether it's someone like John Madden during the great Devils teams of the '90s, Travis Moen when the Ducks won or Jarret Stoll of the Kings, you need guys who are grinders.
While stars are important, having guys who can play a third-line role, contribute on the penalty kill and chip in goals is crucial.
On defense, having steady guys who are dependable are essential.
Here are a few role players who would make any team better. 
BRYCE SALVADOR
Bryce Salvador is a steady, no-nonsense defenseman.
He struggled offensively in the regular season, but turned it on in the playoffs where he chipped in four goals and added 10 assists.
He also plays lock-down defense. He was the Devils top defenseman and was used against opposing teams top players.
Salvador is certainly someone the Devils will try to retain. At 36, he might sign a short-term deal.
If he doesn't re-sign with the Devils, there will be plenty of teams eager for his services. The Rangers will certainly be interested, as will the Penguins and Blackhawks.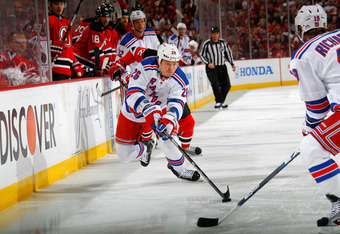 Bruce Bennett/Getty Images
Salvador will try to parlay his strong playoffs into a big payday. He might not be worth it, but as a second pair defenseman who can give you quality minutes, he's a perfect fit. 
RUSLAN FEDOTENKO
Ruslan Fedotenko is an excellent penalty killer and grinder. He was a key part of the Rangers fifth-ranked penalty kill and of their entire run to the Eastern Conference Finals. They will try very hard to re-sign him. 
He's a top-notch defensive player, but he has enough offensive skill that he can easily play with any line on the ice.
Fedotenko put up nine goals and added 11 assists this past season.
Fedotenko is known as a clutch performer. When the Tampa Bay Lightning won the Stanley Cup in 2004, it was Fedotenko who scored the game winning goal in the deciding game.
Fedotenko has scored as many as 26 goals in his career, but is now more of a grinder. 
If the Rangers can't re-sign him, there will be plenty of teams interested in his services. Expect him to be a hot ticket item come July 1. 
JASON GARRISON
For teams looking to boost their power play, Garrison might be the option.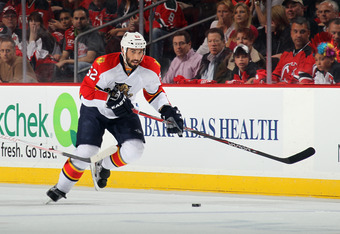 Bruce Bennett/Getty Images
Garrison scored 16 goals last season and added 17 assists for the Florida Panthers. Nine of those goals came on the power play.
He has a booming shot from the point and is always a threat to score.
He's not the best defensive player; his impact will come almost exclusively on the power play.
Garrison will have a lot of suitors. Teams with bad power plays, like Montreal, the Rangers, Tampa Bay, Detroit and Dallas will be very interested in securing Garrison's services. 
DAVID MOSS
David Moss has been injured often in his career. But when he has been healthy, he has produced.
Last season, in 32 games, Moss scored twice and added seven assists for the Calgary Flames.
In 2010-11, despite playing in only 54 games, he scored 17 goals and added 13 assists.
In 2008-09, by far his healthiest season, he played in 81 games and notched 20 goals with 19 assists.
If Moss can stay healthy, he can be a bargain for teams looking for offense. But staying healthy has been the problem.
He has plenty of offensive potential and will come cheap. With so many teams looking for offense, taking a flyer on Moss can't hurt.
FINAL WORD
You can't win without role players. Just ask the Kings. They relied heavily on players like Jarret Stoll and Justin Williams in their Stanley Cup run. Players like Bryce Salvador, Ruslan Fedotenko, Jason Garrison and David Moss would be great additions to contending teams. Their gritty and steady play would be more than welcome.