Hockey Hall of Fame 2012: Meet the Class of 2012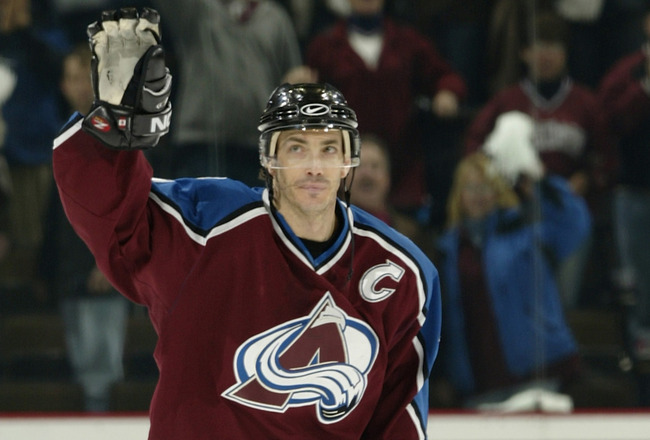 Brian Bahr/Getty Images
The Hockey Hall of Fame has announced the four players who will be inducted this year, and it is a very talented group. Joe Sakic, Pavel Bure, Adam Oates and Mats Sundin have all been chosen by the Hall of Fame committee and will be inducted on Monday, November 12 in Toronto.
Perhaps the biggest surprise was that Brendan Shanahan was not selected by the committee to join this year's class. Other players who were considered strong contenders but did not make the cut this year include Eric Lindros, Curtis Joseph and Dave Andreychuk. All of them will have another chance when the committee of 18 votes next year to select the class of 2013.
Here is a look at the four players selected to the Hockey Hall of Fame as part of the class of 2012.
Pavel Bure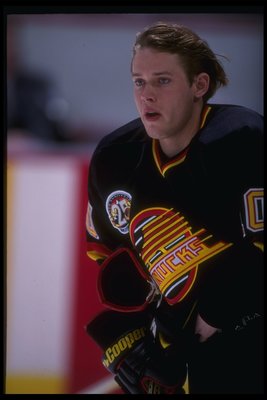 Glenn Cratty/Getty Images
Pavel Bure was one of the best and most dynamic goal scorers of his generation and was a dominant offensive player before injuries ended his career at the age of 32.
Bure was a star in Vancouver. He helped lead the Canucks to the 1994 Stanley Cup Final, where they fell in seven games to the New York Rangers. Bure had an electrifying playoff that season, scoring 16 goals and 31 points in 24 games, including a double overtime game-winner in Game 7 that helped the Canucks oust the Calgary Flames.
Bure finished his career with 437 goals and 779 points in 702 career NHL games. He scored 60 goals in back-to-back seasons in 1992-93 and 1993-94 and topped the 50 goals mark five times. Among the top 100 goal scorers in NHL history, only Mike Bossy and Mario Lemiuex have a better goals-per-game average over their careers than Bure's .623.
"The Russian Rocket" led the NHL in goal scoring three times, was a First Team post season All-Star once and was named to the second team twice. Bure played in six NHL All-Star Games and was the MVP of the 2000 All-Star Game. He was the Calder Trophy winner as the league's rookie of the year in 1991-92.
After leaving Vancouver, Bure finished his career with the Florida Panthers and New York Rangers. He was still effective till the end, scoring 19 goals in just 39 games during his final, injury-shortened season with the Rangers.
Had Bure remained healthy, he could have finished his career among the league's all-time top goal scorers. But what he managed to accomplish during his career was still good enough to get him elected to the Hockey Hall of Fame.
Adam Oates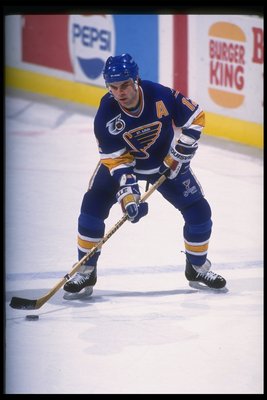 Rick Stewart/Getty Images
Today was quite a day for Adam Oates. In the morning, he was named as the new head coach of the Washington Capitals, and then, in the afternoon, the Hockey Hall of Fame made him one of its newest members.
If Pavel Bure was the most dangerous goal scorer of his generation, Adam Oates was the consummate setup man.
Oates is sixth all-time in NHL history with 1,079 assists in 1,337 games. He was at his best when teamed with Brett Hull in St. Louis, where they were known as "Hull and Oates" after the musical duo Hall and Oates. Hull scored more than 70 goals for three straight seasons when teamed with Oates, and in 1990-91, Oates had an incredible 90 assists and 115 points in just 61 games.
Only Wayne Gretzky had more assists in the 1990s than Oates, and the Weston, Ontario, native played in five NHL All-Star Games and was named to one postseason All-Star team during the decade.
In 2001-02, Oates became the oldest player to lead the NHL in assists at the age of 39. Twice, he led his team to the Stanley Cup final, but the 1998 Capitals and the 2003 Ducks both fell short.
Oates played for Detroit, St. Louis, Boston, Washington, Philadelphia, Anaheim and Edmonton during his NHL career.
He served as an assistant coach with Tampa Bay and New Jersey before being named as head coach of the Capitals earlier today.
Oates will forever be remembered as one of the best passers in NHL history and has earned his spot in the Hockey Hall of Fame.
Joe Sakic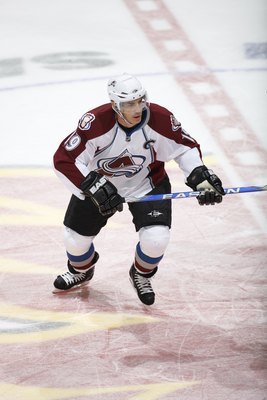 Dale MacMillan/Getty Images
Joe Sakic was selected to the Hockey Hall of Fame in his first year of eligibility, an honor he richly deserved.
The Burnaby, BC native spent his entire NHL career with the Nordiques/Avalanche franchise. Sakic served as captain of the team and helped lead them to two Stanley Cup titles.
He finished his career with 625 goals and 1,641 points in 1,378 career games, which leaves him 14th all-time on goals scored, 11th on the all-time assists list and ninth overall in total points.
Sakic was also a clutch player, scoring an NHL-record eight playoff overtime game-winning goals during his career.
He was named to the All-Star Game 13 times and is the all-time assist leader in All-Star Games with 16. Sakic has also won an Olympic gold medal while representing Canada in 2002. He holds nearly all Avalanche/Nordiques career franchise scoring records and won the Hart Trophy, Conn Smythe Trophy and Lady Byng Memorial Trophy during his distinguished career.
Sakic presently works in the front office for the Avalanche, who retired his number shortly after he retired.
Mats Sundin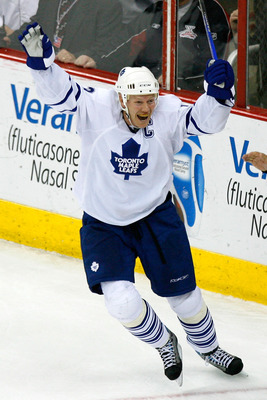 Kevin C. Cox/Getty Images
Mats Sundin started his career with the Quebec Nordiques and finished it with a brief stint in Vancouver, but he will forever be remembered as the captain of the Toronto Maple Leafs.
In 1,346 career games, Sundin scored 564 goals and 1,349 points, which places him 27th on the all-time points list.
Sundin became the first European-born player to be selected first overall in the draft, the first Swedish-born player to top the 1,000-points mark for his career and is one of only two players (along with Marcel Dionne) to score 20 or more goals in his first 17 NHL seasons.
Nine times, Sundin was selected to play in the NHL All-Star Game, and twice, he was a postseason second team All-Star.
Although his teams never reached the Stanley Cup Final, Sundin was a good playoff performer, scoring 38 goals and totaling 82 points in 91 postseason games.
Sundin was elected to the Hall of Fame in his first season of eligibility.
Keep Reading