NHL Free Agents 2012: Ryan Suter and Defenders Teams Will Overpay to Acquire
June 21, 2012

Christian Petersen/Getty Images
With the 2012 NHL free-agency period officially opening up July 1, the rush for teams to sign the big-name players is already on.
It's just a matter of time before the league opens the free-agency doors and teams come running in like a rabid crowd Christmas shopping.
The biggest part of every team's plan is getting better defensively, and this season's free-agent class has some stellar talents. All of the following will be the main focus of an organization's hunt, and they will earn more money than they deserve.
Ryan Suter
The biggest prize of this year's free agents has to be Nashville Predators star defender Ryan Suter. With elite talent in his own end and the ability to jump into the offensive mix, teams would be hard pressed to find a player of his talent anywhere else.
Not only is Suter durable—staring 70 games in each of his first six seasons in the NHL—the Nashville defender adds a bit of offensive prowess, contributing at least 37 points each of the last four years.
As great as all of his x-factors are for his future team, it starts and ends with his defense.
Whether it's on the penalty kill or even strength, there are few defenders who are as defensively sound at Suter. Someone will overpay for the young defender, but it will be well worth it.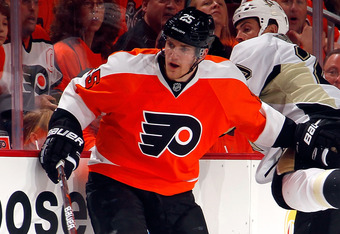 Paul Bereswill/Getty Images
While Matt Carle didn't have his best year heading into free agency, there is no reason to think it wasn't a product of the turnover in Philadelphia rather than anything he was doing.
Carle's offensive numbers were there—he posted at least 35 points in four of his last six seasons—but there is an uncertainty about where he fits into a team defensively. With the inability to defend top-line talent, Carle will be limited to just how much he can help a team.
The former Flyer will get overpaid to be a second-pairing defender, but what he adds on the ice is not something that hits the market often. He will be a good tool for a team floundering at the bottom of a conference.
Bryan Allen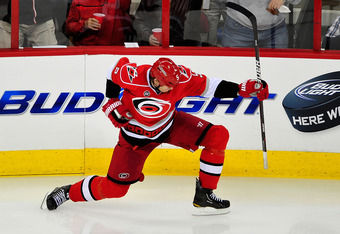 Grant Halverson/Getty Images
While there is no question that Bryan Allen is one of the best shutdown defenders on the market this year, his lack of offensive contributions will always make me feel a team overpays for him.
As a defensive specialist, he will fulfill any expectation a team could hold for him. Add in the ability to kill penalties and play extended shifts, and whoever signs Allen will get a great defensive defenseman.
The problem here is that he only averages about 15 points per year. In crunch times, you won't be leaning on Allen for anything but defense and that limit's his potential.
Check back for more on the National Hockey League as it comes, and don't miss Bleacher Report's NHL page to get your fill of all things hockey.