NHL CBA Agenda: How the Success of Hockey Rests in the Hands of This Agreement
June 15, 2012

Richard Wolowicz/Getty Images
The current collective bargaining agreement between the NHL and the NHLPA is set to expire on September 15, 2012. As all hockey fans know, another lockout would be devastating to the sport. There are several issues that could be addressed to prevent another lockout.
Player Salaries
This is always a touchy situation. The players typically want more, yet the owners want to pay less. To sum it up, greed is a factor. Understanding that this is a business, there should be an increase in pay. But it needs to be reasonable. I understand that this is a job for the players and they do risk serious injury/death while playing. But there are many professions that do so.New York Firefighters risk their lives to save others and their starting salary is under $40,000 a year.
Like all other jobs, experience plays a major role in salary, why not try to introduce this into the NHL.  Something like under three years of NHL experience caps out at $5 million and so forth. 
Another major issue with the increased cap hit is simple: inflation. "The Great One," Wayne Gretzky never broke the $7 million mark, yet players like Ryan Suter and Zach Parise most likely will sign for that, if not more. Crosby, Stamkos, Ovechkin, and several others might have earned their paychecks, but there are many others who reap the benefits of inflation.
A rookie cap hit is another component of this issue. The NFL has players signing huge contracts right out of college. Much of their salary is guaranteed. With that said, the NHL should strive to set a cap that is reasonable. These guys have put their time in to earn a decent paycheck, but they are unproven. Like most companies, interns and entry level positions start of at the bottom and it is their responsibility to work their way up the corporate ladder into the high paying salary positions. This should be the same with rookies. I would propose a maximum rookie contract (for a player without ever playing in an NHL game) of three years and a cap hit of $1.5 million.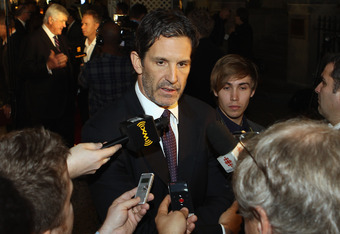 Bruce Bennett/Getty Images
Player Safety
Safety is an issue. The league has made the game faster. With that speed we have seen an increase in major head injuries. This would be the most difficult area to correct. The game is faster. The players are bigger. Collisions harder. How to you protect the players?
Something that could help is increasing the playing surface. The skilled players now have more room with the extra space. This would increase a player's ability to protect themselves a little better, without taking away from the speed and excitement the game's new rules have brought on.
At this time, some of the rules do not protect the players.  By changing or eliminating some rules, the safety of the players might increase. 
Rules
The NHL is always looking into improving their product. Although I am not a big fan of a shootout, I would have to admit it is exciting. The rule change has done its job by bringing new fans to the game. But with that said, it also has already cost a team, the New York Rangers, a shot at the playoffs. I'm not too sure it is fair for a team's fate to rest strictly on a one-on-one battle.
The league implemented a four-on-four overtime period. This has been great. This change increased chances and an elevated level of excitement during overtime. The league should look to increase this from a five minute period to a 10 minute period before letting the shootout settle the score.
When a delayed penalty is in effect, if the team scores before a stoppage, the penalty is forgiven. This rule should change. Even if a goal is scored, the player who committed the infraction should still be responsible for serving his time in the box.
Penalties
Penalties can change a game's momentum. A bad penalty could cost a team a game. Old-time hockey saw the players policing the game. Yes, refs made the calls, but a player taking extra liberties would have to answer to the opposing team's enforcer. This kept sticks down and protected the elite players of the league.
Eliminate the third man rule. Watching this year's playoffs have shown how flawed this rule is. Brian Boyle gets pummeled by Carkner, as the ref takes a front row seat. Brandon Dubinsky comes to the aid of his teammate, which bought him an automatic suspension. Because of his actions, Dubinsky missed nearly two full games for defending his teammate. This needs to be changed.
Instigator: This rule was put in to clean up the game. Trying to counter the Broad Street Bullies style of play. This rule also takes away from the players' ability to police the game. The players now lose accountability for their actions. The Instigator rule allows for players like Sean Avery to practice their antics. Avery would stir things up and when another play confronted him, dropping their gloves, Avery would leave his on. Thus leading to an automatic penalty for the player dropping his gloves.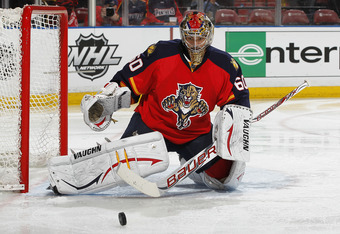 Joel Auerbach/Getty Images
Points
Currently the league awards two points for any win, one point for an overtime or shootout loss, and no points for any loss in regulation. Often times, you see teams in the later stages of a game play more cautiously just to gain a point. Personally, I think a regulation win should be more valuable then a shootout win. This point system has allowed several teams, who might not have otherwise, to gain entry into the playoffs.
The league could allow three points for a win in regulation, two points for shootout win, one point for an overtime/shootout loss, and no points for regulation loss. By increasing the points awarded to regulation wins, teams might be forced to play hard for a full 60 minutes in order to catch up in the standings.
Restructuring of Divisions
With the Atlanta Thrashers moving to Winnipeg, the league is due for a restructuring. Currently, the Jets play in the Southeastern Division. Their division is in a different time zone.
The league should switch Nashville into the Southeastern Division due to their proximity to the other teams in that division. Then the Minnesota Wild could replace the Predators in the Central and the Jets could play in the Northwest. This is a quick fix that wouldn't shake up the league drastically.
Conclusion
These talks will take time. Both sides will want what's best for them. The key is coming to an agreement. It is safe to say no one wants to see another year-long hiatus from the game. It would be demoralizing to the game of hockey, and the game may never recover. Player salaries, rules and a restructuring of division placement should top the talks.