The 15 NHL Players with the Slickest Shootout Moves (Video)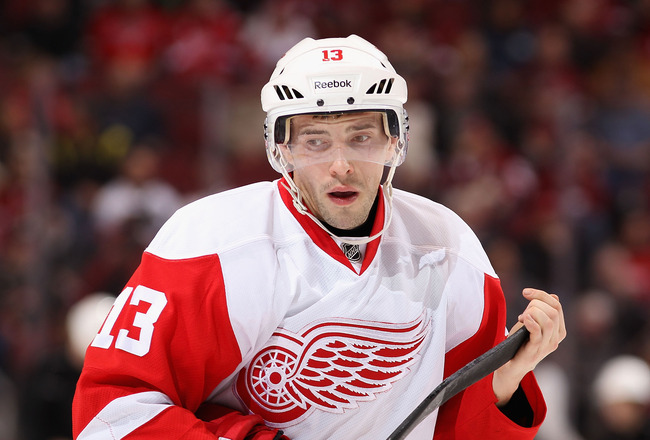 Christian Petersen/Getty Images
The shootout may be a gimmick of the new NHL, but for some fans it is one of the most entertaining moments of the game. The "skills competition" portion of overtime requires finesse, skill and tons of talent in order to be successful.
Some players are just downright nasty in the shootout, and they possess the ability to make a goaltender go crazy in the process.
Here are the 15 NHL players with the slickest shootout moves today.
Zach Parise
Zach Parise is set to become one of the NHL's hottest free agents in recent memory, and he is a player with loads of talent and skill.
In the shootout, Parise is one of the league's most successful shooters. He has used dazzling moves throughout his career to rack up 29 career goals and a 46 percent conversion rate.
Parise is so clutch and skillful that nine of those goals ultimately decided the game's outcome.
Mike Ribeiro
Mike Ribeiro has scored many goals worthy of making this slideshow, but this one really caught my eye. You would think that a goalie would eventually take notice of Ribeiro's signature move.
However, in this attempt, Ribeiro scores the game-deciding goal while shielding the puck from the goaltender's line of vision.
The lesson to be learned here: Goalies need to learn to use YouTube.
Pavel Datsyuk
Pavel Datsyuk is just a wizard when it comes to the shootout. He is a great puck handler, has great offensive instincts and is just downright deadly when it is just him and the goalie one-on-one. Datsyuk is the most creative player in the shootout, and this highlight reel just reiterates that.
Is there anyone in the NHL you would rather have on your team when it is time for the shootout? If you find that player, let me know.
Patrick Kane
In the Mighty Ducks movies, Charlie Conway's triple-deke move is heralded as one of the most unstoppable moves.
What would Mr. Conway think if he he saw Kane one-up him a few times? This move is a cross-hybrid of the Mighty Ducks and an NHL 12 shootout experiment.
Kane takes all the time he needs and puts the biscuit in the basket with skill and ease.
Henrik Zetterberg
Henrik Zetterberg, like his pal Pavel Datsyuk, has some slick hands and dandy moves. This move is very close to a move made famous by fellow countryman Peter Forsberg. Mike Smith had a Vezina-worthy season, but in this clip, Zetterberg made him look downright silly.
Mikhail Grabovski
In this clip, Mikhail Grabovski displayed optimal puck control, finesse and creativity. Not many players have the ability to sell and score on such an obvious move.
When attempting a spin move, it is pretty obvious where the puck will end up. However, Grabovski takes things to a whole new level, as he switches from a backhand move to a spin move and finally gets the puck back on his forehand before putting it past Ty Conklin.
Marian Gaborik
The Slovakian Sniper is one of the league's most lethal goal scorers. He has the speed, hands and great shot that makes him an elite player. In the shootout, when it is just Gaborik and the goalie, he likes to get fancy and show off his skill set.
In this clip, Gaborik makes multiple moves to beat Jonas Hiller of the Anaheim Ducks. Gaborik is often slick with the puck, but this is one of his best shootout goals.
Anze Kopitar
Anze Kopitar is a top playmaker and scorer for the Los Angeles Kings. He emerged on the NHL's largest stage during the Stanley Cup playoffs, but Kopitar has been a threat for years. In this highlight reel, Kopitar makes multiple goalies look foolishly silly with the same move over and over again.
Kopitar is slick with the puck and is one of the best shootout threats in the game today.
Thomas Vanek
Thomas Vanek is the Buffalo Sabres' top sniper, and he has some real moves. I don't know how he does it, but Vanek completely fools the goaltender by windmilling his stick around the puck before firing it home.
Vanek is also known for his other backhand moves, but this is one of his better moves.
Rick Nash
Rick Nash is a player with great size, and that helps hit a lot in the shootout. Nash has a great reach, and that allows him to deke wide left and right to fool the goaltender before tucking it back on the wide side.
Nash also has been known to deke and then rip a snapshot from point-blank range past the outstretched arm of a goaltender. Nash is truly a top offensive threat, and when he is one-on-one in the shootout, he can beat the goaltender in so many ways.
Alex Ovechkin
There is a reason why Washington Capital diehards call Ovechkin "The Great Eight." He is smooth with the puck and has great speed, solid hands and a wicked shot. Ovechkin can dangle to beat a goaltender. He can flick a wicked wrister past a goaltender as well.
No matter how you slice it, if Ovechkin is up in the shootout, odds are he is going to score.
Jussi Jokinen
It is hard to come up with an eloquent way to describe the slick and amazing nature of this goal, so it is simply better to steal the announcers' description of the move.
Jussi Jokinen is a talented player with "sweet and silky moves."
Sidney Crosby
Sidney Crosby is one of the greatest players in the NHL today. If he is one of the best players at even strength, it is really unfair when you see what he can do one-on-one. This move is just pretty slick because Crosby has the goalie going one way, he kicks his leg back and then roofs one under the bar for a sweet shootout goal.
Claude Giroux
Claude Giroux emerged as one of the NHL's top players during the 2011-12 season, and he got better as the year went on. Giroux showcased his elite talent and skill, and many were outraged that he was snubbed as a potential Hart Trophy candidate.
This move against the Toronto Maple Leafs during the shootout further showcased Giroux's sick skills.
Evgeni Malkin
Evgeni Malkin is straight up in the shootout. He is one of the NHL's most dynamic players and has tons of skill and finesse. Malkin takes his sweet time skating in and then puts on the brakes before spinning around a complete 360 degrees.

Carey Price had no chance and was helpless when Malkin roofed the puck and put it in the net. Malkin has pulled off this move before; it is surprising that goalies have not taken notice.
Keep Reading