NHL Power Rankings: Next Season's Top 50 Players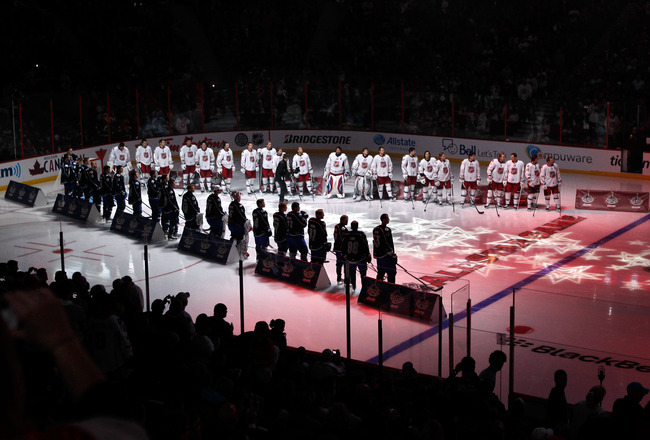 Gregory Shamus/Getty Images
Ranking teams and players is a practice that is as old as the water coolers and bar rooms that are indigenous to said discussions or arguments. The common measuring tool to rank players is the number of championship rings that each player possesses. Is it fair to determine the level of a player's greatness based on the performance of his team as a whole?
Henri Richard has 11 Stanley Cup rings, the most won by any individual player. Does this make him the greatest player ever? Mario Lemieux and Bobby Orr were only fortunate enough to lift the Stanley Cup twice, but both men are mentioned among the best ever.
Great players make everyone around them better, or so the saying goes. Defense also wins championships, and a bird in the hand is apparently worth two in the bush—whatever that means. The point is that individual talent is measured by eyeballs and numbers.
Depending on which numbers you use, the argument can be made in any direction.
More than goals and assists measure the best players, though those two categories certainly figure prominently in the status of ranking players. The grind of an 82-game season will always separate the most talented from an extended hot streak.
The improbable run of the Los Angeles Kings put the spotlight on some previously unheralded talent. The non-traditional hockey market of Southern California is laden with top shelf talent from the net to the blue line to the wings.
There are obviously some familiar faces in this lineup, and where they fall will certainly draw the ire of more than a few hockey aficionados. There are players looking to rebound from a disappointing 2011-12, and some who are looking to build on a breakout year.
So pull up your bar stool or fill your paper cup—make your case for the top 50 NHL players of 2012-13, and I'll give you mine.
50. Matt Moulson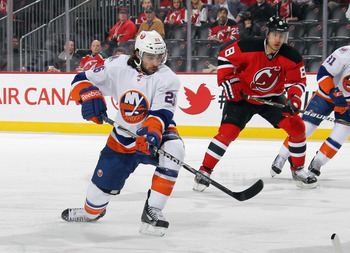 Bruce Bennett/Getty Images
Matt Moulson kicks off the list at number 50. The 26-year-old winger keeps increasing his career highs in goals and assists, giving the Long Island faithful optimism for the future.
49. Ryan Suter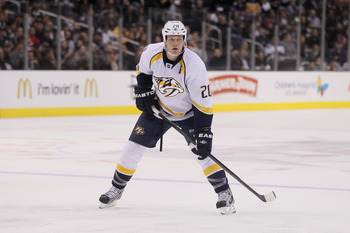 Jeff Gross/Getty Images
Ryan Suter is one of the most coveted free agents on the market this year. The talented defenseman will command a king's ransom in salary, but will be a key to helping his team, new or old, run for the Stanley Cup next season.
48. Brian Elliott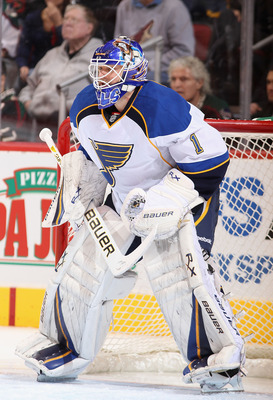 Christian Petersen/Getty Images
Brian Elliott will have the next 82 games to prove to everyone that this past season wasn't a fluke. The Blues have a fantastic two-headed monster in goal which keeps both goalies fresh, and allows for competition between the two for starts.
47. Taylor Hall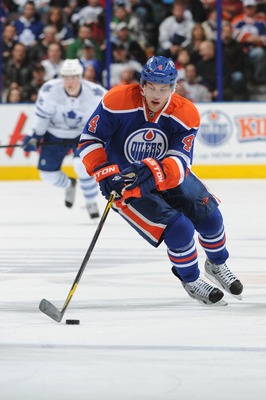 Dale MacMillan/Getty Images
Taylor Hall seems like he wants to break through to the next level, but may have the worst luck in the world. Before Corey Potter tried to remove Hall's face with his skate, the Oiler wing was having a stellar year. His health and consistency are key to getting Edmonton back to relevance.
46. Anze Kopitar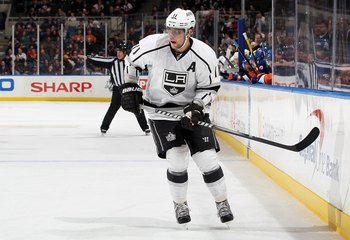 Jim McIsaac/Getty Images
Anze Kopitar led all playoff scorers in the playoffs this year. Barely. The talented Slovenian centerman will have to fight off the notorious Stanley Cup hangover to keep his productivity level high.
45. Bobby Ryan
Bruce Bennett/Getty Images
Bobby Ryan had a terribly frustrating season with the equally frustrating Anaheim Ducks.
After a wretched start for both team and player, Bruce Boudreau came in and helped keep the Ducks competitive for the second half of the season. After falling short of some lofty expectations, Ryan still put up 31 goals.
Look for better numbers from the young winger next year.
44. Jordan Eberle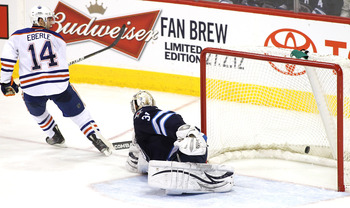 Marianne Helm/Getty Images
Jordan Eberle was a revelation for the Oilers this season. With considerably less hype than his star teammates Taylor Hall and Ryan Nugent-Hopkins, Eberle finished in the top 15 in scoring.
With Eberle the "elder" of the three at age 22, the Oilers have good reason to look forward to next year.
43. Joffrey Lupul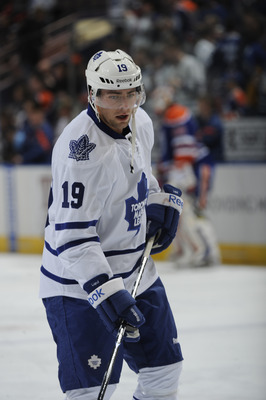 Dale MacMillan/Getty Images
Joffrey Lupul was putting together his finest season to date before an injury ended his season. Lupul teamed with Phil Kessel to form a high scoring tandem.
After another frustrating spring, Lupul can't wait to get back after it to show that last season was no fluke, and get the Leafs to the playoffs.
42. Brad Richards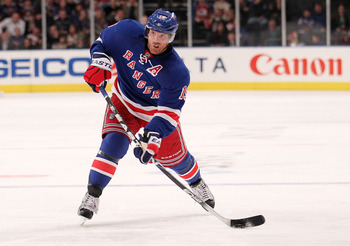 Nick Laham/Getty Images
Brad Richards and the Rangers fell just short of a trip to the Stanley Cup final. Richards did his best to show New Yorkers that he was worth the blockbuster $60 million deal that brought him to Broadway.
Though his numbers decreased for the third consecutive year, Richards was key to the Rangers' run in the playoffs.
41. Carey Price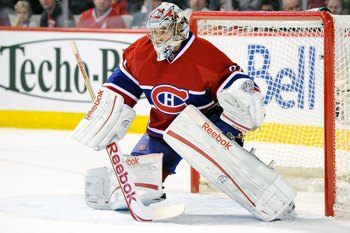 Richard Wolowicz/Getty Images
Carey Price was one of the few bright spots for a horrible Montreal season that saw a complete housecleaning, from management to coach.
The Habs All-Star netminder earned his keep, helping to keep Montreal competitive even after the playoffs were no longer a possibility.
40. Marian Hossa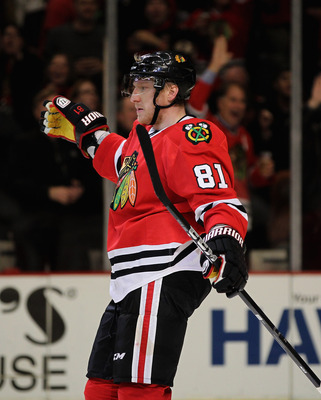 Jonathan Daniel/Getty Images
Marian Hossa's 2012-13 season will be determined by his ability to come back from Raffi Torres' dirty hit in the Hawks-Coyotes playoff series.
Hoss had himself a nice rebound year, posting his highest point totals in five seasons. The gifted Chicago winger is needed back and healthy if Chicago has Stanley Cup dreams again.
39. Tim Thomas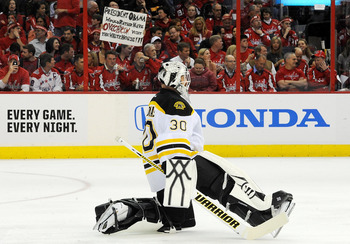 Patrick McDermott/Getty Images
Tim Thomas has claimed that he will not play next season.
Though his declaration seems sincere, Thomas will be leaving $3 million on the table by sitting. The Bruins seem ready to wash their hands of the drama and will probably look to trade the unhappy credit card commercial star.
Regardless of his flakiness, Thomas can still deal as well as anyone in the league. It's hard to imagine he'll actually sit.
38. Alexander Edler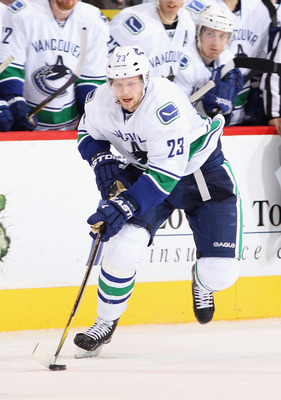 Christian Petersen/Getty Images
Alexander Edler has arrived in Vancouver as the number one defenseman for the Canucks. The hard-hitting Swede can also light up the scoreboard, finishing fifth in scoring on a high octane Vancouver squad.
37. Martin St. Louis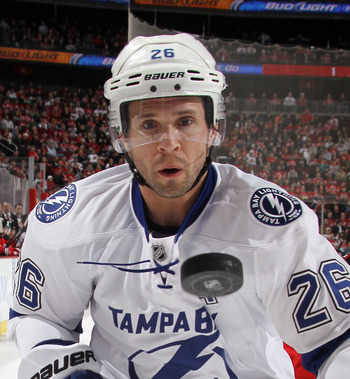 Bruce Bennett/Getty Images
Martin St. Louis is impervious to almost anything, except his teammates in practice.
The ageless Lightning winger had a down season by his standards, and still averaged nearly a point per game. Tampa will be better next season, and St. Louis numbers will improve in spite of his age (36).
36. Duncan Keith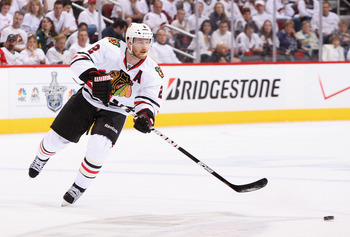 Christian Petersen/Getty Images
Duncan Keith saw another year of declining stats and failed expectations. The 2010 Norris Trophy winner had 40 points which were his lowest since 2008.
Look for Keith and the Hawks to improve this year. At age 28, Keith is in his prime, and should bounce back as the quarterback on the Chicago blue line.
35. Jordan Staal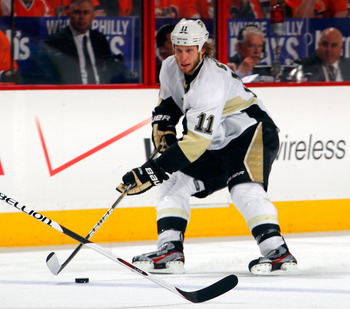 Paul Bereswill/Getty Images
Jordan Staal could possibly be ranked higher, if he was on a different team. As the third line center on a loaded Penguins roster, Staal's abilities as a penalty killer and a defensive specialist are on display against the opponents best player.
With a proven track record of finding the net, Staal has had trouble staying on the ice with foot injuries.
34. Jarome Iginla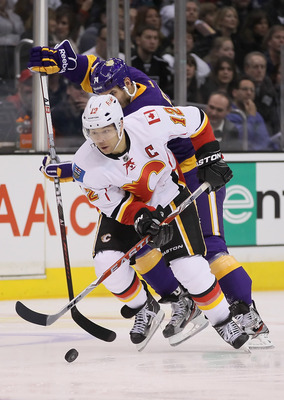 Jeff Gross/Getty Images
Jarome Iginla is the favorite son of the Calgary Flames.
Perpetually mentioned as a trade option around the deadline, Iginla may finally move this year if Calgary is non competitive this year. Still one of the most revered power forwards in the league, Iginla doesn't light the lamp with the same frequency he used to but is still dangerous.
33. Logan Couture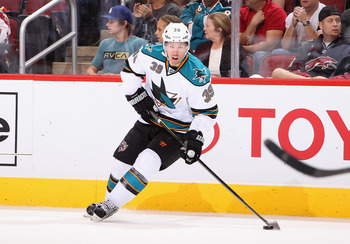 Christian Petersen/Getty Images
Logan Couture is the heir apparent to the San Jose Sharks' leadership. With Joe Thornton creeping down the back side of his career, Couture is emerging as a star on the rise in Shark country.
Back-to-back 30-plus goal seasons have the bar set high for the emerging Shark winger/center.
32. Patrick Kane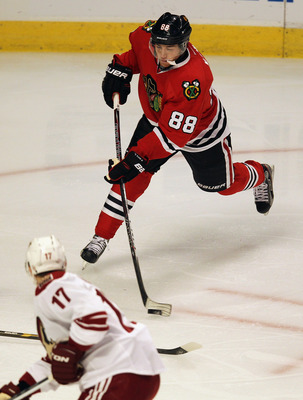 Jonathan Daniel/Getty Images
If Patrick Kane can stay out of the headlines for all of the wrong reasons, he might remember that he is one of the premier players in the league.
To outsiders it appears that Kane is pretty happy with himself, and for fairly good reasons. A little hard work and maturity could go a long way for getting Kane back to elite status.
31. Dustin Byfuglien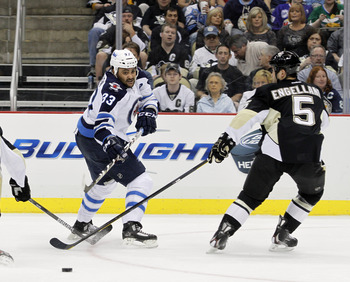 Justin K. Aller/Getty Images
Dustin Byfuglien has emerged as one of the top defensemen in the league. The rugged Jets d-man put up great offensive numbers for the Jets in their first year back in Winnipeg, while also providing a major physical presence.
His leadership and strong play give the Jet faithful hope that they will see playoff hockey sooner than later.
30. Kris Letang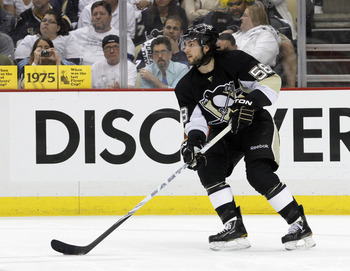 Justin K. Aller/Getty Images
Kris Letang seemed poised for Norris consideration before a cheap shot and subsequent concussion derailed his season. He returned to the Pens in time for the playoffs, but couldn't inspire them in their first round loss. He has emerged as the Penguins power-play quarterback and overall best player not named Malkin or Crosby.
29. Ryan Getzlaf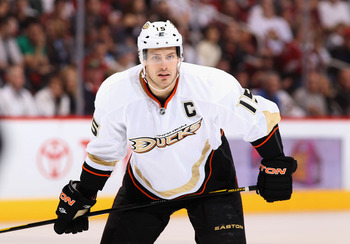 Christian Petersen/Getty Images
Ryan Getzlaf could have the same slide as Bobby Ryan—a disappointing season hurt by a slow start. Too talented to struggle, he will bounce back with a vengeance next season.
28. Rick Nash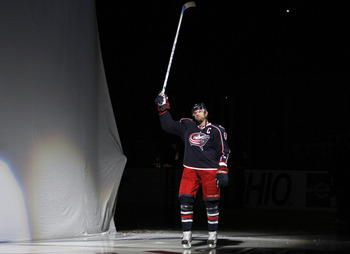 Justin K. Aller/Getty Images
Rick Nash' status could improve if we knew where he would be playing next season. He's still a Blue Jacket for now and in the prime of his career. He's the premier power forward in the league and Columbus will be fielding offers for his services all summer.
27. Eric Staal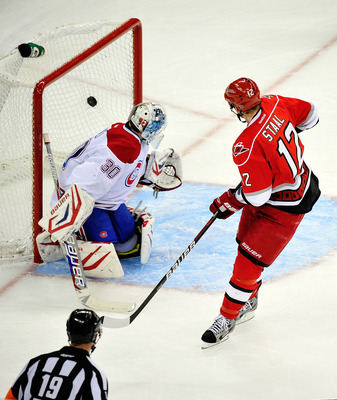 Grant Halverson/Getty Images
Eric Staal is the premier and unfortunately only Carolina Hurricane of note. With Jeff Skinner struggling to stay healthy, Staal was the only consistent offensive threat in Cane Country.
26. Jason Spezza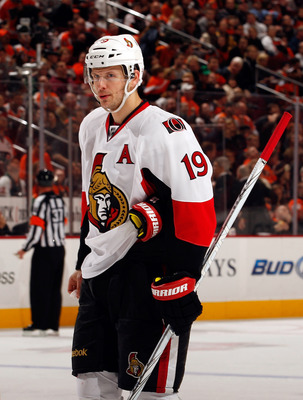 Rob Carr/Getty Images
Jason Spezza had a bounce back year last season, finishing fourth in the league in scoring. I would rank him higher, but I'm not sold on whether he is the guy who averaged 90 points per season from 2006-08 or the indifferent, injury-prone guy who had an average of 60 points the past three years.
There's no denying Spezza's talent, but inconsistency seems to be his issue.
25. Ryan Miller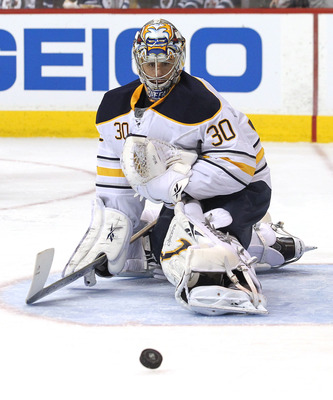 Marianne Helm/Getty Images
Ryan Miller had a poor first half of the last year, before carrying the Sabres to the threshold of the playoffs. An offensive power outage late in the year cost the Sabres and Miller a playoff spot.
He's still an elite goaltender, and next year will offer the American backstop a shot at redemption.
24. Alex Pietrangelo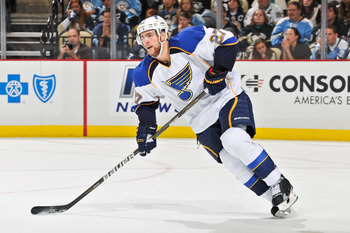 Jamie Sabau/Getty Images
Alex Pietrangelo is fast becoming one of the elite defensemen in the NHL.
In only his second full season on the Blues, Pietrangelo became the youngest Blues player to reach 40 points in back-to-back years.
The St. Louis defense is set for the next few years with Kevin Shattenkirk and Pietrangelo patrolling the ice.
23. Nicklas Backstrom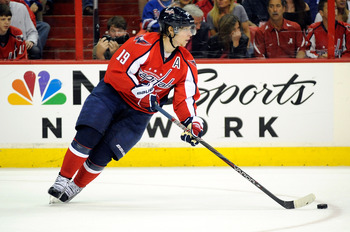 Greg Fiume/Getty Images
Nicklas Backstrom has struggled with injury the past two seasons, but is still one of the premier playmakers in the game. He seemed to get his timing back as the Capitals made a nice and unexpected run into the second round of the playoffs.
With a summer to shake off any lingering concussion issues, Backstrom should return to form next season.
22. John Tavares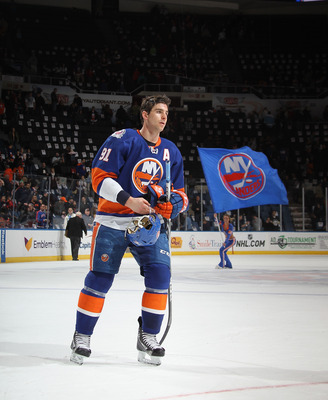 Bruce Bennett/Getty Images
John Tavares has climbed to an elite status among NHL centers. In his third year since being drafted first overall in 2009, Tavares' production has improved each year to a point per game rate in 2011-12.
The spunky Islanders struggled with consistency last year, but with Tavares leading the way, there is finally hope for the Islanders.
21. Drew Doughty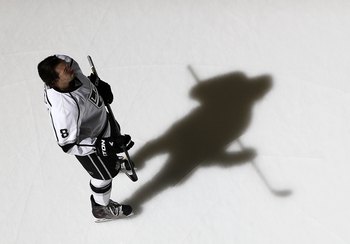 Jim McIsaac/Getty Images
Drew Doughty finally seemed worthy of the big contract he signed this past year, at least in the playoffs.
The young Kings defenseman can now add Stanley Cup Champion to his resume, and Norris consideration. Though Doughty's offensive production hasn't reached the consistent levels that the Kings had hoped, the Kings playoff run and Doughty's steady play showed that he is maturing.
At 22, he is just starting to enter his prime.
20. Ilya Kovalchuk
Bruce Bennett/Getty Images
Ilya Kovalchuk finally put together a season that got people to stop talking about his cartoonishly-absurd contract.
Though he fell just short of 40 goals, Kovalchuk's production returned to the lofty levels he produced in Atlanta before his trade. A run to the Stanley Cup Final, and some playoff production showed that the Russian sniper can handle the big stage as well.
A year shy of 30, Kovalchuk's career could still be on the upswing.
19. Pekka Rinne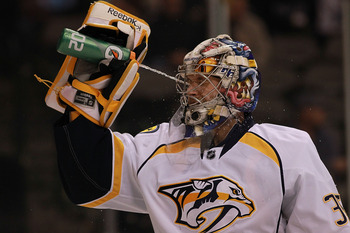 Ronald Martinez/Getty Images
The hulking Finnish goalie had another incredible year, backstopping the Predators into the 2nd round of the playoffs for the first time in franchise history.
Rinne led the league in wins, shots against, saves and games played while being nominated for a Vezina trophy for the first time.
18. Erik Karlsson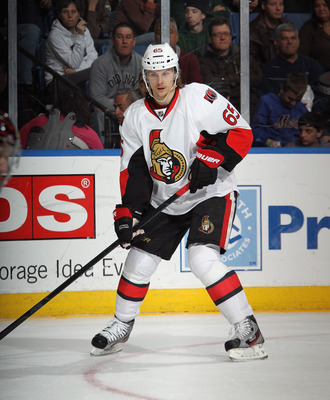 Bruce Bennett/Getty Images
Erik Karlsson put up offensive numbers at a pace that hadn't been seen by a defenseman since the days of wide open offense. While the offense was gaudy, it was Karlsson's maturity and defensive responsibility that were almost more noteworthy.
In only his third season in the NHL, Karlsson nearly doubled his offensive numbers from last year and posted a plus-16.
17. Phil Kessel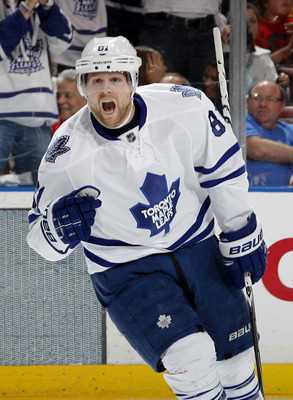 Joel Auerbach/Getty Images
Phil Kessel raced out to a huge offensive start, leading the league in scoring for a large part of the early season. While he maintained a great scoring pace throughout the season, his Leafs faltered around playoff time and Kessel got to watch the playoffs at home once again.
With great speed and a quick release shot, Kessel is one of the premier snipers in the league.
16. James Neal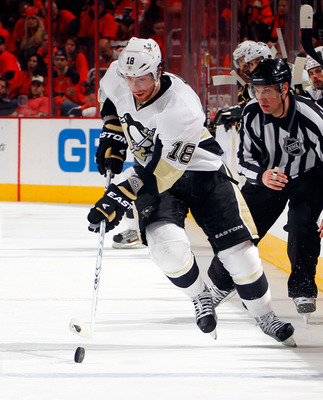 Paul Bereswill/Getty Images
James Neal had what could be described as a the very definition of a breakout year. In his fourth year Neal hit the 40-goal mark and flourished as Evgeni Malkin's left wing for the bulk of the season.
A rugged power forward, Neal hit career highs in almost every offensive statistic.
Look for equally impressive numbers next year, as the Pens get their captain from the start of the season.
15. Zach Parise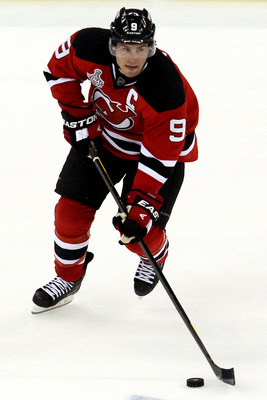 Jim McIsaac/Getty Images
Zach Parise may or may not be a New Jersey Devil next season. The offensive prize of free agency, Parise has the luxury of choosing which team he can play for while earning rock star money.
Parise improved his stock immensely this offseason by leading the Devils to the Stanley Cup final. While he and the Devils fell short of the cup, Parise's effort gave his potential suitors confidence in his skill set and leadership abilities.
14. Corey Perry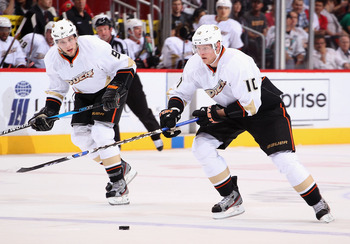 Christian Petersen/Getty Images
Corey Perry followed up his award winning 2011 season with a "disappointing" 37-goal effort last season.
Perry's dropoff offensively was consistent with the rest of the Ducks as they missed the playoffs for the second time in three years.
Look for a bounce back for the team and for the Ducks' stars as offensive-minded Bruce Boudreau gets to start the season as head coach, instead of trying to pull them out of a dumpster fire.
13. Zdeno Chara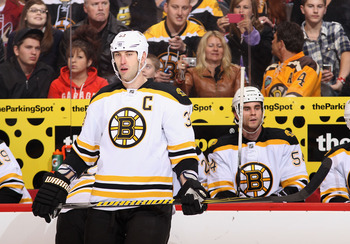 Christian Petersen/Getty Images
Zdeno Chara is the reigning scariest dude with the scariest slap shot in the league. When he's not pawing at salmon in Alaskan streams, Boston's biggest Bruin is pounding 108 mph slapshots on goal and opponents into the boards.
A regular on the Norris trophy ballot, Chara finally won it in 2009. He's a beast in front of the Boston net and though he doesn't drop the mitts as much as he used to, he'll knock the yellow off your teeth if you skate too close to the crease.
12. Henrik Lundqvist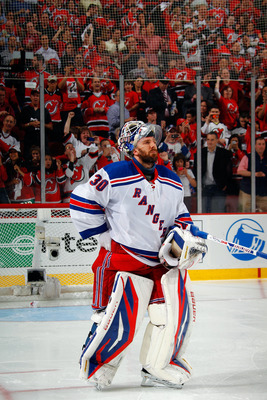 Bruce Bennett/Getty Images
Henrik Lundqvist may have the prettiest stats of all the goalies, but he would probably trade all the regular season awards for a shot at the Stanley Cup.
King Henrik and the Rangers seemed to have their calender marked for a date in the Final before the Devils took them out. The knock on Lundqvist is that he isn't a big game goalie, but it's hard to find fault with him in the Rangers' Eastern Conference exit.
He'll be back and more handsome than ever next season, but the Blueshirts' biggest challenge will be to replace the goal scoring of Marion Gaborik.
11. Shea Weber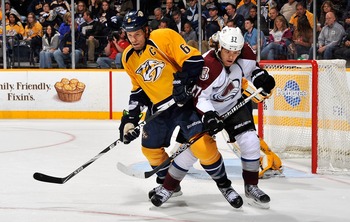 Frederick Breedon/Getty Images
Shea Weber's nasty streak was on full display as he went WWE on Henrik Zetterberg in the Predator's 1st round win over the Red Wings.
Overlooked in Weber's arsenal of angry is a fierce slapshot and a keen hockey sense that helped Preds' keeper Pekka Rinne put up Vezina worthy numbers.
He was the point man for the number one power play in hockey and while Nashville is scrambling to keep Ryan Suter, the Preds need to make sure they lock up their captain and number one defenseman long term.
10. Alexander Ovechkin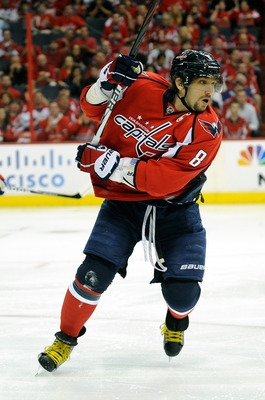 Greg Fiume/Getty Images
Alexander Ovechkin had a down year by his standards, but still knocked 38 goals in his 2011-12 campaign. The "Great Eight" had to carry the offense for large chunks of the season as he played without Nick Backstrom and defenseman Mike Green for large chunks of the season.
While 38 goals sounds super, it is the second-lowest total of Ovechkin's impressive career. With a healthy restart this fall, a new coach and his high scoring teammates healthy and back in the fold, look for Alexander the Great to put up numbers more indicative of his talent.
9. Daniel Sedin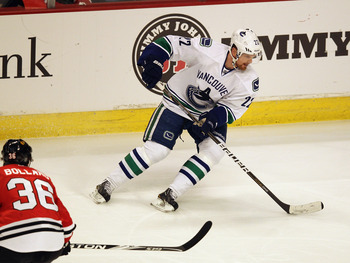 Jonathan Daniel/Getty Images
Daniel Sedin—or is it Henrik? After a scoring title and a Stanley Cup Final appearance, Daniel Sedin was poised to have another huge year.
Though he missed 10 games due to injury, Sedin's point total fell by 37 points. After coming back from a concussion to play in the Canucks final two playoff games, Sedin will enjoy a summer to get his head "unscrambled" before the next year.
8. Henrik Sedin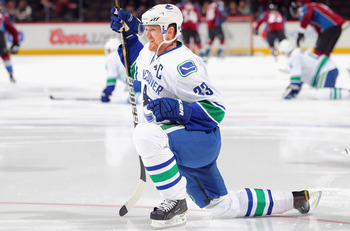 Doug Pensinger/Getty Images
Henrik Sedin—or is it Daniel? Henrik averaged a point per game pace as the Canucks took the President's trophy with the leagues' best record. The 2010 Art Ross trophy winner still averages a point per game, but his production seems to have tapered.
Look for a healthy rebound from him and twin Daniel in 2012-13.
7. Jonathan Toews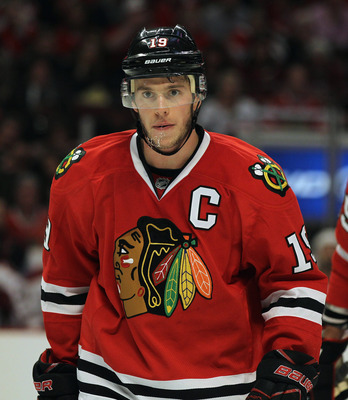 Jonathan Daniel/Getty Images
Johnathan Toews won a Stanley Cup his third year in the league and saw his stats increase each year.
Then the injury bug hit.
Toews missed a few games during the Hawks Cup winning season in 2010, but last year suffered a concussion and missed 23 games. Toews was never quite the same even after he came back and the Blackhawks were first round losers to Phoenix.
The Chicago captain is one of the league's best in the face-off circle, and should bounce back statistically after a summer to get healthy.
6. Jonathan Quick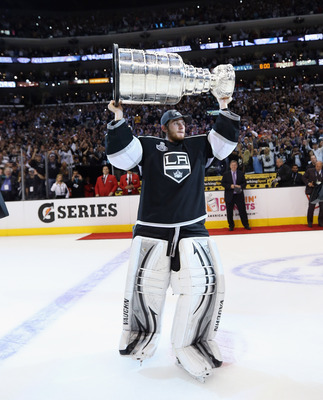 Bruce Bennett/Getty Images
Jonathan Quick wrestled the unofficial mantle of "League's Best Goalie" from incumbent Martin Brodeur during the Stanley cup Final. Not that Brodeur had been that spectacular all year, but Brodeur's play in the postseason reminded us all of his greatness.
Quick played at another level all season though.
The Los Angeles Kings slipped into the playoffs as the 2nd lowest scoring team in the league. The league's 2nd best goals against, led by Quick, is what made them a handful in the regular season and almost unbeatable in the playoffs.
The Kings lost two games in the Stanley Cup Final, which was as many games as they had lost the entire postseason. In those two Final losses, Quick gave up two goals.
The only thing that the Conn Smythe winner has to avoid is a post-Cup letdown. Quick seems to be so humble and grounded that he might go into next season even more focused, which is bad news for everyone else.
5. Steven Stamkos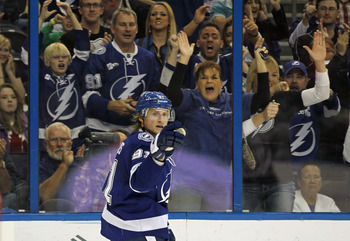 Bruce Bennett/Getty Images
Steven Stamkos hit the 60-goal mark for the first time in his young career and the smart money says it won't be the last. On a down year that had the Lightning miss the playoffs, Stamkos did his part accounting for 26 percent of Tampa's goals.
A more complete team will take the ice with Stamkos this year, which will probably help Stamkos' production in the assists end, and help give a significant boost to the Lightning's playoff chances.
Stamkos is one of the league's elite players and needs some playoff face time to reach the next level.
4. Claude Giroux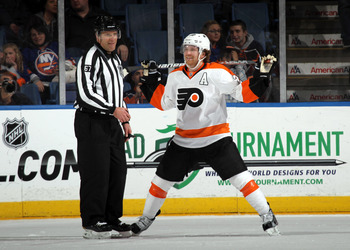 Bruce Bennett/Getty Images
Claude Giroux had his season end on a sour note. After an electric season, including a record-setting first round against the hated Penguins, Giroux and the Flyers were blown away by the Devils in Round 2. A black eye on the series was Giroux sitting during the elimination game, because of an elbow thrown in Game 4 at Dainius Zubrus.
While Giroux seemed to come into his own as one of the league's elite scorers and playmakers, his maturity in the playoffs will need to improve for the Flyers to improve. The potential vacancy of the Flyers' captaincy because of Chris Pronger's injury is Giroux's for the taking.
The Philadelphia brass will need to know that Giroux can play with more composure moving forward to lead the young Flyers beyond the first round of the playoffs.
3. Sidney Crosby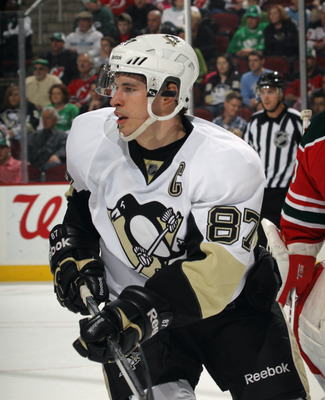 Bruce Bennett/Getty Images
The Penguins' resident all world captain seemed to recover nicely from a year long absence because of concussion-like symptoms. He reminded the NHL why he will always be in the discussion as the best player in the league.
Crosby's raw talent is second to none, and his drive to be the best has fueled him to come back from injury with a vengeance. That being said, Crosby showed a petulant and immature side during the Penguins' playoff meltdown against the rival Flyers.
While I respect the hell out of his talent and think he can and should get back to the top of this ratings heap, I want more leadership from someone wearing the "C". Perhaps a victim of his own greatness, I think it is a reasonable expectation for Crosby to improve in the maturity department.
The Penguins have far too much talent to go out in the first round, especially in the side show carnival fashion that they did. Crosby found himself in the center ring of the circus, and that can't happen if the Penguins want to build a real dynasty.
2. Pavel Datsyuk
Gregory Shamus/Getty Images
Pavel Datsyuk could be seen as the most complete player in the world. His hands, both offensively and defensively, provide hours of Youtube entertainment. I almost find myself rooting for a Red Wings shootout just so I can see what the Russian dangler has added to his array of dekes.
The only thing missing from Datsyuk's game is the component of leadership. He came into the league as Steve Yzerman's captaincy was winding down and turned over to Nicklas Lidstrom. Though great captains in their own right, both were less vocal and more lead by example types. With the Red Wing's "C" vacant again, it will be interesting to see if Datsyuk is given any consideration for the role.
His toughness and grit is largely overshadowed by the nightly highlight reel of moves. His ability to literally pick opponents' pockets is almost comical. A couple of injuries over the past two seasons have kept Datsyuk from contending for any scoring race, but when he is healthy, he is at least a point per game player.
1. Evgeni Malkin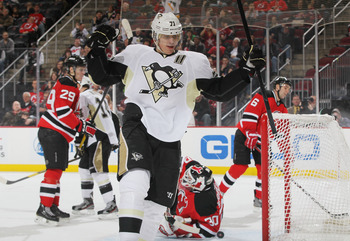 Mike Stobe/Getty Images
Evgeni Malkin has emerged from the shadow of his captain and teammate to top the list of best players in the league. We forget that Malkin was coming back from a season-ending knee injury in 2010-11 and was left to shoulder the burden of the Penguins' missing captain for over half the season.
While a good bit of the Penguins and Malkin's good fortune can be attributed to the emergence of James Neal as a legitimate scorer, it could be argued that Neal's rise was attributed to Malkin.
At 6'3" and 200 lbs, Malkin has a stride a mile long with the determination and momentum of a runaway Russian freight train. Did I mention he has crazy soft hands and moves almost as silky as Datsyuk?
A healthy Malkin and Crosby give the Penguins an almost unfair advantage over every other team in the league. Throw in Jordan Staal and there is no other NHL squad as strong up the middle as Pittsburgh.
So there's the top 50 players for the 2012-13 season. There are certainly some subjective decisions on players who could be swapped out for the 41-50 range, and there will almost certainly be some "Scott Gomez-esque" underperformances next season that will enrage a fan base or two. Please feel free to offer suggestions as to who was left out, and as always, stay classy!
Keep Reading