Mike "Doc" Emrick and the 10 Greatest Current NHL TV Announcers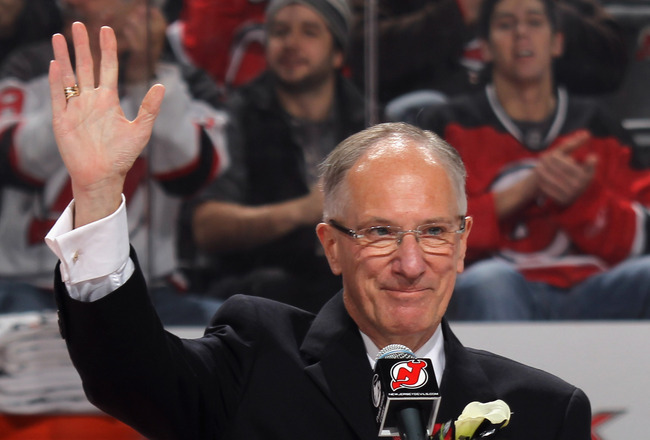 Bruce Bennett/Getty Images
After Game 6 of the Stanley Cup Finals ended last night, commentators Mike Emrick and Eddie Olczyk had remained quiet for most of the celebration as the Los Angeles Kings had won their first ever Stanley Cup.
They let the crowd attribute for most of the sound on my television until Martin Brodeur and Jonathan Quick embraced each other, shook hands and then hugged again. Emrick then broke the broadcasting silence by simply saying the phrase, "This is why I love hockey." Me too, Doc.
Emrick's line got me thinking about how it was the end of a long and tough season for announcers, too, as broadcasting a hockey game is hands-down much more difficult to do than any of the other "big four" American sports. The fast pace of the game and the uncertainty that anything can happen at any moment requires announcers to be alert and attentive of what's going on at all times.
Let's take a look at those who do their job best.
Remember, this is about current commentators on television, not radio broadcasts; don't complain about Gary Thorne and Mike Lange not being on here.
Worst: Jack Edwards
As much as I like the Bruins, I was somewhat happy to see them out in the first round just because Jack Edwards was gone for the rest of the spring. Really, it's that bad. Try watching all 7:51 in that video, I find it particularly hard to do. I cringe every time I hear the guy get excited about something.
Some compare him to the Chicago White Sox's Hawk Harrelson. I say that's not fair to Hawk. He's extremely biased as well, but he's at least fair and realistic about things and doesn't have an overly annoying voice.
A commenter on YouTube said that he likes Edwards because he says what's going through fans' heads during a game...really? I don't know any fans that think every hit against their team is a cheap shot or that every cheap shot by someone on their team is just a big hit.
Honorable Mention: John Forslund
John Forslund is the FSN Carolina announcer for the Carolina Hurricanes and also does some games on the NBC Sports Network in the regular season and the playoffs. I particularly like how excited he gets when he calls a big goal, like both Hurricanes' goals in the past minute-and-a-half of this classic Game 7 against the Devils in 2009.
10. Ken Daniels
I get to listen to Ken Daniels and Mickey Redmond a lot, as they broadcast Red Wing games on FSN Detroit. They are a terrific duo and are always joking around and having fun while making great calls each game.
2011's Game 6 against the Sharks, in which the Red Wings tied the series at three apiece, was one of Daniels' best games in my opinion. The day after the win, radio shows around the area couldn't stop talking and laughing about how his voice cracked on Helm's empty-netter.
9. Sam Rosen
Sam Rosen is the commentator for the New York Rangers and has occasionally done nationally televised games throughout his career.
His call during the Rangers' 1994 Stanley Cup victory will live on throughout history—is there anyone who could've called this moment better than Rosen?
Sorry about Bettman being in the video.
8. Jim Hughson
Jim Hughson always announced the EA Sports NHL video games when I was a little kid. Funny enough, I didn't know he was a real announcer until about five years after I first heard his voice on the games.
It was awkward to listen to because I kept thinking I was watching a video game, but he grew on me and I think he is a terrific announcer. He never gets overly excited, but is dramatic enough to keep it entertaining for listeners.
7. Randy Hahn
Randy Hahn is one of my favorite NHL announcers; I hate putting him so low on this list. He's been the announcer for the San Jose Sharks for nearly their entire existence, and he also played a role in bringing hockey to the city back in the early 1990s.
He has a great voice for an announcer, and it seems as if no other voice would fit for the San Jose Sharks.
6. Dave Strader
Dave Strader was the broadcaster for the Detroit Red Wings in the mid-1990s, and I have some memories of listening to him when I was first getting into hockey as a toddler. He later went on to broadcast for the Phoenix Coyotes and now does nationally televised games for NBC.
I think he's a great candidate for a national television announcer because he shows absolutely no bias towards any team and has a great knowledge of the game.
5. Rick Jeanneret
I love Rick Jeanneret and I absolutely hate having to put him this low on the list. Let's just say No. 2 through No. 5 on these rankings are pretty much tied.
The only reason I have him here is because he couldn't announce any game not involving the Sabres...it'd just be wrong. Maybe it's a good thing, though.
Despite being a Red Wings fan, part of me always hopes the Sabres can win a Cup for Rick just to see his reaction. I wish I could watch more Sabres games just to hear what it's like to listen to him on a game-by-game basis.
4. Rick Peckham
Not a lot of people know who Rick Peckham is. I just found out about him about two years ago when he announced West Coast playoff games on Versus.
When people think about Tampa Bay Lightning announcers, they usually think about Dave Mishkin.
Not me.
Peckham is one of my favorite announcers, and he is at his best in this Game 2 of the 2010 series between Detroit and Phoenix.
3. Mike "Doc" Emrick
I know a lot of people don't like Doc Emrick, but I can't figure out why. Sure, he sounds a little nasally sometimes, but who cares?
He's one of the smartest and most talented announcers in the league. How many television announcers can make you visualize exactly what's going on in the game if you're not watching it? Try to find one other than Doc Emrick.
Unfortunately, we won't be able to listen to him again until October, but if you want some fun, try counting how many times in a game he says "scramble," "Ohh and it wouldn't go!" or "What chaos!".
Or count Eddie Olczyk's references to the Chicago Blackhawks.
2. Chris Cuthbert
Chris Cuthbert has a gift of being able to give fans goosebumps for big goals and saves. Take Game 6 of the 2008 series between the Stars and Sharks, for example. He makes some terrific calls on saves by Evgeni Nabokov and Marty Turco, and caps it off with a spectacular call on Brenden Morrow's fourth overtime winner.
Cuthbert has a great voice for big games, and the way he uses it to exclaim huge goals and saves makes him one of the most entertaining announcers to listen to.
1. Bob Cole
How could I put anyone other than Bob Cole as No. 1? He is the voice of hockey. Some people hate him because they think he is boring. I don't see it at all. Those people who think he's "boring" have the word wrong...they must be trying to say "dramatic" instead. He makes every game sound like it's Game 7 of the Stanley Cup Final.
My favorite call ever is his "They-Have-Tied the game!!!" from Edmonton-Dallas in 1997.
As a hockey fan, I am so thankful to have CBC in this area of the country because watching hockey wouldn't be the same without Bob Cole every once in a while. He means just as much to Hockey Night in Canada as Don Cherry does, and although I like Jim Hughson, the last few Stanley Cup Finals have not been the same without Cole announcing.
The pairing of Cole and Harry Neale is the best combination of announcers in hockey and, in my opinion, all of sports.
Keep Reading