Stanley Cup Playoffs 2012: What Kings Must Do to Wrap Up Series in 5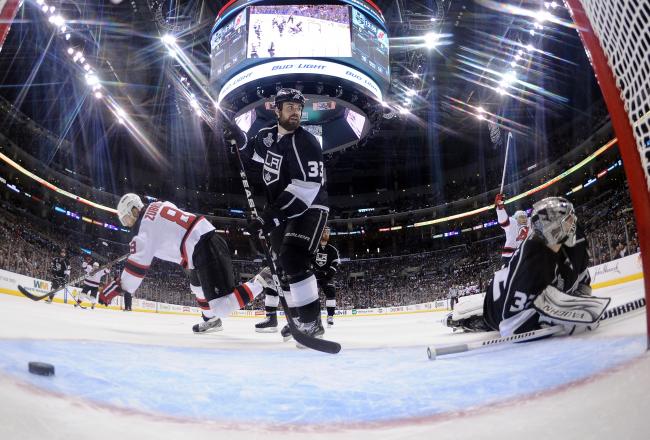 Harry How/Getty Images
As the city of Los Angeles prepared to celebrate its first ever Stanley Cup championship, the Kings' finals sweep was derailed by a revitalized New Jersey Devils offense.
While the Kings had traipsed through the playoffs with a 15-2 record, the Devils exploded for three goals in 11:44 en route to a 3-1 win in Game 4. After dropping a game for the first time since May 20, the celebration in Los Angeles will be deferred as the series returns to New Jersey.
Perhaps the Kings are inclined to tinker with their strategy after Game 4. However, it is not easy to game plan a solution to the way New Jersey won, as the Devils simply capitalized across the board.
Martin Brodeur was on fire in net, showing no signs of his 40 years of age as he sprawled across the ice to stop 21 of the 22 shots he faced. At the offensive end, Patrik Elias knocked in a rebound off the pad of Kings goaltender Jonathan Quick, whose hesitation gave Adam Henrique just enough of a window to snap a wrister into the top corner and put the Devils up 2-1. When Ilya Kovalchuk put the puck in the empty net with 20 seconds remaining, it was simply the final nail in the coffin.
What the Kings have to keep in mind, though, is that there is nothing this New Jersey team showed in Game 4 that Los Angeles hasn't already proved to be capable of beating.
Granted, the Devils had netted only two goals total in this series prior to Game 4, but it wasn't as if they hadn't been crashing the net for rebounds in the past. Quick has simply been the best goalie on the ice this postseason, but for one game, Brodeur reclaimed that mantle.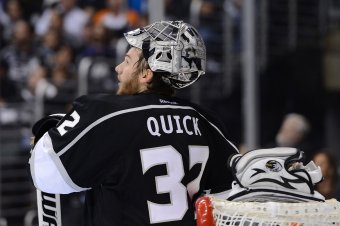 Harry How/Getty Images
Even with the three-goal outburst in Game 4, Quick has a save percentage of .958 this series against the Devils, who have yet to score on a power play in 15 opportunities. This is not a cause for alarm to shake up the defense and get some more help in front of Quick. He had an off game by his own sterling standards, and coach Darryl Sutter has to trust him to bounce back in Game 5.
In comparison, Martin Brodeur and the Kings' scoring woes in Game 4 seem to be a tougher nut to crack. With saves to quash breakaway chances against Simon Gagne and Trevor Lewis, Brodeur looked unstoppable in Game 4. If one of the greatest players ever between the pipes is stepping up his play, the Kings skaters could be in for a struggle in Game 5 and possibly beyond.
On the other hand, the Kings offense has faced a number of strong goalies this postseason, and none of them have been able to hold them in check. Roberto Luongo, Brian Elliot, and Mike Smith have all had their turn to stand up to the Kings' scoring barrage, and all have ceded at least four goals in a game.
With the amount of time between games in the playoffs, it is easy to turn one game into a trend. Don't forget that Brodeur, the same goalie who stonewalled Los Angeles on June 6, gave up four goals himself just two days earlier in Game 3.
So while it is possible that Brodeur and the Devils have solved the Kings attack, Anze Kopitar's line of thinking is much more probable:
"We couldn't score. We had a couple of chances, and we didn't bear down," Kopitar told reporters following Game 4. "We didn't get a couple of bounces in, and you have to create your own bounces. They played with a little more desperation than we did, and we have to correct that in Game 5."
How will the rest of the series play out?
Kopitar hit the nail on the head: the Devils won because they got more bounces, and it was the first time all series that they did.
As Sports Illustrated's Michael Farber noted in his preview of the Stanley Cup finals, Quick's crablike technique allows him to better control rebounds by staying lower to the ice. Normally masterful at positioning himself to eliminate second chances, Quick faltered in Game 4, allowing the Elias goal that got the Devils going.
With a world-class goalie like Quick, there is little doubt he will right himself going forward, and his coach has to know that, too.
Sutter has exhibited a soft but firm touch in his coaching this postseason. When the Kings snuck into the playoffs as the eighth seed, he did not tailor his team's play specifically to the opponent. Sutter trusts his players and the style of play that he brought to Los Angeles when he arrived last December.
He knows what Kopitar knows and what Quick surely knows as well. The Kings had an off night and the Devils made them pay. Sutter has to believe in his team to bounce back in Game 5 on the road, where the Kings are undefeated in the playoffs.
Yes, a win in Game 5 would ruin the novelty that getting the Stanley Cup at home would have had. But the Kings have made it this far by focusing on winning their own way. So long as they keep doing things their own way, the Cup will come back to Los Angeles one way or another.
This article is
What is the duplicate article?
Why is this article offensive?
Where is this article plagiarized from?
Why is this article poorly edited?

Los Angeles Kings: Like this team?