2012 Stanley Cup Playoffs: Kings See a Bit of the Past Champions in Themselves
June 6, 2012

Christian Petersen/Getty Images
No two teams who win the cup are ever truly alike. There are similarities, but they are their own unique champions with their own unique journey.
The Kings are fortunate enough to have a roster with four Stanley Cup Champion veterans, and three of them have won in the past five years. I am talking of course about Dustin Penner, Rob Scuderi and Colin Fraser.
Penner won a cup back in 2007 with the Anaheim Ducks (insert collective groan from Kings fans) at the young age of 25. He was part of a team that rode an extremely hot goaltender in Jean Sebastian-Giguere to a convincing 4-1 Finals series against the Ottawa Senators. 
Bleacher Report was able to talk to Penner, who sees that hot goaltending again in these playoffs:
"We had great goaltending in '07 and we have great goaltending now."
Penner didn't stop there with the comparisons though.
"We play a very good system, everyone is on the same page. Both teams play very hard and have a will to win and a hatred for losing, and both are talented teams."
The Kings do really have some similarities to the '07 Ducks. Both teams have/had a very nasty reputation as being hard to play against, and as Penner said, both are incredibly talented teams.
The '07 Ducks sported a roster that included the likes of Selanne, Getzlaf, Perry, Andy McDonald, Pahlsson, Moen, the Niedermeyer brothers Rob and Scott and Chris Pronger just to name a few. As much as the comparison probably stings a Kings fan, it's really quite the compliment.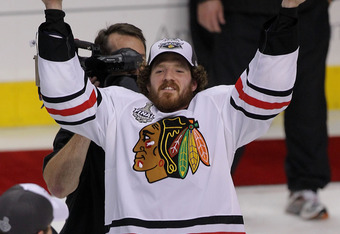 Andre Ringuette/Getty Images
Kings fourth line center Colin Fraser has his name etched in silver thanks to his work with the Chicago Blackhawks in 2010. He also sees some similarities in the depth both teams possess:
"I think we're similar in the fact that both teams have a lot of depth. In Chicago it didn't matter who was in the lineup or what the lines were, it seemed we played the same way every time."
Although Fraser, referred to as "Frazz" by his teammates, sees that comparison he is quick to differentiate the Chicago style from the Kings.
"I dunno, I think they are different teams. I think we play more of a grinding style here with L.A., they're more of a skilled style in Chicago. There are both similarities and differences, to try and put my finger on one thing I can't really do it."
While the Kings maybe don't have the high flying offensive skill of a Patrick Kane or a Patrick Sharp, Fraser was right about the Kings having an identity of a gritty, grind-it-out style team which has led to success. It is certainly one of the things that Coach Darryl Sutter instilled in L.A. upon his arrival.
Rob Scuderi, who won a cup in 2009 with the Pittsburgh Penguins, and is probably best remembered for his shot-block of the century in game six, saw a comparison more on the mental side of things.
"Yea I think we're a loose group. Guys like to take it pretty easy, but when it comes time to play and it comes time for the game to start everyone kind of bears down and realizes what their responsibilities are and what they're supposed to do."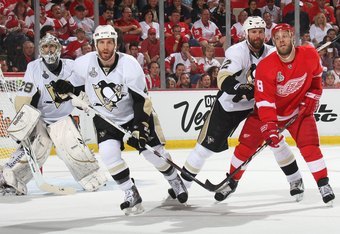 Bruce Bennett/Getty Images
If anyone has ever seen the HBO 24/7 series on the 2011 NHL Winter Classic between the Penguins and the Capitals (Which I highly recommend you do see it if you haven't) you really do get to see a side of the Penguins that you wouldn't know existed.
It was a loose team, a fun team and at times they seemed like a bunch of big kids doing what they loved. However, when game time approached you saw just how serious they were. If that is the Kings mentality in the locker room it's no surprise that this team is this far. When the mood is loose, it's easy to enjoy the company of your teammates and play hard for each other.
With that mentality the wins and goals aren't just about you, it's about every guy in the room, guys you want to win it for as much as yourself.
The Kings could likely write a new chapter in NHL history tonight, and even if they draw comparisons from some of the recent past champions, they will blaze a unique trail of their own.
Jason Lewis is a Featured Columnist for Bleacher Report, reporting live from Staples Center. The interviews in this article were obtained first-hand.