Nicklas Lidstrom Deserves Immediate Enshrinement into the Hall of Fame
May 30, 2012

Bruce Bennett/Getty Images
Nicklas Lidstrom should be enshrined into the Hockey Hall of Fame immediately, as Yahoo! reports he may be retiring in a press conference tomorrow.
After 20 NHL seasons, he has proven himself to be one of, if not the greatest defenseman the league has ever known.
Lidstrom is synonymous with quality defensive play, as evidenced by his seven Norris Trophies.
Often referred to as "Mr. Perfect," Lidstrom has recorded staggering statistics during his time wearing the winged wheel.
1,564 games played
264 goals
878 assists
+/- of +450
580 power-play points
He is the first European player ever to captain a Stanley Cup-winning team—a feat he accomplished in the 2007-08 season.
Lidstrom has won the Cup four times over the course of his career, and even brought home the Conn Smythe Trophy in 2002.
Yet even beyond all the statistics, awards and accolades, is the root of why he should be enshrined into Toronto right away.
He has embodied everything hockey should be about.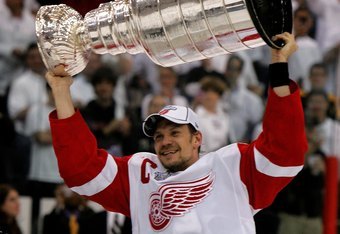 Bruce Bennett/Getty Images
Lidstrom was never a vocal player and trash talking was not in his arsenal. 
Rarely did he ever find himself costing his team by going to the penalty box. In fact, Lidstrom managed only 514 penalty minutes in 20 seasons.
So instead of being an enforcer or a bully, he allowed his exceptional play to do all the talking for him.
Few defenseman have ever had the ability to move the puck and play positional hockey as well as No. 5.
Lidstrom's ability to see the ice and know where the play was headed were key attributes since he broke into the league in the 1991-92 season.
He was a leader without words, a man that teammates could follow not only because of his ability to inspire in the locker room, but because of his innate skill and mental fortitude when the puck dropped.
There is no better role model for youngsters looking to pick up a pair of skates.
Lidstrom never had off-the-ice troubles, never flirted with leaving the city that loved him and never caused trouble with teammates or coaches.
His trail has been blazed in Detroit, but his mark will forever be felt throughout the NHL.
Players will aspire to play the game as Nick Lidstrom did.
Coaches will teach with him as their benchmark.
The sooner Lidstrom takes his rightful place in the Hockey Hall of Fame the better.