Maria Sharapova: Assessing Sharapova's French Open 2012 Performance
June 7, 2012

Mike Hewitt/Getty Images
Is it okay to write this: So far, Maria Sharapova has dominated the French Open? 
For a woman who had little success in the past at Roland Garros, Sharapova has made this tournament her...well, you know. Quickly, let's just run down some of the surface facts about her performance thus far at the French Open. 
In her first match against Alexandra Cadantu, she didn't lose a game. She won in straight sets, 6-0, 6-0. I don't care who you're playing, that's impressive. 
In her second-round match against Ayumi Morita, it was much the same. In that match, she lost one game in each set, winning 6-1, 6-1. In the second round, that is to be expected. And that is still domination. 
In the third round, she faced her first seeded player, No. 28 Peng Shuai. She lost only three games the entire match, winning 6-2, 6-1. Sure, each round she's lost more, but that is to be expected as each round the competition should be getting tougher. 
It wasn't until the fourth round that Sharapova was even challenged. Klara Zakopalova managed to win four games in their first set before surrendering to Sharapova. Then the Czech took Sharapova to what other sports would call overtime, or extra tennis. She actually ended up winning the second set, 7-6. 
At that point, Sharapova proved her meddle as she dominated Zakopalova, winning 6-2. It was by far the most challenging match she has had in Paris. 
That's because Wednesday Sharapova took Kaia Kanepi, the No. 23 seed, and bossed her around like a child. No, she didn't sweep her as she did Cadantu, nor did she allow Kanepi to win only one game per set.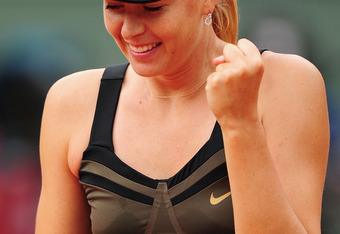 Mike Hewitt/Getty Images
But her set margin of victory: plus-four and plus-three (6-2, 6-3) is amazingly impressive for a quarterfinals match in a Grand Slam event. And that doesn't even begin to touch on some of the advanced statistics of the match. 
For instance, the total time of the match was one hour, 14 minutes. For a two-set match, that's pretty quick. Sharapova's conditioning is excellent for being this late in the tournament. That was shown in the fourth-round match when she dominated Zakopalova in their third set after playing the long second set with extra tennis. 
And, though against Kanepi she had zero aces, she won on 67 percent of her first serves, meaning she places the ball right where she needs it and is able to influence the play where she wants it to go in order to finish off the point. 
Her accuracy is wonderful, and a key reason she is dominating this tournament. 
In fact, her accuracy and endurance are the two primary reasons the French Open has become her tournament to lose. 
She's never won here before, but now it is almost unfathomable to think she won't leave here Saturday without her first French Open title and a career Grand Slam.