UFC 146 Fight Card: Why Junior Dos Santos Will KO Frank Mir
May 24, 2012

Mike Hewitt/Getty Images
"The one shot power of Junior dos Santos! Who can stop that man?"
"...Frank Mir!"
Or at least, that is what is being pitched to fans in the UFC's well-proliferated ad for the upcoming UFC 146 event.
As is custom when it comes to title fights where one guy is a heavy favorite, MMA pundits and the UFC's marketing department are trying to confabulate a way that this could be a close fight. We have seen this before.
Chael Sonnen, Vitor Belfort and Yushin Okami are all custom-built to beat Anderson Silva. Right?
Dan Hardy totally stood a chance against Georges St. Pierre. Right?
Dan Henderson's one-punch power is still totally good enough to beat Jon Jones, who has over a foot of reach advantage. Right?
Obviously not. There are people working overtime, trying to figure out ways to trick fans into feeling that this is a tossup of a fight. Make no mistake, though. Junior dos Santos is a heavy, heavy favorite.
Frank Mir is a good fighter, for sure. Definitely a top five heavyweight at this time. Regardless, short of a flukey punch that happens to KO dos Santos, or dos Santos willingly engaging on the ground (all signs indicate that he is too smart for this, however) Mir stands almost no chance against him.
This writer does not find Junior dos Santos as unbeatable as many do. The problem, though, is not dos Santos' explosive fists. The problem is Frank Mir's long, storied history of putting together bad game plans in his biggest fights.
Look over Frank Mir's bouts the last few years, and many of them are marred by this.
At UFC 100, Mir was set for a rematch with Brock Lesnar in a heavyweight title unification bout. Mir, who was walking around at about 245 pounds at the time, was at a serious disadvantage clinched, or on the ground, as Lesnar had a serious size advantage, walking around at about 285 pounds. This was a great compliment to his strong wrestling skills, and would be a big red flag for most fighters.
Lesnar, though, had an untested chin and his stand-up was not especially strong. Mir's best chance was to work his takedown defense, keep the fight standing and try to rock Lesnar in order to set up for a submission victory.
Mir, instead, opted to try and out-grapple Lesnar, doing little to resist being pinned to the ground while working for a submission. Lesnar pounded him mercilessly for seven minutes until the referee saw that Mir was unable to respond.
After that, Mir scored a quick victory over kickboxer Cheick Kongo to qualify for an interim championship bout with Shane Carwin.
Carwin, at the time 3-0 in the UFC, had beaten all of those opponents by knockout. In fact, he was running through competition so quickly, that he had spent under three and a half minutes in the Octagon in those three fights.
After losing to Lesnar, Mir bulked up in a big way. Size-wise, Mir was about the same size as Carwin (though a little smaller). Mir had reasonably good hands, but not nearly as good as Carwin's and more importantly, Mir lacked the knockout power his opponent was demonstrating at that point. Carwin was a NCAA Division II wrestler, but had not demonstrated that in the UFC yet while Mir was still undeniably one of the best ground fighters at the time.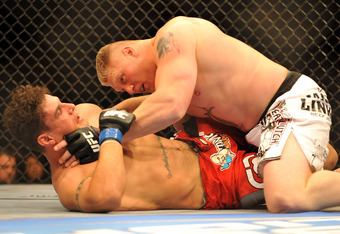 Jon Kopaloff/Getty Images
Logically, Mir would want to tap into his own wrestling past, take Carwin down and try to submit the relatively inexperienced knockout artist. Nope.
Mir tried to stand and bang with Carwin with unsurprising results. The two clinched and Carwin spun Mir into the cage, and started landing short punches. While those punches would not be much from most fighters, effortlessly generating power is Carwin's biggest strength, which resulted in Mir wilting to the mat in the first round.
While Mir lost both those fights, poor strategic moves end up a part of his victories, as well.
Mir's most recent fight, a rematch with Antonio Rodrigo Nogueira, is a great example of this. Mir and Nogueira, on paper, were comparably skilled both standing and on the ground. Mir's greatest edge against "Big Nog" was his size. Mir had about 20 pounds on him, and he is quite good at bullying people around the cage.
He would have been wise to clinch Nogueira, strike from that position, keep him against the cage and then employ some lay and pray. This is Frank Mir, though!
While the bout famously ended with Nogueira getting a new joint in his arm, most of it took place standing up. Nogueira rocked Mir twice and was very close to having the referee call it a fight. Though ultimately, this bout is considered one of Mir's greatest wins, it still showed some of his bigger weaknesses.
This bout with Nogueira (with some help from Alistair Overeem) set up for another title fight for Mir. Junior dos Santos is possibly the best boxer in MMA today, but is yet to be challenged on the ground in the Octagon. This, obviously, is Mir's biggest strength.
While it would make sense for Mir to try and go for a single-leg takedown, look for him instead to try to clinch, then drag dos Santos down. Mir has a suspect chin making it unlikely that he can get close enough for long enough to pull this off. This adds up to a likely knockout loss.
Again, Mir really is a strong fighter and one of the best stories in MMA. Regardless, he probably lacks the tools to beat Junior dos Santos. But even if he does have them, history shows he is probably going to leave them at home.