Philadelphia Flyers' Claude Giroux Won't Let Casts Get in Way of Beer Pong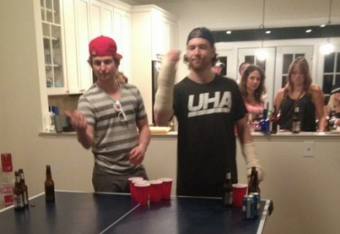 The Philadelphia Flyers' Claude Giroux would like you all to know that he is just fine and the casts he is rocking on both arms will not hinder one moment of his beer-drinking.
Giroux may have been bounced from the Stanley Cup playoffs with the rest of his team, but he is in fine form off the ice and we have the proof.
Before we delve into Giroux and his amazing feats of partying, we need to understand his pain. From Yahoo Sports, the Flyers' star has undergone two more surgeries than you would normally like.
The forward had surgery on his right wrist because of torn cartilage and surgery on his left wrist to remove bone spurs. The report issues he needs six weeks to recover.
That timetable doesn't translate to drinking games.
Riley Schmitt of Rant Sports has a photo of the forward playing a friendly game of beer pong, a sport that counts as one of the few I am still good at.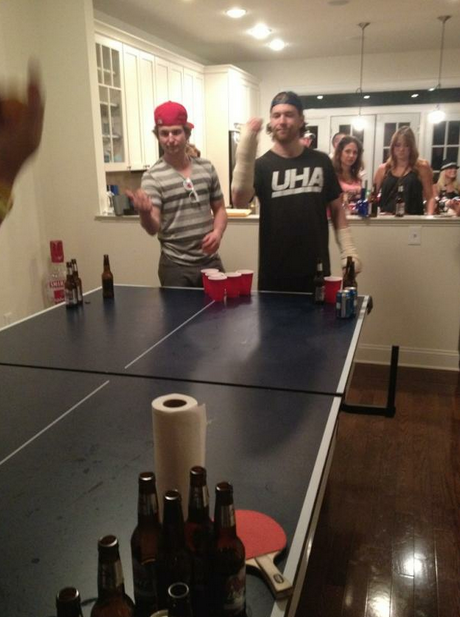 Photo Credit: Rant Sports
Giroux and his hipster buddy seem to be working the table as they have a good amount of cups left while the opposite side are apparently stacking up the empty beer bottles.
This isn't the only piece of evidence that you can't keep an injured man down.
Crossing Broad has a picture of a pudgy Giroux playing some Baggo with his shirt off. Here is a photo that Flyers fans may find hard to look at.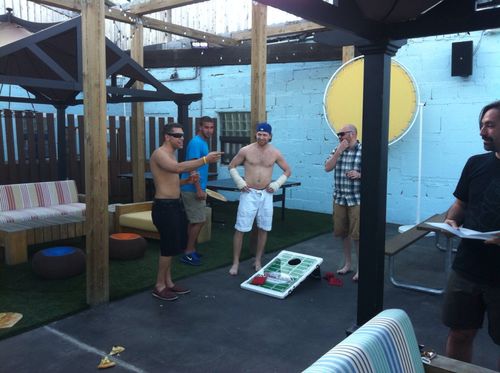 Photo Credit: Crossing Road
It features a Giroux that is getting rather soft around the midsection as he hangs with the bros.
Now comes the debate as to which beer sport is better and why. I have a few friends that are serious about their Baggo, or as they call it, Cornhole.
However, nothing beats a riveting game of Beer Pong. It has everything thing you want in a competition.
There is the thrill of coming from behind as you knock down buckets like Kobe Bryant. Like bowling, any shlub can be a hero for one brilliant moment in time.
Everyone is happier when they are chucking a ping pong ball into a red cup, and it allows us to forget about our worries.
For us mere mortals, those worries usually revolve around that one water cup that devolves into a creamy mixture of used beer and random dirt from the ground.
For Giroux, that worry is his two injured arms. We should all now thank beer for its apparent and unrivaled curative properties.
Follow me on Twitter and tickle your fancy.
This article is
What is the duplicate article?
Why is this article offensive?
Where is this article plagiarized from?
Why is this article poorly edited?