New York Rangers and 5 Teams That Must Succeed for NHL to Grow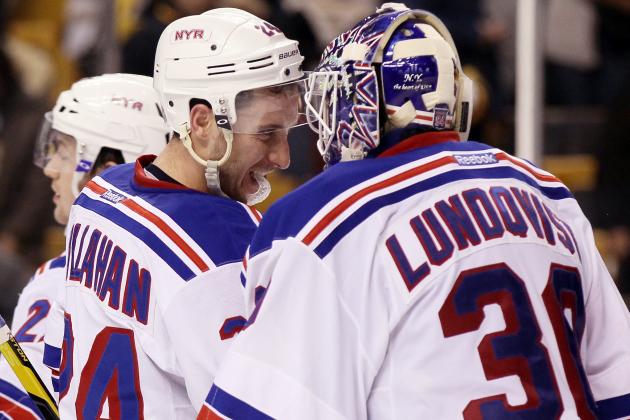 Elsa/Getty Images
Rangers captain Ryan Callahan and goaltender Henrik Lundqvist lead a talented group in New York.
The New York Rangers are now in a best-of-three series against the New Jersey Devils for the Eastern Conference Championship and a trip to the Stanley Cup Finals against either the Los Angeles Kings or the Phoenix Coyotes.
As one of the teams from the NHL's "Original Six" era, the league needs storied franchises in big markets like the Rangers to succeed and attract new fans. New fans like often gravitate towards a team with a long history full of tradition and legends. Playing in the biggest media market on the East Coast doesn't hurt either.
Suddenly, bunches of Empire State-folk are following the Rangers this postseason.
Since taking over as the General Commissioner of the NHL in 1993, Gary Bettman has experimented with expanding into the southern United States and other non-traditional hockey markets. His efforts have worked out in some cities including Raleigh, Tampa Bay, Anaheim and Dallas, whose teams have all won a Stanley Cup. However, despite success by these teams, fair-weather fans are often quick to forget the their respective city's professional hockey team.
Additionally, some southern US franchises like the Atlanta Thrashers failed altogether and the Phoenix Coyotes were a few negotiations away from relocating.
Regardless, the NHL has expanded beyond its traditional boundaries, and more and more young players are coming out of sunny states like California and Texas.
While storied franchises in large markets like the New York Rangers need to compete annually, teams in non-traditional hockey towns need to establish tradition, field a competitive team and remain consistent to attract a bigger fan base and turn into hockey hotbeds.
Begin Slideshow

»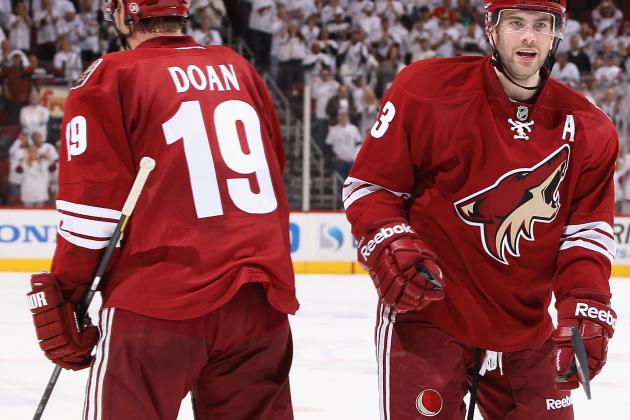 Christian Petersen/Getty Images
Coyotes captain Shane Doan and all-star defenseman Keith Yandle helped Phoenix advance to the Western Conference Final this season.
The Coyotes ranked dead last in average attendance for the 2011-2012 season, an "honor" they've held for much of their existence.
The NHL decided to relocate a failing franchise in Winnipeg, Manitoba to the desert in Phoenix, Arizona. Makes sense, right?
Fast forward 16 seasons, and the Phoenix Coyotes, winners of the Pacific Division, are in the Western Conference Final for the first time in franchise history.
Basically, if hockey can succeed in Phoenix, it can survive almost anywhere. Hockey is starting to break boundaries and sprout up all over the world. Mexico, only a short drive from Phoenix, now has a semi-professional hockey league and a National Junior Team. Mexico!
Attracting new fans, young fans who still can learn to play the game is part of the NHL's focus. Building a strong team in an area where ice is almost harder to find than Jimmy Hoffa greatly would substantially the NHL's reputation and status.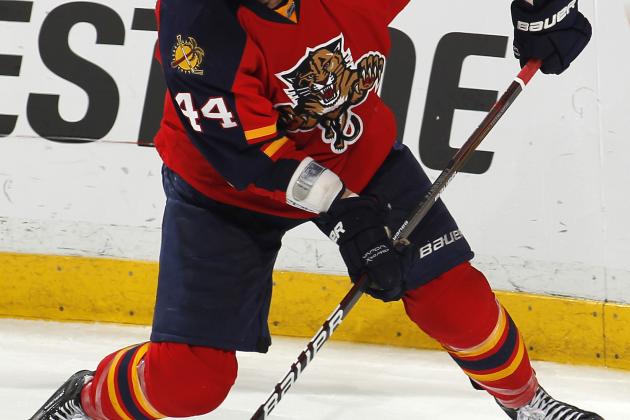 Joel Auerbach/Getty Images
Panthers monsterous defender Erik Gudbranson should be dishing out big hits in Sunshine, Florida for seasons to come.
Another team in a sunny, southern state, the Panthers benefit from playing in a community where old, retired, relocated hockey fans come to watch their hometown teams play against the hometown Panthers, but still only average about 87 percent of capacity per game.
The NHL expanded into Miami in 1993. In 1996, Florida upset their way to an Eastern Conference Championship, but lost the Stanley Cup to the freshly relocated Colorado Avalanche in a four game sweep. The team won its first division championship this season, losing in the first round of the playoffs to the New Jersey Devils in seven games.
With the Tampa Bay Lightning winning a Stanley Cup in 2004, a team that filled over 95 percent of its arena this season, maybe there's room for only one professional hockey club in Florida.
However, losing an expansion team in a nontraditional hockey market would really force the NHL to start questioning its ability to cater to new fans in non-traditional markets, especially with the failure of the Atlanta Thrashers, the second failed franchise in the city of Atlanta.
Northern United States and Canadian fans will watch, play and follow hockey no matter what, but if sunny cities start boasting a bigger fan-base, the NHL will become a more competitive league in terms of popularity.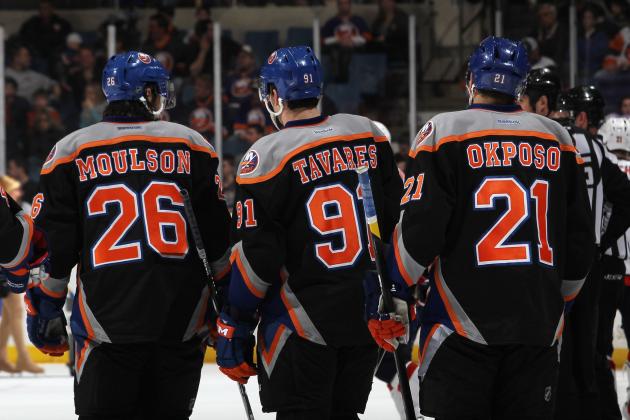 Bruce Bennett/Getty Images
Players like Matt Moulson, John Tavares and Kyle Okposo highlight a young Islanders roster.
The Islanders are one of the most storied franchises in NHL history, winning four consecutive Stanley Cups from 1980 to 1983 and five Conference Championships from '80 to '84 and boasting NHL legends like Denis Potvin, Bryan Trottier, Mike Bossy and Billy Smith.
However, hockey has struggled on Long Island in recent years with the team failing to make the playoffs since the 2004-05 NHL lockout.
The team is in need of a new arena, and without one in New York, Jon Tavares and Matt Moulson may be pulling on a jersey with Kansas City or Quebec City on the front. Let's just hope *if* this happened, the new owners would have the sense to change the team's nickname. Looking at you, Utah.
If the NHL can't preserve one of its most historic franchises, is any team safe?
The Pittsburgh Penguins almost moved to Kansas City before reaching an agreement with the state to help fund a new arena with a lot of help from Commissioner Bettman, so there's hope the NHL can still save the youthful Islanders.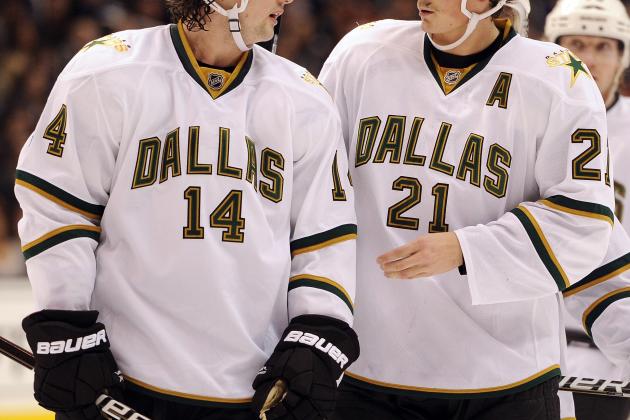 Harry How/Getty Images
Stars forwards Jamie Benn (#14) and Loui Eriksson (#21) emerged as big time players in Dallas this season.
The Minnesota North Stars relocated to the Lone Star State in 1993, deciding simply to drop the "North" portion of the team's nickname instead of changing the team's name to the Dallas South Stars. (Thank you.)
One of the most dominant teams of the late 1990s, the Dallas Stars won two President's Trophies, two Conference Championships and the 1999 Stanley Cup with NHL legends including Mike Modano, Brett Hull, Joe Nieuwendyk and Ed Belfour.
However, the team failed to make the playoffs for a fourth consecutive season this year and filled up about 77 percent of their gorgeous American Airlines Arena.
To make matters worse, the team declared bankruptcy in 2011.
With some good, youthful talent and a new management team in place, the Stars hope to re-establish themselves as a Western stronghold and start making some money again.
I had hoped to work in an "Everything's bigger in Texas" joke on this slide, but alas.
However, for a phenomenal book on hockey in Texas (and the life of a minor league player) check out Jason Cohen's Zamboni Rodeo.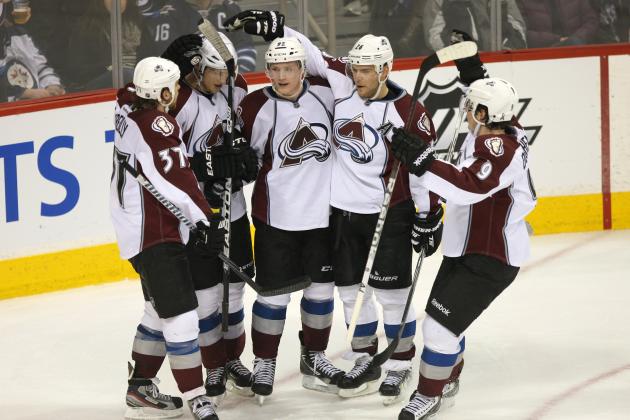 Tom Szczerbowski/Getty Images
The young Colorado Avalanche players have high expectations to live up to in the "mile high city."
Hockey failed in Quebec City? Well, that's another story for a history class, but long story short, no, it did not.
The Quebec Nordiques relocated to the "Mile High" city in 1995 and (fittingly) became the Colorado Avalanche.
The team won the Stanley Cup in 1996 and again in 2001, making for one of the most inspirational stories in sports when defenseman Raymond Bourque finally won hockey's ultimate prize.
The Avalanche have made the playoffs twice in the last five seasons, but boast an incredible cast of youthful players and should have a bright future.
With no NHL teams for miles, Colorado can influence countless fans from multiple states as far as Utah and Wyoming to Nebraska and Kansas.
Hockey is pretty big in Denver, but extending the Avalanche's (and the NHL's) reach to states that don't even house a team is a huge deal. The Avalanche were one of the most exciting teams to watch in the late '90s and early 2000s, and need to start winning again to keep fans' interest.