Rome 2012: Rafael Nadal Beats David Ferrer, Books His Place in the Final
May 19, 2012

Julian Finney/Getty Images
The score read 7-6 (6), 6-0 once the two-hour-plus battle between Rafael Nadal and David Ferrer had ended.
But it doesn't quite do the match justice. In my preview of the two semis, I envisioned Rafa winning in straights, as he simply does everything a bit better.
Today, that wasn't quite true—in the first set, at least.
David Ferrer started the match boldly, hitting big, going for Nadal's backhand and opening up the court with inside-out forehands.
He earned seven break points in the second game of the match, but could not convert a single one of them.
Nadal's lefty serve helped him in this regard. On most break points and on many game points, he will serve from the add court.
He utilized that advantage to great effect today, drawing his opponent out off the court with his slice serve.
It wasn't until the tiebreak that Ferrer won a point off Nadal's first serve from the add court. At that point, he had won every second or so from the deuce court.
Nevertheless, Ferrer got his break at 2-1, but Nadal broke right back to 2-3. And so it went to the tie-break; Nadal had converted his lone break point of the set and Ferrer had converted just one of 10.
Ferrer had played better for most of the set and set the tone for the tiebreak as well. But an ill-advised drop shot didn't clear the net and Nadal got the mini-break back.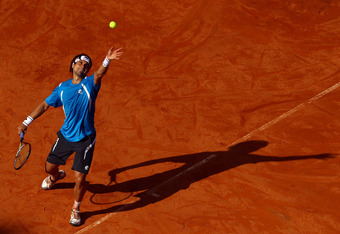 Julian Finney/Getty Images
A backhand in the net gave Nadal a mini-break, but Ferrer got back.
A few times earlier in the set, Ferrer had some bad misses from the net, and at 6-6 that cost him as he floated a volley to high. Nadal sprinted to it and flicked a backhand cross-court.
Where did it land? On the line.
Set-point. Ferrer sent a forehand long and went into a tailspin.
He handed Nadal a 2-0 lead in the second by virtue of four consecutive errors, two forehands he narrowly overplaced and two bad errors.
Another easy hold for Nadal and another few errors from Ferrer and he was down 0-3, 0-40.
That's when he regained a bit of his momentum, fending off five break points in the game.
But to no avail. Nadal broke him again.
When a Ferrer forehand on the back line was called long at 15-0 in the next game—before the umpire corrected the ball and had the ball be replayed—Ferrer threw his racquet in frustration.
Not a single thing went his way. And everything went Nadal's way.
The second set was not as much about Nadal raising his level to new heights (he made eight winners to six unforced errors in that set), but more about Ferrer caving in as so many opponents before him have done against the king of clay.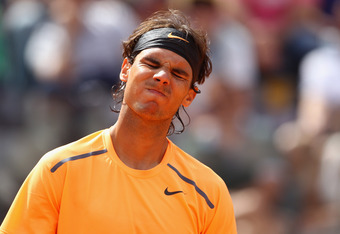 Julian Finney/Getty Images
When you don't take your chances as Ferrer didn't in the first, you feel like you've already lost the match.
Nadal looked ominous on the forehand, played the big points better and battled through stretches of too many unforced errors and a well-playing opponent.
I've only seen highlights from the Nadal-Berdych quarterfinal. But if Nadal's level from this match is any indication, Nadal is not quite as untouchable as I thought.
He was attackable throughout the match by deep balls to his backhand and the open court on his forehand side. Ferrer did a great job at exploiting Nadal's second serve, especially in the first set.
At times, Ferrer used the Djokovic game plan to great effect. Had he edged out the first, then who knows.
Nadal will still be the favourite tomorrow against either Federer or Djokovic (read the preview for that match here).
But judging by today's level from Nadal, both the Djoker and the Fed will have a decent chance against him.