Rome 2012 Preview: Roger Federer vs Novak Djokovic, Rafael Nadal vs David Ferrer
May 18, 2012

Matthew Stockman/Getty Images
We've come to the final weekend and we have the usual suspects playing one another. The Big Three are still in it and David Ferrer, the ever consistent clay-courter, has joined them in the semis. 
Rome is the final tournament before the clay season culminates in the French Open on the 27th of May. Novak Djokovic is the defending champion having defeated Rafael Nadal 6-4, 6-4 in one of the best matches played last year. 
This year, the title is not the only important price on the line. Sure, if either Rafa or Roger wins it, they will lead the other with 21 Masters titles to 20. 
But perhaps as important, is the ranking. If Rafa wins, he gets back at second and will be second seeded for the French. If anyone but Rafa wins, Roger is second-seeded for the French and has a 50-50 chance of drawing Murray in the semi instead of Rafa. 
Is it likely that that would increase his chances of making it to the final. 
If Djokovic wins it, he sends a very strong signal prior to the French. 
Finally, if Ferrer wins it, it will be the culmination of his career and a much deserved first Masters title after three runner-ups, one of them in Rome. 
Now to the preview.
Roger Federer vs Novak Djokovic: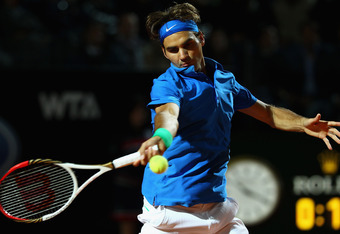 Clive Brunskill/Getty Images
This is, by far, the most open semifinal of the two. It will be played at 3 pm, EST. Federer leads the head-to-head 14-10 and 3-1 on clay (though one of those was way back in 2006, before Djokovic got good). 
Most will remember their legendary French Open clash last year, where a scintillating Federer stopped Nole's never ending winning streak and probably did Rafael Nadal a huge favor by doing so. 
If not, Nole very well might have been the French Open champ. 
I have to say, I'm not as convinced by Djokovic as I was even six weeks ago. Due to his 2011 form, I gave him the benefit of the doubt. 
In fact, I still do. 
In my opinion, he has dipped half a level in pretty much every aspect of his game. His first serve is easier to attack, his backhand is more error-prone (as is his game in general), he doesn't dominate from- and hug the baseline to the same extent, his shots are not quite as penetrating and well, he loses a match here and there. 
All of this could be expected. The difference is not massive, but it's there. 
We all know that the French Open is his main goal for the season. If he wins it, he immediately jumps a level on the all-time greatest list by being the first since Laver in 1969 to hold all four slams at the same time.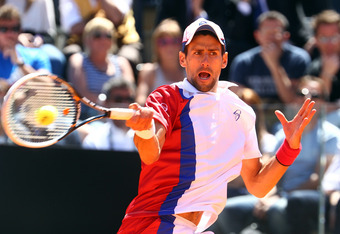 Julian Finney/Getty Images
For that reason, there's an argument to be made that Novak's level is exactly where it should be. Sure, he's not given it his all in each and every tournament. but he's pacing himself for that one goal that has the ability to define his entire career. 
I won't put anything past him after last year. However, right now, I do believe Federer is playing at a higher level than Novak. 
The match will be decided on how well Novak handles Federer's serve (today he handled Jo Wilfried Tsonga's extremely well), how well Federer is able to mix it up (Federer's variety and change of pace are what makes it hard for Novak to play him) and how well Federer's backhand holds up against Novak's attack on it. 
Whoever wins will not be envied. In the final, the biggest challenge tennis has to offer is probably waiting: Rafael Nadal on red clay. 
Djokovic did it last year in Rome. Federer almost did it in one of the greatest matches of all time in the Rome 2006 final, where he held match points. 
You cannot blame either for unconsciously wanting to dodge that bullet three weeks short of the French Open final. Still, both Federer and Djokovic are competitors and winners and neither would ever tank a match to avoid Rafa. 
At the same time, the prospect of a win over Rafa is all the more tantalizing: A massive dent in Rafa's confidence just prior to the French. Last year, he was visibly shaken through the draw after Novak's onslaught of him in Madrid and Rome.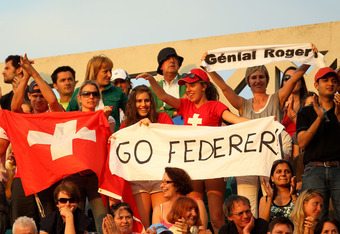 Alex Livesey/Getty Images
Granted, he still won it, but he got extended to five sets for the first time ever. And that in the first round. 
Anyhow, Federer versus Nole should be telling about their respective chances at the French. It's a pick'em really, but I give the slight edge to Federer based on recent form, head-to-head, and match-up. 
Prediction: Federer in three. 
Rafael Nadal versus David Ferrer
I didn't get to see much of the Nadal-Berdych match today, but from the reports, Rafa was in his very, very best form and was simply unplayable hitting a ridiculous 34 winners to 10 unforced errors. 
That's great news for Rafa and his fans, and bad news for everyone else. Rafa in this form on clay is the closest thing tennis has to a safe bet. 
The match will be played at 11 am EST. Rafa leads the head-to-head 14-4 and 11-1 on clay. That lone Ferrer win came way back in 2004, before Rafa really became Rafa. 
In the ensuing 11 defeats, Ferrer has won but two sets, one in Monte Carlo in 2005 and one in Barcelona in 2008.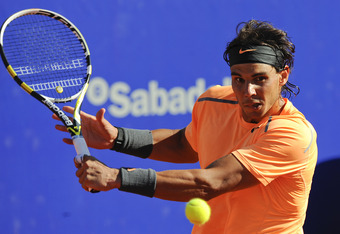 David Ramos/Getty Images
On a smaller scale, Rafa is to Ferrer what Federer is to Andy Roddick, i.e. the guy keeping the other guy from winning trophies. 
Though Ferrer played Rafa close in the Barcelona final a month ago (7-6 (1), 7-5), there are few reasons to think he can beat Rafa in Rome. 
Nadal simply does everything better. Ferrer can play him close, but he probably needs a dip from Rafa to beat him. 
That can happen as evidenced by Fernando Verdasco's first ever win over Rafa a week ago in Madrid. 
But this is not Madrid, the clay is not blue, but red, and Rafael Nadal has won the the title five times. 
Prediction: Nadal in two. 
Final: Nadal beating Federer for his sixth Rome crown, thereby advancing to World No. 2 prior to the French. 
Alternative final: Nadal beating Djokovic. Until I see Djokovic beat Nadal on clay again or play at his 2011 level, I do believe Nadal has regained the upper hand on this surface. Not by much, but the margins are small at the top.