Tom Renney: Best Candidate for Edmonton Oilers' Vacant Head Coaching Job
May 17, 2012

Christian Petersen/Getty Images
The Edmonton Oilers have decided that head coach Tom Renney will not return for the 2012-13 NHL  season, according to the team's twitter account.
Edmonton Oilers General Manager Steve Tambellini announces the club will not renew the contract of Head Coach Tom Renney

— Edmonton Oilers (@NHL_Oilers) May 17, 2012
The Oilers finished with the second worst record in the NHL this season, but got lucky at the draft lottery last month and won the first overall pick for the third consecutive season.
Last year, the Oilers finished with the worst record in hockey.
According to TSN's Darren Dreger, the Oilers won't make a decision on Renney's replacement quickly.
The Oilers took their time deciding on making this coaching change and are in no rush to hire Tom Renney's replacement.

— Darren Dreger (@DarrenDreger) May 17, 2012
In two seasons with Edmonton, Renney was 57-85-22 and never finished better than last in the Northwest division.
The Oilers need a strong coach to improve a team that is young and must get better defensively.
Let's look at three possible replacements for Renney in Edmonton.
Todd Nelson
Todd Nelson became the first ever coach of the Oilers' AHL affiliate the Oklahoma City Barons, and helped the team improve from a fifth place finish in the Western Conference last season, to a first place finish this year.
He knows the organization well and has a fascinating understanding of the game. Nelson would certainly work well with the Oilers' young stars.
Mark Messier
Mark Messier has what it takes to be a general manager or head coach at the NHL level, and he obviously knows the Oilers franchise very well.
Messier won five Stanley Cup championships with Edmonton and is one of the greatest leaders the sport of hockey has ever seen.
Messier has coaching experience with Team Canada from a few international tournaments, and would be someone the young players on the Oilers would immediately respect and want to play for.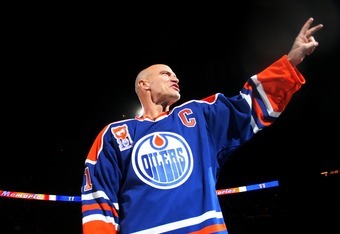 Tim Smith/Getty Images
Brent Sutter
Brent Sutter seems to be a top candidate in many people's minds to replace Renney in Edmonton. Sutter knows the Oilers very well from his years as head coach of the rival Calgary Flames.
Sutter coached the Flames for the past three season but failed to make the playoffs each time.
Last month, the team decided that he would not return as head coach for the 2012-13 season.
With his great experience and knowledge of the game, Sutter is a tremendous option for the Oilers. Sutter is known for his ability to develop young players and there's no reason why he wouldn't be able to turn Jordan Eberle and Ryan Nugent-Hopkins into superstars.
Nicholas Goss is an NHL Featured Columnist for Bleacher Report and was also the organization's on-site reporter for the 2011 Stanley Cup Final in Boston.