NHL Playoffs 2012: Updating the 10 Best Active Playoff Beards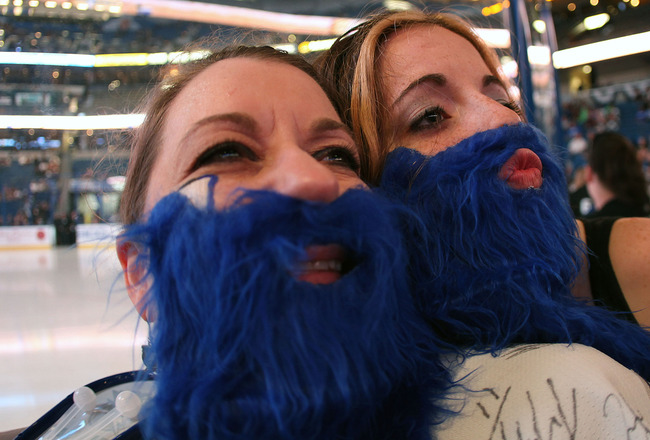 Eliot J. Schechter/Getty Images
The playoff beard is a great NHL tradition. It allegedly started with the New York Islanders back in the early 1980s when they went on their run of four straight Stanley Cups, and it has continued in one form or another ever since.
The beard symbolizes solidarity among teammates and reinforces that the players won't shave until they have completed their mission of winning the most prized trophy in all of sports.
Even fans get into the act (see photo).
Here is a look at the 10 best playoff beards among the four teams still in contention for the 2012 Stanley Cup.
David Clarkson, New Jersey Devils
Bruce Bennett/Getty Images
Clarkson is a valuable playoff contributor for the Devils who is tied for the league lead with three game-winning goals in the playoffs this season.
He is the only player left among the four active teams to score 30 or more goals and have more than 100 penalty minutes during the regular season.
He may not be on the top scoring line for New Jersey, but he's physical, experienced and comes through in the clutch for his team.
Henrik Lundqvist, New York Rangers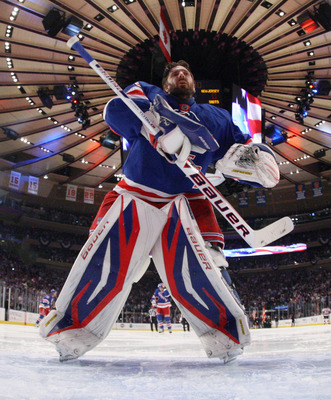 Bruce Bennett/Getty Images
The Rangers goalie seemingly has it all. He's been featured in GQ magazine, has won an Olympic gold medal and is up for both the Vezina Trophy as the league's best goalie and the Hart Trophy as league MVP.
Henrik is clearly the best player on the Rangers and is the biggest reason they have reached the Eastern Conference final for the first time since 1997.
He is looking to win his first Stanley Cup and is growing a stylish playoff beard.
Mike Richards, Los Angeles Kings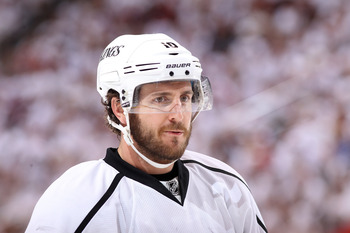 Christian Petersen/Getty Images
Like the Kings, Mike Richards had a disappointing regular season but has come on strong in the playoffs.
Richards was supposed to add offense to the Kings' lineup after being acquired from the Flyers last summer, but he added just 18 goals and 44 points—22 fewer points than he had in 2010-11.
But Richards has stepped up his game in the postseason scoring 10 points in 11 contests, placing him third on the Kings in playoff scoring. One of his goals was a game winner.
Keith Yandle, Phoenix Coyotes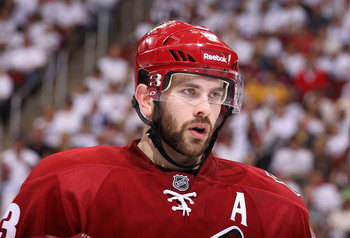 Christian Petersen/Getty Images
Yandle leads all Coyotes players with seven postseason assists and has the best beard on the Desert Dogs as well.
The 25-year-old Boston native has been a key part of the Coyotes' first trip to the Western Conference Final, contributing on both ends of the ice and being a key component of the Phoenix power play.
Ilya Kovalchuk, New Jersey Devils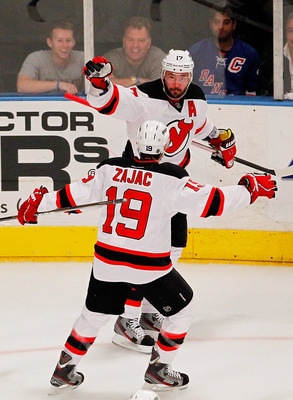 Paul Bereswill/Getty Images
Kovalchuk is the Devils' biggest scoring threat and leads all New Jersey players with six goals and 13 points this postseason. The Devils will be relying on their sniper to beat Henrik Lundqvist and help them get past the Rangers for their first trip to the Stanley Cup Final since 2003.
While critics say that Russian players often don't value the Stanley Cup the way North American-born players do, Kovalchuk doesn't fit that stereotype. On a team where playoff facial growth seem to be optional, Kovalchuk sports one of the best beards on the club.
John Tortorella, New York Rangers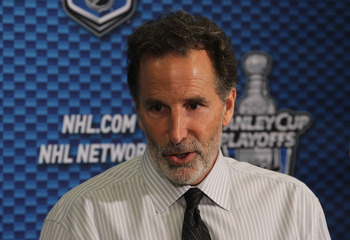 Bruce Bennett/Getty Images
OK, he's a coach, not a player, and he wears his facial fungus all year long, but how can we ignore John Tortorella when discussing playoff facial hair?
Tortorella's terse post-game press conferences leave both reporters and fans on their toes.
His no-nonsense style of coaching has already captured one Stanley Cup (with the Lightning in 2004) and he has the Rangers in the running for their first since 1994.
Dustin Penner, Los Angeles Kings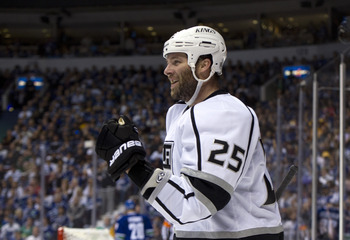 Rich Lam/Getty Images
Dustin Penner has been a valuable part of the Kings' playoff run. While injuries have reduced Penner's offensive numbers since he was acquired from Edmonton in 2011, the Winkler, Manitoba native already has eight points and a game-winning goal in this year's Stanley Cup playoffs.
He also has what may be the thickest beard of any player left in this contentious postseason.
Derek Morris, Phoenix Coyotes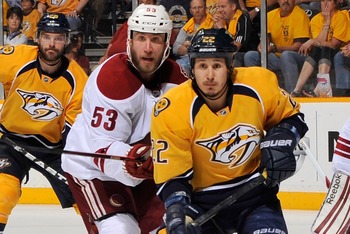 Frederick Breedon/Getty Images
Morris is a veteran leader on a young Coyotes team that is making its deepest playoff run in franchise history.
The 33-year-old Edmonton native has more experience than nearly any other player on the Phoenix roster and is a steadying influence on the Coyotes' blue line.
Ryan Callahan, New York Rangers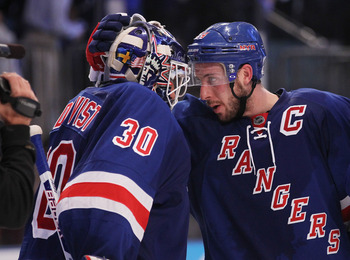 Bruce Bennett/Getty Images
Callahan has only three goals and six points for the Rangers this postseason, but he is the heart and soul of a New York club characterized by their blue collar work ethic.
Callahan plays physically and often sacrifices his body for the good of the team. He never quits and is the unquestioned leader in the locker room.
His beard is pretty tough, too, as we can see in this photo of the Rangers captain with goalie Henrik Lundqvist.
Justin Williams, Los Angeles Kings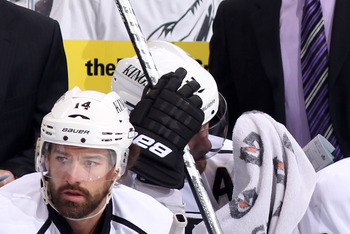 Christian Petersen/Getty Images
Justin Williams has been a steady force for the Los Angeles Kings this postseason. The Kings are a league-best 10-1 in the playoffs and Williams has been a big part of it.
Williams is more steady than spectacular, and his playoff beard has been steadily growing thicker with each passing playoff round.
Keep Reading