Devin Hester Will Never Be a Great WR—and the Bears Need to Stop Wasting Time
May 16, 2012

Justin Edmonds/Getty Images
You've got to be kidding me. The Bears must be pulling the ultimate practical joke on me because, once again, they seem to think Devin Hester is due to be great at wide receiver.
Let's get this straight.
Devin Hester is not a great wide receiver.
Can we agree on that? He's not even close.
If the concept of great wide receivers was on one side of the Grand Canyon and Hester was on the other, it would still be too close to reflect reality.
He might one day be consistent. You can say he's OK or good right now.
Great? Someone's gotta be pulling our collective leg.
This is a guy who has never even caught 800 yards, not even when he had 90-plus targets. He's never had more than four receiving touchdowns. He's caught just 55 percent of passes thrown his way.
This is a guy the Bears think is a No. 2 wide receiver?
On what planet? In what alternate reality is he worthy of this continued faith? He's fast? He's dangerous with the ball in his hands on a kick return?
Great. Track stars are fast. They don't get to be receivers in the NFL because of it. Just ask the Raiders.
Plenty of great return men were merely that—great return men. Not everyone who runs well with the ball can do it at more than one position.
Here we are, once again talking about what will happen this year, finally, we swear to God.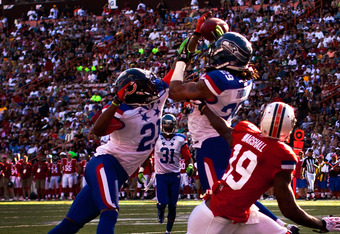 Kent Nishimura/Getty Images
If you don't want to hear this, you can blame Brandon Marshall for saying the second wide receiver job slot is Hester's to lose and B/R writer Sigmund Bloom for commenting on it. Blame Jay Cutler and Michael Wright of ESPN for it as well.
Actually don't blame Bloom or Wright—they're sharp guys and I would have gone off tomorrow morning when I read the quotes.
Quotes that, I'm sorry, but next to the Jets continuing to say Wayne Hunter is a good right tackle, are some of the most foolish I've read.
I wouldn't care if they said it was Earl Bennett's to lose. He's no Calvin Johnson, but he's only entering his fifth year, has struggled with injuries and isn't a gimmick in cleats. I could see him being touted as a No. 2.
Johnny Knox, even after a spinal injury—Knox is more of a true No. 2 than Hester.
What have we seen from Hester? He's gotten better, I'll give him that. He's played better.
Looking at him in games though, I see nothing that jumps out at me and says that THIS GUY (as Gruden would say) is the next big thing. He's fast, has decent hands and at times is elusive after the catch. None of that screams that he will ever be more than an OK receiver.
That's all.
You know what? There's nothing wrong with that. Nothing at all. It's better than 99 percent of people who ever strap on a helmet. It's still better than some guys in the league.
Yet every year we see this from Chicago. Another offseason wasted trying to make Hester into something he's not.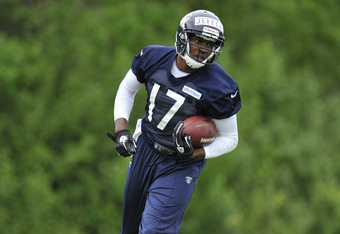 Brian Kersey/Getty Images
Even the media gets into it. In Bloom's piece he cites Dan Pompei reminding us that rookie wide receivers take time, so he'd be "stunned" if Jeffery go the initial start.
Then he points out that Wright said on Twitter that Jeffery is not a developmental project.
Rookie confusion aside, it's hard for me to see Jeffery as behind anyone aside from Marshall. At least I'd debate the merits of most of the others, but Hester?
Maybe, as Bloom says, Jeffery will be too good to bench. I hope, if that's the case, we see him on the field.
Because another season of underwhelming play followed by another offseason of "but this year" nonsense is a little more than the fans deserve.
Put the best guys on the field. Stop trying to create something that isn't happening.
Stop wasting your time. And ours.