Arsenal Competing with Manchester United and Newcastle for Defenders' Signatures
May 16, 2012

Around England this week, clubs began putting into motion their summer transfer plans. Undoubtedly, many clubs are looking at defensive reinforcements in an effort to try and maximize their point totals next season. Manchester United has been left with several "what if" scenarios regarding just one single point that prevented another title. Clubs like Newcastle look at how they could have wrestled fourth place from Tottenham, and Arsenal looks for preventing such a close call for third. With the completed season in mind, all three squads are targeting some rearguard help from across the channel.
Arsene Wenger has a long history of recruiting in his homeland. It is no surprise to anyone to hear Arsenal linked with any French player. To Arsene's credit, he has done a fine job of uncovering players who were unknown commodities. Laurent Koscielny is a prime example of Wenger going to his homeland and finding a solid addition to his team.
Reports are linking the Gunners with several French players this summer. Yann M'Vila, Olivier Giroud, and Younes Belhanda are some of the players who have been heavily linked to a London move so far. Flying under the radar are defenders Mapou Yanga-Mbiwa and Mathieu Debuchy.
Mbiwa is a central defender and captain for Montpellier. With his contract set to expire next summer, Mbiwa is a potential bargain. Despite being primarily a central defender, he has the ability to play anywhere in defense and as a defensive midfielder. This kind of flexibility is huge for clubs like Arsenal who were hit hard with backline injuries this past season.
Mathieu Debuchy plays right back for Lille, and has been a big part in Lille's run of success over the last few seasons. While Arsenal appears to be fine at the right back position, none knows how Sagna's injury will affect him going into next season. Debuchy is versatile enough to make the move to left back if needed.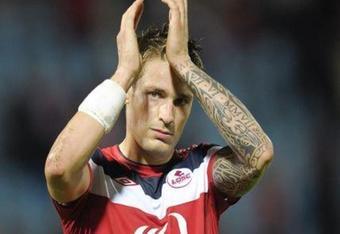 Arsenal is not alone in their interest in the two defenders. Manchester United has their eyes on both defenders as well. Alex Ferguson is keen to strengthen his backline and has found success with French players as well with Evra, and Cantona. United may be leading for Mbiwa. The Daily Mail picked up on a Canal Plus report that quoted Mbiwa as stating "Playing for Manchester United would give great satisfaction and it would mean a dream could become a reality". In the same interview, the 22-year-old also hinted at a Gunner switch by saying "Arsenal too are a big team".
Looking to crash the party is Newcastle United, Newcastle struck gold in France last summer by signing Yohan Cabaye from Lille. Cabaye had a tremendous season for Newcastle and is looking to bring his good friend Debuchy to the team. Mbiwa is also being tracked by Newcastle as they hope to solidify their defense. Newcastle has reportedly signed midfielder Romain Amalfitano from French club Reims in a deal yet to be announced as they look to build on their personal success with French players.
With EPL teams like Liverpool, Tottenham, and Manchester City also looking at French players, the fight for EPL supremacy is taking on a distinctively French flavor.