San Jose Sharks: Top 5 Candidates to Become McLellan's New Assistant Coaches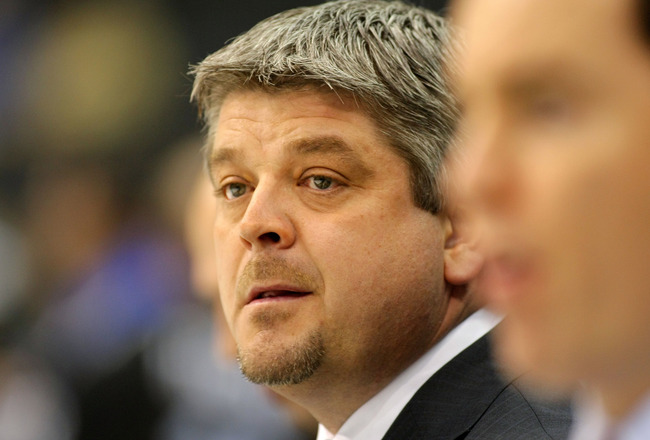 Victor Decolongon/Getty Images
Reports have surfaced recently that Sharks head coach Todd McLellan will be staying in San Jose for at least another season.
Elliotte Friedman of CBC Sports reported this week:
"Doug Wilson apparently told Todd McLellan three days after the season ended that the Sharks' bench boss was staying. Odd that there's been no announcement, but it sounds like there is a debate about assistant coaches."
The debate about assistant coaches makes perfect sense.
The Sharks lackluster abilities on special teams, primarily the penalty kill, are traditionally units that a teams assistant coaches are charged with handling.
McLellan's resume speaks for itself, but there is an obvious need for a shakeup in the Sharks dressing room.
And management is always one of the safest places to start.
Bryan Marchment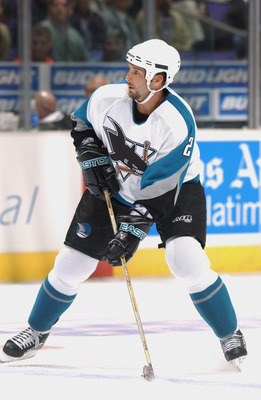 Harry How/Getty Images
Bryan Marchment is a prime leading candidate for any vacancy in the coaching staff in my opinion.
Currently, Marchment is a scout for the Sharks charged with the clubs player development.
Marchment's on-ice reputation made him loved by fans in San Jose and hated by fans everywhere else.
That reputation could be the very medicine for the Sharks to add a much needed physical element to their game.
Sure, the NHL Marchment played in is much different than the NHL we watch today, but he is from a class of players that laid the foundation for the game we watch now.
With a guy like Bryan Marchment behind the bench, you might even see a player like Patrick Marleau start to throw hits.
Mike Ricci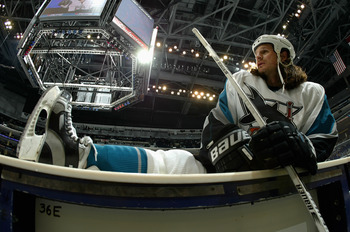 Jeff Gross/Getty Images
If there was a fan favorite for a vacancy in any coaching spot, it would be this man right here.
Mike Ricci was instantly beloved by fans when he landed in San Jose. From the long hair, to the toothless smile, Ricci was regarded as one of the hardest working players in the NHL for the majority, if not all, of his career.
Now Ricci may not be an X's and O's type of guy, but just like his former teammate Bryan Marchment, Ricci is a player from the school of old time hockey.
There is absolutely no doubt in my mind that the type of player Ricci was could reflect in his coaching. I would go as far to say that all the lazy plays we got used to seeing the Sharks execute this season would be gone in a heartbeat with Ricci on the bench.
Mike Haviland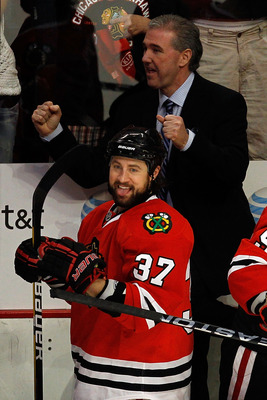 Jonathan Daniel/Getty Images
Mike Haviland is a person that some Sharks fans may not be familiar with, until I mention 2010.
Haviland was an assistant coach for the Chicago Blackhawks for four years, including their 2010 Stanley Cup season, the same year the Blackhawks swept the Sharks in four games during the Western Conference Finals.
Haviland was also awarded the AHL's Louis A. R. Pieri Memorial Award in 2006/07, which is given to the AHL's coach of the year.
This past May, Haviland was let go by the Blackhawks and is still without a job.
Nothing wrong ever came from putting a guy behind the bench that has a ring on his finger.
Tony Granato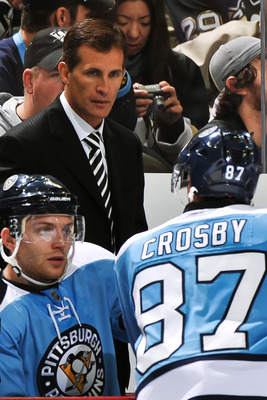 Jamie Sabau/Getty Images
Tony Granato is a player that Sharks fans who have been around for a while might remember.
One of the most feisty two-way wingers of his time, Granato spent 13 seasons playing for the New York Rangers, Los Angeles Kings, and of course, the Sharks.
Since his playing days were put behind him, Granato has stayed involved with the sport by coaching.
With Granato as head coach of the Colorado Avalanche, he compiled a record of 72-33-17-11, giving him the top coaching mark in franchise history based on points percentage (.647). Granato owns a .605 career winning percentage as an NHL head coach (72-44-17), the second highest in franchise history. Among active NHL coaches, Granato ranks fifth in career winning percentage behind Bruce Boudreau (.664), Dave Tippett (.632), Randy Carlyle (.630) and Mike Babcock (.621).
Since his exit from Colorado, he's found himself behind the bench of the Pittsburgh Penguins as an assistant to head coach Dan Bylsma.
Regardless of whether you like them or not, coaching players like Sidney Crosby and Evgeni Malkin certainly elevates your abilities, and there is no doubt the Sharks could benefit from the arsenal Granato brings to the table.
Darryl Sydor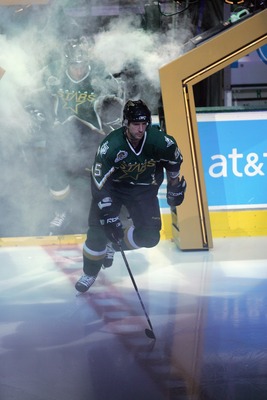 Ronald Martinez/Getty Images
Darryl Sydor is my lottery candidate, and one I'm pretty sure no one else will think of except myself.
Sydor was a player that I always looked up to when I was growing up, but he pretty much fell off of everyone's radar when he retired in 2010 after 18 seasons in the NHL.
Sydor played for a list of teams but reached his peak when he won Stanley Cups with the 1999 Dallas Stars and the 2004 Tampa Bay Lightning.
Sydor is currently an assistant coach for the Minnesota Wild, but everyone is involved in the game for one reason: to win a championship.
No offense to the Wild, but the chances of winning a Stanley Cup in San Jose might just be a little bit higher than Minnesota.
I've always felt that the people who engage the players best behind the bench are those that have been in their position before. As ex-players go, Sydor could be considered the cream of the crop in terms of assistant coaches.
David is a lifelong fan and player of hockey. He is a season ticket holder for the San Jose Sharks, and has been since the teams inception. Please feel free to comment on all is articles and give feedback/ideas for future articles you would like to see. And talk to him on Twitter, for every 300 followers, David will give 1K to an NHL Charity! Follow @TheReal_DB3
Keep Reading

San Jose Sharks: Like this team?