Dale Hunter Resigns: Potential Coaching Replacements for Washington Capitals
May 14, 2012

Mitchell Layton/Getty Images
Dale Hunter announced his resignation as coach of the Washington Capitals during a press conference on Monday afternoon.
Washington Capitals General Manager George McPhee said Monday that Dale Hunter has decided not to return to the Washington Capitals as coach.

Hunter, who replaced Bruce Boudreau on Nov. 28, signed a deal only for the remainder of the 2011-12 season, which ended for the Capitals when they lost to the New York Rangers in Game 7 of the Eastern Conference Semifinals on Saturday.

Hunter went 30-23-7 with the Caps, guiding them to seventh in the Eastern Conference, but the team seemed to improve as the postseason wore on, with the Capitals embracing Hunter's defense-first system.
Hunter did a commendable job attempting to infuse a defense-first system with Washington's group of talented offensive forwards, but will that stick now that he is gone? With Hunter no longer the head coach of the Washington Capitals, here are some coaches who could step in as logical replacements. 
Tom Renney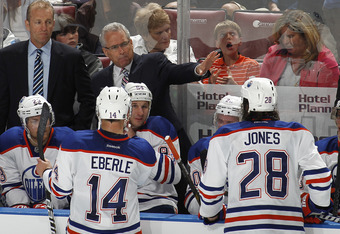 Joel Auerbach/Getty Images
There is no guarantee that Renney will be back with Edmonton, so if he is available then there is a good chance he could get the job. Renney, like former Capitals coach Bruce Boudreau, is a player's coach. This would placate to the offensive system Alex Ovechkin loves to play.
Renney could use Ovechkin like he did Jaromir Jagr with the New York Rangers during his tenure there. Renney is a good coach who has helped develop a young Oilers core, but odds are the team may look for a more accomplished coach to transition the team into a contending franchise.
Marc Crawford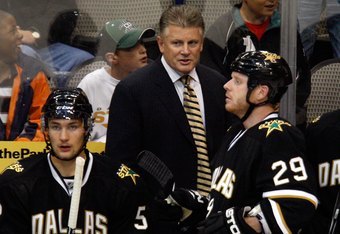 Ronald Martinez/Getty Images
Crawford, currently an analyst for TSN and NHL Network, is a coach with an accomplished resume. He is a former Jack Adams winner, an AHL coach of the year, a Stanley Cup champion and Team Canada head coach. 
Crawford may be known recently for his teams' inability to make the playoffs, but his coaching credentials, ability to work with young players and overall body of work make him a candidate for the vacant job. 
Mark French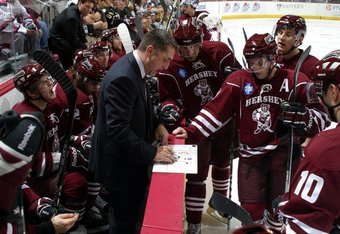 This may sound like an outsider pick, but it makes sense considering the direction the team is heading. The Capitals team slowly but surely was being integrated with players from the AHL's Hershey Bears. They slowly developed their craft before joining the big club.
Most of those players had success while Mark French was an assistant or the team's head coach. In three years as head coach, French has a 144-69-0 record and a Calder Trophy to his name. This move would hearken back to when Bruce Boudreau was called up from the minors to coach the big team.
Paul Maurice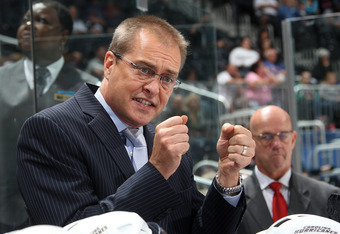 Scott Cunningham/Getty Images
Maurice has been to the Stanley Cup Finals (2002) and multiple conference finals (1999 and 2001), but he has not yet won the big one. Maurice is a smart coach who was fired early this season after a terrible start with the Carolina Hurricanes. 
With Washington, Maurice would have a good mix of offensive and defensive players and a solid goaltender in a similar situation he had during the Carolina's heyday. Experience is an area that would stand out when considering Maurice for the job.
Ron Wilson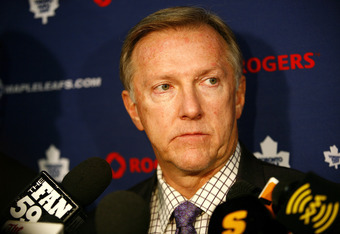 Phillip MacCallum/Getty Images
The last time the Capitals were in the Stanley Cup Finals, Wilson was the man behind their bench. Wilson is an accomplished coach with multiple playoff appearances and runs with various teams.
Wilson is known for his failures with teams like the Toronto Maple Leafs and San Jose Sharks, but it is often overlooked that he is a smart hockey man. The only issue is that Wilson doesn't always see eye-to-eye with players, so that might not work in this setting. Considering the history he has with the team, though, there is a good chance he will at least get a phone call from George McPhee.
Craig MacTavish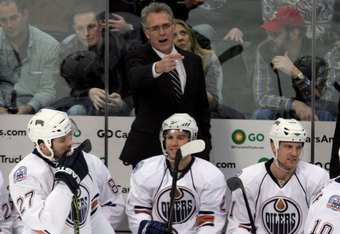 Doug Pensinger/Getty Images
The former Oilers head coach is a Stanley Cup champion and he knows what it takes to win. MacTavish took the Oilers to the Stanley Cup final and lost but his ability to work with players should not be overlooked. In this system, MacTavish could be a big asset for the Capitals.
Guy Carbonneau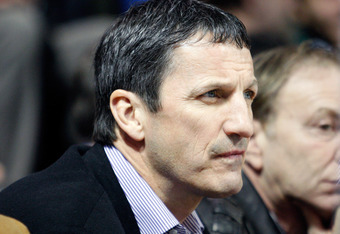 Richard Wolowicz/Getty Images
Carbonneau led the Montreal Canadiens during an exhilarating playoff run in 2007-08. He was fired before finishing out his next season and is now the President of the QMJHL's Chicoutimi Saguenéens. He is a three-time Stanley Cup champion is yet another name to consider for the Capitals to consider. 
Conclusion
The Capitals will look to hire a head coach as soon as possible with the NHL draft approaching next month. Hunter said he would stay on to help the team at the draft, but it would be good to have a coach with a vision for this team's future to be in place by that point.