Roger Federer Wins High-Quality Final in Madrid and Becomes World No. 2
May 13, 2012

Mike Hewitt/Getty Images
Roger Federer beat Tomas Berdych 3-6, 7-5, 7-5 in today's Madrid final and will pass Rafael Nadal as second in the rankings come Monday. 
A mere two points separated Federer (103) and Berdych (101) in a fantastic match. Berdych played a picture perfect first set, with 14 winners to a mere two(!) unforced errors (Federer was something like 12-for-9). 
Whatever he hit, it went in. Inside-out forehands, forehands on the run, backhand drives, clean return winners, you name it. He only hit 42 percent of his first serves, but little did it matter as he was equally strong behind his second. 
Federer got back in the match in the second as Berdych's level dropped a bit and Federer's rose. He got an early break and was up 5-2 on Berdych's serve. Little did it matter. 
Berdych was too good to be kept down for most of the match and broke Federer back with some stunning returns as Federer was serving for the set and couldn't find a first serve. 
Federer didn't play a poor service game, Berdych just played better. For instance, on set point Federer hit an inside-in forehand down the line from midcourt while approaching the net. 
Berdych had no business getting to it, but he did and hammered a running forehand pass down the line that Federer could only get a racquet on. Set point annihilated. 
At five all, Federer played the service game he should have played at 5-3, hitting unreturnables and finding his first serve.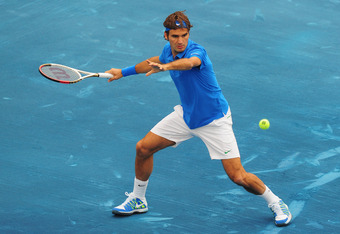 Mike Hewitt/Getty Images
And as he wasn't in the mood for a tiebreak, he turned the heat up on Berdych with a stunning backhand return among others. 
Berdych lost the set just as he had gotten back in it. 
The third was as close as the second. Berdych had an easier time holding serve than Federer, who went down 0-30 in his first three service games, but got himself out of trouble each time. 
At 3-4, Berdych serving, Federer earned himself three breakpoints. 
Berdych's response? 
Ace, ace, ace, his first three in the third. 
What came next what less good, though. 
Double-fault followed by double-fault. To be fair, though, the second didn't matter much as Federer hit a clean forehand return winner on it that Berdych would have had no chance in catching. 
Also, Berdych has beefed up his second serve against both Juan Martin del Potro yesterday and Federer today. And it has payed dividends in terms of winning points behind his second. But sometimes it cost him a double. That's a fair gamble in my book. 
Serving for the match at 5-3, Federer again couldn't find a first serve and hit but one out of six. Again, he didn't play a poor game with lots of unforced errors. Berdych just played better and hit some massive winners.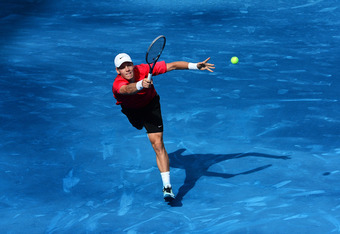 Jasper Juinen/Getty Images
Berdych got back at level, 5-5. Again, Federer, mimicking the second set, served much better as he wasn't serving for the match or the set and had an easy hold for 6-5. 
And then, in the final game of the match, he did what Djokovic and Nadal have indicated was impossible on this court.
He won it, primarily, by defending. By running left and right on the service line. By making Berdych hit that extra shot. By getting the massive first serve that Berdych had now found back in play.
And Berdych, who had been picture perfect in the first, caved in, hitting a few too many unforced errors. And finished by hitting a makeable forehand in the net. 
Both players deserve credit for the match. It was decided by the tiniest of margins and could have gone either way. 
Berdych played some of the best tennis he's been playing since Wimbledon 2010. He has all the weapons to be a great champion: massive serve, massive forehand, good backhand, crushing returns and a remarkable agility and return game for a man his size. 
Today it wasn't to be. 
Instead, Federer ties Nadal's record 20 ATP Masters titles and overtakes Nadal in the rankings. After 14 months as world No. 3, Federer is back at No. 2.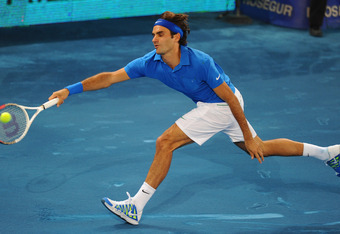 Mike Hewitt/Getty Images
That's something for the 30-year-old, but he's got his eyes set on bigger goals: Grand Slams, the Olympics and the World No. 1. 
No. 2 might be short-lived, though, as Nadal can reclaim the ranking with a victory in Rome. 
He potentially faces Raonic in the second round. That could be interesting and give us an idea about just how big a threat Raonic is on clay 
(Update: Raonic fell to Florian Mayer, who was 1-6 on clay going into the match. Perhaps he wasn't ready on clay as I thought after Barcelona and his Federer match). 
For now, congratulations to Federer and hats off to Berdych for making it such a great match to watch.