Milos Raonic: Possibly the Biggest Threat to the Big Three (Four) on Any Surface
May 11, 2012

Mike Hewitt/Getty Images
Milos Raonic continues to impress me. He first caught my attention last year at the Australian Open, where he got to the fourth round despite having to qualify for the tournament. 
In the process, he beat quality players such as Michael Llodra and Mikhail Youzhny before falling to David Ferrer in four. 
He continued to win San Jose, beating a displeased Fernando Verdasco in the final. Then he made another final, losing to Andy Roddick. Clearly, he was the next big thing. 
But then he couldn't really play on clay and fell early throughout the clay season. At Wimbledon, he got injured in the second round before a potential third round clash with Rafael Nadal. 
And pretty much stayed injured the rest of the year. 
While last year, he was mainly a massive serve, a big forehand and a calm mind, this year, he's shown tremendous improvement in all departments. 
I was, to be honest, lacklustre about his immediate prospects until recently.
I hadn't seen much of the Murray match in Barcelona (Raonic won in straights, I've caught extended highlights since) and while he did well against David Ferrer in the semis, he didn't impress me that much in that match. 
He won me back over when I saw the extended highlights against Murray and when I saw him against Federer on Wednesday (see my match report here).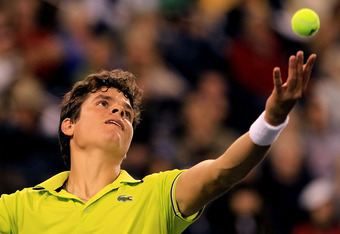 Matthew Stockman/Getty Images
Not only did he win his first 17 (!) serves against a guy who has always been an expert at neutralizing the big servers. 
His movement is also getting better, month by month, day by day and tournament by tournament. 
Aided by the improved movement, his groundstrokes are gaining consistency and his backhand is markedly improved and no longer a weakness. He hit quite a few winners with it against Federer. 
When he gets to the ball early enough, he strikes the ball cleanly off both wings. 
He can belt a forehand as hard as anyone on tour. And, this is perhaps the most interesting aspect, he can lob, improvise on the run and construct points as well (though he does prefer them short). 
Finally, for a kid who's only playing his second year on tour, he's incredibly mentally strong. He's never afraid to go for his shots and often edges out a close match.
True, he failed to close out Roger Federer when he could have and should have won. 
But which rookie doesn't fail against Federer? 
The match was an important learning experience for Raonic, who remained composed in defeat, knowing how close he had come and how close he now is.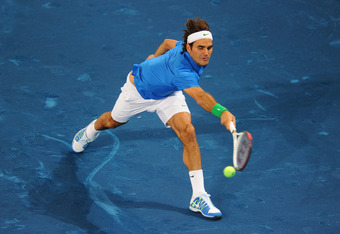 Mike Hewitt/Getty Images
Raonic already has a better record percentage-wise against top-ten players than David Ferrer, Tomas Berdych and Juan Martin del Potro, to name a few prominent examples. 
True, his sample is small (16 matches), but normally you start with a low percentage and gain ground once you develop. 
Furthermore, his tie-break record is better than every single player in the history of the game (59 tie-breaks, again a small sample, but still).
Given how many tie-breaks Raonic' serve will carry him to that tie-break record is an important stat. 
I think it is fair to say that with his play in Barcelona and Madrid, he has arrived as an all-surface threat to each and everyone in the field, including the Big Four. 
Consider this: Raonic won 84 percent of his first serves against Murray in Barcelona and 86 percent against Roger on Wednesday. On clay. 
For comparison, Isner usually wins about 70 percent of his first serves against Roger. 
Right now, though Isner is close, but Raonic is in a league of his own when it comes to the serve. 
The receiver is essentially left with a choice between two evils: stay back and get aced by his placement, or stay close to the baseline and try to react within half a second. And get aced.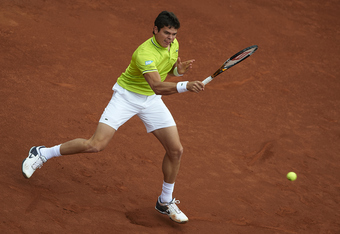 Manuel Queimadelos Alonso/Getty Images
There are a select few who can take out a member of the Big Four in a major (okay, Big Three; Murray sometimes has an odd upset, though it hasn't happened lately). 
They have one thing in common: They hit big and can take the racquet and the match out of their opponents' hands. 
The list runs: Jo-Wilfried Tsonga, Juan Martin del Potro, Tomas Berdych and Robin Söderling (when healthy).
David Ferrer is not on the list, because he's dependent on an opening from the Big Four in a way that the big hitters aren't. 
John Isner has added himself to the list this spring. Milos Raonic is the last man to join. 
But he very well may turn out to be the most dangerous of the bunch. 
Don't be surprised if he cracks the top ten this year and even make it to the World Tour Finals in London.
He's got next to nothing to defend for the rest of the year and he's already 8th on the year-to-date race. 
And he has the potential to make a deep run at any of the slams, most notably Wimbledon and the US Open. 
A guy who can blast 140-plus mph serves on a regular basis and win 31 percent of the points on Roger Federer's serve on a very fast clay court is not just dangerous: he's lethal.