Roger Federer Edges out Milos Raonic in the Third Set Tie-Break
May 9, 2012

Matthew Stockman/Getty Images
I predicted Roger Federer was in for a tough battle prior to the match. But it turned out that was understating it. 21-year-old Milos Raonic had Federer on the ropes for much of the match and almost stunned the man with the 16 Grand Slams. 
In the end, Roger won it 4-6, 7-5, 7-6 (4). 
The match was, predictably, a serving contest. Raonic started off with three aces on his first three first serves, two of them at 143 and 144 mph respectively. 
The forehand was almost equally devastating. Whenever Federer would leave a ball hanging or simply give Raonic a rally ball, he would blast it for a winner. 
Raonic hit 46 winners to a mere 24 errors. Federer was 37 to 36. Raonic outperformed Roger on serve and return. Really, the only two things Raonic could have done was a) the breakpoints and b) the third set tie-break. 
The first set was decided by one sloppy service game from Federer at four all. He didn't connect on the first serves, Raonic played a couple of points well and Federer gifted him two or three errors to be broken at love. 
Predictably, Raonic served it out. 
He earned breakpoints early in the second and possibly could have closed the lights on Roger. But Federer fought them off and the match was fairly regular service holds throughout the set. 
That is, until 5-5, where Raonic earned a virtual matchpoint and got a look at a forehand that he netted.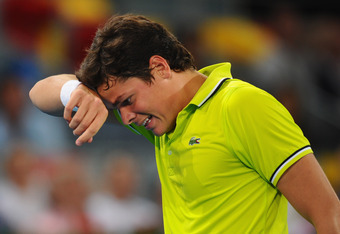 Mike Hewitt/Getty Images
At this point in the match, Roger had neither earned a breakpoint nor made it to deuce on Raonic's serve. He'd won a mere eight points in Raonic's nine service games and only one of those on a first serve on which Raonic was something like 25 out of 26 at this stage. 
But then he turned up the heat, got two first serves back in play and won them.
He earned his first two breakpoints at 40-15. He approached on the forehand, made a classic cross-court backhand pass that Raonic scrambled to and made an absolutely stunning one-handed backhand passing shot-winner down the line.
Too good. 
But Roger would not be denied and won the set on his first drop-shot of the match after a brief rally. 
The drop-shot would aide him further in the third as the two of them moved forward toward the inevitable tiebreak. 
Roger played an incredible amount of serve-and-volley, even behind his second. He ventured to the net 34 times and won 19 of them. 
Raonic had another couple of breakpoints in the third as he stayed strong behind his own serve, denying Roger anything more than 30-30. 
But he failed to convert. In the end, he would go 1/8 on breakpoints, whereas Roger went 1/2. 
The tiebreaker wasn't great from any of the players. Roger earned a crucial minibreak to begin with, but failed to capitalize further even when he got a good look on a couple of forehands.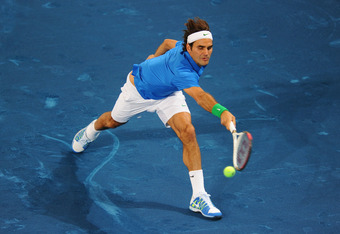 Mike Hewitt/Getty Images
Instead, Raonic earned the minibreak back as Roger missed a forehand passing shot by a centimeter. 4-5, Raonic serving. Roger blocked back the return and Raonic essentially handed him two matchpoints as he completely misfired on a massive forehand. 
First matchpoint, Raonic missed his first, went for a second slice out wide to Roger's forehand. Roger got to it and returned it with a clean cross-court winner near the line, not too different from the one Djokovic made against him down matchpoint last year at the US Open. 
Game, set and match: Roger Federer. 
That said, Raonic has a lot to be proud about in this match. And he's not all about the big serve that everybody is, rightfully, talking about. 
For instance, he returned two, fairly weak, Federer smashes for clean winners. He's got reactions and feel. His forehand is the bigger weapon, but he sure can hit a backhand too, when he goes for it. 
He hit multiple clean backhand winners down the line, one of them straight on it on a return of serve. And he's got that extra special improvisation when there's a call for it. 
At one point, Roger had him wrong-footed in the ad-court and Raonic hit a one-handed backhand slice almost from behind himself. 
It floated low, cross-court over the net and Roger could do nothing with it. A classic Roger Federer shot performed by Milos Raonic. And that wasn't the only time.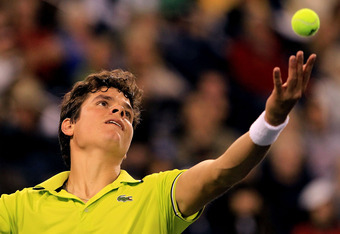 Matthew Stockman/Getty Images
In the end, Federer dodged the bullet today. 
But Raonic won more points overall (103-99), he had a better look at Roger's serve (Roger had to play 111 serves, while Raonic only had to play 91, indicating Roger's service games were closer) and really just failed to convert and capitalize on his many chances. 
That's no shame against Roger Federer. 
For Federer, the immediate draw is not nearly as packed, but still with several landmines to navigate. Next up is ever dangerous Richard Gasquet, then David Ferrer, then Novak Djokovic and finally Rafael Nadal, that is, if the seeds hold true. 
That's as tough as it gets for a guy just returning from six weeks off tour.