Stanley Cup Playoffs 2012: Expect Coyotes, Kings in Tight Defensive Series
May 13, 2012

Christian Petersen/Getty Images
In the opening two rounds of the 2012 Stanley Cup playoffs, the Phoenix Coyotes defied most odds.
Pundits said they did not have enough firepower to compete with players like Patrick Kane, Jonathan Toews, Marian Hossa, Mike Fisher, Martin Erat and Patric Hornqvist. In the end, scoring a ton of goals did not mean very much.
As the postseason progressed, the Coyotes defense evolved into a dependable unit, and together with anchor goalie Mike Smith, the Desert Dogs found ways to shut down the opposition. In the process, they advanced to the Western Conference finals for the first time in Winnipeg/Phoenix franchise history.
Now, they face another lethal band of scoring, and this time, the watch is on against the Los Angeles Kings' Mike Richards, Justin Williams, Anze Kopitar and captain Dustin Brown.
"I'm pretty sure everyone is probably picking against us again," said Phoenix captain Shane Doan after practice on Saturday. "It's where we want to stay, pretty low-key. We've had success as a team. It will be fun to experience."
Here at the beginning of this best-of-seven Western Conference finals, the focus is on Smith and Jonathan Quick, the Kings' netminder.
At this point in the postseason, each have been mentioned as Conn Smythe Award candidates, and it's likely if either goalie leads his team to the league championship, that hardware would find a permanent place on his book shelf.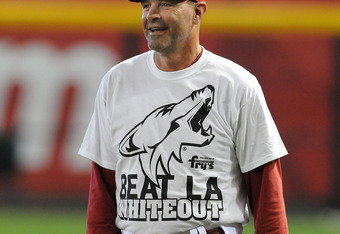 Norm Hall/Getty Images
For Quick, who is one of three candidates for the Vezina Trophy as the league's best netminder, this has been a season and postseason of consistency. The 26-year-old native of Milford, Conn., finished, statistically, as the No. 2 goalie in the league behind the Blues' Brian Elliott.
Quick and Smith posted similar numbers and both carried their teams this far in the playoffs. At this point, there may not be much difference in the numbers, though Quick, who has won eight of nine in the postseason, may have faced better competition.
In dispatching the No. 1-seeded Canucks in five and sweeping the Blues, Quick has a minuscule 1.55 goals against, and posted a 1.95 goals-against average in the regular season. He recorded 10 shutouts during the regular season, and added one more in the postseason.
Smith's numbers are nearly equal.
Named the NHL's player of the month in February, Smith ended the season with three shutouts in his final five games, had a 2.21 goals-against average, had 38 wins and recorded eight shutouts during the season. In 11 postseason games, he is 8-3 with 1.77 goals against and two shutouts.
"We faced two good goalies so far with (Chicago's Cory) Crawford and (Nashville's Pekka) Rinne," said Phoenix defenseman Keith Yandle. "We've been able to solve them. We know Quick is a good goalie, great goalie, playing well. We have more confidence in our net minder than theirs."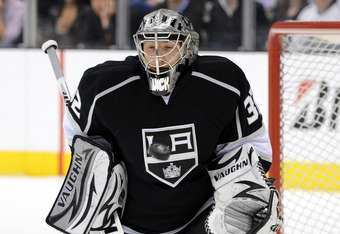 Harry How/Getty Images
If the goaltending is nearly even, there's not much different in the leading scorers either.
A rejuvenated Ray Whitney, who just turned 40, topped the Coyotes with 77 points (24 goals, 53 assists) and tied for 12th in overall league scoring. Kopitar led L.A. with 76 points (25 goals, 51 assists) and placed in a tie for 15th among leading scorers.
Save Radim Vrbata, neither team has a legitimate sniper. Then again, that may not make much of a difference because defense for both teams remain stellar.
Phoenix coach Dave Tippett pointed out after practice Saturday winning the small battles and making the fewest mistakes will likely push one team to victory.
"We look at our team, reality is, we're not going to go out and outscore people on a nightly basis," Tippett said. "We have to work people out, defend people. If we give easy goals away, we're not going to have much chance to win."
In the series win over the Predators, the Coyotes found ways to hang onto late leads and close down Nashville. To advance to the league finals and play for the Stanley Cup, their ability to close out the Kings will take a similar effort.
"Our players have recognized that," Tippett added. "It comes down to how we're going to win. They recognize how we have to play. They have to do their part. If we do it, we have a chance to win."
THE SCHEDULE
The Coyotes host the first two games, Sunday afternoon at 5 (local time) and Tuesday night at 6 (local time).
Games 3 and 4 Thursday night at the Staples Center (6 p.m. local time) and Sunday afternoon at noon, local time.
Game 5 is slated for Jobing.com Arena Tuesday May 22, Game 6 at the Staples Center on Thursday, May 24, and if a seventh game is needed, that will be played at Jobing.com Arena on Saturday, May 26.
INJURY UPDATE
Coyotes' defenseman Adrian Aucoin will not play in Game 1. David Schlemko will dress and give Phoenix its complement of six on the blue line.
--------------------------------------------------------------------------------------------------------
Mark Brown is a Featured Columnist for Bleacher Report. Unless otherwise noted, all quotes were obtained first-hand.