NHL Trade Rumors: Best-Case Offseason Trade Scenarios for Every Team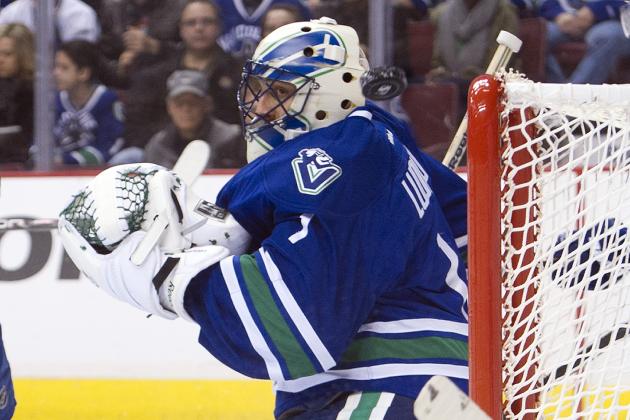 Rich Lam/Getty Images

With the NHL's conference finals underway, 26 teams are eliminated from contention in the 2012 NHL season.
These teams are all looking forward to what they will do in order to improve their chances of competing in future seasons.
Restricted free agents, the NHL draft and unrestricted free agency all bring opportunities for improvement, but some may be best suited by looking for a trade partner. Let's take a look at which trade would be the best-case scenario for each team this offseason.
Begin Slideshow

»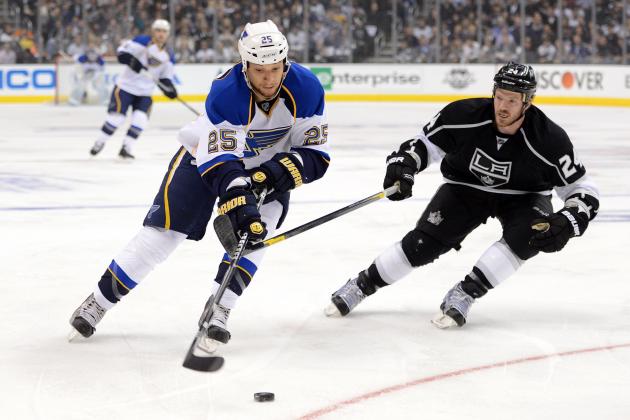 Harry How/Getty Images

Essential forwards Teemu Selanne, Jason Blake and Niklas Hagman are upcoming free agents.
The Ducks need to add a forward—a young one would be optimal.
They could go after the rights of 24-year-old restricted free agent Chris Stewart.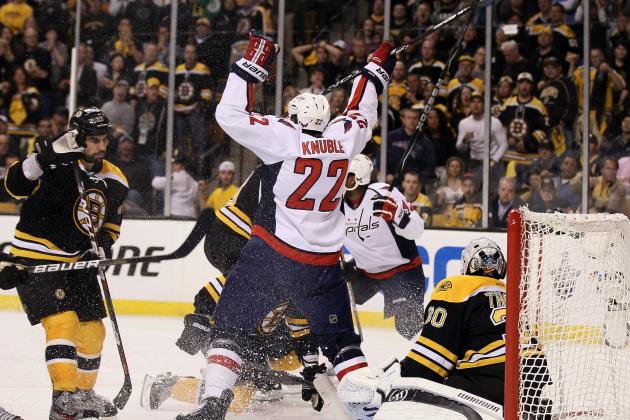 Elsa/Getty Images

The Bruins would be lucky to have Tim Thomas ever play as well as he did in the 2010-11 season again. With his declining value, Boston is wasting a trade opportunity every year they do not deal the 38-year-old.
Backup Tuukka Rask is ready to be an NHL starter.
Boston could deal Thomas (and his $5 million cap hit) for a defenseman. The Bruins have three free-agent defensemen this summer.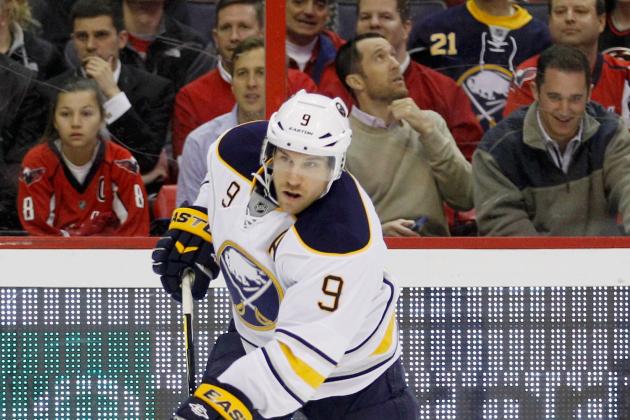 Rob Carr/Getty Images

Derek Roy for a big-framed forward.
The Sabres lack size, and the 5'9" Roy is not helping that. Roy also has a somewhat large $4 million cap hit they could be better off getting rid of.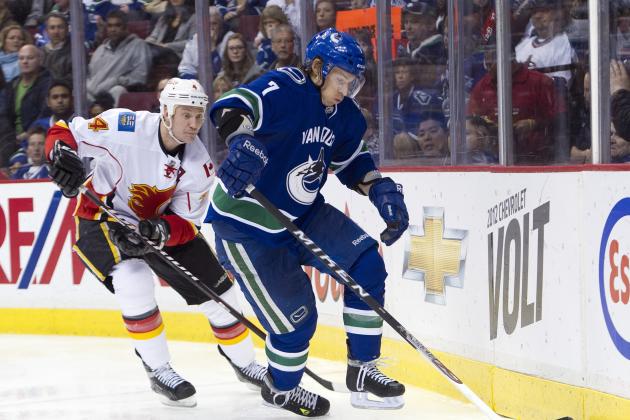 Rich Lam/Getty Images

The Flames need to do something that will help them make the jump from narrowly missing the playoffs to being in the hunt for the Stanley Cup.
Paying Jay Bouwmeester an average $6.68 million per season is not helping. Bouwmeester totaled 29 points with a team-worst minus-21 plus/minus this past season.
That cap space could be used to pick up a useful offensive player to help the team's abysmal offense, which was ranked 27th in the NHL with 202 goals this season.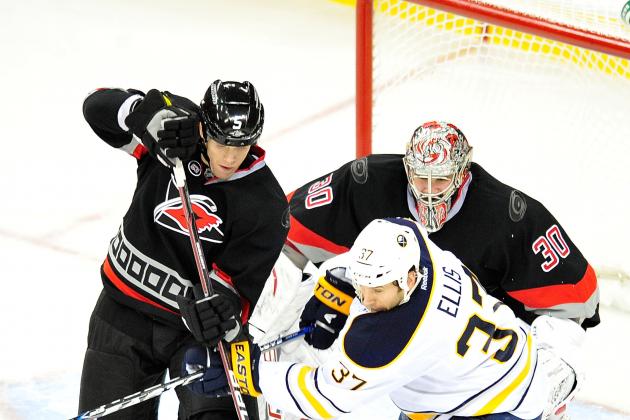 Grant Halverson/Getty Images

Carolina is likely to lose defensemen Bryan Allen and Jaroslav Spacek through free agency, so acquiring a young defender would be in their best interests.
Luke Schenn of Toronto could be available.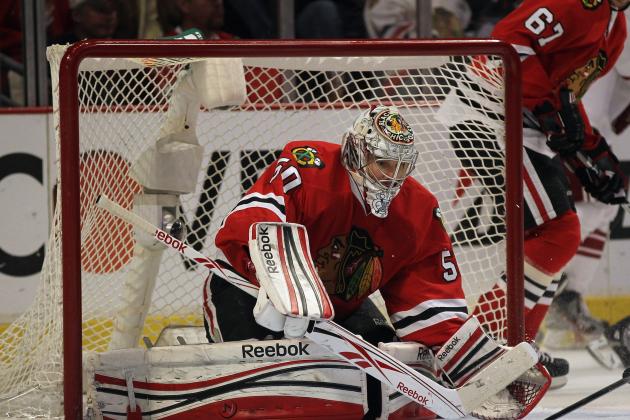 Jonathan Daniel/Getty Images

Getting rid of the disappointing Niklas Hjalmarsson and finding a better starting goalie would be good for the Blackhawks.
Crawford could be an upgrade for some teams with awful goaltending situations, but not in Chicago.
They would be dangerous with a better netminder.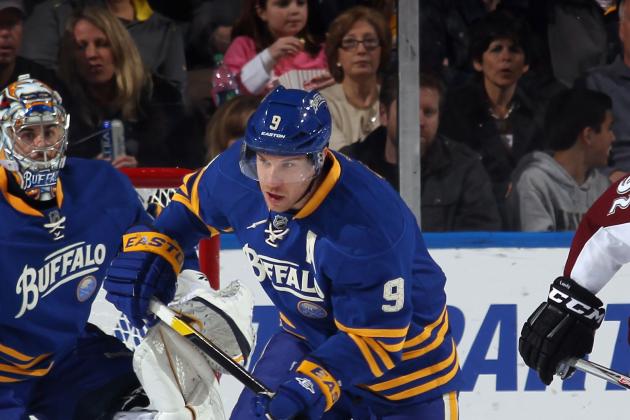 Bruce Bennett/Getty Images

The Avalanche would do better to add veterans to a young core that can provide offense.
Derek Roy of the Buffalo Sabres serves as an alternate captain and could be on the trade block this offseason.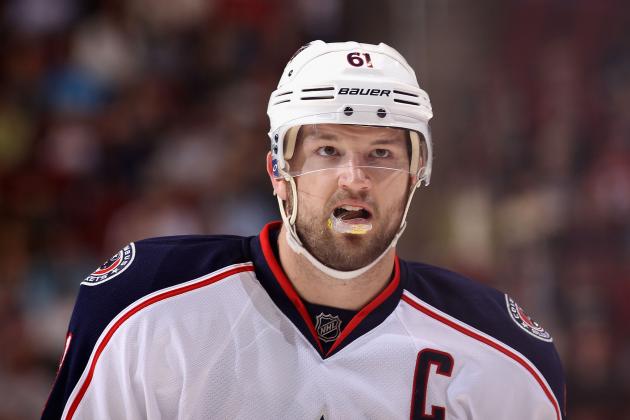 Christian Petersen/Getty Images

The best-case scenario for a team as bad as this would be some type of roster overhaul.
Ridding themselves of Rick Nash after failing to trade him at the deadline, while getting a reliable starting goaltender to replace Steve Mason, would both be good areas to start with.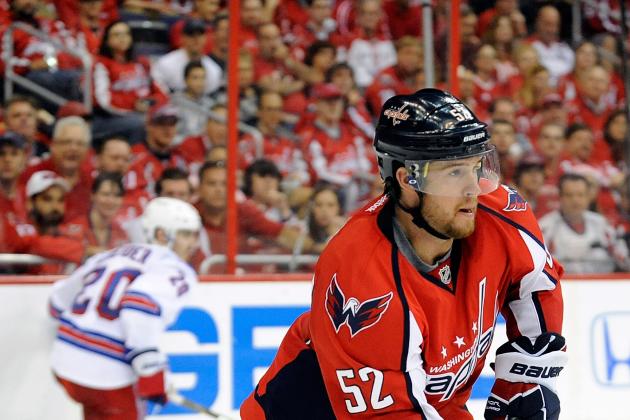 Greg Fiume/Getty Images

Dallas needs an offensive defenseman that can help their power play.
Trading for the rights of restricted free agent Mike Green could be a big move, though Washington may choose to focus on re-signing Green and let other free agents walk, such as Alexander Semin.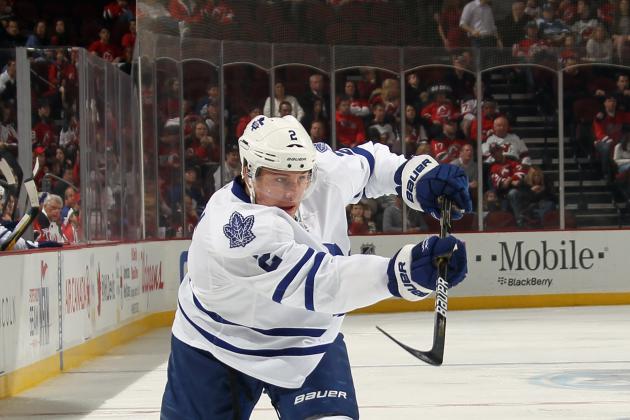 Bruce Bennett/Getty Images

Detroit needs to add defense with Nicklas Lidstrom nearing the age of retirement and Brad Stuart possibly leaving through free agency.
Though a few options are available on the free-agent market, the Red Wings could also address the issue by dealing with a team deep in defensive depth like the Maple Leafs.
They could go after Luke Schenn or get the rights to Cody Franson.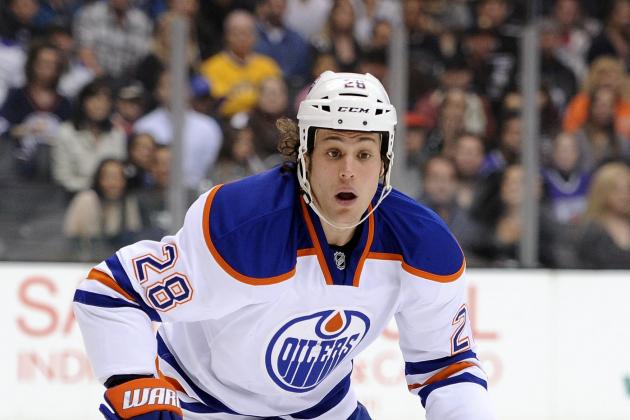 Harry How/Getty Images

Edmonton has plenty of promise on the offensive side through youthful forwards, including Taylor Hall, Ryan Nugent-Hopkins, Jordan Eberle, Sam Gagner and the likely selection of Nail Yakupov with the first overall choice in this summer's NHL draft.
What the team needs is defense while looking towards the future.
Winger Ryan Jones could be traded, as could Nikolai Khabibulin if the team found a taker for him. Khabibulin's contract runs out after next season, so the young Oilers team would not have much of a purpose in keeping the aging goalie.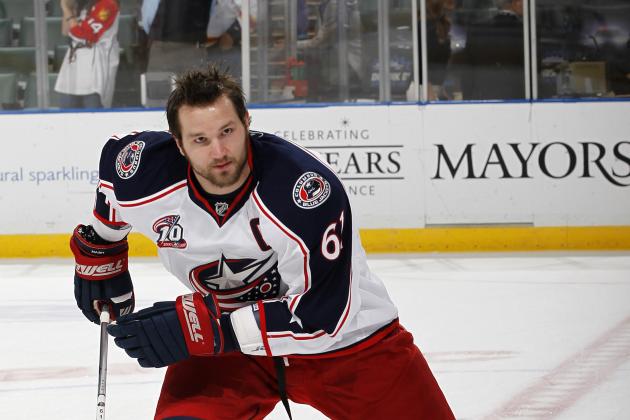 Joel Auerbach/Getty Images

The Panthers need to add offensive depth and have enough cap space to trade for Rick Nash.
Additionally, Florida has one of the best system of prospects in the NHL. It would not hurt them much to give up some of them in an effort for Nash.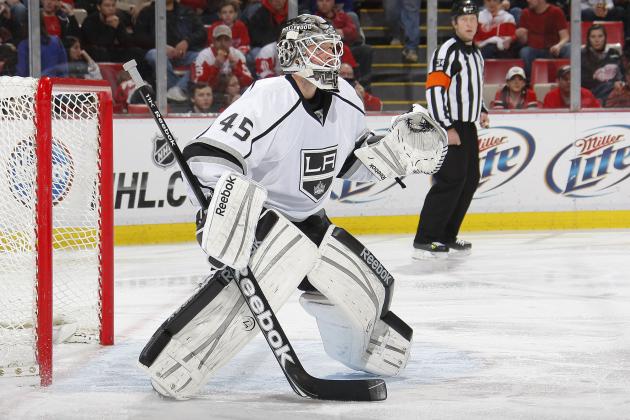 Dave Sandford/Getty Images

The Kings' late season acquisition of Jeff Carter and the reemergence of Dustin Penner have helped the Kings' 29th-ranked offense in the regular season have the best goals scored per game of any playoff team not in Pennsylvania.
Still, Penner is an unrestricted free agent who could draw interest on the open market.
The team has a quality backup goalie in Jonathan Bernier. With the elite play of starter Jonathan Quick, the Kings do not have much of a need for Bernier. He could be used to lure some offense to Los Angeles.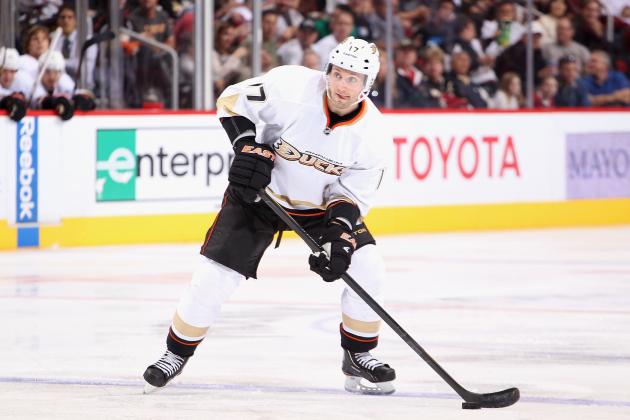 Christian Petersen/Getty Images

The Wild could use additional offense through the help of an offensive defenseman.
Lubomir Visnovsky of the Anaheim Ducks could help them in that category. The Ducks do not look to be a playoff team next season. With the aging Visnovsky in the last year of his contract, he could be a good asset to trade away.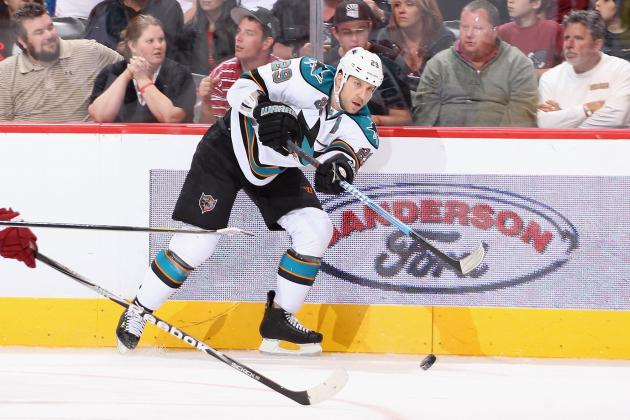 Christian Petersen/Getty Images

The best-case scenario for Montreal involves finding someone to take Scott Gomez' huge contract, but that is very unlikely.
The Canadiens are strapped for cap space and need more grit, so trading for an inexpensive power forward could be an excellent option.
San Jose's Ryane Clowe brings both scoring and toughness if the Canadiens look to add that.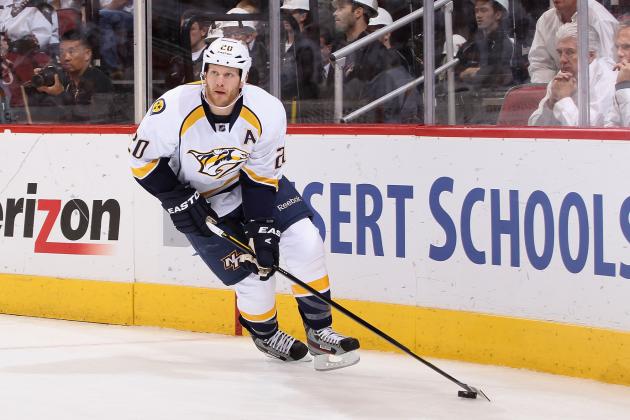 Christian Petersen/Getty Images

The Predators have 15 free agents on their NHL roster, including Shea Weber, Ryan Suter, Alexander Radulov and Andrei Kostistyn. It will be difficult for Nashville to keep all of them.
Their best bet is trade the rights of whoever they can't sign to another team before July 1, much like the Phoenix Coyotes did with the Philadelphia Flyers and Ilya Bryzgalov last season.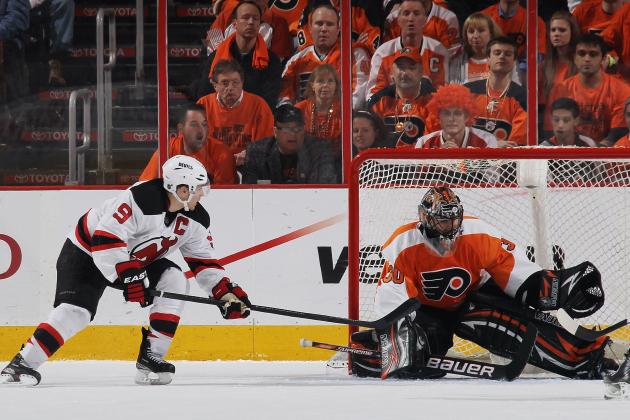 Bruce Bennett/Getty Images

Only one Devils forward (Ilya Kovalchuk) is signed with the team after next season. The Devils are going to need offense for the long term and will certainly need to add more forwards if captain Zach Parise leaves through free agency.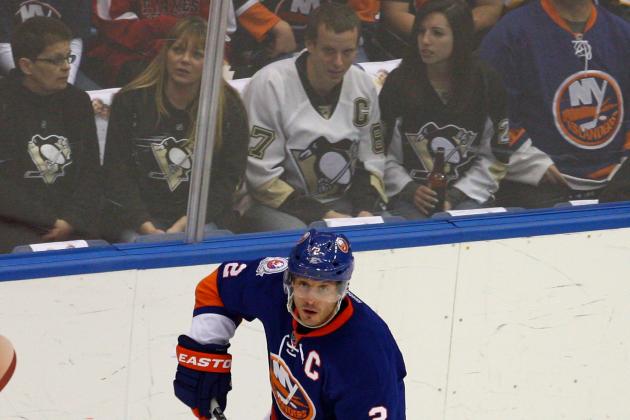 Chris Chambers/Getty Images

The Islanders are developing a strong youthful regiment of prospects. The team needs help in essentially all areas of play: offense, defense and goaltending.
With the team built for a future that is a bit farther off, trading away older veterans would be ideal.
Defenseman and team captain Mark Streit is 34 years old. His offensive abilities and leadership could benefit a number of teams.
Christian Petersen/Getty Images

The Rangers could improve more on the offensive side than they probably could defensively.
This offseason could be when they get a deal for Rick Nash done, potentially involving Brandon Dubinsky.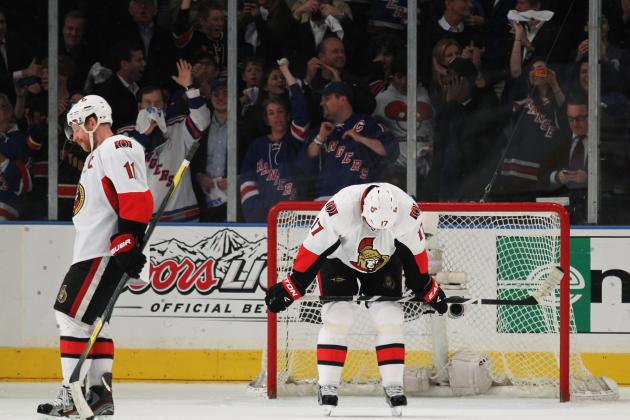 Bruce Bennett/Getty Images

Defensemen Sergei Gonchar, Filip Kuba and Chris Philips are 37, 35 and 33 years old, respectively.
Finding a younger replacement would be very beneficial, especially since Kuba is a free agent this summer.
The Senators would do well to go after any of the available defensemen.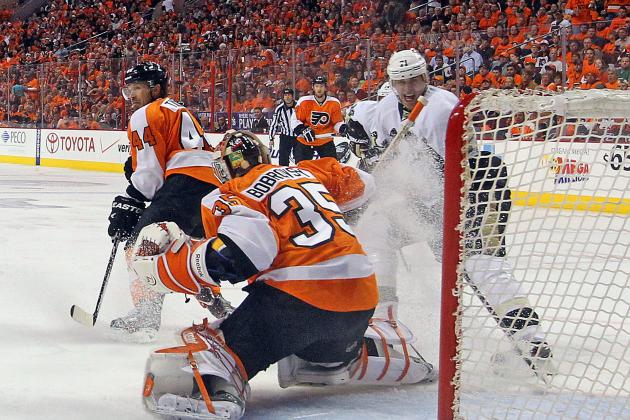 Bruce Bennett/Getty Images

The Flyers do not have much cap space to work with, but they have a valuable trade asset in backup goalie Sergei Bobrovsky.
The team needs to add defense to help the absence of Chris Pronger and address the likely departure of Matt Carle through free agency.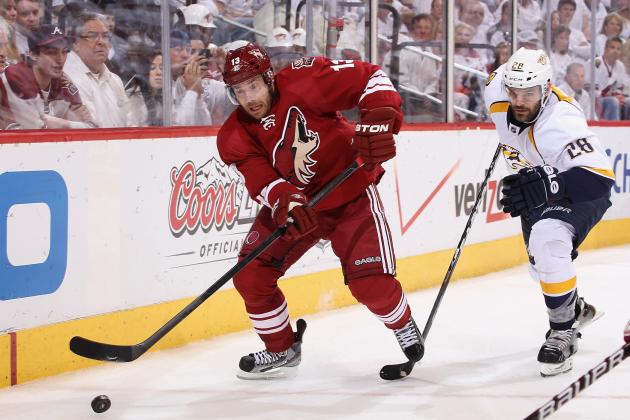 Christian Petersen/Getty Images

The Coyotes have a number of veterans, including key forwards Shane Doan, Ray Whitney and Daymond Langkow, hitting free agency this summer.
The financially challenged team may not be able to compete well in the free agency market but could keep the franchise in a "win now" situation by trading draft picks for replacements.
Phoenix making it to the conference finals means their draft pick will be relatively late.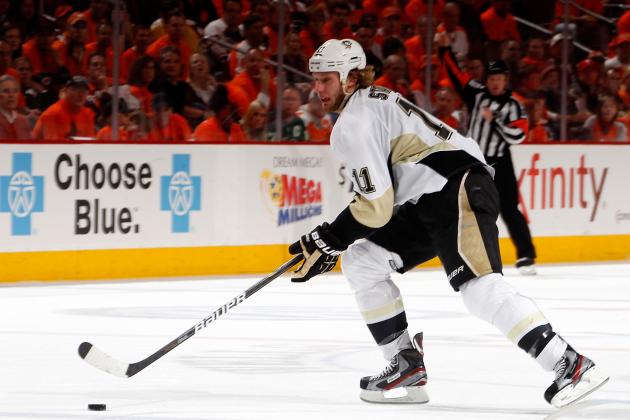 Paul Bereswill/Getty Images

Pittsburgh has a peculiar situation with Sidney Crosby and Jordan Staal entering the final seasons of their contracts.
The Penguins do not have much cap space to work with as it is, never mind enough to try giving raises to two of their elite players.
Trading Staal might be an option, since he is almost certain to leave for another team next summer.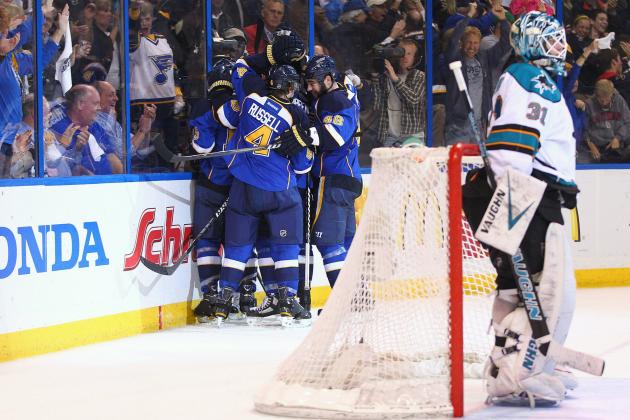 Dilip Vishwanat/Getty Images

The Sharks have a number of young goalies in their system, and it seems to be making them comfortable with trading Antti Niemi.
San Jose reportedly offered the goalie to Philadelphia for forward James van Riemsdyk.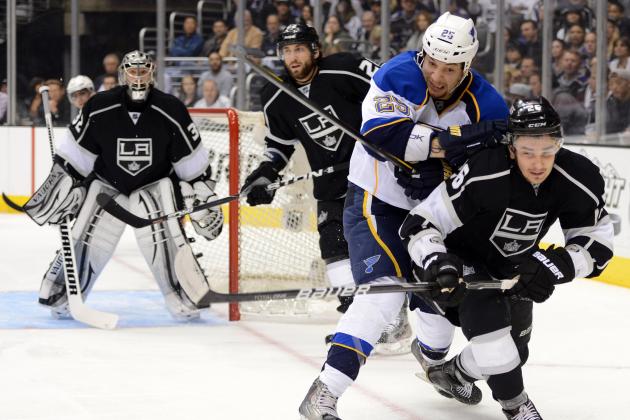 Harry How/Getty Images

Chris Stewart had an underwhelming 30-point season. If the Blues do not wish to keep the restricted free agent, trading his rights would be a smarter option than refusing to tender a qualifying offer. Some teams will certainly be interested in going after Stewart.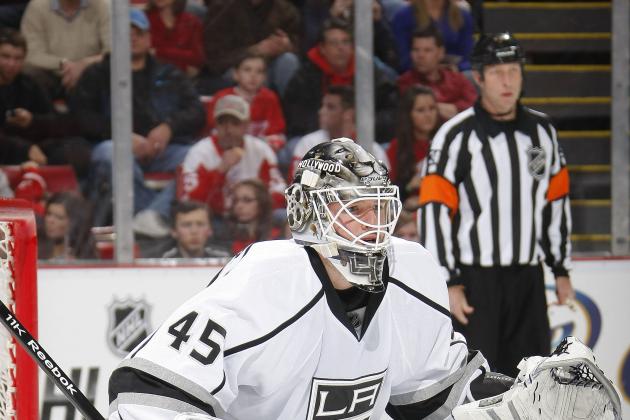 Dave Sandford/Getty Images

Tampa Bay needs goaltending and defense. The team should look at acquiring any of the available goalies across the league,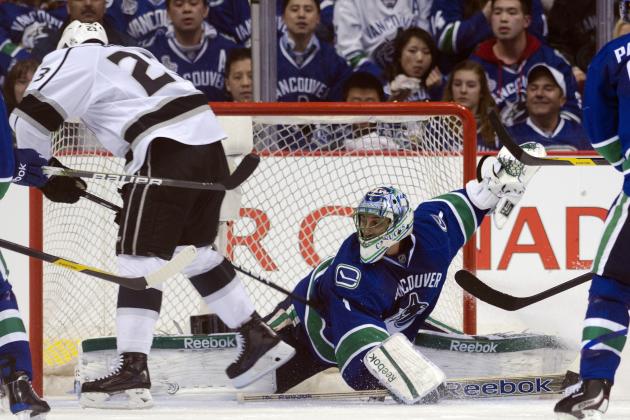 Rich Lam/Getty Images

The Leafs are awful at stopping the puck; they were 29th in goals against this season. Brian Burke is an aggressive general manager who is likely to try making major moves in improving a historic, yet troubled franchise.
Toronto and their fans deserve a winning team, not an end-of-season apology.
Trading away some of the team's defensive depth while clearing cap space to get a quality starting goaltender, such as Roberto Luongo, could do a lot to get the Leafs back in the playoffs.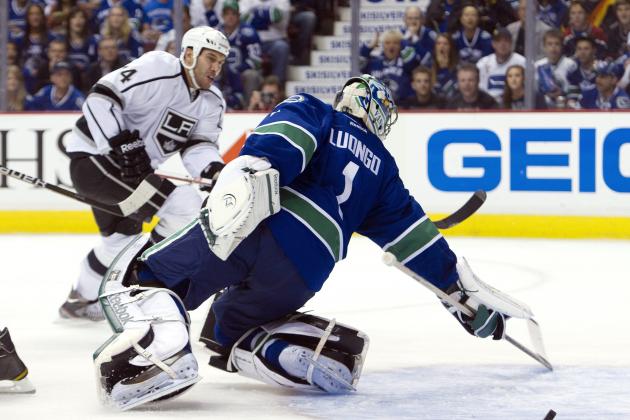 Rich Lam/Getty Images

Roberto Luongo had a troubling end to the past two playoff seasons, eventually losing his starting job to backup Cory Schneider in the playoffs.
Luongo said he would waive his no-trade clause if Vancouver asked. If the Canucks can dump Luongo and his huge contract somewhere else, moving forward with Schneider would be a bright option for the franchise.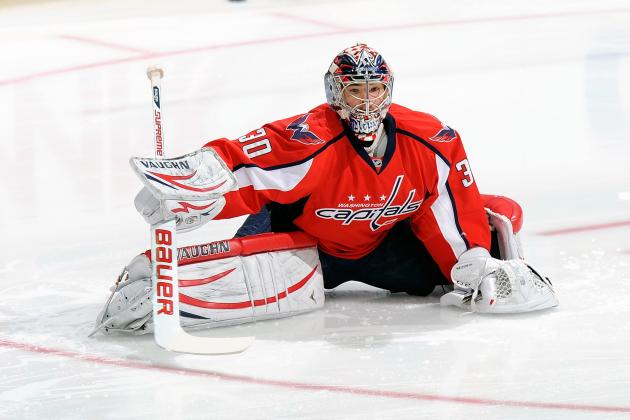 Greg Fiume/Getty Images

According to CapGeek.com, Washington has 17 players under contract for next season, with roughly $19 million to fill the final six spots of a full 23-player roster.
Free agents include Alexander Semin, Mike Green, Dennis Wideman and John Carlson. The 2011-12 cap hits of Semin, Green and Wideman total $15.88 million.
The Capitals will struggle to keep everyone this offseason. If they are able to decide who they will let go of early enough, it would be great to get something in return for the negotiating rights with that free agent.
The team could also potentially shop Michal Neuvirth if the market for him is strong enough. Braden Holtby proved in this year's playoffs that he is very capable of being a starting goaltender in the NHL.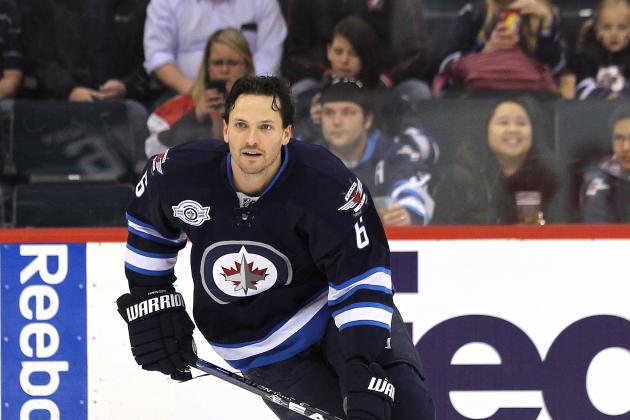 Marianne Helm/Getty Images

The Jets were close to making the playoffs in their first season since the relocation from Atlanta, but they just do not look to have what it takes to get there next season.
By the 2013 trade deadline, the team may be looking to trade upcoming free agents Nik Antropov and Ron Hainsey, who are among the older Jets players.
They might be better off making the moves now and seeing if they can get some draft picks out of the older players.
Jason Sapunka covers the NHL and is available on Twitter for updates, commentary and analysis.