10 Ways to Make NHL 13 the Best Hockey Video Game Ever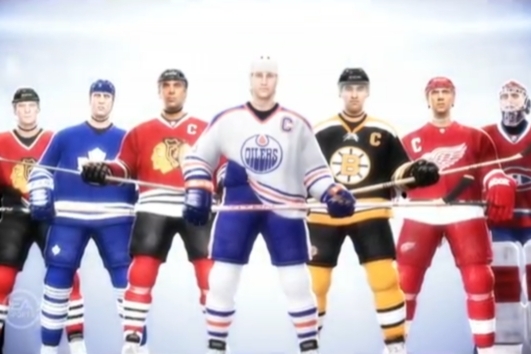 Are you one of the very many people who paid top dollar for NHL 12 and who were completely dissatisfied with it?
Whether you own an XBox 360 or Playstation 3, were improved graphics, gimmicks like broken glass and NHL legends that didn't even include an entire 20-man roster just not worth the price you paid?
Do you feel disappointed and more excited than ever for a sequel to come in and save the day?
In this article, we examine why NHL 12 might just have been the worst made Electronic Arts NHL product in a while.
While we can criticize all we want, the other side of the coin to fixing this problem is providing feedback to EA and suggesting ways in which they may better themselves.
Each of the 10 sections contains something that went horribly wrong with the game, and either a short- or long-term solution on how to fix the problem.
Begin Slideshow

»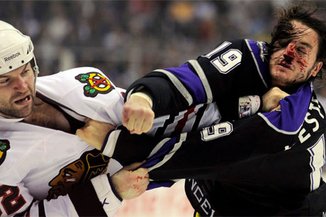 BLUF: The wrong player gets injured more often than not.
Ever had one of those fights on Team Play where you've pummeled another player mercilessly and you were the one ended up getting injured?
Fighting skill is a great attribute in Versus Play, but when it comes to league or team play, you won't find too many players out there willing to give up some all important attribute points to Fighting Skill.
In NHL 12, it was possible to win a one-sided fight without even taking a hit, and you'd be the one who ended up getting injured. Injuries in team play result in a nasty overall skill point decrease which drastically affects game play.
Dodging and throwing jabs is always fun, but I wish EA Sports would make it a little more realistic. Some good additions to throw in for the future game:
Add some power punches capable of taking down a player instantaneously.
Add a tussle or take-down effect by utilizing the same button used for instigating fights and board play. How often do we see players getting taken down to the ice? Unless they are both heavy weights, almost always.
If you win the fight, you can't get hurt. NHL 12 far too often punished the victor of the fight, resulting in an unsavory game play experience for the rest of the match.
Quick Term Solution: Have fun and be creative with the fights—we are ready for anything other than jab, block and dodge.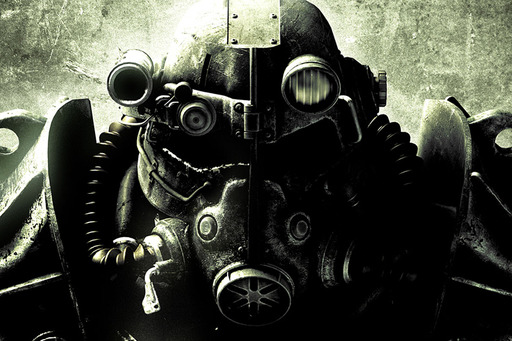 BLUF: NHL 12 froze more than most games for no good reason.
I've owned a few Playstation 3 games since I bought the system in 2009.
After all the games I've owned, I can honestly say the only game that has crashed or frozen more than NHL 12 was Fallout 3.
Fallout 3 was one of the most amazing games ever made for PS3, and its graphics were unreal, only maybe outdone by Final Fantasy 13, so I understood why the game might have frozen every once in awhile.
NHL 12 seems to freeze for no good reason, and at the worst times possible. NHL 12 has had a penchant for freezing on me with less than a minute left in games, both online and single player.
It's really quite inexplicable as to why a hockey game has so many problems.
If NHL 12 was like Assassins Creed where the system had to load the entire city of Rome and anywhere from 10 to 100 characters at a time, I might understand the freezing issues. In NHL 12, having 10 characters out on the ice in a closed environment isn't even comparable.
In my personal opinion, making something so simple so complicated was EA's biggest failure of all.
Long Term Solution: Run the game through some actual tests before it's released. NHL 13 should never freeze on you. NHL 12's issues were absolutely unacceptable.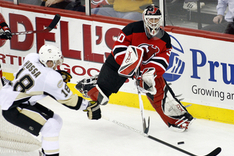 BLUF: Goalies need to stop automatically handling pucks in the restricted zone.
How many times have you had a goalie with a high puck playing frequency like Martin Brodeur go out into the trapezoid and collect the puck on the edge of the restricted zone?
Does anybody actually do this anymore in real life? If you watched 100 NHL games this season, you might have seen one of the penalties, maybe.
Goalies who don't normally don't leave the crease and play the puck just go right behind the net and either slow down the puck for their defensemen, or swat it along the glass and boards.
Realistically, no goalie in the NHL even comes close to committing these mindless penalties anymore.
Instead of EA fixing this problem where you're constantly in the box for two minutes, they focused their energy on having your goalie be able to skate out to center ice and have a fight with the other goalie in a major overreaction to the Johnson vs. DiPietro TKO last year during that Penguins-Islanders fiasco.
Quick Term Solution: Make it so the goalie cannot handle the puck in the restricted zone unless the player assumes direct control and decides to commit the penalty. When the goalie tries to move the puck outside the trapezoid, block his movement.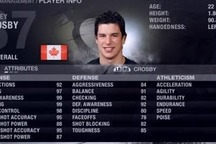 BLUF: Whoever does the player ratings at EA gets it wrong every year.
As I understand it, when you rate a player 90 and up, they are to be considered a superstar.
80 and above is considered a star per guidelines laid out in To Be a GM mode, where you can select waivers and trade notices applying only to star players.
So why is almost everyone on your team a star? I get that the Vancouver Canucks are a great team, but do they really deserve three superstars—Roberto Luongo, Henrik Sedin and Daniel Sedin—and having Ryan Kesler being a borderline superstar almost every year?
Anyone who isn't a superstar is a star. On an off day for the Canucks, where they might have suffered an injury or two, you might find one of their fourth-liners with 70-something rating.
As per the latest roster update, there are under 20 superstars, a bit too many in my opinion, but just about right. Players include the likes of Pavel Datsyuk, Alex Ovechkin, Sidney Crosby, Chris Pronger and Tim Thomas—all well deserved.
The total number of star players should drastically be cut down as I implore the game technicians for a call to sanity. There simply are not that many star players in the NHL, let's get real!
The Long Drawn-Out Solution We'll Never See: Follow the Madden crew's lead. Do weekly roster updates based on an evaluation of weekly performance.
BLUF: We're tired of the same old boring stick skill moves.
If you've been playing NHL for awhile, chances are you're a little better than others at avoiding hits and getting past defenses with the skill stick.
The four main moves, moving clockwise from the top are: jump over sprawled skater, push puck to the backhand (if right handed), use the skate blade to trap the puck and push back on stick and gain separation with the forehand.
Other than the four basic moves, there's neat tricks like the windmill and toe drag, but they have seemingly been around forever and are not very special at all anymore.
Quick Term Solution: Add some more moves that are relatively easy for players to perform. Get rid of the jump move and replace it with something crafty, as it is one of the easiest moves for a player to perform.
Long Term Solution: Take a page from FIFA's book and create multiple stick skill moves that are executable based on the player's dekeing attribute level.
BLUF: Snap shots are too weak and never find their way to the back of the net.
Think about how many times you've used a snap shot, not to include a one timer, over a wrist shot or slap shot.
You probably answered either never or very seldom, and there's a reason for that.
The snap shot is one of the most favored shots of the real life athletes and for good reason: players who utilize it are able to pull off quick releases that can fool a goalie.
While the snap shot doesn't have the power of a wrister or anywhere near that of a slap shot, it is horribly underused in the EA NHL series because it simply does not work.
Quick Term Solution: Make the snap shot power- and accuracy-based on the average of a player's slap shot and wrist shot attribute rating.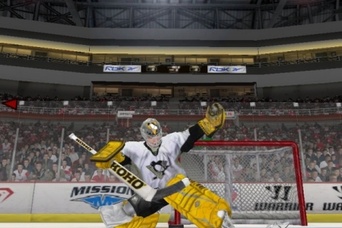 BLUF: A human goalie is NEVER a better option that the computer goalie.
While I understand there are some very good human goalies out there who can carry their teams in League Play, the vast majority of people who attempt to play goalie often find themselves giving up an average of three to four goals per period.
I also understand that many times you will be playing a computer goalie who absolutely craps the bed and plays like he couldn't stop a beach ball.
In either case, it's very annoying if you so happen to be on the team that said goalie is playing for.
The people who usually end up playing goalie in Drop-In Games or random team play are usually the ones who couldn't pick a position fast enough, and as a result get stuck with two options:
1) Quit.
2) Try their hand at playing a position they and everyone else know they have no business even trying.
If EA Sports could stop making human goalies move like robots and have their movements and actions more fluid and natural, like that of the computer goalie, there would be a lot more people encouraged to take a shot at the position.
Quick Term Solution: Make lateral movement more fluid and easier to achieve.
Long Term Solution: Make it easier for humans to play goaltender by making the computer automatically make more saves and moves for you.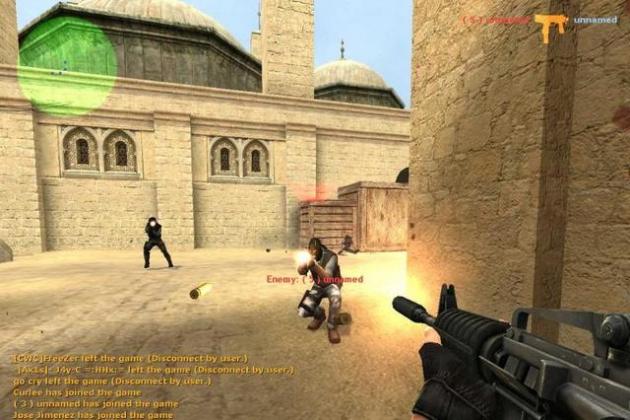 BLUF: People can join games, then leave and have their player pick up credit for a game played.
This is one of the biggest, if not the biggest, problems that faces the gamer when trying to play with random people and not on an organized team.
There's not much too this one that's not underlined by the BLUF.
Take a page from Counter-Strike, which has been around since Al Gore invented the Internet, or so it seems: have a vote-kick option that is executed by a majority vote.
Eternal Solution: Add a vote-kick option, or automatically kick a player if they have not pressed a button or moved a stick in over two minutes.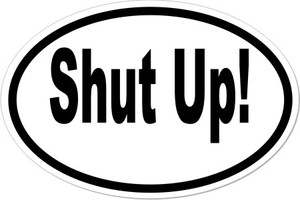 BLUF: None of us want to hear your crappy music, your dog or baby in the background, your wife, mother or girlfriend yelling at you or your 12-year-old voice.
If I remember correctly, there used to be a mute option on earlier NHL games. When players are in the loading screen, and in the game itself, there should be an easy option to mute any and all players selected.
The mics are used for one thing and one thing only: to coordinate team play more effectively.
If you feel like you need to have a conversation with your friend during the loading screen, use your cell phone.
Eternal Solution: Add an easy-to-use mute option.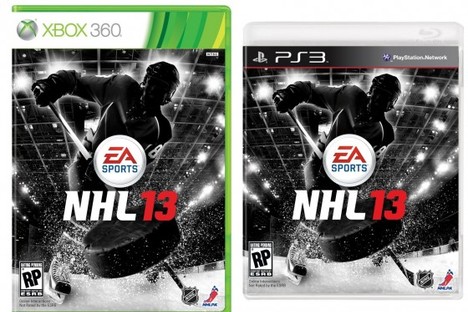 BLUF: The cover athlete is a big deal, but as anybody with half a brain knows, EA just wants you to sign up to vote so they can collect information on you.
While it's not nearly as big a deal as the Madden cover, NHL has its own community's interest piqued when it comes to who will be on their game box every year.
The reason it isn't a big deal is because your copy of NHL 13 will be different from someone's in Finland or Sweden. There is no true sole cover athlete. It's a popularity contest where the players that you can choose from aren't necessarily the ones you'd vote for in the first place.
Take issue with the fact that:
Steven Stamkos was actually an option, despite appearing on last year's cover.
Players like Pavel Datsyuk and Claude Giroux went up against TJ Oshie and PK Subban respectively in the first round of voting.
The NHL's biggest name and most recognizable star, Sidney Crosby, has yet to appear on a EA game cover and was not even an option this year.
Long Term Solution: If EA spent so much time and energy researching what players really want in their games as much as they do when picking a cover athlete, articles like this wouldn't even exist.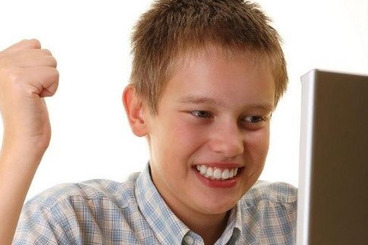 Please submit your comments if you have any ideas on how NHL 13 could become the best NHL to date!
Have an idea that makes sense? Let everyone else know, whatever it is you are thinking. Thousands like you are probably on the exact same page.
Photos Courtesy of:
1. Fights
2. Fallout
3. Restricted Zone
5. Video
6. Snap Shot
7. Goalie
8. Vote-Kick
9. Mute Mic
10. NHL13