Kevin Youkilis: Viable Trade Options the Boston Red Sox Could Entertain for Him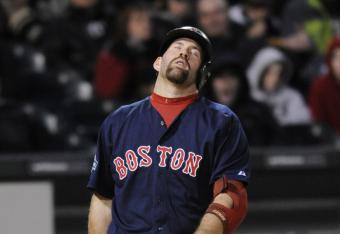 David Banks/Getty Images
The debate is raging all over Boston: When Kevin Youkilis returns to the Red Sox lineup in the next couple of weeks, what will the team do?
Will they move Will Middlebrooks and his .381 batting average, .409 on-base percentage and .953 slugging percentage back down to Triple-A Pawtucket?
With that, Middlebrooks should probably take his three home runs (one of which being a grand slam) and nine RBI with him, right?
The fact of the matter is that Middlebrooks has proven himself to be a solid player in his short time in Boston. Whether you are in the Youth or Youk camp, you surely can see the forest for the trees: Youkilis will not finish the 2012 season as a member of the Boston Red Sox.
True, the Sox may very well be forced to send Middlebrooks back down for a spell to increase the value of Youk. Right now, his stock is pretty low, so in that scenario, at least both players will be allowed to play every day.
However, what if Middlebrooks steadily keeps up this production for the next couple of weeks? How then does the front office justify moving him down?
Presumably ownership is already placing calls to gauge interest for Youk, and there are three teams that appear to make sense as trade partners.
Which team would be the best fit for Youkilis?
Yes, I've read and seen Moneyball, too.
Oakland appears to be the sexy pick that everyone assumes because of the whole Moneyball logic. While I'm sure Billy Beane would gladly accept Youkilis on his team, it would be at an incredibly discounted rate.
More of the same ol' thing—the Red Sox eating contracts.
However, right now the A's have Brandon Inge playing third for them and Daric Barton playing first. Youk could serve either position for the A's and re-align himself with his best buddy, Manny Ramirez, who will be DH'ing for Oak-town.
Frankly, though, I see this as the least likeliest scenario.
The Phillies, like the Red Sox, are in need of offense.
Unlike the Red Sox, though, the Phillies actually have the pitching.
Chase Utley and Ryan Howard are on the shelf right now. The Phils have Ty Wigginton at first and Placido Polanco at third.
While both players have been serviceable, they have combined for a .277 average with 16 RBI and two home runs. That is not exactly ripping the cover off the ball.
Youkilis could provide the team with a bit more stability and offense if he indeed is healthy.
Everything in life is cyclical, right?
Youkilis could return to his home state and play for the local nine. With Scott Rolen batting a measly .179 at third for the Reds, Youkilis could serve as an immediate improvement for the team.
Just imagine that middle of the lineup with him in Cincinnati: Youkilis, Joey Votto then Jay Bruce—scary, right?
This is the scenario that I see making the most sense. The Reds are a team that has been on the balance beam for the past couple of seasons, and they need just a slight edge to put them over the top.
Youk can provide that little tip.
Whatever should happen, the next couple of weeks in Boston will be flooded with trade scenarios and chatter.
Might as well strap in, because things will be getting interesting.
This article is
What is the duplicate article?
Why is this article offensive?
Where is this article plagiarized from?
Why is this article poorly edited?

Boston Red Sox: Like this team?